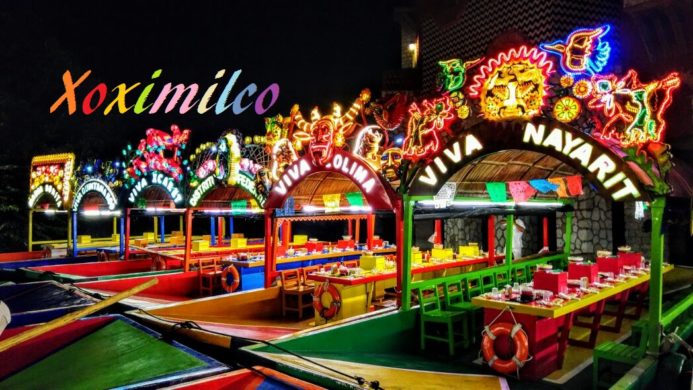 What is it like to go to Xoximilco?
Xoximilco is a park designed after the original Xochimilco in Mexico City. Xochimilco is part of the ancient area of Mexico City where there are canals. This area became a park like area where families and friends rent out boasts called trajinera and enjoy time going down the canals. They would pass other boats where there would be musicians and you could pay to hear a song. Other boats would offer drinks or food to passerbys.
This is the concept of  Xoximilco park by Xcaret. You will be treated to dinner and a lot of fun mixed with live music. If you have read our other articles about Xcaret's properties, you will know that they do a good job in designing parks and creating an enjoyable tour experience. Here is what this tour is like to see if this is something you want to do while in the Riviera Maya.
Our video introduction to Xoximilco
Just so we can show you more about what it is like to go on this tour, we made this video for you.
What to expect for your visit to Xoximilco
When you arrive at Xoximilco you arrive at what looks like a Mexican street party. You can have some traditional corn snacks, take photos and go to the bathroom (there is also bug spray available here if you want some). Then you will go to check in for your "dinner cruise". They will ask what language you want your tour in and assign you to a boat.
Tip: Make sure you arrive by 7:30pm. This will allow time for check in and time to get on the boat for the 8:00pm departure. There is only one tour each night.
After check-in at Xoximilco
After passing through the gift shop you will find the colorful boats waiting. Here you can take photos and meet your guide. On each boat there is a guide and person on the back that will steer and use a pole to move the boat through the canal like a gondola. Your guide will explain the snacks on the table and what drink options there are.
Once you take off  your guide will host you in games and conversation so you get to know all your fellow passengers. There will also be stops along the way for food like quesadillas and then other boats will have live musicians. This musicians will play and you can dance and enjoy yourself while drinking on the boat.
Food on the cruise
Here is what is included in your food for the tour:
snacks when you arrive on the boat which include Mexican salsas and dips.
a stop for traditional quesadillas with Oaxaca cheese.
a dinner tray of Mexican specialties.
dessert that is 9 samples of Mexican candies and sweets.
Note: You can mention your food preferences when checking in. This would include vegetarian and any allergies you might have like seafood.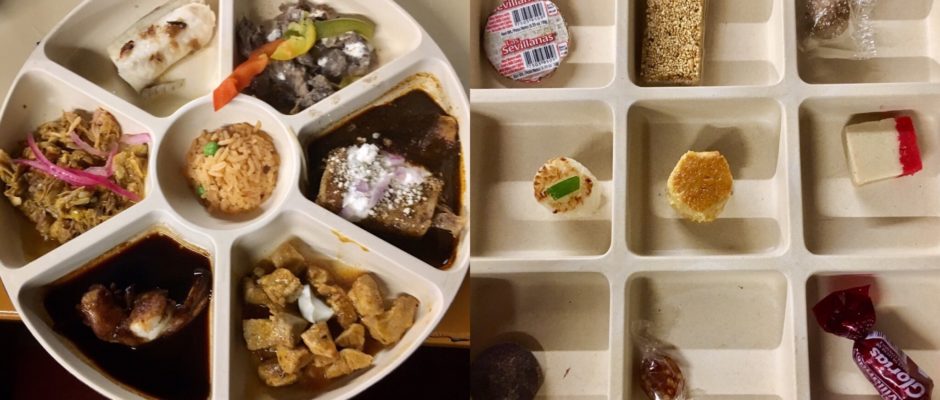 Note: If you need to go to the bathroom, there are possible emergency stops along the way.
Halfway point of your Xoximilco experience
After you pass though the canals and see some of the musicians and buildings along the way, you will have time to stop at a pier where you will get off and enjoy music under the stars and have a bathroom break. During this time they will clean the boat and restock the bar. Once you get back on you dessert tray is waiting. This will be a sampling of 9 traditional Mexican candies and sweets.
Your cruise will continue until toward the end where many of the boats will gather around live musicians and it culminates into a fun Mexican night dancing on a boat in the canals of Xoximilco.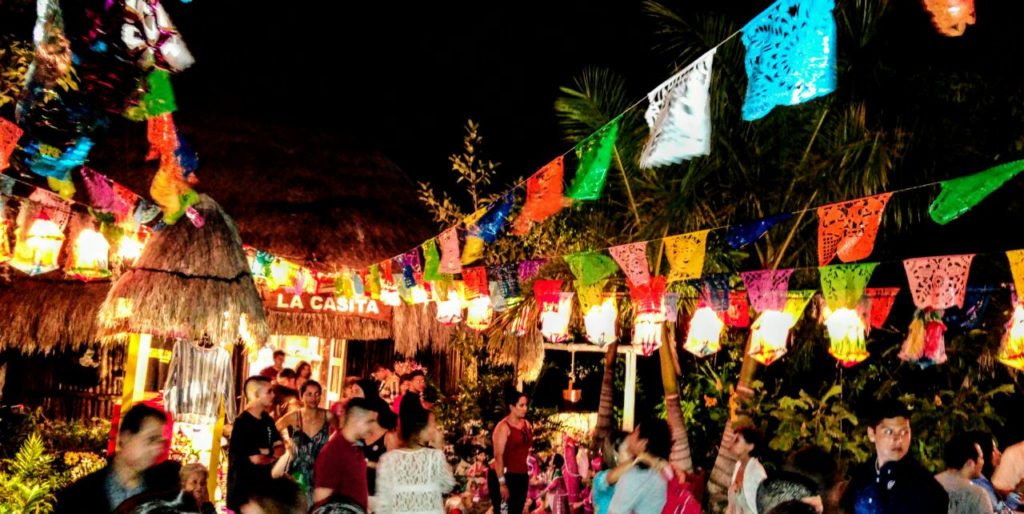 How to buy tickets to Xoximilco
It is easy! Just click the official link below  and you will be able to reserve your spot. Remember that it is good to book in advance because you can save up to 15% off your tickets. Don't worry if you need to change the day because you can up to 24 hours before your reservation. Your tickets are good for up to one year after purchase.
This link will take you to the official page and be the best prices for this tour.

Xoximilco Adult – $71.10
This magical place with an ambiance of fiesta captures the imagination of everyone who visits by conjuring up memories of Mexico in its golden age. Decorated with motifs from the 32 States of Mexico; the famous trajineras have become a means of transportation and a cause of joy for all those who come to Xoximilco searching for a unique moment; with the colors and the charm of those magical moments we hold dear.
How to get discounts to Xoximilco
If you buy your tickets 7-20 days in advance by clicking the link above, you can save 10% off the ticket price.
You can save 15% off the ticket price if you purchase your tickets by clicking the link above and booking at least 21 days in advance.
Children get 50% off the price of entry.

How to get to Xoximilco
Xoximilco is located in the Riviera Maya between Cancun and Playa Del Carmen. Xoximilco is closer to Cancun and actually just south of the Cancun Airport along the 307 Highway.
Getting to Xoximilco by transportation
Since this tour experience involves drinking and having fun, you might enjoy yourself not having to worry about driving. There are two options you can take to Xoximilco.
You are able to add transportation to your tickets when you purchase them. This will be van or busses from Xoximilco. The transport cost $27.00 USD.
You can also easily take a taxi to Xoximilco from Cancun or any point in the Riviera Maya. Below is a taxi rate board that is located at Xoximilco.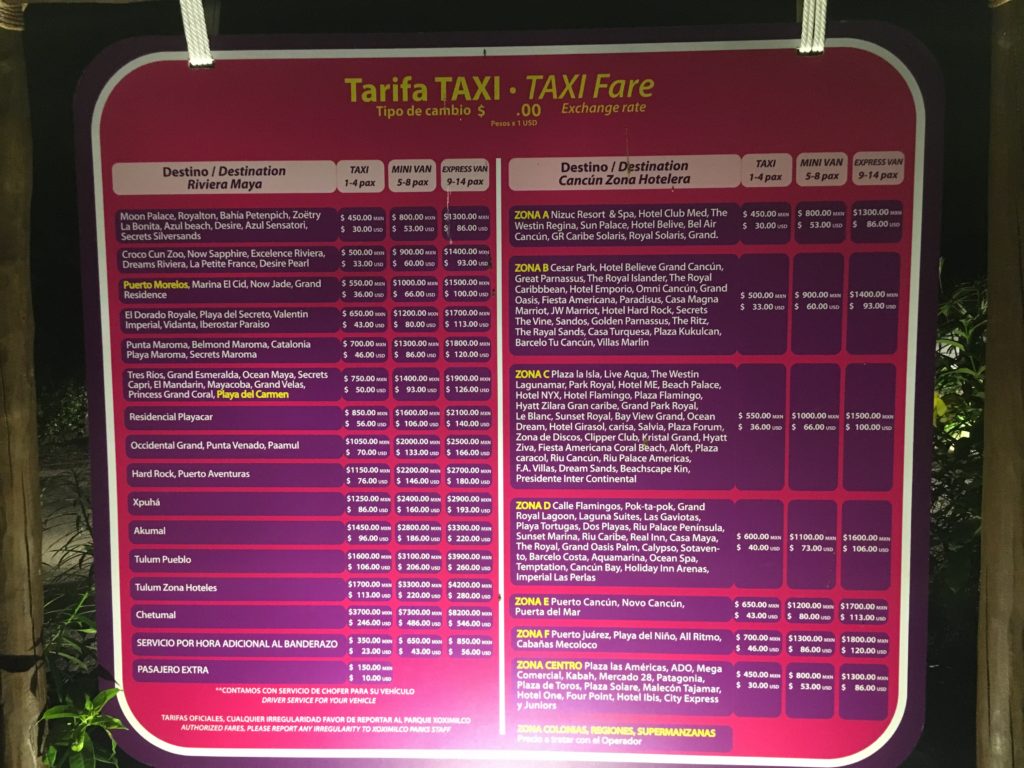 Driving to Xoximilco tips
From Cancun to Xoximilco
If you are coming from Cancun it is fairly easy to find. Just drive south on the 307 highway. Xoximilco will be on your right about 5km after the Cancun Airport turn. There is a large lighted sign above the driveway "Xoximilco".
From Playa Del Carmen to Xoximilco
It is good to note that when you go north on the 307 Highway, this highway is divided. There is a new turn in the center of the highway that allows you to turn into the park directly now.
Entrance and parking at Xoximilco
When you arrive at Xoximilco at the main gate, you will be greeted and asked if you have a reservation. Then you will proceed into the park.  You will pass on a small gravel drive and over some small bridges. When you are close to the entrance, you will be greeted by the parking lot attendants and they will valet your car free of charge. This is so you don't have to walk back to the entrance and they can also fit all the cars into a small lot.
Our recommendations for the Xoximilco experience
This truly is a unique experience you can have in Mexico. It relives one of the great traditions of the original Xochimilco in Mexico City. This is a good tour activity if you are with a couple or in a group. Going here alone would not really be the same experience. Come here with fun in mind and certainly partaking in tequila or other drinks is part of the fun. If Mariachi and Mexican bands are not your thing, you might not get as much out of this overall experience.
This can make for a fun date night or special occasion. It certainly will be memorable for a birthday or anniversary.
Make sure you mention your language preference to what boat you will be on. It will be much better and enjoyable if you have the tour and be able to understand all the details.
More tours and information for Playa Del Carmen and the Riviera Maya
If you like how we tell you about tours and things to do in the Riviera Maya, see our complete guide here. This is all the places and tours you can go on while in or near Playa Del Carmen.
Have you been to Xoximilco? What did you think of it? Let us know in the comment section below.