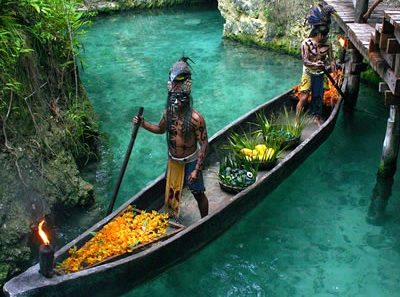 Are you thinking of one of the big eco parks to take your family or friends to? You may at first think that there are going to be lots of tourist and cheesy tourism parks, but you should take another look. One of the park is called Xcaret. Upon closer inspection, we believe you will find it very well laid out, interesting and a great display of Mexican culture. Here is our Xcaret review for you and tips!
Xcaret Review and Survival Guide
In this guide and review we will tell you about:
What tickets should you get.
Were to get the best deal on tickets.
Xcaret restaurant and snack bar reviews.
The layout of the park and what to see.
Planning the end of your day at Xcaret and seeing the grand show.
Xcaret Entrance Price
Prices might make you think about going, but trust us, it is a very good value for the entire day of entertainment in this amazing park! The prices fluctuate with the exchange rate and it depends if you want general admission or some add ons for your day there. . There are many ways in which you can customize your experience at the park. To check prices, click the link below to go to the official website where you will get the best prices.

Where should you buy tickets?
The best way to buy tickets is online. You will get the best price and getting them in advance will give you a discount. The link below will take you to the official site to buy them.
If you are already in Mexico you can find tickets for sale everywhere. But as we stated above it is best to plan ahead. If you still thinking to buy them when you arrive at the park get there early so you can avoid the lines. The park opens at 8:30am each day.
How to get the best price for tickets to Xcaret
To get the best deal on tickets you should book them online in advance. You can click special Xcaret photo below to go directly to their website. Here are the discounts you can receive:
Buy tickets online 21 days in advance and save 15% off the price!
Buy tickets online 7-20 days in advance and save 10% off the price.
These are the only ways you can get a discount on entry tickets. So plan ahead and click below.

Types of tickets for Xcaret
It can be a little confusing with all the different options of tickets so we will try to make it simple for you. These are several options for tickets:
General Admission-entrance to the park for the day. No meals included or extra activities.
Plus ticket-entrance plus lunch buffet and snorkel equipment rental.
Xcaret Total Ticket-entrance, lunch buffet, snorkel equipment rental and one of three optional activites.
Xcaret plus another park entrance
In our opinion it is best to get the Xcaret Plus ticket. You get a free rental of the snorkel equipment since most likely you are going to eat anyways in the park for lunch. The Xcaret total ticket is nice if you really want to do one of the extra activities but really there is so much to do that you don't even have time for everything let along an extra one.
Xcaret Review of Restaurants
There are several large buffet style restaurants in the park. They have similar food but the atmosphere is different at each one. The restaurants are all the same price and provide a very nice buffet at about $29 USD per person. We feel this is expensive for what it is. You certainly get a fill of food and the quality is good but still expensive. But it is an entertainment park and this is kind of expected.
Of the restaurants at Xcaret we like La Peninsula Restaurant and El Manglar Restaurant the most. Both of these restaurant are with a view of the ocean and have nice settings.
Here are three ways you can save money on food while visiting Xcaret Park:
You can save money by eating breakfast before you go, having a buffet lunch (or smaller meal at the snack bar) in the park and eating outside the park after the final grand show. This option has you just eating one meal in the park.
It should also be noted that you can leave the park to your car during the day and re-enter. So if you wanted to have snacks in your car, you can do this. No food or drinks or non-biodegradable sunscreen is allowed in the park. This option only works if you drive a car to Xcaret.
You can buy the Xcaret plus ticket and get your lunch buffet included. This is the same price as adding food to a general admission ticket but you are getting the snorkel equipment also in this ticket. So you do save some overall.
Snack bars in Xcaret
There are snack bars though out the park. Some are just for drinks and some have food and drink. It should be noted that there are snack bars but tend to be expensive (i.e. 20-40 pesos for a small drink). We will say that in this Xcaret review we found the hamburgers at the snack bars to be very good and it can make a nice meal. This can be purchased for less than $10 USD. Some of these snack bars are next to the ocean and can make for a nice break for a meal.
Xcaret Park layout
When you enter you should take a moment to look at the map and also make sure you have a daily schedule of the shows. Xcaret is an experience of Mexican culture and history. This is not a park of rides. It is good to see where the shows are and make a note of what time they will be. This way your day will be injected with a performance while you sightsee the other times of the day. The shows sometimes repeat themselves during the day and some aspects of them are included in the must see grand show in the night.
Xcaret's scenic tower will take you up 262 ft. (80 meters) and is the highest point in the Riviera Maya. You can see how flat and how green the entire peninsula is and how Playa Del Carmen is growing. It will give you a good vantage point to see the layout of the park as well.
Besides looking at where the shows are during the day, see on the map for where you would like to visit. With as many people that visit the park, it is impressive that at times, you are alone. It is so well laid out with so many little places to visit, it eats up people. For example, next to the Hacienda is a church. Go down the steps in the church and view the people sitting there. They are actually wood cutouts of famous Mexican figures. If you go all the way to the front of the church there is an entrance to a tunnel. Most people miss this, but explore these tunnels for yourself.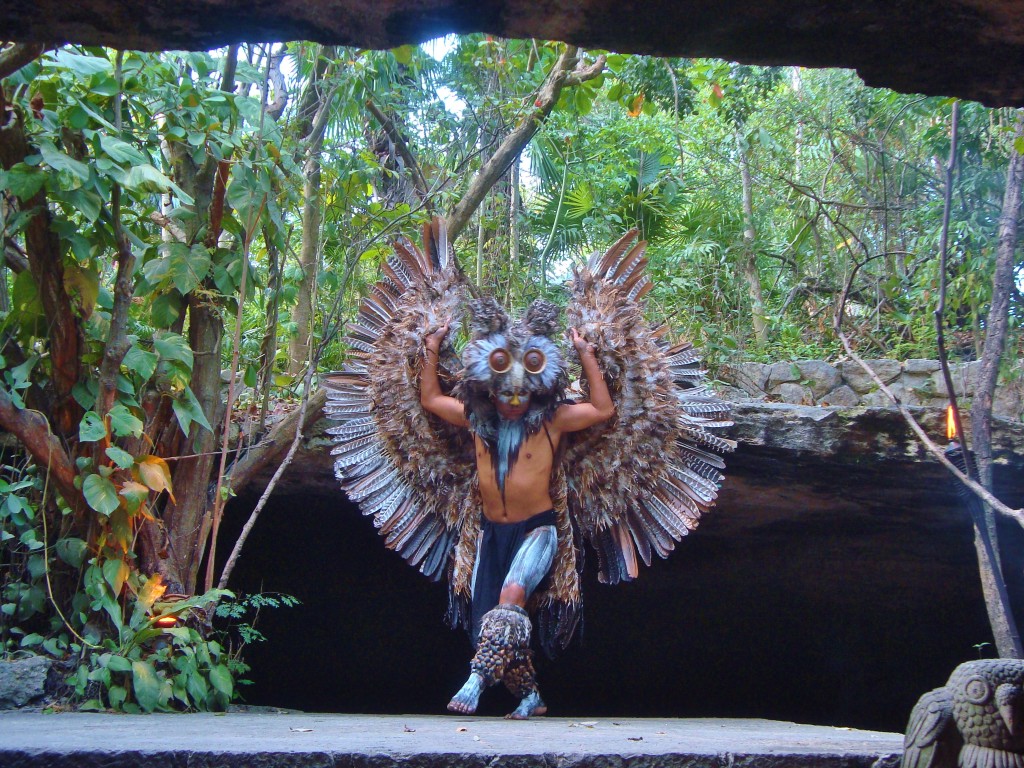 Shows during the day at Xcaret
Some of the shows during the day include:
Mayan village with "traditional" dance and ritual.
Mexican horse riding show.
Mayan ball game.
A traditional show from Veracruz and others.
You can time your route though the park to see the shows that interest you. We prefer to start with the left side (from when you enter) and go counter clockwise through the park. This way you can see most shows that you might like and the timing tends to work out well, leaving you back around near the entrance in order to go to the grand show at the end of the day.
Snorkeling in the underground rivers
You really have to swim in one of the three "underground" rivers. They are called underground rivers but they are just deep in the ground and go through tunnels. Each one winds through the park and takes you on an amazing journey. The water is crystal clear and you will get an amazing perspective of the park.
When you buy the Xcaret plus ticket you get the snorkel equipment rental included. However you can still swim in the river if you buy the general admission ticket.
Toward the end of the rivers, the three rivers merge and there are tropical fish you will be swimming with. Towels are available in the park. When you get in the river you can put your stuff in a locked back and it will be at the end of the river waiting for you. It is so easy and safe to do this, just make sure sunglasses and other breakable things are wrapped up. Doing this makes getting around the park and maximizing your time very efficient.
You most likely will not have time to do all three rivers. It takes a while to swim down each one and there is so much to see in the park. So if we had to chose we like the Mayan river the best.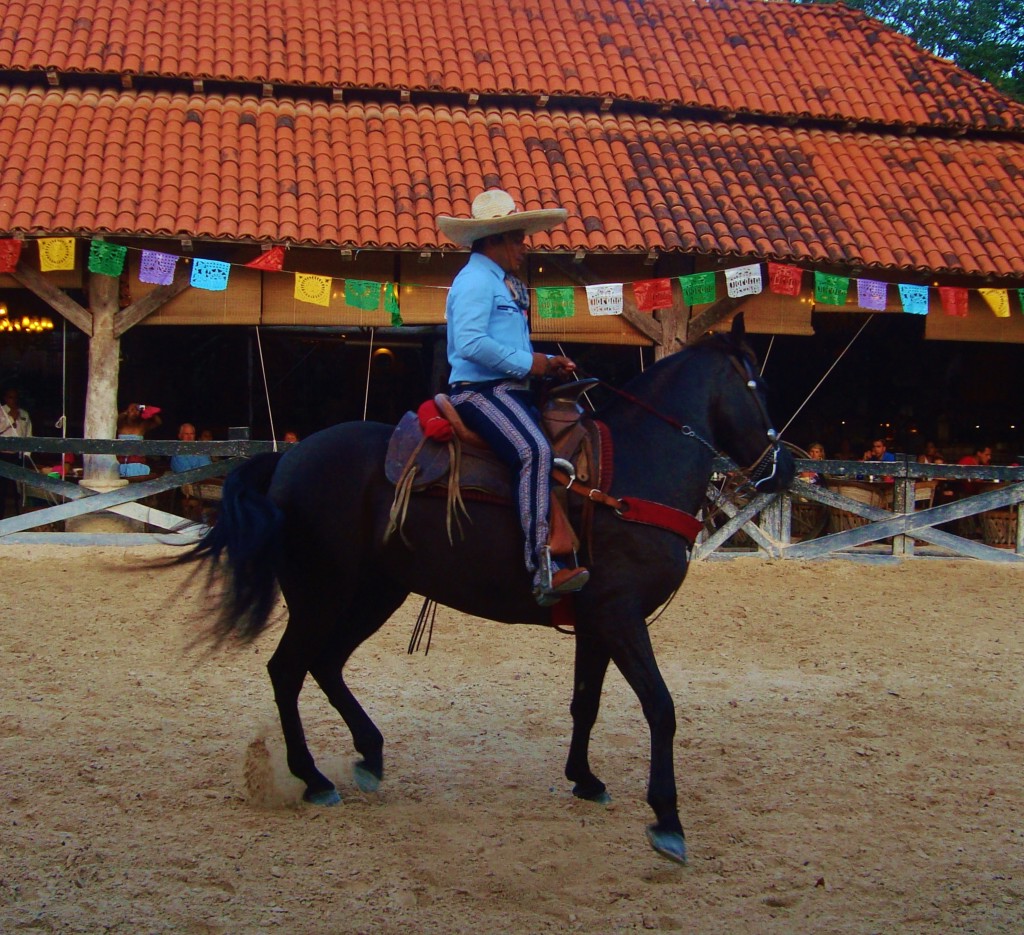 Rest and Relaxation in Xcaret
Of course with all the walking and sightseeing you might want to rest in one of the many areas where you can just relax. The park faces the ocean and you can swing in hammocks while looking over the turquoise waters.
Also make sure you take a ride on the boat tour, it is a quiet 15 minute ride that passes some animal enclosures and highlights the amazing Yucatan landscape. This is called the lazy river.
If you have young kids with you and you parents want a little rest, why not take them to Children's World. This is a new part of the park where kids can play and get all their energy out. See what Children's World is like in our video and article here.
Animals in Xcaret park
There are many animals you can observe in the park. Tapirs, monkeys, dolphins, sea turtles, bats, bees, pumas, butterflies, raccoons, lots of bird species, and there is an aquarium as well. The animals are displayed in a natural way and will make your visit special. The butterfly enclosure is interesting because you walk around a large screened area with free flying butterflies.
The new bird aviary is designed very well. You enter a large enclosed area with a trees and waterfalls and walk the trails around while seeing birds from all over the world.
Xcaret show at the end of the day
Make sure at the end of the day you go to the grand finale show in the large event pavilion. It is a great historical look at Mexico and many traditional dances. It is about a two hour spectacular.
To read more about the Xcaret show and our review see our article here.
You can choose to have dinner served while you watch the show, but this is an add on. Snacks can be bought at concision stands during the show.
Exiting Xcaret at the end of the day
Leaving is easy and again, the park and grounds are laid out so efficiently that there is not a rush or lines of traffic. There is an official Xcaret bus to the highway where you can catch a taxi or colectivo back to Playa Del Carmen.
If you purchased your transportation in your ticket, you will be directed to your bus after the conclusion of the grand show.
Xcaret Park closes at 10:30pm daily.
In Conclusion
We really like this park and highly recommend it to all visiting the Rivera Maya. It is a huge park with so much to see and do. It highlights some of the natural beauty of the area as well as the rich culture of Mexico. We are sure anyone that goes will have a good time. This park is good for people of all ages and even good during all weather.
We hope you have enjoyed our Xcaret review and we hope you get to enjoy this fun park that is so close to Playa Del Carmen.
More reading about Xcaret Park
Xcaret also has a four day festival for the Day of the Dead each year. To see what this is like, see our article here.
If you have also been thinking about going to Xel Ha park and not sure which is better between Xcaret and Xel Ha, you can see our comparison article here. This article can show you the difference between them.
Have you been to Xcaret? What did you think about it? Let us know in the comment box below. We love to hear from our readers.