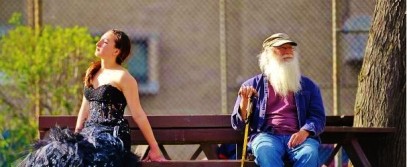 We are always looking to round out our interviews to give you a good cross section or people from Playa Del Carmen. Today we talked to Claude who spends part of the year here and part in Canada.
Where are you from?
Ottawa, Canada
How long have you been coming to Playa? and how long do you come for each time?
I started coming here in the winter of 1991…….1st time for a week and afterwards 6 to 8 weeks till I retired and then 3 1/2 months each time.
Why did you first come to Playa Del Carmen?
I was coming to Cancun on a last minute deal, then met an old school mate on the plane who was going travelling through Mexico, Playa being his first stop. I tagged along with him and  discovered Playa Del Carmen and stayed. My friend kept on with his journey and I never saw him again.
Why do you keep coming back to Playa?
When I first started coming to Playa it was just a small village and it was really laid back and you got to know everybody. This reminded me of my trip to South Asia. I became attached to Playa and it became my second home over the years. It was very magical. Lots of people fell in love in this place and now have teenage kids, here and elsewhere. There is lots of nostagia now because a lot of people that I have met over the years have passed away. I keep comming back and I still meet great people.
How have you seen Playa change over the years?
Playa has gotten bigger then I expected. In 1993 when they first built the boardwalk, I knew it was going to boom. Twenty years later, voila, I could not get a taxi. The taxis existed only  when they dropped people for Cozumel at the pier. The second boom started around 1998 when they started building accross Constituyentes. Everything has improved over the years. We were limited in restaurants before,not anymore.The biggest improvement is shopping for groceries. Nowadays you don't have  to worry to much about getting sick because sanitation is 100% better. It is also rare to see the no vacancy sign since they have built many small and big hotels plus all those condos. It is still easy to get around for mostly everything is walking distance. People think the beach is smaller then before, not really. Now they have terraces and decks on the beach plus all those chairs that were nonexistent before, not much space left. I do miss a bit of the old Playa but I still like it for it gives me, everything I need. We used to rough it more in those days, but now with taxis, collectivos and first class buses, transportation has changed completely
What are some of your favorite places in Playa Del Carmen?
I really do not have a favourite place but the gym does come to mind since I do enjoy working out. In the  mornings in Playa I enjoy going to different coffee houses because thats where I meet lots of people. Another of my favouritee place is the ocean since i enjoy swimming, very simple for me.
What is your best tip for tourist coming to Playa?
Well with the two bike accidents I have had this year be careful. Always be alert when you walk, bike, and drive.
Will you ever move to Playa Del Carmen?
Right now I have no plan to move to playa. I do enjoy it here  and I will see what the present will give me back in Ottawa, Canada. If I become stale back home then it would be a possibility. I do want to make a few trips to other parts of the world before I would make  the move to Playa Del Carmen.
What do you think people miss about Playa if they are here for just a week on vacation?
When you are here for one week I think you miss being in the zone. With time you start to lay back and float with time, you start feeling like you belong to Playa. Also with time you start to participate in daily activities with people of Playa.
Thank you Claude for talking with us and giving us and our readers a little perspective of what Playa Del Carmen is like from someone that has been coming each year and staying for a few months at a time.