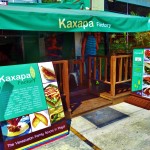 Playa Del Carmen has become home to more Venezuelans lately due to the economic conditions there. It is our gain because we now have several restaurants representing the Venezuelan cuisine.
Kaxapa Factory Restaurant is a popular place for some food and drinks with the taste of Venezuela. This small restaurant provides an inexpensive meal with some different taste.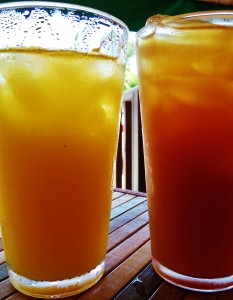 Drinks
These are a real treat and if you don't stop for a meal, stop for drinks. They have some different flavors that are sure to cool you down. Some of the drinks to note are :  Papelón-is a traditional Venezuelan drink made from cane sugar and lemon or lime. It is like lemonade and traditionally served during the hottest time of the day. it is a different taste then anything else you have tasted and that is a good thing.  Chicha– it is the Venezuelan version of Mexican horchata. It is a sweetened rice drink. It is a little thicker then horchata but delicious in it's own right. Passion Fruit juice-one of the most traditional flavors of Venezuela.
Menu
Most food items range from 50 pesos-90 pesos and drinks are 25 pesos each. So you can eat for around 100 pesos each. Such things as empanadas, arepas and cachapas can be found on the menu.
Arepas are the most famous food to come out of Venezuela. It is a cornmeal cake that is baked and used like bread. It is cut open and filled with ingredients.
Cachapas is like a thick corn pancake. It is then folded over with cheese or other filling.
These are just two things on the menu here. They do have similar basis ingredients as Mexican cuisine but prepared in a different way.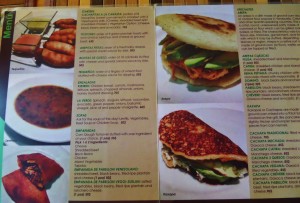 Location
Kaxapa Factory has moved to 10th Street between 15th and 20th Avenues. This is facing the Palacio Municiapal.  They have a much larger space and comfortable dining area. The old address was: Avenida Constituyentes Entre 10 y 15
Local 1a Mx 62 Lt5
77710 Playa Del Carmen, QRoo
(That is Constituyentes Avenue between 10th Ave. and 15th Ave. on the north side of the street.)
Hours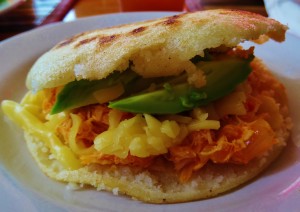 Tuesday-Sunday 10am-10pm
Closed Mondays