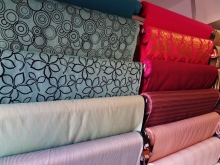 Instead of buying everything new in a store, having things made for you is where you can save  a lot of Money in Mexico. The price of supplies might be similar to what you are used to, but crafts people will charge less for their services here in Mexico. If you are living in Playa Del Carmen and want to have curtains made, clothes custom sewn for you, or reupholstering a piece of furniture, then a trip to the fabric store  is in order for you to select material.
Fabric stores have fabric for what most people buy here. That means affordable materials that people use to make clothes and home projects. If you are looking for fine prints and higher end looking fabrics, you are going to have to look around and perhaps compromise. If you are moving to Playa and want to make pillows for you new place and have an idea of sea shell prints or whatever, you might want to bring the fabric with you and just have them made and stuffed here.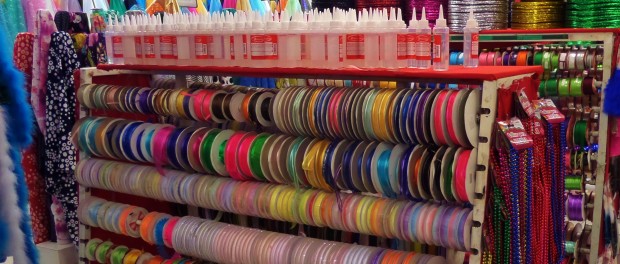 These stores have some craft products for your do-it-yourselfers. Besides having a wide selection of fabrics and sewing supplies you can find ribbon, floral foam, plastic table covers, wood crafts for painting, jewelry supplies and oh so much more. Some seasonal holiday products can be found as well. If you are decorating for a party or a wedding, these stores can provide some inexpensive materials to decorate with.
One interesting product that you will find in some of these stores is a plastic window coating sheet. You can cut it to size and place it on your glass. It comes in different patterns and you can use it to distort or give a frosted look so people cannot see in your windows. This is very helpful in bathrooms where you cannot use fabric or if your neighbors windows are facing yours and you want a little privacy but still want light.
Some stores will make curtains for you. They have counters at the back of the store and you can select your style. You can alternatively take your fabric to one of the many sewers in Playa and have them make anything you want at very affordable cost. For example it can be as inexpensive as 80 pesos for one curtain panel and 50 pesos for a sofa pillow with zipper.  It can cost less then going to Walmart and buying new curtains that may not be the exact fabric you want plus you are giving a job to a local. It can take one day to two weeks to have it ready depending on how busy they are.
Here are a list of locations in the downtown and areas that you might be in to check out materials.
1) Juarez Avenue between 20th and 25th Avenues on the north side of the street.2) 30th Avenue between Juarez Avenue and 2nd St. east side of the street. 3) 30th Avenue between 12Bis St. and 14th St. 4) (update July 27 2014, this store is now closed. small shopping plaza on 30th Avenue and 14th St. north side of the street where Santander Bank is located. 5) 30th Avenue and 34th St. on the northwest corner. 6) Avenue Constituyentes between 20th and 25th Avenues inside of Plaza Las Perles 7) Inside of Centro Maya Shopping Plaza
The fabric store in the small shopping plaza on 3oth Avenue and 14th St. is of interest because they have some good material for reupholstering. Some of the materials you see in there you will see in fine  furniture stores in Playa. They have a small selection but popular fabric that is in vogue now. They also carry materials that would be good to make sun screens or outdoor projects. Some of the materials are a mesh with a plastic color coating on it. You can let your imagination go wild with ideas for uses of these products. (update July 27th 2014-this store is closed and we will let you know if they open in a different location.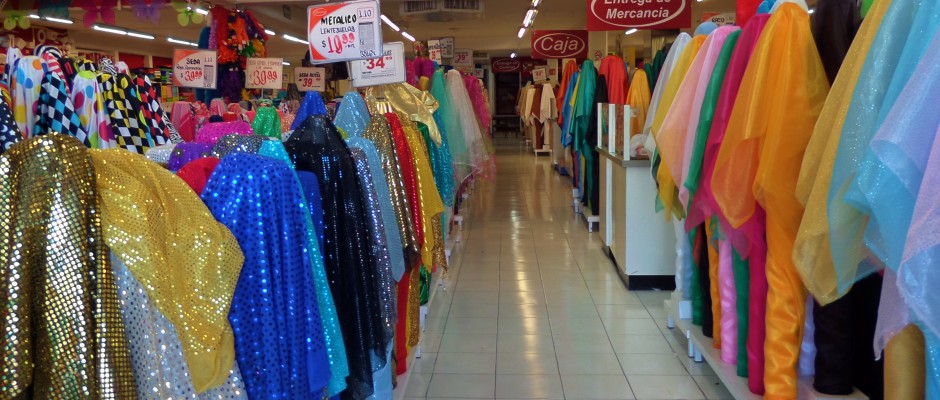 The largest of the listed locations for fabric is on the corner of 30th Avenue and 34th Avenue. It has two floors of fabrics and well as other supplies. The name is Assis.
Interesting fact: Fabric stores always have good air conditioning. If they did not, the fabric could start to get mildew in the heat.