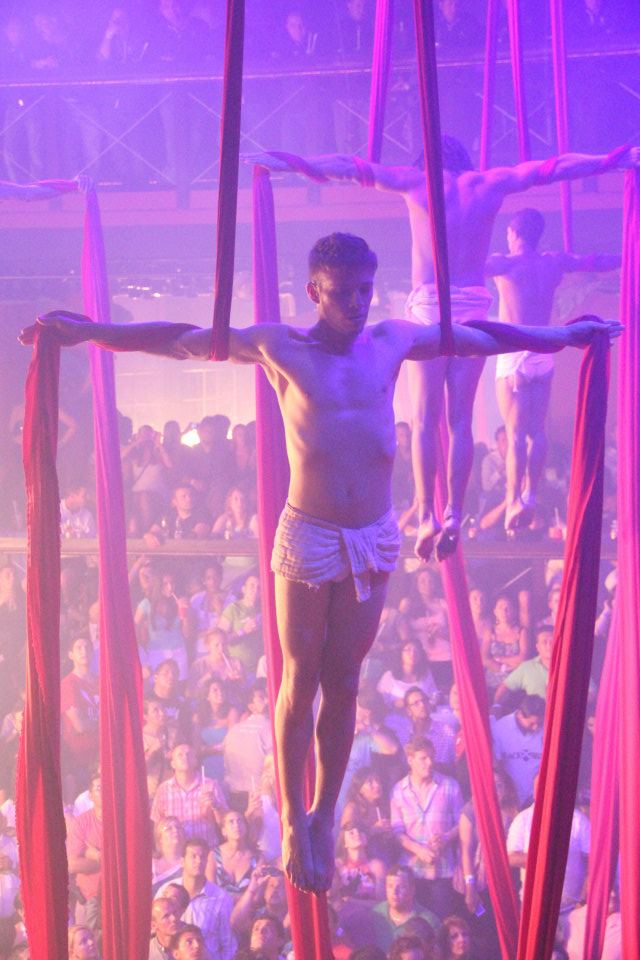 Where are you from?
I am from the State of Veracruz, Mexico.
When did you move to Playa Del Carmen?
I moved to Playa Del Carmen February 16th, 2009. Before this time I was actually commuting from Cancun to Playa Del Carmen for three months. A new entertainment venue was opening. During this time I became more comfortable with the idea of living in Playa Del Carmen.
What type of work do you do here in Playa?
I work with a team of more then 30 people between dancers, acrobats and back stage staff. I work as an acrobat performing aerial feats like ropes, aerial hoops, hanging fabrics, Chinese poles and bungees on trapeze.
How did you get started doing this?
This has been the result of more than 10 years performing in many places. Everything starts with a dream. When I was 4 I saw my first Cirque du Soleil show (le nouvelle experience ) I remember I saw a guy flying on the ropes and the idea about flying got very deep inside of my mind. Sometime later I started taking dance lessons (folklore)  and  sports (gymnastics). My dad was a dancer before me and when I started to get into this line of work, it already felt right for me.
What is your favorite thing about your job?
Well, hmmm, my favorite thing …I think is not the idea to be famous or do amazing things that impress people, it's something more simple. It's the feeling of freedom when you are in the air, nothing else matters because when you are flying it's just you and yourself, you feel free to be yourself.  People also enjoy seeing it.
What is something you think  tourist miss if they are here for only one week?
Something I think people miss from here could be the environment because Playa is a very chill place to live. Life here is not so stressing as some places and people can have the chance to disconnect themselves from the real world. I think one week is not enough to do this.
What are your top three places to go in Playa?
I used to love to go eat at La Pumarola before it closed.  I like  Kool beach club, they have a great service there and ofer a breakfast buffet before 11 am which is good, kind of cheap and you can stay there after that enjoying the view. For entertainment I like to go to so many different places but the one I really like its 12 street where there are many places to go out.
What do you like to do on your days off from work?
On my days off I like to go to the cenotes  20 minutes on the highway south of playa and obviously if I have no chance  to do that, I always have the option to go with my friends to chill at the beach.
Thanks for your time to give our readers a little insight into life in Playa Del Carmen.