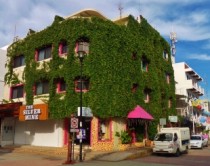 Hotel Delfin is one of the older hotels in Playa Del Carmen. It has been around since 1988. It has become iconic not because of the hotel itself but rather the full coverage of vines on the outside of it. We stopped by the hotel to check it out the other day. Here is what we learned. It has 14 rooms available in three categories, penthouse rooms, one kitchenette suite for those wanting a possible availability to make some food in the room, and superior double rooms for two or three people. The rooms feel dated even though they are said to have been remodeled recently. The flat screen TV's don't hide the 1960's feel of the basic rooms.
The location is right on 5th Avenue and 6th Street. Entrance is on the 6th Street side. One block down and you are at the ocean although the beach there right now is small so walking toward 4th St would be a better option.

Rates are from $60-$80 USD+ 19% tax. There is a discount in summer months and if you stay 4 nights you get one free. During some holidays rates go up. The rates seem a little high compared to what you can get at other hotels. If it were around $50 that would be ok.