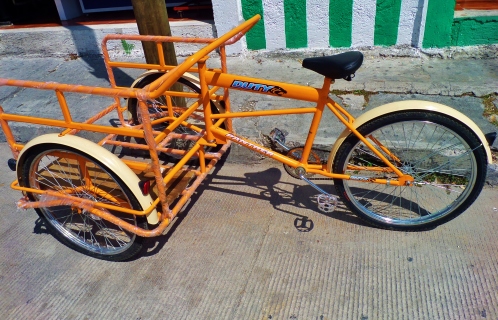 When you are in Playa Del Carmen and the Yucatan Peninsula you will notice the many tricycle bikes that are used.
It is great that these eco friendly bikes have become entrepreneurial start up engines. You can see them used creatively in many self owned businesses. The tricycles sell for about $200-$250 USD.
The many uses for these tricycles in Mexico
You can see them as taxis especially around the Cozumel Ferry Pier taking luggage and people to the bus station.
Recycling/trash collection. You will see people pushing these bikes with stacks of cardboard or cans or items found in the garbage that can be recused.
Furniture deliver. I have seen a full sized couch being moved with one of these bikes. Below are photos of a mattress, chair and bed frame all being moved with these bikes.
Water service. The jugs of water that people use for drinking  are cycled around the neighborhoods for sale.
Snack carts. The photo below is a little cheating by adding a motorcycle body to the bike, but it does serve as a snack cart.
Wood collection. In more rural areas these bikes are used to carry fresh cut wood that is taken back home for cooking.
Mobile restaurant. You can see full taco stands built on these bikes complete with gas cookers. Very ingenious usage of bikes.