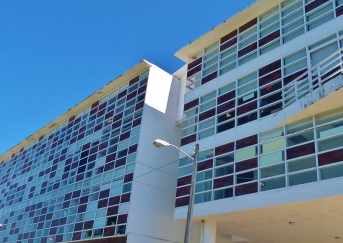 Today we interviewed Alvaro from HotelBeds.com. We hope that his perspective as an insider in the hotel industry gives you some insight into life in Playa Del Carmen.
Where are you from and how long have you lived in Playa Del Carmen?
I am from Mexico City and have been in Playa Del Carmen for 6 years.
What do you do here in Playa Del Carmen for work?
I am an operations supervisor of logistics for travel agencies. We handle transportation to and from the airport for many people as well as hotel and tour bookings for some companies. We are a behind the scenes company that is actually helping  many of the visitors have a good vacation without thinking about many of the logistics. We get thousands of people to and from their hotels to make their flights and enjoy tours.
What are the different tourist seasons for Playa Del Carmen and where do people come from?
Winter is October -April for many tour operators. Summer is May-September. These are the two seasons for some tour operators. January/February=most mixed month of people from all over.
March/April=A lot of English come, also Chile and Venezuela. The Spanish start coming at the end of March into April. National tourist come in April especially for Semana Santa.
May/June= May is a lazy month but we do get English and Irish. June can go up and down. Mixed nationalities.
July/August=Americans. Canadians and national tourist come.
September/October=Lowest season of the year. Mixed nationalities. A little more from South America.
November/December= Germans, Americans, and Canadians all come then.
Since you work in the hotel industry, what hotels  would you have your friends stay in if they visited?
Inexpensive hotel in Playa=Hotel Hacienda Del Caribe on 2nd Street between 5th and 10th Avenues.
Mid Range hotel in Playa=Hotel Aqualuna on 10th Avenue and 14th St.
Boutique Hotel in Playa=BePlaya Hotel
All Inclusive in all of the Mexican Riviera=Grand Velas
What are some of your favorite places in Playa Del Carmen?
Azotea Restaurant, Playacar Phase 1 beach.
What is your favorite day trip out of Playa Del Carmen?
Xcacel beach which is between Playa Del Carmen and Tulum.
What is your best tip for tourist coming to Playa De Carmen?
If you want to stay at a hotel and just stay there for your vacation, choose a good all inclusive. If you are going to do tours and do things outside of the hotel, stay at a cheaper hotel downtown and then save money for doing activities. I have heard from some that have stayed at all inclusive hotels that spent three days out of the hotel doing things and eating out and then they realized they paid double for things. If they had stayed at a hotel that was not all inclusive they could of saved money.
What is the biggest mistake you see tourist making?
People can get caught up in the excitement of the vacation and forget items like cell phones or bags. People sometimes are excited to get off the bus and forget bags or fall asleep and leave phones in places. It can be hard to match up items with guest. So if people pay a little more attention to personal items they might not leave things behind. It is not due to people taking them, they just get left behind and lost.
Thank you for taking the time to talk to us Alvaro and giving us insight into life in Playa.