Ambarte Store in Playa Del Carmen
Ambarte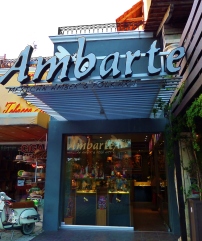 is a small shop located just off 5th Avenue on Constituyentes Avenue that sells traditional Mexican folk art and crafts. These are not the cheap knock offs, they are the real thing imported from Chiapas, Nayarit and other parts of Mexico.
They have a nice collection of amber jewelry. Amber is fossilized tree resin that is millions of years old. It can be found in different locations around the world. Amber in Mexico comes from the Chiapas area in the south of Mexico.
The other main category of gifts they sell are hand made crafts from Nayarit State and Jalisco State of the west coastof Mexico. Two art forms from this area are made by the Huichol people. Using bees wax and pressing colored yarn to create pictures and also using tiny beads to cover objects. Each is handmade and requires many hours to make just one work of art. Symbolism and meaning are behind each work of art.
Make sure you check out their "Trees of Life" and ask about the meaning behind this Mexican Craft.
English is spoken in this shop so you are able to hear about the special crafts they have selected to offer.
Location
Ambarte is located on Constituyentes Avenue between 5th Avenue and 10th Avenue on the north side of the street. It is just next to Ah Cacoa Café. There is also a second location on 5th Avenue between
Hours
Open everyday from 10:00am-11:00pm
Phone Number
984-803-0327