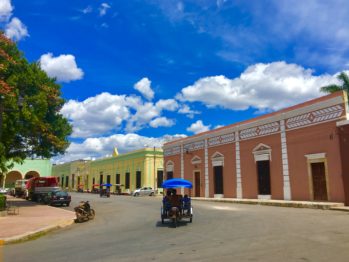 Welcome to Espita Yucatan
Espita Yucatan is a small village of about 16,000 people. It is off the tourist track but rewarding to stop and see this charming place.
In the ancient past this was an area of Mayan inhabitants. All of the Mayan temples were used to construct the colonial structures starting from the 1520's. Yet the countryside to this day is dotted with Mayan ruins. On an interesting note, buildings that have the square stones exposed on the corner give homage that they were originally carved by Mayans in the past. You will see this on a few buildings in town.
The very name, Espita, is a Mayan word that mean the place of little water". This refers to the fact that there are not many cenotes or natural access to water. It was not until wells were made that people had good access to ground water. Today you can see many wells around town, many on street corners.
A town for real people, not tourists
One thing you will notice is that there is not one tourist store here. Unlike small colonial cities like Valladolid and Izamal, Espita is not on a main tourist route. Even though it is close to Ek Balam and Chichen Itza, it is not on the route from the major tourist destinations in the Riviera Maya or Merida.
This however should not prevent you from visiting. This town offer a real working town where people go about business each day and a place where traditions live. The outside world is not as imposing here. The deep Mayan roots and country life live on in the dress of people and the festivals. One of the more popular times is from December 19-25th when all of the town comes out for festivals.
What to see in Espita
The Cathedral of San Jose is in the center of town and the most identifiable building in Espita. This is open during the day to visit. Note: Many things in Espita close from 1:30pm-4:30pm including the Cathedral.
The small market is charming to see especially in the morning as people go about shopping for fresh fruit and vegetables. You will also see fresh meat hanging and you might just be transported back in time when markets were fresh.
The old train station on the north end of town stands as a monument to the hacienda days and the time when trains were used to take farm produce to the outside market. It is abandoned now but cool for photos.
What Espita lacks in museums and tourist attractions it makes up in real life living and charming moments that you encounter while walking around. Many of the homes have gardens with fruit trees as well as turkeys and chickens. Visit some of the side streets around the center square and you never know what you might see.
The official website for Espita town hall and tourism is here.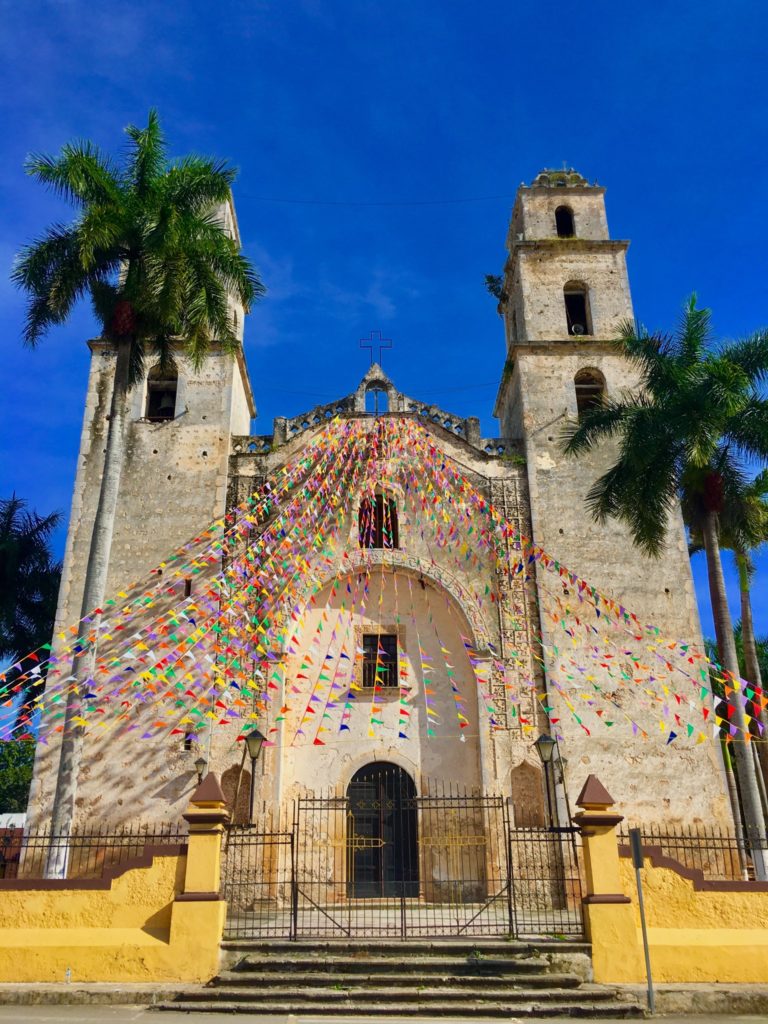 What to do and see around Espita
Since there are some good boutique hotels in Espita, you might want to use Espita ss a base and explore some of the local area. We have made a guide with map to show you all the things locally to do and explore. You can find our article on Espita daytrips here.
Colonial architecture to admire
Around the main square and surrounding blocks, you will see a lot of examples of colonial architecture. Some of these homes are several hundred years old. Various states of repair can be found and if you are a photographer of architecture, you might just find yourself clicking away.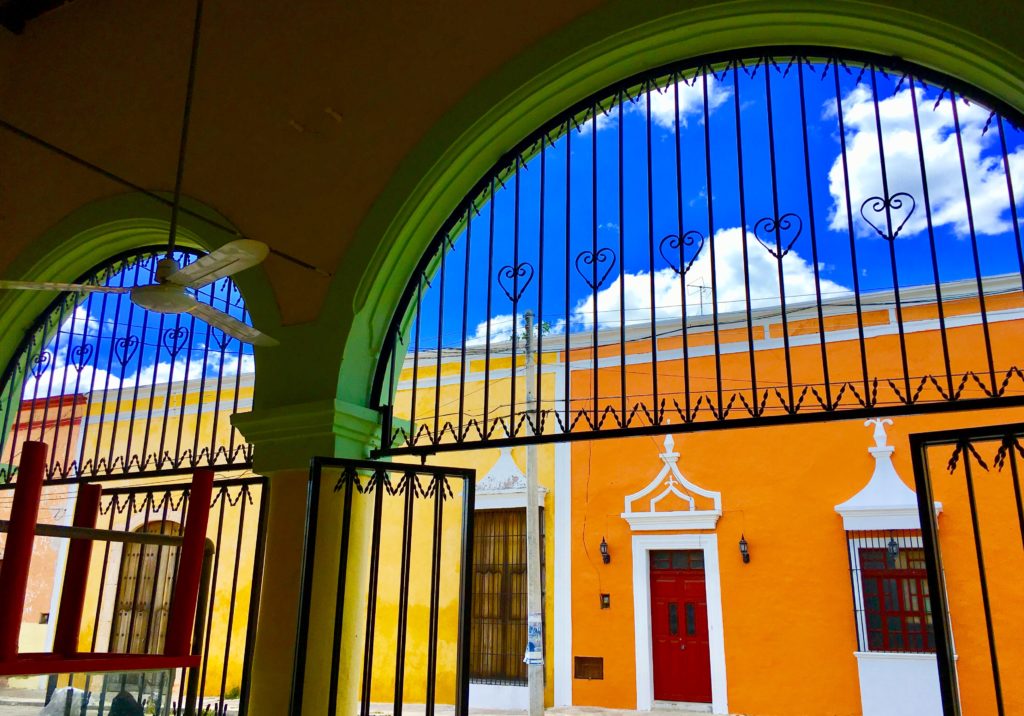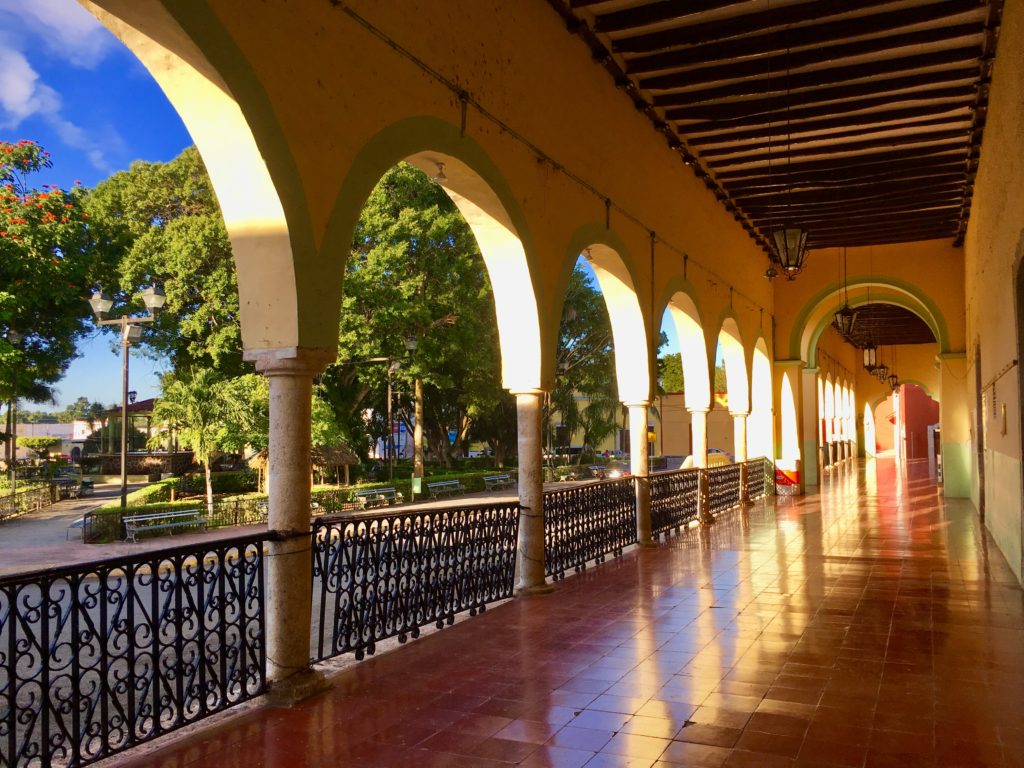 The unique taxi moto culture
One of the first things you will notice when you arrive in Espita are the unique vehicles on the road. These are called taxi motos. They are a hybrid between a motorcycle and a tricycle. The front tire of the motorcycle is taken off and the moto is welded to the cart of the tricycle bikes. These are then used as a convenient way to get around.
Not only are they gas saving, but they are also an affordable taxi service. The price is 10 pesos per person, and they will take you anywhere in town. It is a fun experience with the air blowing at you while you cruise around town. It is easy to ask one to take you around. Of course, if you ask for a little tour you can ask for a price. It is a great local way to see Espita and a small way to support the local community.
Where to stay and eat in Espita Yucatan
In recent times there have not been too many places to stay in Espita. This is changing as more people discover the area. There are several inexpensive posada guesthouses and the new boutique hotel in Espita. There are limited places to eat and below are some of the options. If you plan on staying, locals can point you to more options that are open on different days or offer to go service.
Hotels and boutique hotels in Espita
Posada Paola is a small guest house just south of the church.
Posada Georgina is a another small and basic hotel with good value. This is near the entrance of Espita from Calotmul on the east side.
Posada San Jorge is another small guest house. This is just on the south side of the church as well.
Casona Los Cedros is a new boutique hotel that will change the face of tourism in Espita. It has recently opened in December of 2020. This is a beautiful place to spend some time exploring the area.
Boutique Hotel Casa K'acaya is a 6-room boutique hotel in the center of Espita. It offers great quality and a laid-back feel. Meals are available on requests and this small hotel makes a great spot for families or small groups.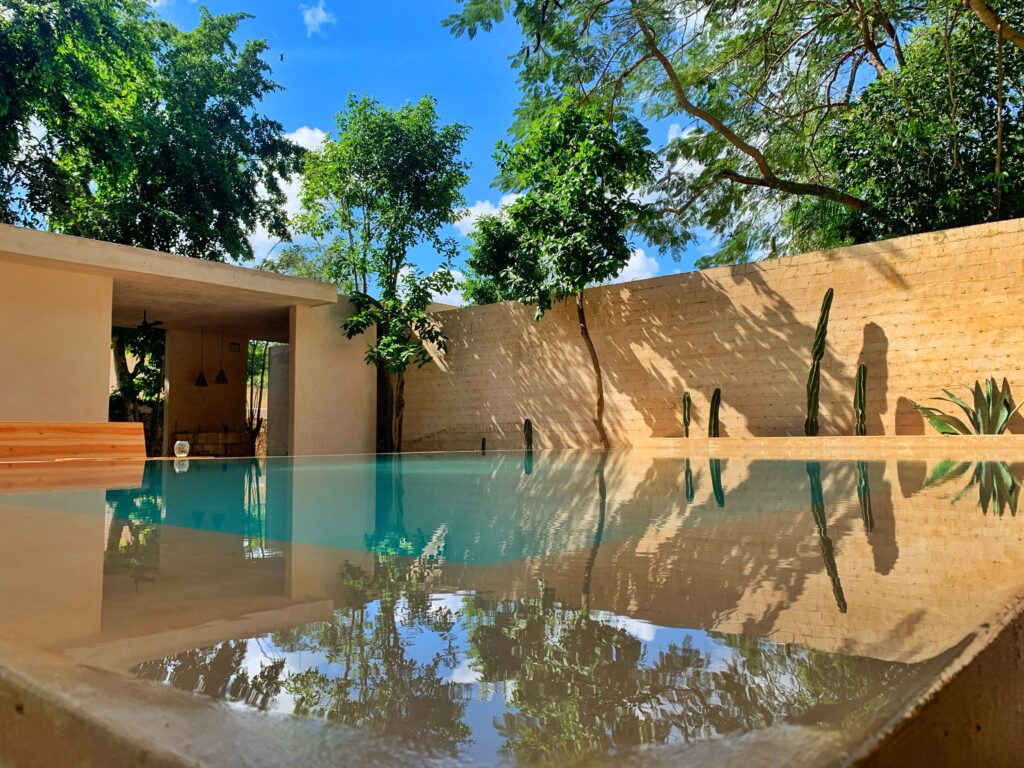 Restaurants in Espita
On the map we have 4 main places to eat. There is not one restaurant that you can catch all three meals a day.
Casona Restaurant in the Cedros Boutique Hotel is open by reservation only. Usually, you need to book a day before so all ingredients can be purchased. Breakfast, lunch and dinners are available, but usually not every day. Check for availability by calling or sending WhatsApp to 986-114-3220.
Perhaps the best restaurant in Espita for local flavor is in the market corner. Two very nice women run this small restaurant. It is open everyday for breakfast and lunch. During the week it is open until later in the evening. Expect a small counter for eating or a table set up on the sidewalk. the food is very local and good.
The Poch Pizza Restaurant on Calle 27 is open at 7pm at night. The pizza is pretty good and there are a lot of options (most with ham).
Next to the Super Willys Supermarket in the mornings you will find carts with Yucatecan salbutes and panuchos. In the evening in front of Super Willys you will find tamales being sold. All of these options are very affordable and local. You can eat in the street with the locals or take it to the park to eat.
The other restaurant on Calle 22 and Calle 23 is good for lunch. It serves regional dishes. Don't expect anything fancy but it does taste good and offers value.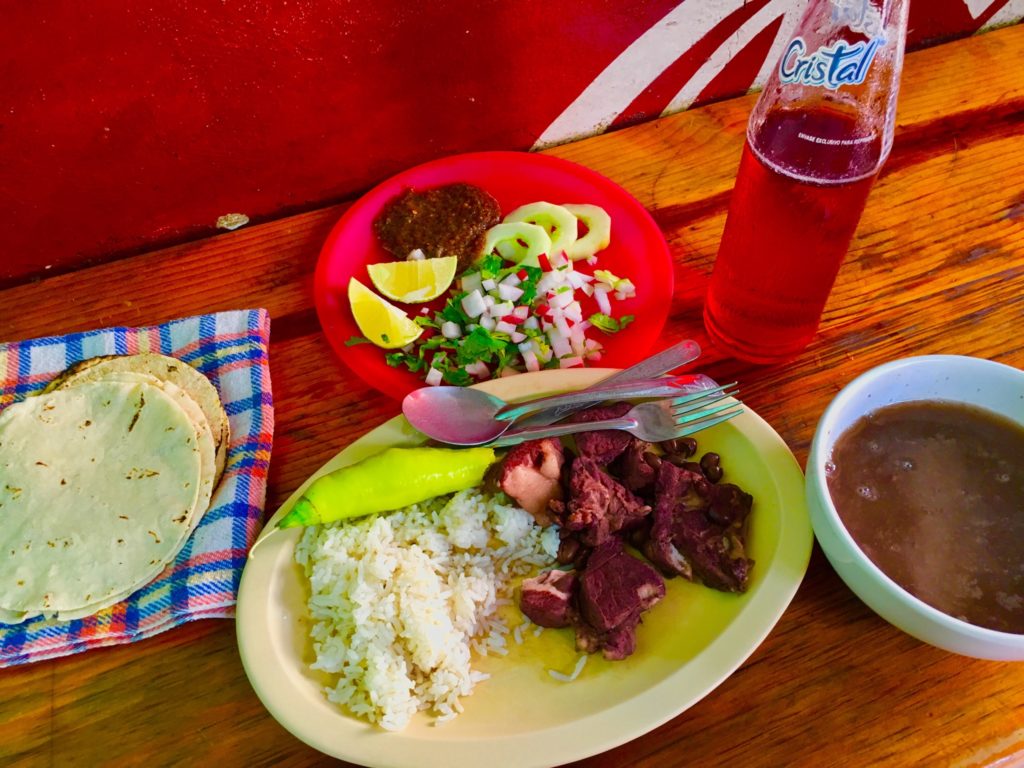 Our map of Espita
All of the places mentioned in this article are on this map for you. We hope you enjoy visiting.
How to get to Espita
Most people out exploring the Yucatan this deep will be driving. If you are driving here most people come from the 295 road that goes from Valladolid to Tizimin. The road from Calotmul is a narrow country road with some speed bumps, so take it slow and watch out for them.
Public transportation to Espita
Here is how to get to Espita if you are not driving.
From Valladolid you can take any Tizimin bound bus and get off in the town of Calotmul. From there you can take a taxi from the taxi stand there or wait for the colectivo van that comes from Tizimin enroute to Espita. A taxi is about 80 pesos and colectivo about 22 pesos from Calotmul to Espita.
From Tizimin you can take the colectivos that are parked by the Electra store behind the main Cathedral.
From Merida and Izamal there is a Noreste bus that passes in the morning on a daily basis.
If you are going to Valladolid you can catch the Noreste bus from the bus stop direct once daily. This is approximately at 10am. You can ask in the bus office for a ticket and current time.
Leaving Espita you can also catch a colectivo to the 295 road. These colectivos are parked next to Super Willys supermarket. These leave to Tizimin or you can take them to Calotmul and then wait for a bus going to Valladolid.
Weather in Espita
When most people hear "the Yucatan" they think hot weather. It is true most of the days are hot, but Espita has a secret. There is a large, wooded area around Espita that creates a microclimate. The days are the same as other areas, but the temperature drops in the night lower than other areas. To see some great charts of weather for Espita, check out this weather website.
What is in the area to visit?
If you are in the area of Espita you can enjoy some of these places to visit.
Have you been to Espita Yucatan before? What did you think? Let us know in the comments below, we would love to hear from you. Also if you have any questions feel free to ask in the comments below.