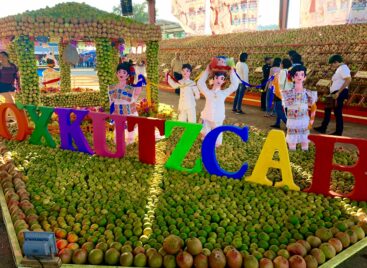 Visiting Oxkutzcab and the Feria de la Naranja
There are some unique festivals and celebrations in the peninsula and this is one of them. In the southern part Yucatan State is the town of Oxkutzcab. This area is a fertile area of the peninsula and really the central fruit growing area. Each year in December they celebrate the produce with a fair. It is called the Feria de la Naranja or Orange Fair. It is a colorful event that is gaining in popularity because just how unique it is with tons of oranges and other citrus fruit adoring the fair grounds.
Besides just visiting for the fair, there is a lot to see in this very authentic area. Here is a guide to visiting and getting the most out of a trip there.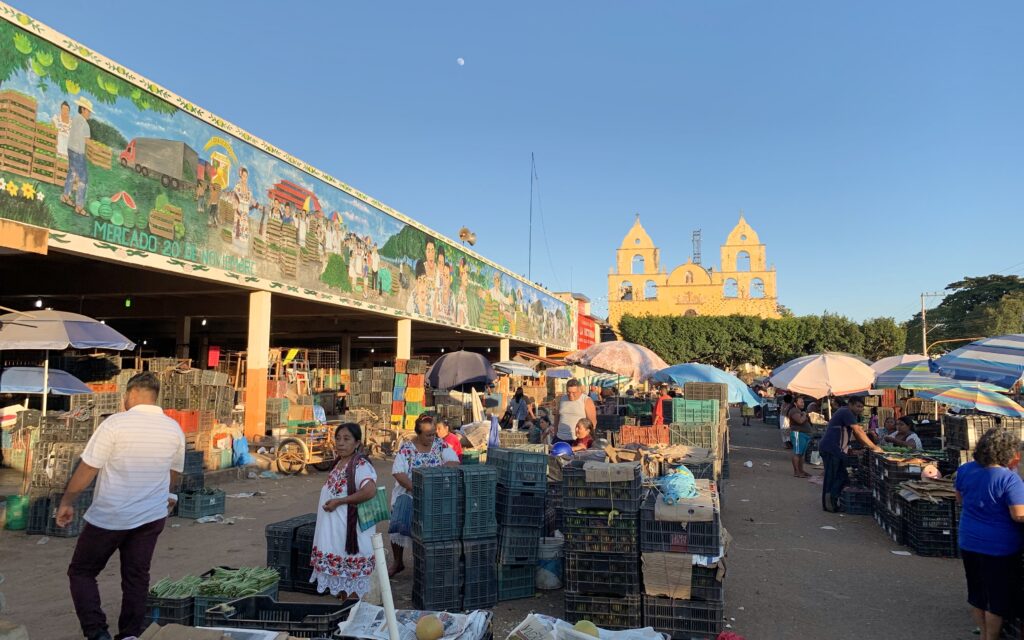 Our video of visiting Oxkutzcab for the Feria de la Naranja
Everything you need to know about visiting Oxkutzcab and the Orange Fair
If you want to visit Oxkutzcab and also take in the Feria de la Naranja, here are some important tips for you. Let's start by looking at where Oxkutzcab is. Oxkutzcab is in the southern part of Yucatan State. This is a very traditional area where many Maya traditions and dress can be observed. From the Riviera Maya this is about 4 hours or 368 km. From Merida to Oxkutzcab it is about one hour and a half or 103 km.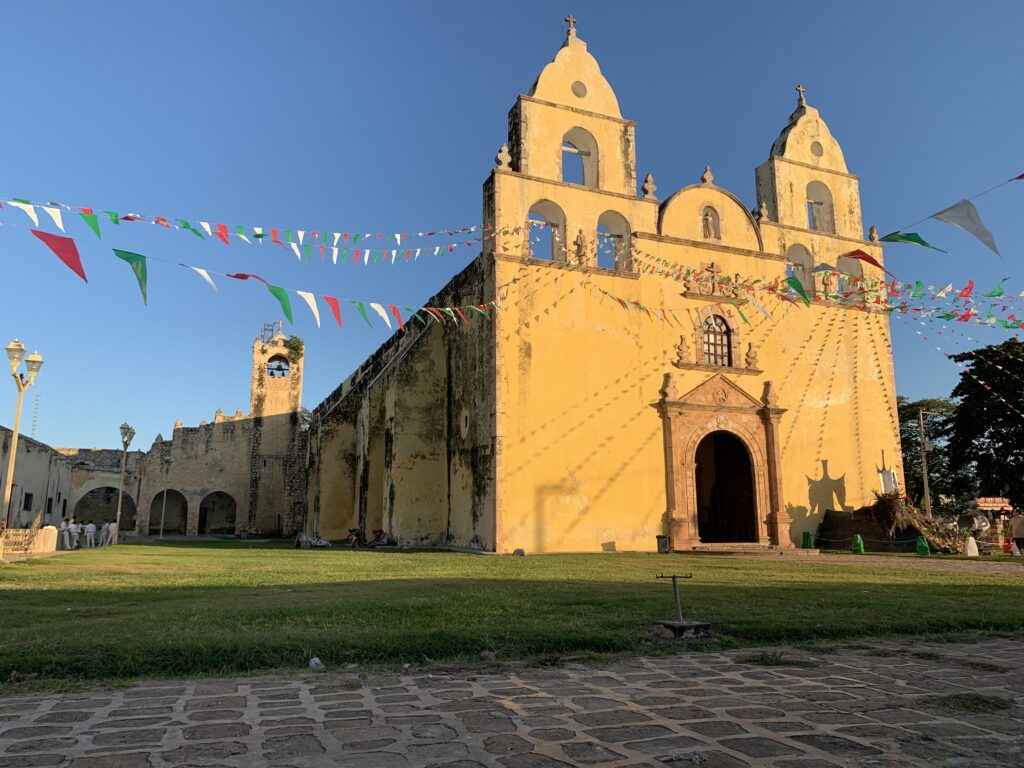 Where to stay in the area
Since Oxkutzcab is a little far from most places people will be coming from, it is good to plan on staying in a hotel and also seeing some of the things nearby. You have several options for hotels. One option is staying in Oxkutzcab and exploring from here or staying nearby. If you want to see the fair at night, it is better to stay in Oxkutzcab because the nearby hotel options are a little far and you probably don't want to be driving at night on the dark roads.
Staying outside of town will give you some better hotel options, though, and access to some better restaurants as well. Here are some recommended hotels in the area which you can book. It is best to book in this area so you have a guaranteed spot since there are not a lot of options. Also the better hotels get booked first and often last minute bookings might not show availability.
Hotels in Oxkutzcab
Hotel Puuc. This is a basic hotel that has been in business a while. It provides a clean and a basic place to stay. They do have a pool and restaurant. This hotel is in the center of town, has parking and a good option since there is a place to have breakfast.
Castillo in Oxkutzcab. For a more unique place to stay, this hotel is a replica castle on a hill. It is a little out of the center but will give you something to chuckle about in your photos.
Hotels in the area around Oxkutzcab
If you are not going to go to the fair much and perhaps only visit during the day, these hotels might be a better option for you. They give you closer access to some of the more touristy places and better accommodations.
Restaurants and places to eat in Oxkutzcab
Although Oxkutzcab is a decent size town of about 25,ooo people, there are very few restaurants. Since this is a very working class area, most people eat at home or grab some tacos from a cart.
The main tourist restaurant in Oxkutzcab is Príncipe Tutul-Xiu Restaurant on Calle 45 No. 102 between Calle 50 and Calle 52. This is a lunch and early dinner restaurant. It is open daily from 11:00am-7:00pm.
If you stay at the Hotel Puuc or want to visit there for breakfast, this is one of the few places you can get breakfast. It is basic but you can at least find coffee and eggs.
Other options for eating are one of the roast chicken restaurants that are open during the day mainly for lunch. These are commonplace and there are several in the center of Oxkutzcab. The market in the center of town has a few basic restaurants around it and at night there are carts with tacos. This is where the locals go to eat at night.
The fair has typical Mexican fair food and nothing more that tacos and versions of tortas with different meats. It is a little bit of a let down, so don't expect to find too much to eat at the fair.
Where is the fair?
Since Feria de la Naranja is an annual event, there are fair grounds in the southeast end of town near the Mercado Fruticola. This is near the intersection of Calle 24 and Route 184.
Many people take taxis or the special little moto taxis to the fair. There is street parking sort of nearby, but parking lots are available close to the entrances and cost about 30 pesos.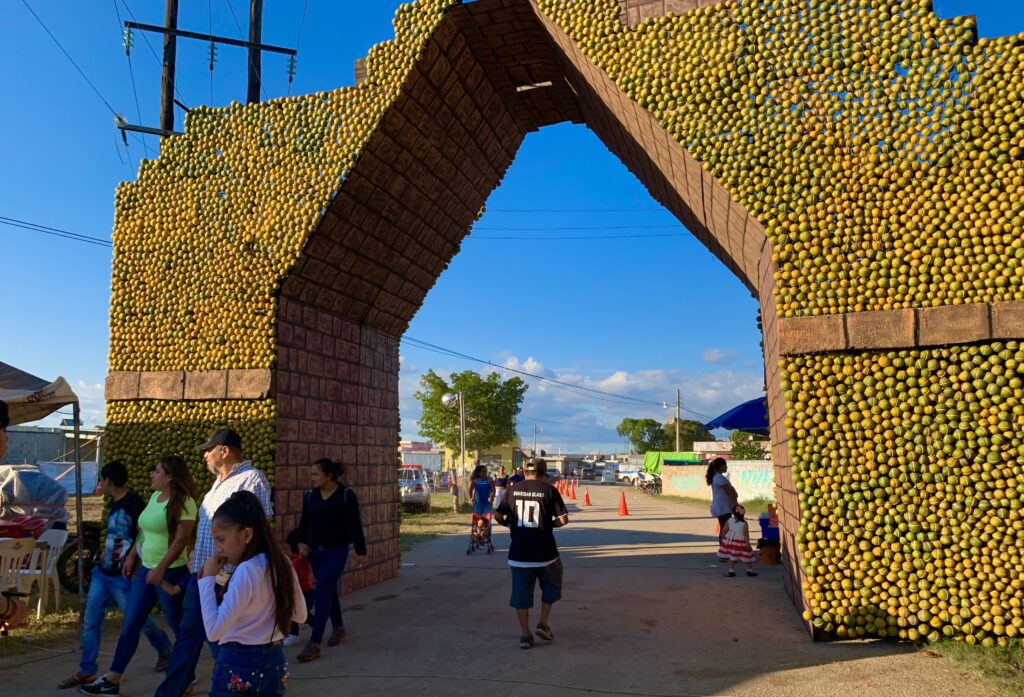 When is the Feria de la Naranja?
The fair takes place the second week of December. The dates vary a little each year, depending on where the weekend falls. For example the for 2019 the dates were the 5th to the 15th of December. The Feria de la Naranja is 11 days long.
What is there to do and see at the Feria de la Naranja?
Each day there are music events on the main stage, dances, competitions or a concert. Most tourists will come for a short while just to see the decorations and take photos. Locals come several times during the fair period to enjoy the different events and have a go at some of the rides since this is something different to do in town.
There is one small area where you can find some local products. We found some orange marmalade and a few other things, but were expecting to find more products.
The fair is free to enter. There are a few extra things you can pay for like rides and the Maya zone with photo ops. Many people come to take photos and walk the grounds for an hour or two and then move on.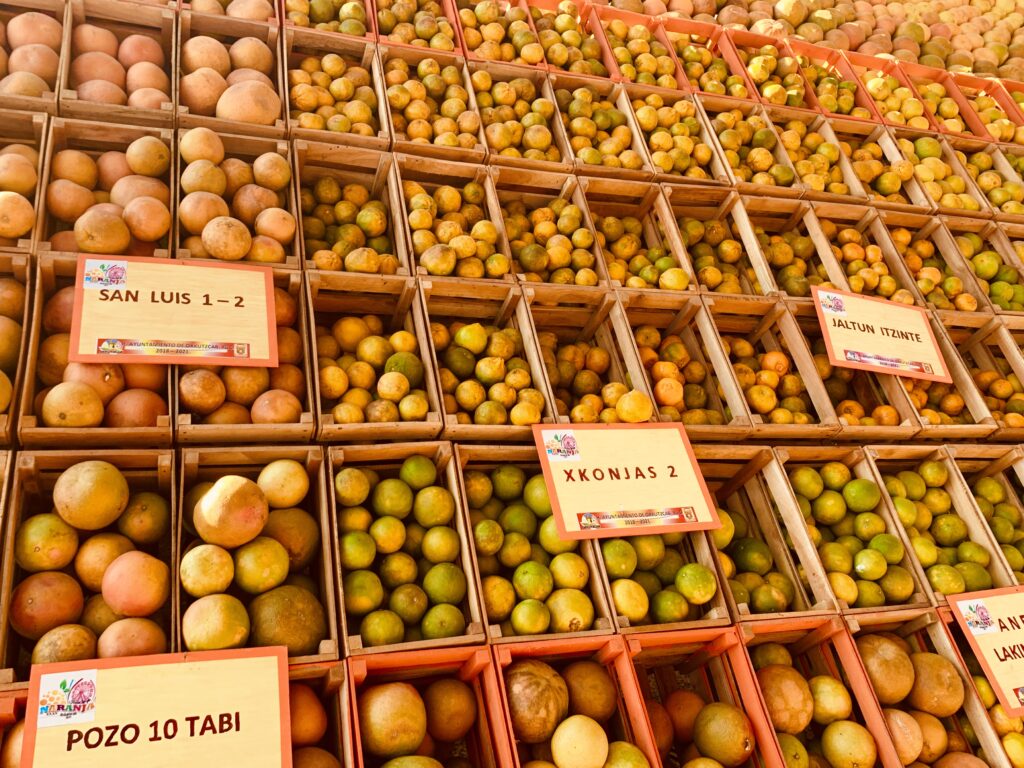 Things to do near Oxkutzcab
This is where the area really comes alive! There are not as many tourists that venture this far south in the peninsula. That does not mean there are not things to see though. It just means you have more of the places to yourself and will feel more adventurous.
Grutas Lol Tun
Loltun caves are the largest caves in the peninsula. These caves of available for timed tours during the day. They are pretty spectacular and well worth a visit. It is also something different than the Mayan ruins and Haciendas in the area. Tours here take about an hour or a little longer depending on the group size.
Uxmal Ruins
Uxmal ruins are one of our top three best ruins to visit in the peninsula. They are well preserved and restored, large and very few tourists there. It also feels like a unique place since it is tranquil and the surrounding area is very authentic.
Chocolate Museum (Choco Story Museum)
This museum brings to life the history of chocolate dating back to the times of the Maya. It also incorporates the history of the local area into a fun place to explore. This museum is just in front of Uxmal ruins and makes a great place to visit with children or if you like chocolate. For more about the Choco Story Museum, see our article here and video below.
Other things to see in the area
There are the lesser visited Labna and Kabah ruins in the area. These two sites are smaller but still have sufficient ruins to visit if you are in the area.
The Ruta Puuc is a tourist route that loops through this area. It loosely ties together everything in the southern part of the state to see and features haciendas, cenotes, ruins and more. There is a lot to explore in this area and we hope we have gotten you started with some of the suggestions here.
Thank you for reading our article and we hope you have fun if you go to this area and also the Feria de la Naranja.
More reading about this area:
Check out our article about Hacienda Yaxcopoil, once one of the largest haciendas. Also one of the last working henequen museum haciendas, Sotuta de Peon.