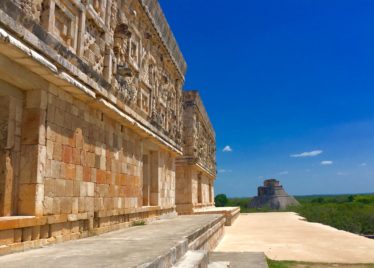 Uxmal Mayan ruins
Uxmal Mayan ruins are on our top 3 list because they are so spectacular to visit. However for most of our readers, you have not been here yet. Uxmal is on the western side of the Yucatan Peninsula and further to get to. So most tourist coming to this part of Mexico go to Chichen Itza.
It is however well worth it to visit Uxmal. The area is full of history and interesting things to visit. Besides visiting the ruins, this area is called the Ruta Puuc, which is a tourist route full of things to discover. There are several other Mayan ruin sites, haciendas, caves and even a Chocolate Museum. For now though, let us tell you a little more about visiting Uxmal Mayan ruins.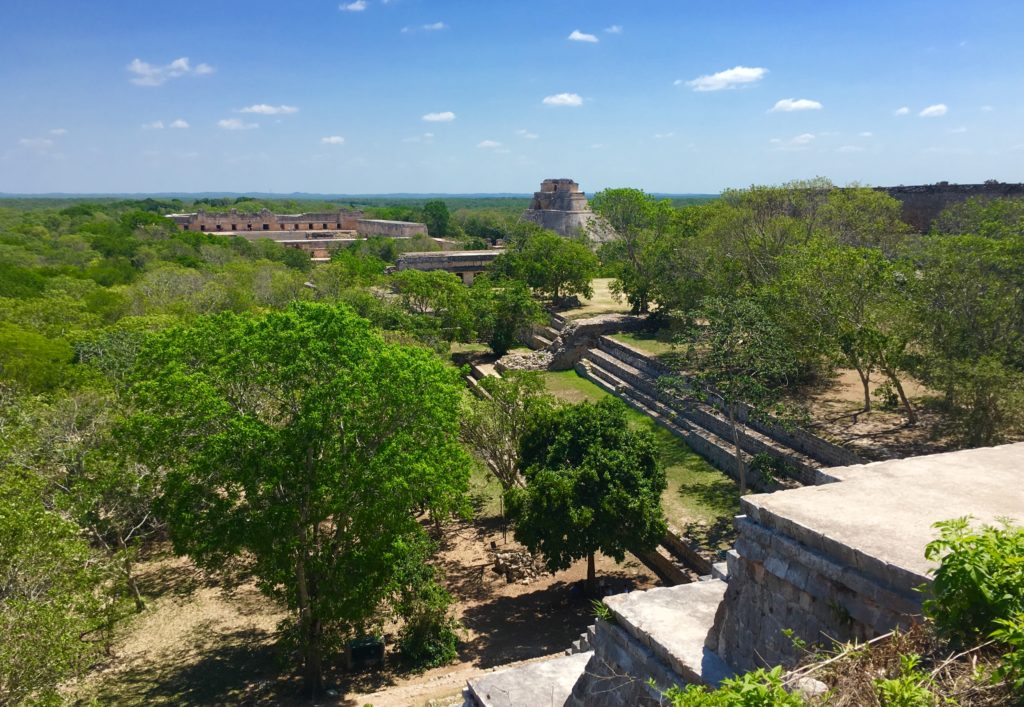 History of Uxmal
Compared to other ancient Mayan cities in the Yucatan Peninsula, Uxmal was shorter lived. It is however considered one of the most important Mayan sites. It also has the designation of a Unesco World Heritage site.
Records suggest that Uxmal was first settled in 500 AD. Most major construction was between 850 AD-1000 AD. Sometime around 1000 AD Toltec peoples from the northern central area of Mexico invaded this area. This put Uxmal into decline.
The peak for Uxmal was from around 850 AD-975 AD. That seems short when compared to many other Mayan city states, but nevertheless, it was around 125 years of ruling power. At this time Uxmal was aligned with Chichen Itza and the two ruled this part of the northern Yucatan Peninsula.
The ruling family of Uxmal aligned with the Spanish when they arrived in 1550. This gives some indication that Uxmal was still inhabited up to this time period. Perhaps due to their cooperation with the Spanish, not colonial city was built here.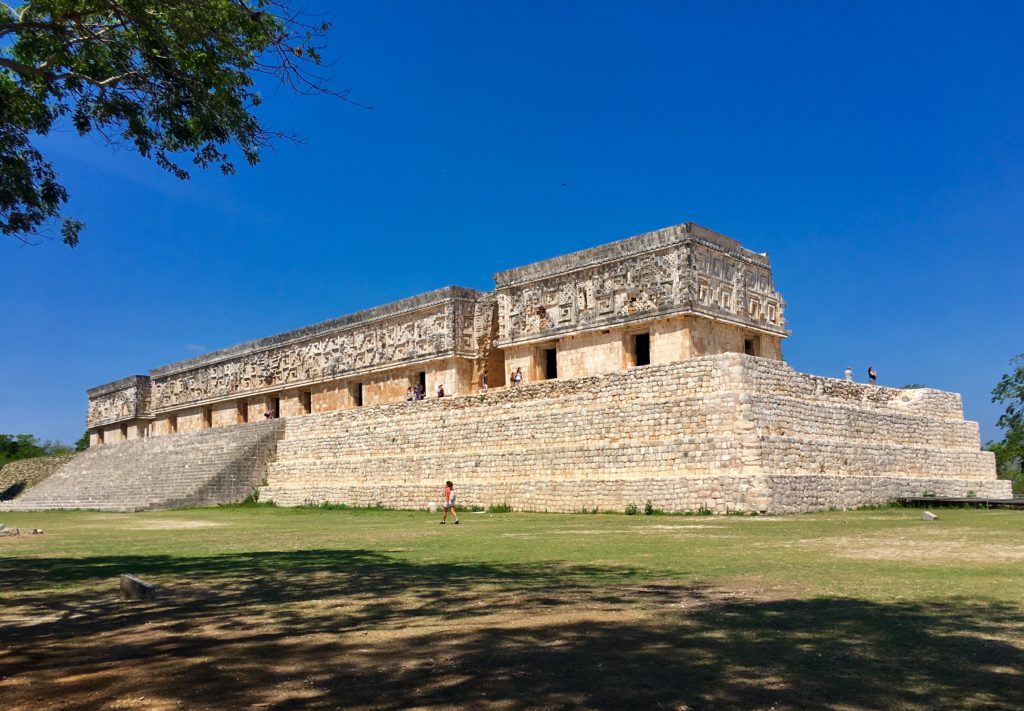 Our video introduction to Uxmal
We had perfect weather and a great day going around Uxmal to make this video for you. We hope you enjoy.
Tips for visiting Uxmal
It can be hot, so going early is a good idea. There is also a night show, so if you are staying in the area you can go at night as well.
The site is big and mostly in the sun. Wear a hat and sun cream plus comfortable shoes.
Explore the trails on the backend to see some of the less preserved parts of Uxmal.
Uxmal is somewhat handicap accessible. There are ramps in some places and you can see most of the important sites easily.
At the entrance there is a café where you can buy water. Plus there are a few souvenir shops.
Where are the Uxmal Mayan ruins?
Uxmal is about 83 km south of the city of Merida on the Route 261. From Merida to Uxmal it takes just over one hour. From Playa Del Carmen it is just under 4 hours to drive here.
How to get to Uxmal Mayan ruins
By driving yourself
Most people are driving south from Merida. There are two routes. Both take 261 south. The option comes with the bypass around Muna. If you take the bypass, it is quicker but we prefer to drive through town. The reason for driving through town is because on the south side you will pass over a hill with a crazy roadside store and lookout point. You can see some funny photos in our gallery of roadside Mexico.
At Uxmal Mayan ruins parking is paid. It is 30 pesos to park.
By public transportation
You will need to go to the second class bus station in Merida called TAME. This bus station is on Calle 69 between 68 and 70. Here you will take the Sur bus toward Campeche. The bus stops at the entrance to Uxmal. The walk from the road to the entrance is only about a 8 minute walk. There are a few busses a day and rather then stating schedules that can change, it is best to enquire at the station when you are in Merida.
There is no bus information online usually for second class bus companies in this part of Mexico. Since public transportation is not the easiest to get to Uxmal with, you might consider a tour below.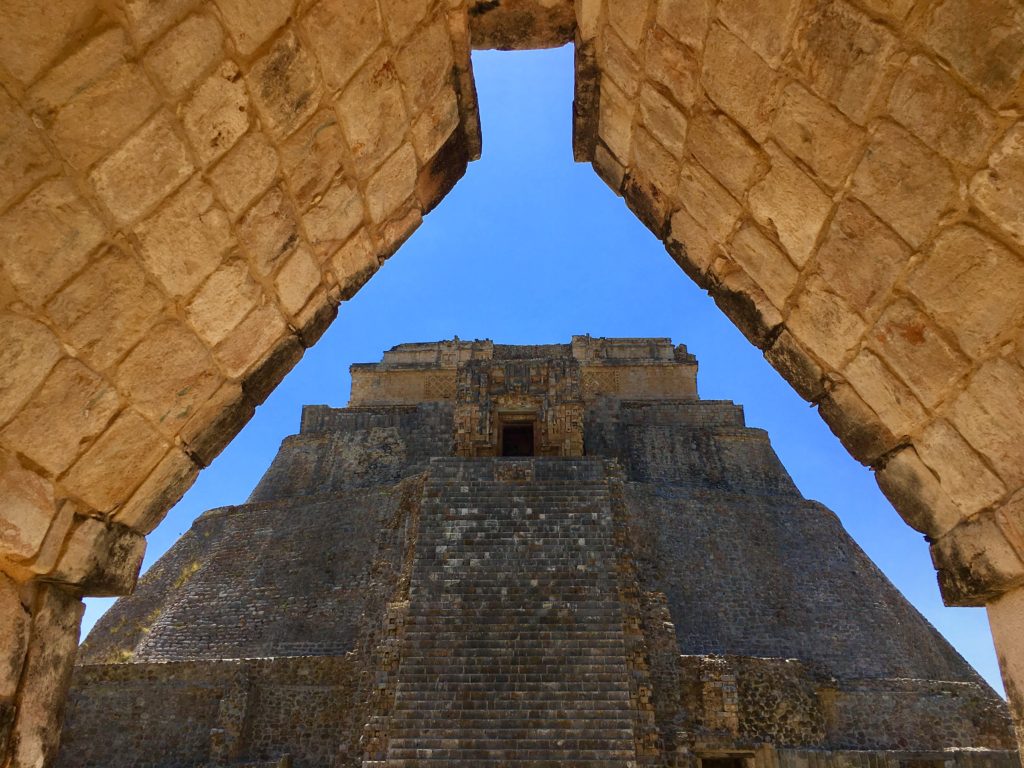 Tours to Uxmal Mayan ruins
Tours to Uxmal from the Riviera Maya
For most people a visit to Uxmal is in conjunction with a visit to Merida. However you just might want to see Uxmal from the Riviera Maya. It is a long trip but you can check out the tour in the link above. This tour will take you from the Riviera Maya to Uxmal and to the Chocolate Museum and back. This is a private tour and price will depend on how many in your group. This however can be a great way to see Uxmal since there is a lot of driving to do to visit.
Tours to Uxmal Mayan ruins from Merida
If you are staying in Merida and want to do a day trip to Uxmal ruins and the nearby Kabah ruins here is one tour you can take.
Also from Merida you can have a tour to Uxmal Mayan ruins and to the nearby Chocolate Museum. We like this tour because you get to see three good places on the Ruta Puuc. Not only do you see Uxmal and the Chocolate Museum, lunch is included at a hacienda.
Most people don't think a two day tour is very affordable but there is one from Merida to Uxmal which includes a hotel night, some meals and a trip to Chichen Itza and Kabah Mayan ruins. You get three ruins in one with this tour that is just about $100 USD a person. This is a very affordable tour to go on.
Entrance cost to Uxmal
There are two parts of the tickets to Uxmal. For foreigners it is 494 pesos total. If you want to come to the light show at Uxmal, there is a separate price.
Light show at Uxmal ruins
Something that is fairly new to Uxmal is the light show at night. The times are 7:30pm and 8:15pm. The price is 640 pesos and is cash only. Tickets are on sale at Uxmal. To see the light show, you really need to be spending the night in the area, so check out the hotels below for options.
Hotels near Uxmal to stay at
If you are looking to explore the area more and take in some of the historical sites, here are some good hotels to check out.
The Lodge at Uxmal. This hotel is right next to the Uxmal Mayan ruins. You get a nice local feel and is a great place to relax after exploring.
Uxmal Mayan Resort. This is a large hotel that has everything you might want in a stay. It is close to the ruins, in fact you can see them from the lobby. There is a pool and restaurant, which is important because there are not a lot of option for dinning. This is a very good value hotel choice. The hotel is a little older feeling but can still be a good option.
Muna is the town about 20 minutes north of Uxmal. Here you can find many roadside motels and more places to eat. This small town has some tourist kitsch with its Mayan statures and bright colors.
Have you been to Uxmal Mayan ruins before? What did you think? Do you have tips for our other readers? Let us know in the comments below, we would love to hear from you.
If you are interested in visiting more Mayan ruins, you can see our complete guide here. Also now you have seen why we like Uxmal Mayan ruins, but what are the other two sites in our best Mayan ruins to visit guide?
Also if you are in the area you should check out the Choco Story Chocolate Museum just across from the entrance to Uxmal. It is well worth checking out.