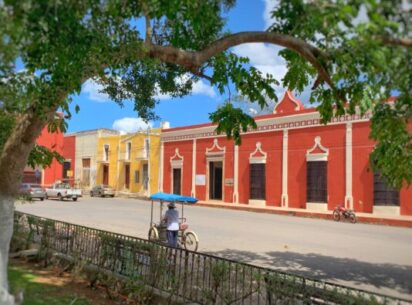 The Digital Nomad Getaway
Calling all digital nomads! Are you working or living in the Yucatan Peninsula? Do you want a good excuse for a little break from your normal routine? Tired of working from your kitchen table and cafes? Here is a great project that combines the lifestyle of the digital nomad and helps support local communities at the same time.
The digital nomad event will be hosted October 25, 26, 27th and 28th. It is three nights in the charming town of Espita, Yucatan. This time the digital nomad experience is targeted to people living in the Merida area. More events are being planned for groups from Tulum and Playa Del Carmen for the future. Even if you are not a digital nomad, you can still join in the fun if you like.
If you are not from Merida or perhaps not a digital nomad, you can still attend this event. The reason for just targeting Merida digital nomads is for the ease of carpooling and because there are so many digital nomads on both coasts of the peninsula, more events will be held for different groups.
Why Espita?
Espita is a small town that not many people have heard of. Most people living in the peninsula are familiar with places like Tulum, Playa Del Carmen, Holbox, Valladolid, and Merida, but not Espita. Espita is an authentic town that is rich in traditions. You can hear Maya spoken on the street, visit a traditional market and the enjoy the small town. Most people traveling around might just pass through Espita and take a photo or two, but this experience will give people the time to take in the magic of a small pueblo in Mexico and be connected to the locals by your host.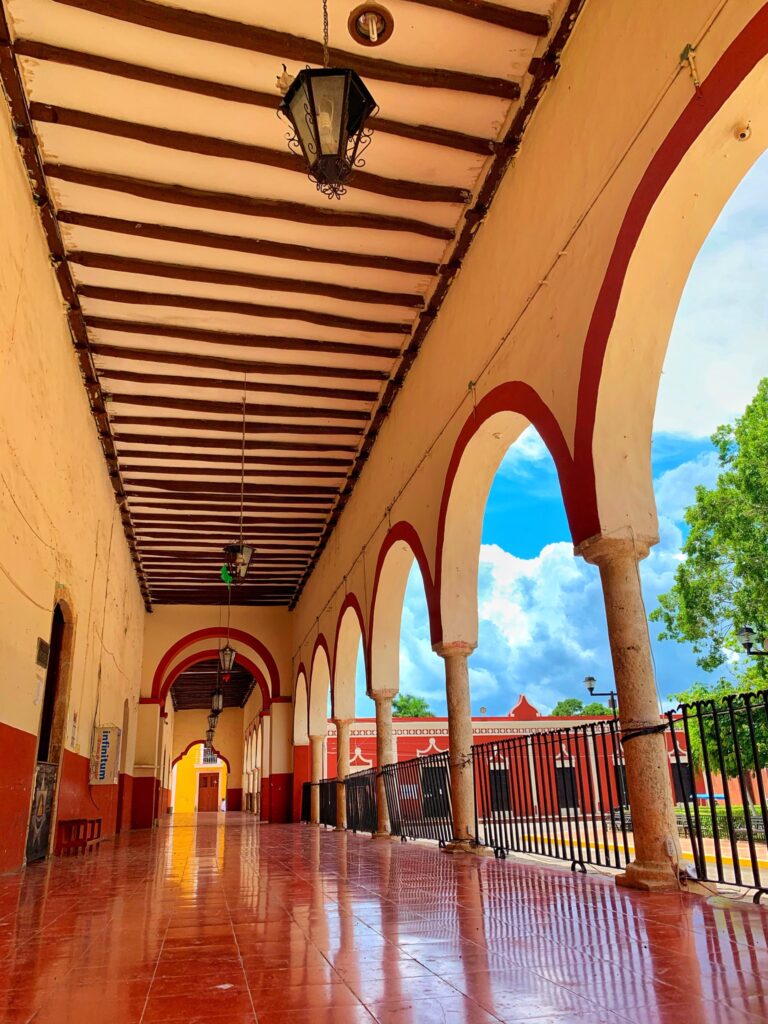 What to expect during your trip
This is the first digital nomad experience in Espita, Yucatan. There is availability for 20-30 people in the accommodations. The dates are October 25, 26th and 27th. This is a three night, four day experience to work/visit/emerge in the culture. The benefit of visiting during these dates is the fact that things will be planned and will be set up for tours and meals plus meet and greet other digital nomads.
We have chosen mid week dates because it offers better rates, and in a survey many said they were available during the week. If you want to stay longer, please talk to Stephanie (listed below for reservations). Some might want to stay longer because the same week is Day of the Dead. Normally there is a competition of alters in the park of Espita and story telling at the cemetery. This year it is still not know what exactly will take place. More details to come.
The first night there will be a meeting and drinks plus an introduction to the host. We will answer any questions about tours, meals and things to do. Many will find the hotels and guest houses very comfortable. That just might take up a lot of your time.
Places to stay for your getaway
For this event we have selected four places to stay. All of the accommodations are equipped with Wi-Fi. There is availability in the public areas as well as rooms. Special rates have been arranged for the three nights. Each place is special and offer a very comfortable and unique experience in Espita. Each room can host two people. Some rooms can accommodate four people.
Casa Espita
Casa Espita is a restored colonial house that has a lot of unusual features to it. See photos of Casa Espita here on Instagram. The house features two unique rooms to rent, a pool, gardens, rooftop area, and gardens. Meals are available for pay here. Each room is 1400 pesos a night. One room comes with air-conditioning and one is fan only.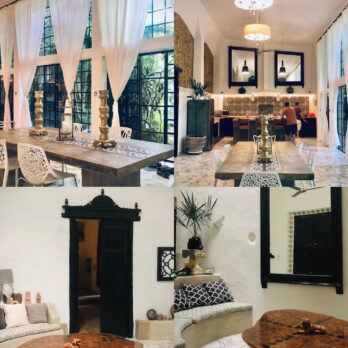 Casa Moca
Casa Moca is a renovated house in the center of Espita. See photos of Casa Moca on Instagram here. There are three separate rooms around a pool. The main house has living room, dinning area and shared kitchen. The house rents for 4200 pesos a night or 1400 per room. The goal is to rent all three rooms here and fix the cost at 1400 pesos per night.
Casa K'acaya
Is a newly constructed home with all the right touches. See photos of Casa K'acaya on Instagram here. There are two rooms in the main house and 4 separate rooms in the back garden. There is a small pool at this property and a kitchen. Rooms have fans and air conditioning. Price is 1800 pesos per room. Breakfast is included in this price.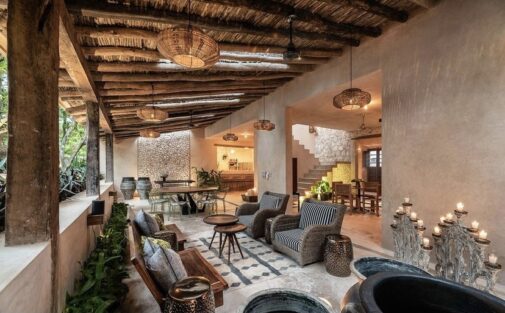 Hotel Casona los Cedros
Hotel Casona los Cedros is a 9 room boutique hotel in Espita. See photos of Casona los Cedros here on Instagram or here on Facebook. The hotel features a pool, gardens, bar and restaurant. Rooms have air conditioning and fans. Some rooms have a private dip pool. Prices for rooms are listed below. Rooms can be reserved with or without breakfast. Prices range from 1680 pesos-2870 without breakfast and 1960-3150 pesos per night.
Making reservations for the event
Stephanie of Mid City Beats is taking the reservations for the event. A 10% deposit is necessary to reserve your option of accommodation. You can contact Stephanie via WhatsApp, Messenger, or in Instagram. Please do not contact the individual hotels and guest houses to make reservations since it is being coordinated through Stephanie.
Eating and dining options in Espita
Since this experience happens to be falling on a Tuesday, there is a weekly market of food in the park. People set up tables and offer traditional things like tamales, empanadas, chayaoties, and tortas of escabeche. Most things are very inexpensive. The best time to go is between 7:00pm and 9:00pm.
In the main market there is a menu of the day with two older women. The food is very good and incorporates many local dishes. Each portion is 50 pesos and available for eat in or take out.
Fit Food Espita is a healthy delivery service option. See their Facebook page here for details.
There is a very good roast chicken place that also has some of the best ribs. This is only open for lunch from 11:00am-4:00pm but they run out sometimes because it is so good.
Chinese food. There is a decent Chinese food restaurant in Espita. Small plates are 70 pesos. They do have a vegetarian option. This is a lunch only place. It is located on Calle 27 between Calle 26 and Calle 28.
Casona Restaurant is in the Casona Los Cedros Hotel. Three meals a day are available here. This is a gourmet option. Reservations are necessary for dinner one day in advance. More details will be forthcoming about this restaurant.
There are four small grocery stores in Espita. The main one is a Super Willys. Basics can be bought in the stores.
Tours and activities
While some are working and enjoying the setting, some others might like to tour around a little. Here are some of the locally based tours you can do as well as some of the destinations outside of Espita, but are close by (within an hour's drive). Local tours support the community and are very affordable options.
Take a guided morning running tour. Enjoy the fresh morning air while you run on a rural road. The price is 200 pesos per person.
Bike tour of Espita and surroundings. This tour explains the ways people have farmed for centuries and some details about Espita. Price is 200 pesos per person for the tour. Bikes are available for rent at Casa Espita and Casona Los Cedros for 100 pesos for the tours.
Visit a small local cenote in a cave where you can swim. You can drive or take a local taxi moto here. Entrance is 100 pesos per person for 1-3 visitors. Groups more than 3 it is 50 pesos each.
Hire a local DJ for a 1 1/2 hour sunset lounge session. There is a maximum amount of people at one time for this tour of 5 people.
For the above tours, contact Casa Espita via Instagram to book and plan a guide and time for you tour.
An easy self catering tour is taking a taxi moto around town. You can get taximotos on the street or by the Church. Some points of interest are the old train station, cemetery and main square. Cost is about 50-100 pesos per taxi. 1-3 people are possible in a taximoto.
Self drive tour ideas around Espita
If you have a car, these places are good for a daytrip. In the future if there are longer digital nomad event in Espita, there might be planned trips with a driver.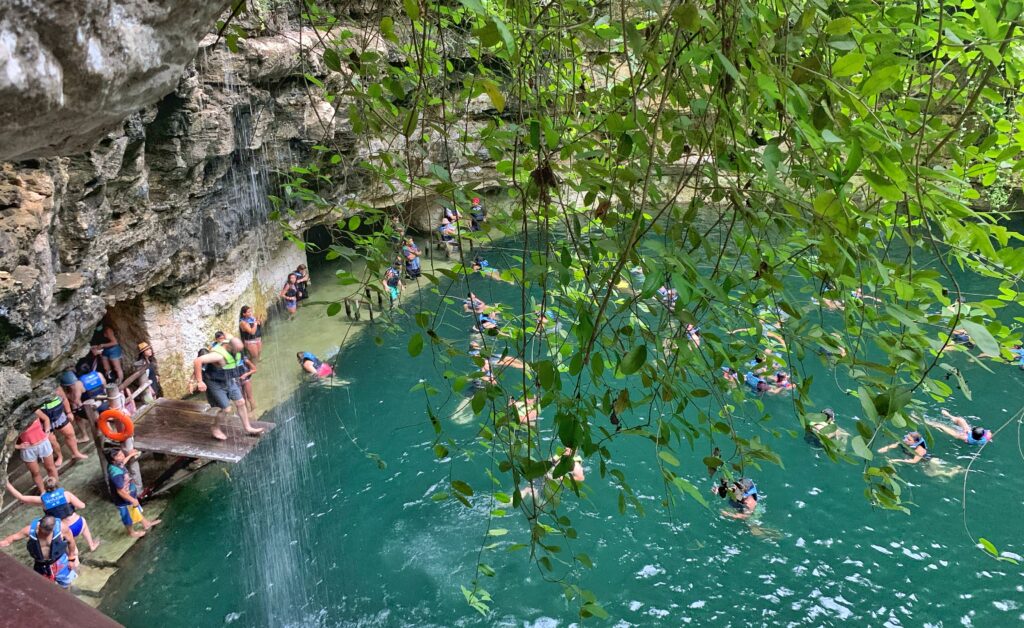 How to get to Espita
Having a car or riding with friends will be optimal for getting around. If that is not possible, here are some other options.
There are colectivo taxis that go between downtown Merida and Espita. These are direct and affordable. It is best to schedule with the driver and get details directly from a driver. You can call Carlos (Spanish only) 986-106-3563
There are buses and minivans that go between Merida and Tizimin. Most buses are local and make many stops along the way. We don't recommend this option. The minivans that go to Tizimin are fast. From Tizimin you would need a taxi to Espita. It is about 200 pesos for the 25 minute taxi ride to Espita from Tizimin.