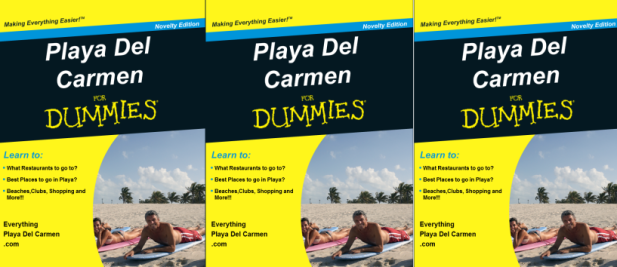 Everyone knows the books for Dummies series. We wanted to do a basic guide with lots of info to introduce Playa Del Carmen to the world. In this guide you will find where to go, what areas are good to visit and stay in, the best ways to get around, where to eat and lots of local tips to make your vacation the best possible for you!
Welcome to Playa Del Carmen, Mexico!
Where is Playa Del Carmen?
Playa Del Carmen is in Mexico on the Yucatan Peninsula. It is just south of Cancun on the stretch of beautiful coast called the Riviera Maya. Playa Del Carmen looks out on the beautiful turquoise waters of the Caribbean. Playa Del Carmen is about 45 minutes from the Cancun Airport and 40 minutes north of Tulum, Mexico.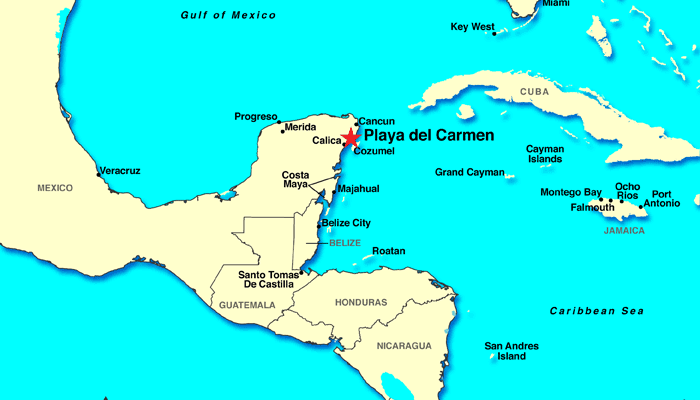 How to get to Playa Del Carmen
Most everyone will be coming by air. Cancun airport is the main airport that services the area. Cozumel has an airport that is international but is often more expensive to fly into and out of and you would need to take the ferry to Playa Del Carmen.
There are several ways to connect from the airport to Playa Del Carmen.
You can take a taxi.
Rent a car.
Book private transfers.
or take ADO bus company to Playa Del Carmen .
What is Playa Del Carmen like?
Playa Del Carmen (or just "Playa" as called by locals) was a small fishing coastal town that has developed into a city with lots of tourist infrastructure but has retained some of the small town feel and is easily walkable. The center of Playa Del Carmen is where most things are. The one main street is a pedestrian street called 5th Avenue or "Quinta Avenida" in Spanish. This street is about 20 blocks and keeps growing. It has tons of restaurants, shops and entertainment for you. See our guide to discovering 5th Avenue here.
The entire city is lined with a nice beach which provides easy access from all the downtown areas.

Playa Del Carmen is a city in Mexico but it has a very international flavor. People from all over the world visit here and come here to live. You will notice a lot of Argentinians, Italians among the other North Americans that come to visit and live in Playa Del Carmen. Playa Del Carmen has a very "European" feel to it and is the reason so many like the special vibe the city has.
The city also is not that tall, most buildings are four stories or less. The scale of the city is more like a town. That is what makes it more different than Cancun.
Do I need to speak Spanish in Playa Del Carmen?
No, but it is nice to speak some, but not necessary. Since Playa Del Carmen is very international, English is the common language. Most people at hotel front desk, shops and restaurants in tourist areas all speak Spanish and English and maybe even some other languages. For more about visiting and speaking see our article on Spanish.
What is the weather like in Playa Del Carmen?
Everyone wants to know what the weather will be like for their vacation. You will be happy to know that the weather in Playa Del Carmen is great for the beach year round. We have an average temperature of about 27 degrees Celsius or 80 degrees Fahrenheit. The Most rainfall is historically in September but that is also the most active hurricane month so it knocks the records out of whack.
For more on the weather and the best time to visit Playa Del Carmen, check out our article with charts.
Here is a map of Playa Del Carmen to help you get oriented
Playa Del Carmen is not a huge city and actually the area where most tourist go is relatively small. The map photo below is Playa Del Carmen. The red circle is the tourist area of Playa and is where most shops, hotels and restaurants are. This area is also where the famous pedestrian street of 5th Avenue is. The red area is about 20 blocks long and about 4 blocks wide. So it is not a huge area where tourist normally go but it does offer a lot in a small area.
The yellow circle is the private community called Playacar which is part of Playa Del Carmen. In this area there are many hotels that are all inclusive resorts. There is only one small shopping area and just a few restaurants in this area. It is mainly an area for private houses and golf courses and of course the resorts. For more information on Playacar, we have an article with photos.
The streets go in even numbers and avenues go in multiples of 5. Starting at the south end of Playa Del Carmen is 2nd St, then 4th, 6th, 8th and so on. There is 1st Ave, 5th Ave, 10th Ave, 15th Ave, 20th Ave and so on. Most places are described at being on a street and what it is between. House or business numbers are not used.
What is the best area to stay in?
If you search for hotel on the internet for Playa Del Carmen you will get about a 40 mile coastline option because booking sites consider the large area around Playa Del Carmen to be labeled that way. This makes it very hard to know exactly if your hotel is in the city or along the coast.
You have to decide between two things. Do you want an all inclusive hotel or would you like a hotel with the option of doing your own thing for meals? and do you want to stay in the center of Playa Del Carmen or along the coast? These two things will narrow down what to look for. If you cannot decide between all inclusive or hotel you can see our article listing the pros and cons of each.
We also made a recommended hotel list for all of the Riviera Maya that might help you narrow your search.
In the map above with the red circle on it, this is where is it best to be in Playa Del Carmen center. It is basically from 2nd St.-46 St. and from the Beach -10th Avenue. The north end (16th Street -40th Street) of Playa Del Carmen is slightly more trendy and the southern end (Cozumel ferry pier to 16th Street) is generally the older developed area.
If you want to check prices of hotels in the Rivera Maya and Playa Del Carmen, click the link below for more information.
How to get around the Riviera Maya from Playa Del Carmen
Renting a car is relatively easy in Mexico and useful if you are going to be doing some day trips. (See our article on road rules and driving in Mexico.) If you are staying at a resort along the Riviera Maya, they often have shuttles that take guest into Playa Del Carmen for the night or there are tours that pick up guest right from the hotel. If you are staying in Playa Del Carmen you can also take tours with transportation provided and most places in Playa Del Carmen are walkable. A taxi in Playa Del Carmen is not too expensive and easy to take. (See our article on taking a taxi in Playa Del Carmen)
You can also rent bikes and scooters to see a little more of the area and get some exercise.
If you want to go to Cancun or Tulum there are small vans that service those areas. Here is more information on the colectivo van service to Tulum and Cancun.
If you want to take a bus to other parts of the Yucatan Peninsula there is one main bus company called ADO. Here is a link to the guide for taking the ADO bus from Playa Del Carmen and the two bus stations in Playa.
How much do things cost in Playa Del Carmen?
Playa Del Carmen is a modern city in Mexico and offers a high standard of hotels, transportation and food. So prices are a good value for what you get normally, but maybe not a huge difference from where you might live. For tourist you often will pay a little more for things compared to locals because the areas you will be in have high rent and they need to charge more. The largest expenses are already going to be known when coming, the flight and hotel.
Hotel prices in Playa Del Carmen
Hotels can range from $40-$1000 USD a night and everything in between. Some of the all inclusive hotels that have food can be a good value when you figure the cost of meals and hotel together.
Tours and food prices in Playa Del Carmen
Here are some sample expenses (all prices are in US dollars): Day trip to adventure park with food $100 per person, pasta dinner on 5th Avenue $10-$12, beer $2-$3.50, margarita $5-$9, taco $0.50 each, taxi in the center of Playa $2-$3, coffee $2-$4.
Exchanging money in Playa Del Carmen?
If you are staying at an all inclusive resort then there is very little need to exchange money except for some tips and souvenirs if you like. Most places on the resort property or nearby will accept USD and maybe Euros. You can use your ATM card to take out pesos so you have some spending money while on vacation and you don't really have to worry about the exchange rate. For a small amount of money it does not really matter.
If you are going to be staying at a non inclusive hotel and eating out, shopping and doing activities, it is best to exchange money. You will make it easier for local merchants to deal with pesos and it will cost you less. Places that accept dollars will do it at a worse rate then you can get at the ATM. For example, now many places will take dollars at a rate of 11 – 15 pesos to the dollar. The official rate you can exchange in the street and at an ATM is about 1.0 less then the office rate. This might not seem like much but if you spend a large amount of money, every % of cost for exchanging can eat into your purchasing power.
The best way to exchange is simply the ATM. You will get a better rate then the Casa De Cambios on the street that exchange money. Banks in Playa Del Carmen can exchange money but it is really just for customers of the bank and you should just use a secure ATM or the small exchange booths located all over 5th Avenue.
For more about exchanging money in Playa Del Carmen you can read out article here.
Where are the good restaurants in Playa Del Carmen?
If you are staying in Playa Del Carmen and not at an all inclusive hotel then you have the opportunity to eat out at the many great restaurants. You are in for a real treat because there is a huge variety of places to choose from and almost every type of cuisine to choose from. For some mouth watering photos of all the types of food here, check out our gallery of food of the Riviera Maya. It really is amazing the variety of food here and it is not just Mexican and tacos
For tourist and especially first time tourist you are mainly going to eat around 5th Avenue area from about 2nd Street until 38th Street . We do have nearly 200 restaurants listed on our restaurant tab at the top of the page. That should be a good place for you to start looking. We try to bring you the best restaurants both in value and taste so you can have a great meals on vacation. Check out our different guides like Taco Guide and Breakfast Restaurant Guide.
There are restaurants from budget to expensive in Playa Del Carmen. Check out our popular list of restaurants around 100 pesos for some cheap eats. That is eating lunch or dinner for $6 USD or less per meal.
Unfortunately you cannot always go by how many people are in a restaurant to consider it good because groups are booked at restaurants because their capacity to hold people or group rate. There are many good restaurants that are small and not as visible from the street. It can also be hard to go by advisor sites because reviews are not always real or done by staff. We have looked at rank of quality restaurants in Playa Del Carmen and are surprised at some on the list. We will always try to bring you up-to-date info on what is good in Playa and unique with good value.
How do you tip in Playa Del Carmen?
For a basic restaurant where you pay under $10USD for a meal you will on average tip 10%. For better restaurants 15% is normal. Only if there was something exceptional, would you tip more. Note: It is illegal in Mexico to add anything to the price of the menu at a restaurant. That includes not adding taxes and tips. Some do slip it in, so examine your bills.
No one really tips taxi drivers except for an extra 5 pesos to round it up. Some taxi drivers will not claim to have change, so try to have small bills for taxis.
At all inclusive hotels you can use USD for tips. It is pretty common to tip bag handlers, room service and housekeepers in dollars.
Tipping at bars is much smaller then you might expect back home. But 10-20 pesos a drink for cocktails is good. For beer, no tip is necessary unless you drink several.
For everything else on tipping in Playa Del Carmen, see our article here.
Where do I go out at night? Bars and Clubs in Playa Del Carmen
Playa Del Carmen has become a mecca of clubbers from all over the world and if that is not your scene you can visit some of the quieter beach bars or live music venues. Whatever you are looking for you should be able to find it in Playa Del Carmen.
For those looking for a night club, most are located on 12th Street between 10th Avenue and the beach. There are about ten different larger bars and clubs and then there are some smaller ones as well. At night the street is full of people wandering around and seeing what club interest them for the evening. See our article on the nightlife guide to Playa Del Carmen here.
If you are a sports bar type of guy or gal and want to hangout and watch a game possibly, there are a number of sports bars to choose from. The Tequila Barrel on 5th Avenue between 10th and 12th streets is a good sports bar to hangout and street watch.
What beaches are good to go to?
If you are staying at an all inclusive resort outside of Playa Del Carmen you are pretty much guaranteed to have a wonderful beach right in front of your hotel. Resorts are built around the nice beaches and they take good care of them. In Playa Del Carmen the beaches are nice but everyone has a preference, maybe it is less people or younger people or a nice beach bar. Here is our list of the top 5 beaches in Playa Del Carmen to give you an idea of what they are like and where you might like to go. There are also beach clubs to visit in Playa Del Carmen. See our guide to know what ones might fit you.
Is Playa Del Carmen a safe place?
The answer is easily yes! You may hear news reports about Mexico and some things that happen in the country, but Mexico is a big country. Where Playa Del Carmen is, it is very safe and tens of thousands of tourist visit and have an amazing and safe time.
For a more detailed report about safety in Playa Del Carmen here is an article.
What day trips are good from Playa Del Carmen?
We published a guide to day trips from Playa Del Carmen. For most first time visitors to the area the resort where you stay is going to be exciting and take up most of your relaxation time. For first time visitors we recommend some of the parks like Xplor, Xel-Ha and Xcaret. They are all easy day trips and all unique experiences.
What is good to buy in Playa Del Carmen?
Most people want to pick up some souvenirs on vacation and especially first time visitors to a place. Playa Del Carmen has some amazing stores to look at. Everything from Mexican alcohol to hand made Mexican crafts are great things to buy. There are a lot of inexpensive things like t-shirts, sombreros and magnets, but we recommend looking at some of the other stores for some really good quality things that highlight the artistry of local crafts.
Under the tourist info tab at the top of the page is a sub category for shopping in Playa Del Carmen. Here you can find some of the specialty shops that you might walk past and not notice normally.
One nice liquor to buy is Xtabentun. It is a Mayan liquor made from honey and herbs. It has an anise flavor and is something unique that you can find in this part of the world. You can find it in tourist shops on 5th Avenue and in liquor stores.
Now come to Playa Del Carmen!!
We hope you enjoyed this general guide to introduce Playa Del Carmen to you and it makes you prepared for your first time on vacation here. If you have an questions of comments, feel free to add them below.
[print_link]