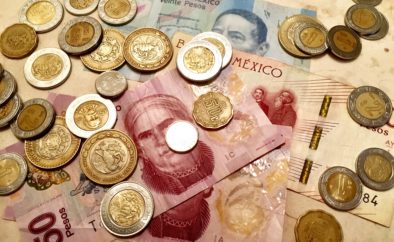 How to budget for your trip to Playa Del Carmen
Everyone wants to go on vacation but you also want it to fit into your budget. Here are some sample prices for things like eating out, tours and entertainment in Playa Del Carmen. There really is something for everyone's budget in Playa Del Carmen. The overall value is very good and with current exchange rates, you will do well what you get for our money.
Of course the one of the most expensive things is going to be your flight. One tip we have for you is to base your trip on when you can get a good deal on a flight. This can save you hundreds of dollars off your vacation. Often cheaper flights are the off seasons for our area. In general Easter time and Christmas to New Years are the busiest times. Accommodation and things like beach clubs raise their prices.
Lets take a look at what typical cost are during a vacation to Playa Del Carmen and the Riviera Maya.
How much do you need for restaurants and eating out?
This is really where your budget is up to you. One important detail is knowing what your hotel offers. If you are staying at a hotel in the downtown of Playa Del Carmen they might offer breakfast (full breakfast or continental). Some have packages that you can add for food. An important tip during your hotel booking process is to see if any meals are included. Sometimes paying a little more for the hotel will save you on your food budget.
Overall prices for food in Playa Del Carmen are very reasonable. You get very good value compared to where you might live. Beachfront and 5th Avenue will be the more touristy and slightly more expensive places. In general places from 10th Avenue to 30th Avenue give you more local prices. To see a selection of restaurants in Playa Del Carmen, see our guide here.
What is a good budget for breakfast?
Many places will serve a basic plate for 100 pesos. Add on a juice or smoothie and you can start to get up to 170 pesos per person for breakfast. Of course there are upper end places for breakfast but in general 150 pesos a day per person is good. For more about breakfast restaurants see our article here. If you are a light morning eater, see our coffee shop guide.
What is a typical price for lunch?
Most restaurants start plates around 100 pesos and go to 200 pesos. Drinks cost 30-40 pesos each unless you have a cocktail or glass of wine. A basic lunch with a non alcoholic drink will cost about 150 pesos and a decent sit down meal around 280 pesos per person.
Dinner prices in Playa Del Carmen
Dinner is of course the most special meal of the day and prices reflect this. Having dinner  at the beachfront restaurant or a rooftop can make for one romantic or memorable evening. The energy of 5th Avenue also creates a fun place to dine.
Most menus have main plates starting at 100 pesos going to 300 pesos. Add appetizers and drinks and you can average around 400-600 pesos per person for a nice dinner. Not every night needs to be a big night out and you can eat for 300 pesos per person. If you are looking for that special night out in Playa Del Carmen, here is a list of some restaurants to check out.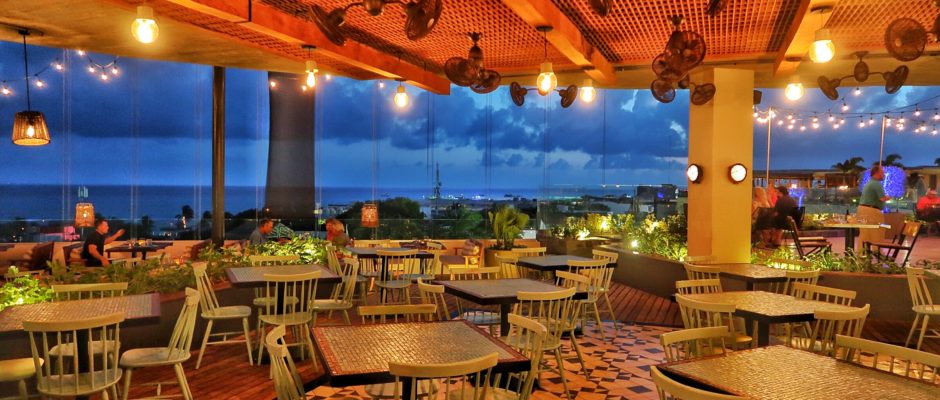 Entertainment cost and going out in Playa Del Carmen
If you are staying at a hotel and not an all inclusive you probably will want to hit the beach at a beach club. There are also some pretty trendy rooftop pools in town. Here are some basic cost for these and also nightlife cost for going out.
Beach Clubs and Rooftop Pools
Many hotels in the downtown of Playa have discounts with selected beach clubs. If you are not staying at a hotel with a discount the regular prices are just a little more. Basic beach clubs start around 100 pesos for a chair, 100 for umbrella and 500 pesos for a beach bed. All beach clubs serve drinks and some food. For more details about beach clubs in Playa Del Carmen and what they are like, see our article here.
Most of the rooftop  pools in Playa go by a minimum consumption. Prices range from about 500 pesos per person to 1500 for the upper end ones. If you are spending a good part of the day at a rooftop pool it can be easy to drink and eat the minimum consumption charge.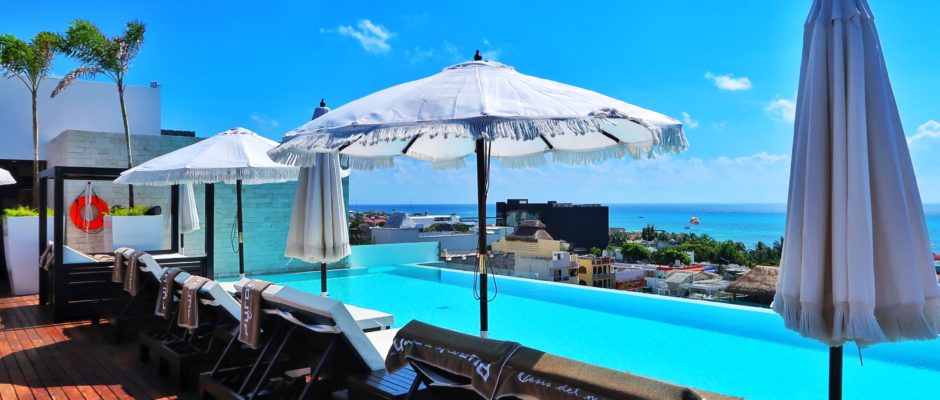 Nightclubs, Shows and Bars
If you are going out to one of the bars in Playa Del Carmen you can expect to pay about 40-60 pesos for a beer and 80-200 for cocktails.
For clubs there is usually no cover early in the evening but later it can be about 100-150 pesos. You can expect drinks to cost about 100-150 pesos  each and beer around 50 pesos. There are exceptions though. Coco Bongo is a club and show. Entrance includes open bar and is around $70USD. Fore more on clubs in Playa Del Carmen, see our article here.
How much are hotels in Playa Del Carmen?
In Playa Del Carmen you can find everything from hostels to 5 Diamond resorts. So there is a wide price range of course. The location is important to where you stay. We have a good article and map so you can know where to stay in Playa Del Carmen. We don't recommend staying outside the downtown of Playa Del Carmen (like the other side of the highway). You just don't get the vacation experience. So prices below are for the central area only. Now lets talk what kind of budget you need.
Tip: Try this hotel booking site to get rates and more booking options! This is a new booking site that searches multiple sites for the best deals.
Budget to Deluxe
Basic accommodation in a hostel is going to start around $10 USD a night. These are dorm beds. For what we consider some of the top hostels in Playa Del Carmen, see our article here.
Nonresort hotels in Playa Del Carmen range from about $50 USD to $250 USD a night. The upper end will land you in a nice hotel with possibly a rooftop pool. These hotels will add a lot to your vacation experience.  The more budget hotels will be good if you will be spending more time out and also keeping your travel budget low.
Resorts are a destination in themselves. They offer entertainment, pools, drinks, food and about everything you want. Most resorts will range from about $300-$500 a night for a couple. We will say the main difference in price range is the room amenities, quality of food, entertainment and overall feel of the resort. Resorts that are more exclusive and offer more privacy might not offer that much more luxury, but rather you are paying for the exclusivity.
What is an average price for tours?
If you look over tour brochures or online you will notice most tours cost from about $60 USD-$120 USD per person. Budget tours are half day experiences like snorkeling or ATV's. Make sure you read our article on booking tours in Playa Del Carmen. Some of the cheap tours are just that, cheap and not that good. We like to highlight tours that are a good value for our readers on our website.
Most tours are about $90-$120 USD. Why are they this price? Well a lot of transportation time is involved in many tours leaving the Riviera Maya for places like Chichen Itza for example. Many tours are a full day and will include a meal and snacks. Tour companies are well regulated and offer safe experiences here. Guides, drivers, entrance fees and tolls all need to be paid.
Most people will take two tours on average for a week stay. The most popular tours are to a Mayan ruin like Chichen Itza and then to one of the eco parks. The big parks are Xcaret, Xplor, Xel Ha, and Xenses. These fall in the price range as above and offer very good value. For discounts to these parks see our article here. Besides booking in advance there are some sales that make them more budget friendly.
So for a couple that takes two tours you can expect to pay around $450 USD. This will provide you with two full days of experiences and memories plus lots of photos.
Transportation cost
Most tours will include transportation since they know most people do not rent a car here. The only other transportation you might need to think about is taxi service around Playa Del Carmen and transportation from the Cancun Airport.
Taxis
Most people will go from the hotel into Playa Del Carmen at least once if you are staying outside of town. This can range from about $6-$25 USD each way. In the link above we have some list of price and what to expect while taking a taxi. If you stay in the downtown of Playa you might not even need a taxi because it is walkable. We don't recommend a taxi from the airport to your hotel though. A private transfer is the best method.
Airport Transfers
We recommend a private transfer because they can be reserved ahead of time and they have a fixed price. The best transfer company we have found is here in our article here. If you book a round trip it will be $110 USD for up to 3 people for the Playa Del Carmen area.
Budgeting for the Extras
There are always things you will add onto your expenses for a vacation. Tipping for one. Mexico is similar to the United States in it's tipping style albeit a little less percentage. For tipping standards in Playa Del Carmen see our guide here.
Shopping for souvenirs and gifts will be o the agenda for most people visiting. There are inexpensive stores on 5th Avenue as well as some upper end stores. See our shopping guide for Playa Del Carmen for more information on what you can expect here.
Conclusion
We hope this article helps you plan out your vacation a little better. If we did not cover something you wanted to know about, be sure to use the search box on the page. We have hundreds of articles about visiting the area.
Thank you for reading our article about budgeting for your trip to Playa Del Carmen. We hope this helps you with your trip budget. If you have any questions or comments, let us know below. We would love to hear from you.