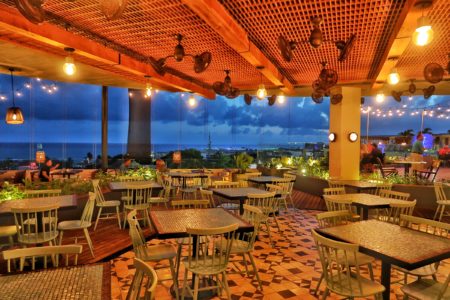 Restaurants for that special occasion in Playa Del Carmen
For many people that come on vacation to Playa Del Carmen you want to have that special night out. If you are staying in town or at one of the nearby all inclusive resorts, many still want some special restaurant for your evening. So here is our list of special dinner restaurants for one reason or another that you might consider when choosing to go out in Playa Del Carmen. Here they are in alphabetical order.
Alux Restaurant
The most striking thing about this restaurant is that there is no other one like it in the Riviera Maya! It is in a cave just outside of the downtown of Playa Del Carmen. If your date does not know where they are going, once you enter the property and decend the steps, the excitement and surprise will be on their face. The dinning areas are tucked into the caves. There is one main dinning room and some smaller areas that are more private.
The food is a combination of Mexican, Mayan/regional cuisine and international menu items. The menu is large and there is a full bar and drinks menu.
After dinner you can walk around the cave. There is a circular path that takes you around. It will take you about 10-20 minutes depending on how long the linger. There is even a wedding chapel in one room! For more about Alux Restaurant see our article here.
Axiote Restaurant
For food lovers of true Mexican gourmet cuisine that has been fused, twisted and turned into exciting dishes, Axiote Restaurant is for you! This restaurant consistently lives up to good standards for cocktails, food and service. The atmosphere is casual but you wont get casual food. Enjoy the laid back atmosphere and not having to dress up for your special night. Let the food and drinks do the talking here and you will have a very good meal.
The menu is not huge but what is there, you really cannot go wrong with. Some things are on the more spicy side and some are more on the not so lean side, but if it is your special night out most people are not counting calories. For more about Axiote Restaurant see our article here.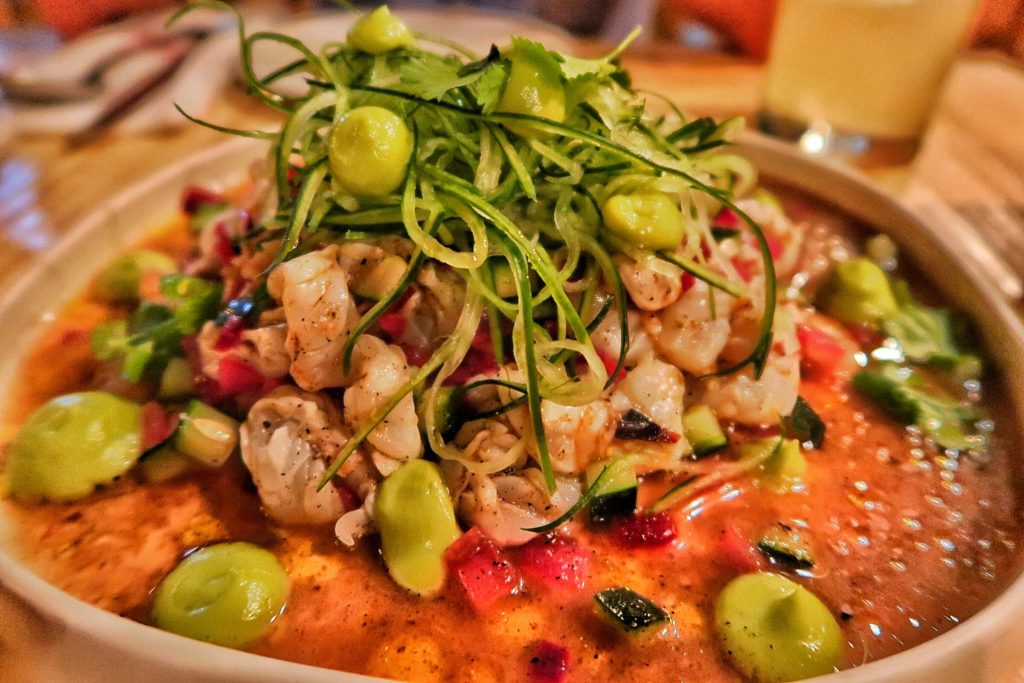 Catch Restaurant
On the top of the Thompson Hotel on 12th Street is the Catch Restaurant. This restaurant has one of the most stunning views in Playa Del Carmen (see photo above). A lighted rooftop pool with palm trees is on one side and then looking out over the ocean toward Cozumel Island on the other. With fresh breezes and views, this restaurant makes for a stunning night out. It is also a good place for brunch on Saturdays.
The food is upscale and gourmet. This is the same Catch Restaurant that is in New York City and they keep the menus similar so you are getting the latest food trends on the menu. For more about Catch Restaurant see our article here.
C-Grill Restaurant
If eating beachfront with a breeze is your thing, you just might be in heaven here. The C-Grill Restaurant is now focused on Mexican dishes with gourmet twist. Local and quality ingredients. Enjoy spirits and wines also from Mexico as well as international ones.
This restaurant is smaller then some of the others and will seem more intimate. The low lights and ocean breeze makes for memorable dinner or perfect date night. For more about the C-Grill see our article here.
Fuego Restaurant
Hidden away in the lush interior of the Mahekal Beach Resort on 38th Street is Fuego Restaurant. The casual beach dinning atmosphere sells most people regardless of the menu. This restaurant cooks everything on fire to infuse the flavors of local woods. Gourmet cuisine that is influenced by international, Mexican and argentine cuisine is served. For more about Fuego Restaurant see our article here.
Inti Beach Restaurant
Hidden away between 4th and 6th Streets in the center of Playa is Inti Beach Restaurant. Here they serve gourmet dinners on the beach with a chance to sink your feet into the sand. There is an extensive drinks menu and a good selection of gourmet items to eat. To see more about what it is like see our video below.
Keel Restaurant
Located in the front of the Carmen Hotel on 8th Street, this beachfront restaurant is casual with gourmet standards. A large wine list awaits you and sometimes live music. Think South Beach meets Caribbean atmosphere. There are about twelve tables on the deck and more inside if you wish. For more about the Keel Restaurant see our article here.
Oh Lala Restaurant
Oh Lala is a small restaurant of about 10 tables. It has for years been one of the top ranked restaurants in Playa Del Carmen. It offers a cozy atmosphere, international gourmet menu, and large wine and bar menu. For more about Oh Lala Restaurant see our article here.
Plank Restaurant
Plank Restaurant is a more American style upscale restaurant with much of the dishes served on planks of wood. A comfort food/meat/seafood menu awaits you. If you are also a dessert lover this just might put this restaurant at the top of your list for that special night out.
The atmosphere is roaring 20's mixed with a slight New York City vibe. This restaurant is versatile. It can be good for a business dinner to romantic night out.
For more about the Plank Restaurant see our article here.
Purobeach Restaurant
Having a rooftop view that includes vistas of the Caribbean and setting sun will make any evening special. The Purobeach Restaurant is on top of the new Fives Downtown Hotel.
Chill music, Ibiza vibe with Mediterranean style menu awaits you. Stylish yet casual, this restaurant is perfect for your night out in Playa Del Carmen.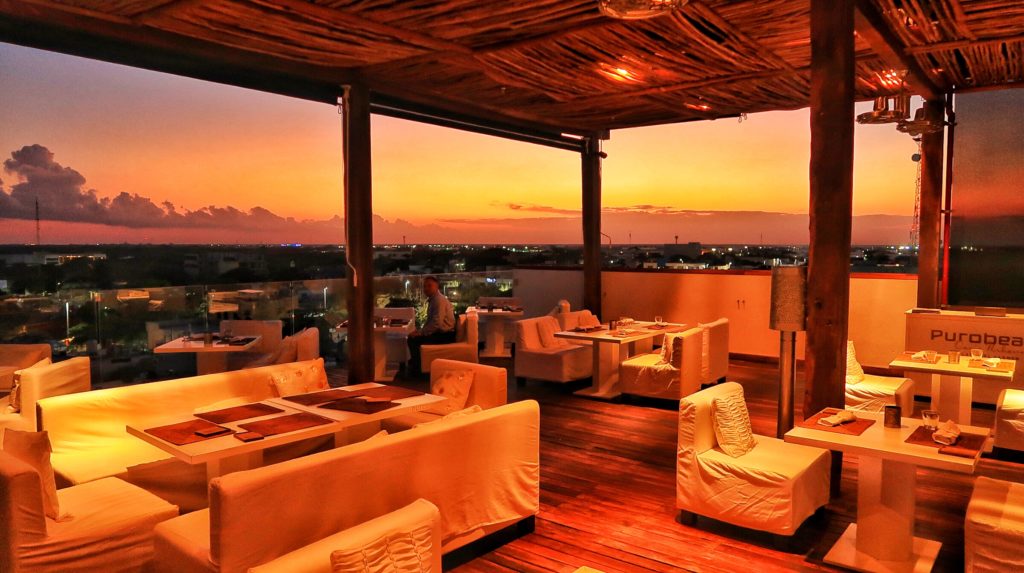 Conclusion
There are a lot of good restaurants in Playa Del Carmen. You can see our full list of restaurants here if you did not see something that fits you. We hope wherever you choose you have a great time!
Let us know what special restaurants you like in Playa Del Carmen for your date night or whatever occasion in the comments below. We would love to hear from you.