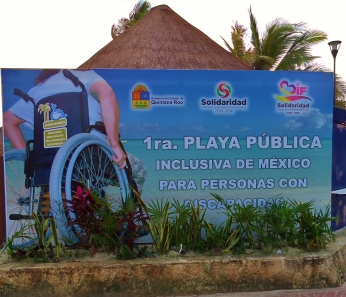 Handicap Playa Del Carmen Guide
We here at EverythingPlayaDelCarmen.com want everyone to enjoy their vacation here. So if you have a permanent handicap or just broke your leg before vacation, here is a handicap Playa Del Carmen guide to help you access your vacation.
Rentals and Transportation for those with Handicap
You will be happy to know that there are companies here that provide special transportation, tours and even rent all kinds of equipment you might need for mobility issues. These services are specialized and should be contacted to reserve services or equipment before coming. Here is a link to one reputable company. Another company that rents scooters and wheelchairs is Playa Mobility.
If you also want a private transfer in a van from the Cancun Airport to your hotel, you can book here with a reputable company. These vans are not fully handicap accessible but better options then a taxi and large enough to make for a comfortable transfer.
Hotels and Handicap Access
Most larger all inclusive hotels will have accessibility with ramps, elevators and wide sidewalks. Check with them via email or phone to confirm availability. When we review hotels we try to keep an eye out for how the hotel is equipped and try to comment on it in the review.
Smaller boutique hotels are going to be limited in their availability to provide for your needs. Be sure to call before you come to get up-to-date information on elevators and accessibility even if their website says they have such things. Mexico does not have strong codes for accommodating those with disabilities and you really notice the lack of such things when you need it.
We can think of one small hotel in Playa Del Carmen that has an elevator but it has not worked in years, another hotel starts one level up from the street and has no elevator, and another hotel actually built the hotel with the elevator not going to the top floor to access the roof top pool! So standards can be different here.
Handicap Beach Access in Playa Del Carmen
Playa Del Carmen has recently launched two public beaches with access for handicap individuals. It is a nice initiative and shows the growing attention to those with different needs. One beach is at the south end of town near the Cozumel Ferry Pier (in front of Park Fundadores).  It has a boardwalk that goes out onto the beach and special chairs available with beach wheels for use. There are even showers marked as handicapped, although they are just showers. The other beach is on the far north end of Playa Del Carmen. It is not known too much by tourist and has always been a locals beach. You do need a car to get to this beach. Once you arrive at this beach there are a couple of special chairs with large wheels that can go into the water. You can read more about where this beach is and how to get there in this article. If you do need to decide between these two options, the first one is a much better option.
Alternatively there are many beach clubs with beach beds for use. This is a great way to relax on a bed and enjoy the sea breeze.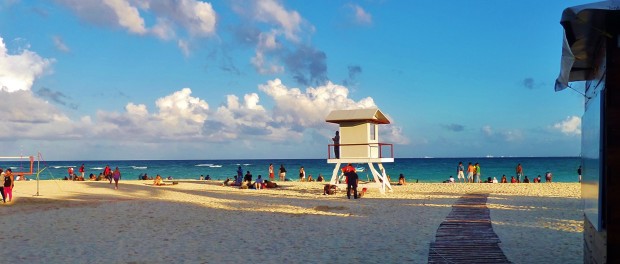 Sidewalks and Streets in Playa Del Carmen
If you are trying to navigate the downtown area it is best to stay near 5th Avenue and 10th Avenue. The good news is that this area is where most tourist attractions are like shopping and restaurants. Quinta or 5th Avenue as it is called in English, is a pedestrian street that parallels the beach. It is totally flat with no steps and only a few places with a slope. Fifth Avenue goes on for about 20 blocks so you are going to be able to cover a lot of ground with easy rolling. Tenth Avenue has a bike path that runs from just south of Avenue Juarez and continues to Constituyentes Avenue. This is a smooth place to use if you are with a wheel chair. Sidewalks on most 1oth Avenue are not adequate due to narrow passage and alternating levels. This is true of most of Playa Del Carmen.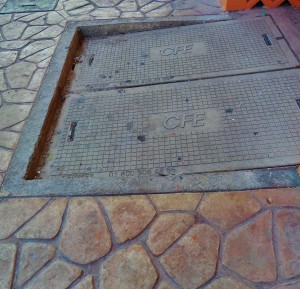 Taxis and those with disabilities
If you are able to take a taxi but maybe need time getting in, you might want to use one of the taxi stands. These are places where taxis line up to take customers. They charge a little extra since they pay for the place to pick up customers but it will give you more time and you can choose your taxi. A lot of taxis are Nissan Tida cars. These have rather large back seats and will make it easier to get into. If you are traveling with an easy folding chair, you may want to bring your own bungee strap to hold trunks down in taxis. Taxi stands can be found next to the ADO bus station on 5th, 5th Avenue at 10th St, 10th Avenue and 12th St.  and 5th Avenue and Constituyentes Avenue just to name the more popular ones.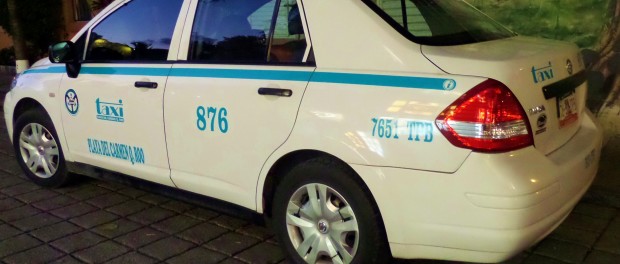 Restaurants
Many 5th Avenue restaurants have onstreet level seating, so finding a place will not be hard. Having good seating and easy access to a handicap bathroom might be harder, so don't assume and ask beforehand or stop at one of the shopping plazas below for easy access to the bathroom. See our public bathroom guide for Playa Del Carmen here.
Shopping in Playa Del Carmen
Since most tourist shopping is on 5th Avenue it is going to be easy to get around. Paseo Del Carmen shopping plaza at the south end of 5th near the ferry pier is all flat. They do have handicap bathrooms but there is a small step into the area. There are guards near there that should be able to assist getting into the bathrooms. Quinta Alegria shopping plaza is three floors and has an elevator to access it. Bathrooms are on the top floor and are handicap accessible. Quinta Alegria is located on 5th Avenue where Constituyentes Avenue intersects with it.
Grocery Store shopping with disabilities
If you want to go shopping but would like to use an electric cart, it is best to go to Centro Maya shopping plaza. The  Soriana Grocery Store has carts for use. You can also go to  Plaza Las Americas to the Chedraui store. These store have electric carts. Grocery Stores in the downtown area either do not have electric carts or are very limited.
If you don't want to go shopping then there is a great delivery service in Playa Del Carmen. They will do your shopping and bring it to your home.
Activities for people with disabilities
Don't think you cannot enjoy some amazing  sites while here. Some of the eco parks like Xel-ha and Xcaret provide rentals of wheel chairs and even will make sure you can go swimming. If you want to see some fascinating Mayan ruins we suggest Coba ruins. They have bicycle taxis that can provide this unique taxi service. (Although it is not totally smooth, so if bumps bother you, you might not go for this mean of transport.) It does however afford you to see the ruins without walking. You would only have to enter the park and then get on the bike taxis.
A special handicap tour to Chichen Itza
Here is one tour that specializes in taking people in wheel chairs or disabled individuals to see one of the marvels of the area. Click here to see more about this handicap tour to Chichen Itza.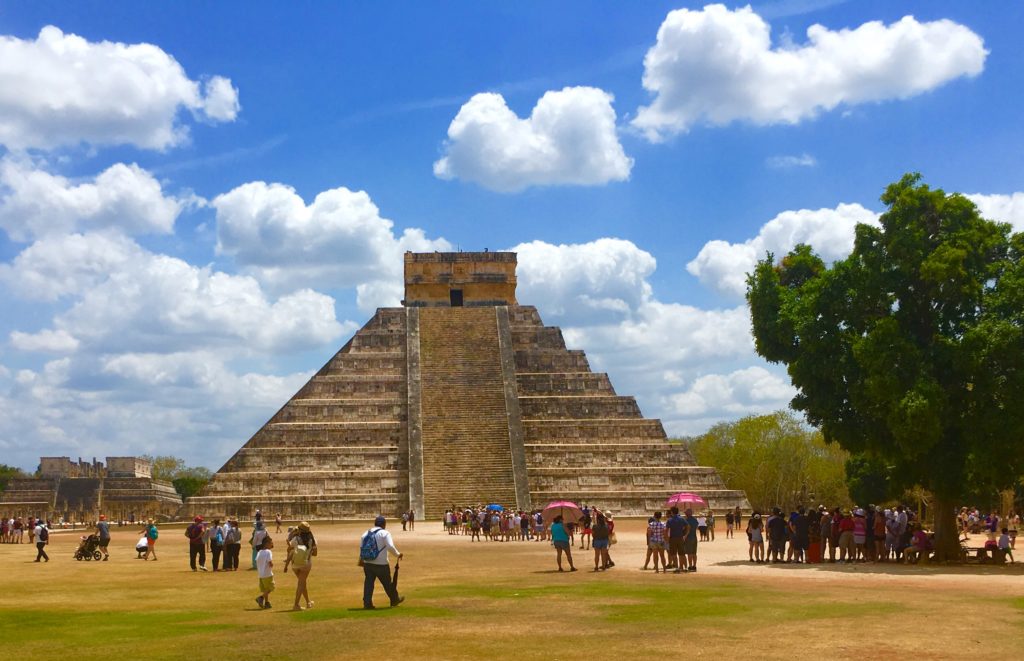 Have you traveled with a handicap in Playa Del Carmen? Do you have some tips you would like to share? We would love to hear from you in the comment box below.