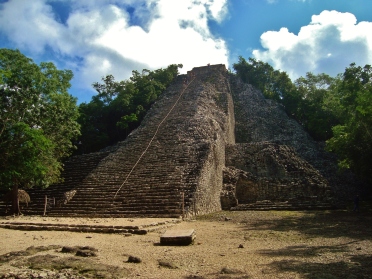 Coba Mayan ruins and everything about visiting
Coba Mayan ruins are an amazing experience within reach of Play Del Carmen for a day trip (approx. 1hr 15 min. each way). What makes Coba ruins so interesting is the fact that it is in the jungle and the ruins are spread out with connecting trails. You can see how over time the trees and vines took over the city and it was not until the  1920's when archeologist from the outside world started to uncover this ancient city. Tourism did not start until the late 1970's and it was not until the 1990's the site began to gain more rapidly on the tourist radar.
Today the area is magical with is peaceful lakes with crocodiles, bird singing, nature and ruins that evoke a spirit of going on an adventure like Indiana Jones. The small village that now is outside the archeological site is a Mayan community. You can see the influences of the past with traditional Mayan houses and thatched roofs. It is still today a less visited site then Tulum or Chichen Itza so chances are you are going to have less people and more ruins to see (for example there are 3,287 people a day that visit Tulum ruins compared to 1,016 people a day that visit Coba ruins).
Our video guide about visiting Coba ruins
History of Coba Ruins
Here is a little history about Coba ruins. There are lakes in this area (which are rare in the Yucatan) attracted Mayan settlers from earliest times but a strong population growth in the area did not occur until around 100 AD. Between 200 and 600 AD, Coba dominated a vast area, including the north of the state of Quintana Roo and areas in the east of the state of Yucatan.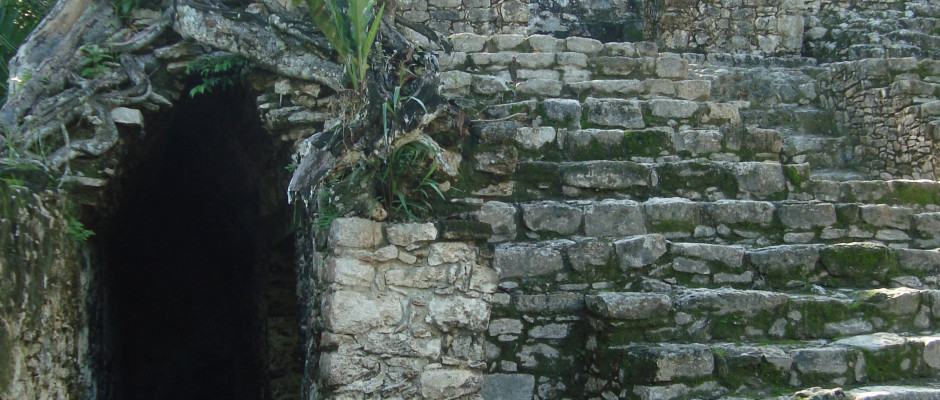 After 600 AD, the emergence of powerful city states of the Puuc culture and the emergence of Chichén Itza challenged the dominance of Coba ,which had more closer ties, both cultural and economic, with the more southern Mayan centers of the Petén (what is now as Guatemala and the boarder with Mexico). This is reflected both in its architectural style and in the presence of a large amount of carved stelae.
Unfortunately the stelae are in poor condition so not as much is known about Coba's history as other Mayan cities in the south. Archaeological evidence however indicates that by the 8th century it had as many as 50,000 people. Cobá was also the hub of a system of roads called sacbes constructed by the Maya for commerce and general foot travel. Some of these roads can still be found in parts of the Yucatan and real adventurous persons today will explore these ancient trails.
Coba's downfall came with the rise of Chichen Itza and the long war between the two cities. In 860 AD Yaxunáh was destroyed by Chichen followed by the defeat of Coba itself. The decline of Coba preceded the main collapse of all the Mayan cities in the region. The city was to revive a little when new temples were built and were used perhaps up until the 14th Century.
Today this  site provides a good experience of seeing ancient temples and learning about the Mayan culture. It is recommended to get there early to beat the crowds and heat.
Coba Village
Before you get to the ruins you will pass through a small community. This is a more traditional Mayan community and you will see many thatched roof houses. The town is small and not too much to see as far as tourism goes. However one thing that is in Coba is Casa Itzamna. Here they can share with you Mayan culture and even is a place of relaxation.
You can spend the night in one of the few hotels in the village. There is not much to do but that is part of the charm, it is very quiet at night and you can watch the sunrise on the lake in town and try to see some crocodiles.
Eating and Restaurants in Coba
After you visit the park you might be hungry. There is one main restaurant at the entrance that can handle larger groups. It serves a buffet for 170 pesos as well as menu items. There are a few basic small restaurants on the north side of the parking lot. There are also several small restaurant in Coba village but you will have more of a selection if you go to Tulum which is only about 30 minutes away.
One restaurant we recommend in Coba is Crocodillos. It is right across from the lake about half way between the ruins and the turn in the road to Coba. There is a large tree in front of the restaurant. The reason we recommend this restaurant is the fact they have local food, handmade tortillas, and refreshing drinks like cold coconuts.
Coba Ruins Entrance Price
Pay parking is available for the site. It was 50 pesos the last time we were there. Entrance to the site is 75 pesos. Entrance is free on Sundays for residents with ID and nationals.
When are Coba Mayan ruins open?
The ruins are open everyday of the week from 8:00am-5:00pm. You do have to enter before 4:30pm because they stop selling tickets and will not let you in because they want people to have time to see it and exit the ruins at closing time.
Only some special tours are allowed in earlier or later then general admission.
Touring Coba ruins
You should allow at least an hour to see the site if not two and a half hours. Since the ruins are spread out in the jungle, there are bikes for rent to speed your way. Most people choose this option. They are affordable (50 pesos) and with a large selection of them, you should find one that fits you. If you want a tricycle taxi to drive you around, these can be rented as well(about 125 pesos and hour+tip, 200 peso beyond one hour.).
Hiring a guide for touring Coba Mayan ruins
Guides are available at the entrance of the site. They will approach you and have id's on their necks. Prices for guides is not set. It is up to you as to how long you want a guide for. Prices also vary on how busy it is and your negotiation ability. Prices are usually between 300-700 pesos for groups and depends on the size. Many official guides speak several languages including Mayan, just in case you want to hear this language that is still alive today. Hiring a guide give jobs to local people and will help keep the history and culture alive of this once great civilization.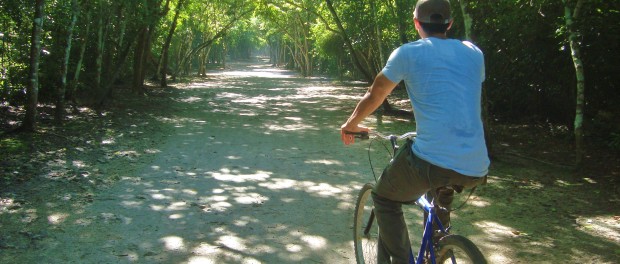 If you have limited time, choose the trail to your left. It will take you to the more spectacular parts of the site including the largest structure which you can climb!  The main pyramid is 42 meters tall (138 feet), the highest in the Yucatan peninsula. This is a rare treat because you cannot climb the temples in Chichen Itza. Climbing is straight up uneven steep steps. There is a rope to assist you in your accent and decent. It is much easier going up then down. If you have trouble with heights, take a friend. Trust me, it is worth the view and even the photos you will take the share with friends.
Coba Ruins Map
People are always wondering what it looks like on a map. This map we made show the entrance and the two sides you can visit. When you enter and take the trail if you go to the left you will get to the main pyramid. This is the more popular side. The yellow line are the two paths you can walk on or bike. Notice how it splits. Even though there is a lake there you will not see it because the trees are so think.
Tip: Both inside the site by the main pyramid  and by the entrance there are places to buy cold drinks. Check outside of the entrance for the "Mayan Red Bull" guy. He sells bee pollen energetic natural drink. It is a fun thing to do on your trip.
Tip: Bring your camera, water, cool clothes, comfortable walking shoes, sunscreen, your spirit of adventure, and bug spray at certain times of the year (especially if you walk the site instead of the bicycles).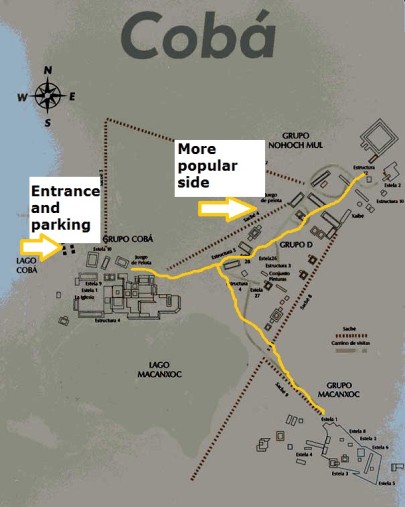 How to get to Coba Mayan Ruins
Driving directions to Coba Mayan ruins
It is possible to rent a car and drive there. Roads are well marked and it is only three road to take from Playa Del Carmen. Just watch out for speed bumps when you enter small populated areas. If you are only two people you might look into doing it as a tour instead go doing it yourself.
The road leaves from Tulum and goes inland. It takes about 30 minutes from Tulum to the parking lot of Coba ruins. It is posted well with signs. When you come to the traffic circle you will go to the left and take the road into Coba town. Pass through the small town and pass the lake on your right. You will see the parking lot ahead of you.
The parking lot is a few dollars.
Public transportation and taxi to Coba Mayan ruins
You can take public transportation on the ADO bus but they have a very limited schedule and may make the day very long. It technically is possible to get a taxi to take you to Tulum but it will be expensive and take about 25 minutes. A one way taxi from Coba ruins to Tulum will cost about 500 pesos each way. There is no set price so you will need to ask before getting in.
You can buy an ADO bus ticket in Tulum or Playa Del Carmen for the trip to Coba. There is one bus a day going which arrives in the morning and the return bus leaves around 3:00pm. This means you have a long day in Coba ruins. You can fill your time with going to eat afterward but we recommend a tour or driving yourself there.
Note: There is a local bus that leaves Coba to Tulum more frequently than ADO. This bus however is very local and makes more stops. We recommend the ADO bus because it will be more comfortable and faster.
Coba Mayan Ruin Tours
Not everyone is going to want to drive themselves and try to figure out how to get to these ruins, so a tour is a great idea! Here are several options with other activities included in the day. Click on the links below to read more about these tours.
If you want to go to Coba with a private tour, you can book with this tour company and read the details here. This is a good opportunity to have a driver and the ease of getting there. There are also add-on's to some other activities you might want to do. Click here for more details and prices for doing a private tour to Coba.
Below are several tour options you can choose from to see Coba Ruins and more!
If you go here with a car you might also want to check out the Coba cenotes nearby, they are really nice and newly opened for eco tourism.

For more places to go and tours from Playa Del Carmen, see our guide here complete with an interactive map.
Have you been to Coba Mayan ruins? What did you think? What are your favorite ruins to visit? We would love to hear from you in the comment box below.