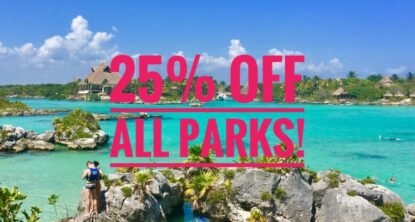 Best sales price for tickets for all Xcaret's Parks
We know you are always looking for deals on tickets and we have found the best one for you! As you know, we really like all of Xcaret's Parks ( Xcaret, Xel Ha, Xplor, Xenses, Xavage, Xenotes and Xoximilco). We also like their tours to Mayan ruins. Now you can get 25% off all of these entrance tickets and tours for all of 2020! This is the best sale we have seen and something we really recommend you taking advantage of.
How to get the best deal on tickets and tours in 2020
As you probably know the tickets to the parks are not the cheapest, but well worth the price. Most tickets are about $100 USD per adult. So taking a family can be a good chuck of your vacation budget. However, with this special sale, you can save 25% off. But what is the fine print and details of this promotion? Well, it is pretty simple. Here is a step by step way to get this deal:
Click here to go to the official website link here.
Select which park you want to go to or tour you want to take.
Enter this code MCXC25 at checkout.
Pay with a Mastercard. This is an important step because it is the only card that allow this discount.
Then you are all set! This sale is available until December 31, 2020. So go ahead and ave big on your adventures this year.
What if I don't know what day I want to go?
Of course you want to the best weather and to go when you want to while on vacation. The easy part is, these tickets are good for one year from time of purchase and you can change the day up to 24 hours in advance. We will say though, that the weather is normally sunny about 300 days a year in the Riviera Maya, and even when it is not perfect, you can still have a great time at these parks or go on a tour.
Just one note about the tours to Mayan ruins. If you are going to Coba or Chichen Itza, these ruins are hours away and you can expereince different weather in different parts of the peninsula. So there is not much to worry about because, one, you can have a nice time in any weather and there are advantages to cloudy days and sunny days. Two, the tours plan around what the weather is, some have large umbrellas for guests. Three, because you are in two different states of Mexico on some tours, it might be raining where you are but when you get to the ruins it is beautiful.
What is the best park to visit?
Well, now that you know you can get this good promotion, what park are you going to choose? Do you know what the parks are like and what they offer exactly? Here is some advice from us to help narrow down what park or parks you might like to visit while here on vacation.
Xcaret Park
This is the largest park to visit and will take the most time to see. The natural environment is highlights Mexican culture and history. There is an aquarium, rivers to swim in, a beach, shows and many activities during the day. At night there is a huge two hour show that is spectacular.
Pros:
Great for young children.
Full day of entertainment.
Lots of activities for everyone.
Amazing show at the end of the day.
Cons:
Food is extra and with a long day, expect to buy two meals here.
Some fo the other parks appeal to young couples or singles more.
Xplor Park
This is for the adventure lover. There are two zip line routes with the best zip lines in the area. There are underground rivers to swim in and paddle in. You can also drive jeeps on jungle traisl. There is also a nighttime opening of this park called Fuego. To see the difference between the day and night at Xplor, see our article here.
Pros:
Best zip lines in Mexico.
Really fun activities.
Good restaurant included.
Cons:
Not the best for young children under height requirement or people overweight.
If you are afraid of heights, you will miss out on the zip lines.
Xel Ha Snorkeling and more!
Xel Ha is a large inlet where ground water flows into the ocean. Here you can snorkel all day in this inlet and enjoy the beautiful natural surroundings. There are activities also like zip lines, bikes, trails and more to keep you buys exploring all day.
Pros:
Great fun in the sun all day long.
Food and alcoholic drinks included.
There are a lot of activities included in the ticket price that will keep you having fun all day.
Cons:
From Cancun this is the farthest park to go to.
If you don't like being in the water or swimming, this is not the best option for you.
Xavage
This is the newest adventure park. It is more extreme than Xplor park. There are obstacle courses, extreme jeeps, white water rafting and more!
Pros:
This is for the adventure lover.
Food is included.
Cons:
Not good for people with back problems or limitations.
This park is closer to Cancun, so it is farther from Playa Del Carmen than most of the other parks.
Xenotes
This park is like a small guided tour to some beautiful cenotes. You will get a chance to explore and have some fun. Some cenotes have zip lines and others are more peaceful to swim in. These cenotes are only available to visit with tickets to Xenotes.
Pros:
Great for people that want to get out into nature.
Want to visit several cenotes that are beautiful.
Tour groups are small and you go through the route with ease.
Picnic style buffet included.
Cons:
This is a calmer park that some of the other ones. So if you want action, this can be a bit tame.
If you don't like swimming, this is not for you.
Xoximilco
This park is based on a real place in Mexico City where traditional boats pass through canals with people enjoying drinks and meals. This is more entertainment while having drinks and dinner on these colorful boats. This is a very Mexican experience.
Pros:
More of a Mexican themed dinner party that gives you a real feel of Mexico.
Good for adults that like to mingle and drink.
Cons:
Not the best for children.
This is only at night.
You need to book transportation because drinking is involved, unless you are not going to drink and have a car.
Tours you can take and get this 25% off discount
Xcaret offers tours through their company called Xichen Tours. They have tours to Mayan ruins and combination tours to some of their parks and Mayan ruins.
Here are their tours:
We hope you get to enjoy these discounts and of course enjoy your time at these parks. Let us know if you have any questions below.