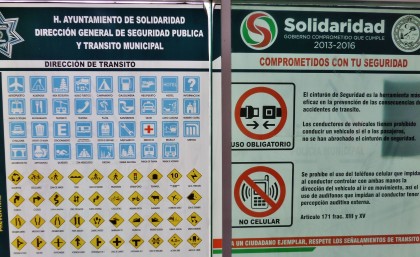 One of the challenges of moving to Mexico is getting a drivers license. This is mainly because it is a new process and perhaps not the easiest procedure for those who do no speak Spanish fluently. We have tried to make a super easy guide for you to help make this process easier for you.
How to get a drivers license in Mexico
Lets first start with the official list of things you need to get your license.  For foreigners (extranjeros) You will need
1. A copy of your passport photo page
2. Copy of your immigration document.
3. Electric bill or other bill from Playa Del Carmen.
Make sure your copies are clear. Note: It can be hard to get clear copies of immigrations visas since the laminating blurs the copy (but we have found them not to be ultra picky about the clarity of the copy).
Bring originals (definitely your visa) with you just in case you need to get more copies or for them to look at the originals.
It is good to bring a pen and they will ask your blood type. It is not necessary to show a paper with your blood type. If you do not know you can go to a clinic in Playa Del Carmen and get one done for about 100 pesos. One very central clinic is LACLICSA Labratorios on 30th Avenue and the corner of 14th Street (in front of AKI). You can get the result back in one day of you go early in the morning or by 2:00pm the next day.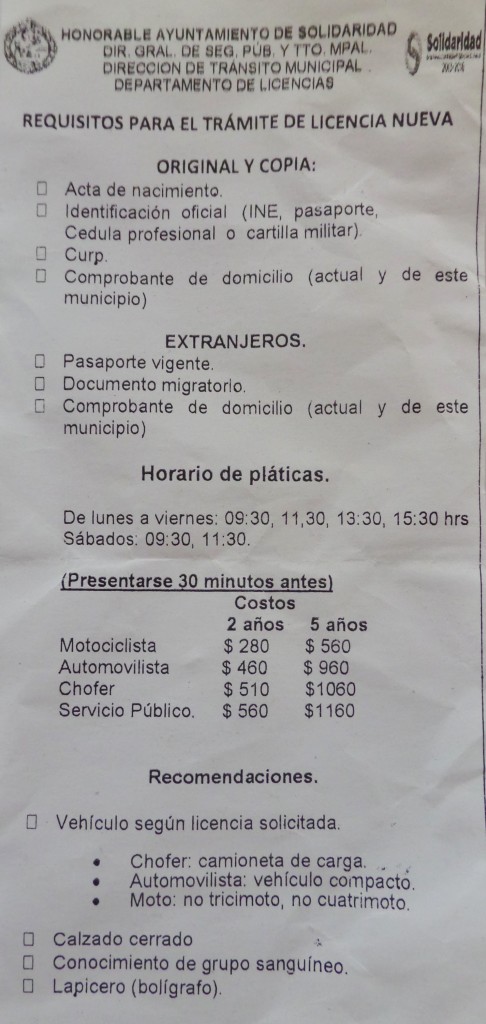 Where to get your drivers license in Playa Del Carmen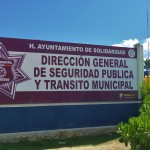 You will need to go to Direccion General De Seguridad Publica Y transito Municipal on the Arco Vial where it intersects with Avenue Jacinito Pat. (Near CFE ad the new IMSS Hospital) This is on the north end of Playa Del Carmen.
Where to go….
There is parking along the road outside the complex and the entrance is on the corner. When you walk in the property on the sidewalk, go to the first building on your right. Just as you enter there will be a desk on your left. Here is where they look over your paperwork. They will look at your papers and ask what kind of license you want and if it is your first time in Playa Del Carmen getting one. They then will tell you where you need to go based on what your situation is. Usually giving you a number and then in that same building you pingpong around to all the windows, paying, filing, and taking a photo.
HUGE TIP: If you have a drivers license from another country and you surrender it to them, you do not have to take the written and driving exam.
Tip: They will ask you for an emergency contact person. Have all the information ready for this. They will ask for a name, phone number and address.
Driving Class to get license
The class times are on the schedule above. They are pretty basic and in Spanish. Most everyone should be able to figure this out.
Driving Test
If you are required to drive it is a basic around the block spin and parking. It is nothing to be afraid of.
Continuing the Process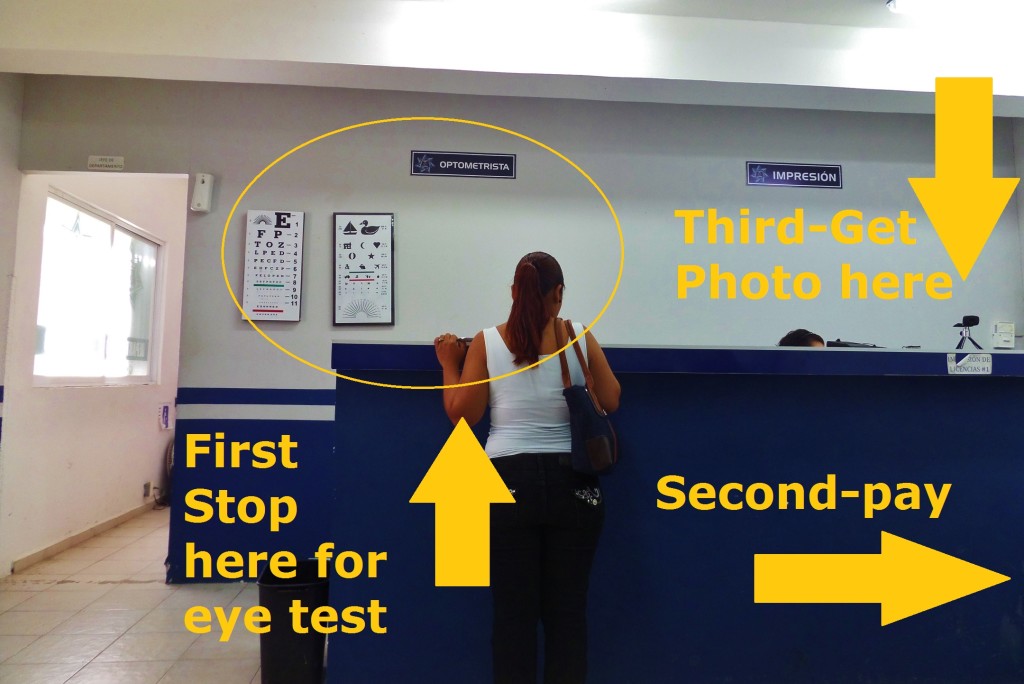 In the paper processing room there is another entrance to the eye exam room and picture taking (see photo). When you get to this step you will first present your papers to the eye exam desk. They will ask you if you need glasses to drive, if you have diabetes, allergies to medications, and what your blood type is. Then they will ask you to cover one eye and read the letters they point to and then the other eye.
Tip: Remember in Spanish I, E and A are all different. Fortunately they are a little forgiving for foreigners on this.
Next pay at the booth the fee. Try to bring exact change because you might get stuck waiting for change.
The last step is the dreaded photo. They do have one small mirror here where you can prep but not much else. They will ask for your paper and then take your photo. Then stand and they want a scan of your right index finger. You will next need to sign an electronic pad for you signature that will go on your license.
Tip: Remember you will need to have this match what your signature looks like normally because banks and immigration all like them to look alike.
They will confirm all the information such as address and name and then ask you to sit while they process your card. It only takes a few minutes and you are done.
Getting a drivers license according to your visa
Can you get a drivers license in Playa Del Carmen if you are a tourist? The answer is yes. However it will be limited to how long your tourist visa is. Your drivers license from your home country is valid in Mexico so it is not too common for people to get a Mexican license. The rules and depending on who is at the counter can effect the answers to your questions about getting a license.
If you are here on a visa temporal, you can get a drivers license up to the time when your license expires. This means that if you have a visa temporal and it is expiring in 4 months, even though you are going to re apply for a longer visa, you will only be allowed to get a 3 month drivers license. Again, this can depend on who is behind the counter. We just provide this information so you are somewhat informed about the process and regulations.
Congratulations on getting a license!
Congratulations if you are at this step! You now have a local ID that can provide discounts and can drive here. We hope this guide has made it a little easier for you to go through this process. Happy and safe driving!