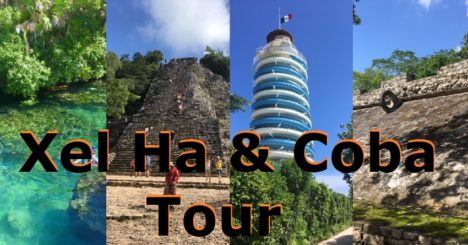 Xel Ha and Coba Tour
Do you want to see Mayan ruins and also have some fun snorkeling, zip lining and seeing the beauty of the Riviera Maya? This tour allows you to do both in one day. We went along with this Xel Ha and Coba tour to tell you what you can expect on this excursion.
Tour Xel-Há All Inclusive – Cobá One Day with Transportation
Our video of the day exploring Coba and Xel Ha
What to expect at Coba Mayan ruins
After being picked up from your hotel, you will be first visiting Coba ruins. When you arrive, you have a chance to go to the bathrooms and then your guide will give you your entrance ticket.
One thing that makes visiting Coba unique is the fact it is in the forest and spread out. This makes it cooler to visit and even cooler how they offer to get you around on the site. Just inside the entrance there are bikes for rent. These are included in your tour price. You have two options, riding a bike or riding in a bike taxi. This makes it possible for most people of all ages and abilities to get around on this tour.
What you will see in Coba ruins
Your guide will take you first to the tallest pyramid (or temple). Here you will have an opportunity to climb it. Afterward your guide will explain what makes Coba so unique amongst Mayan ruins and then you will bike back toward the entrance. At the entrance there is a Mayan ball court and another pyramid (temple). Your guide will explain more of the history of the site and then it is on to Xel Ha.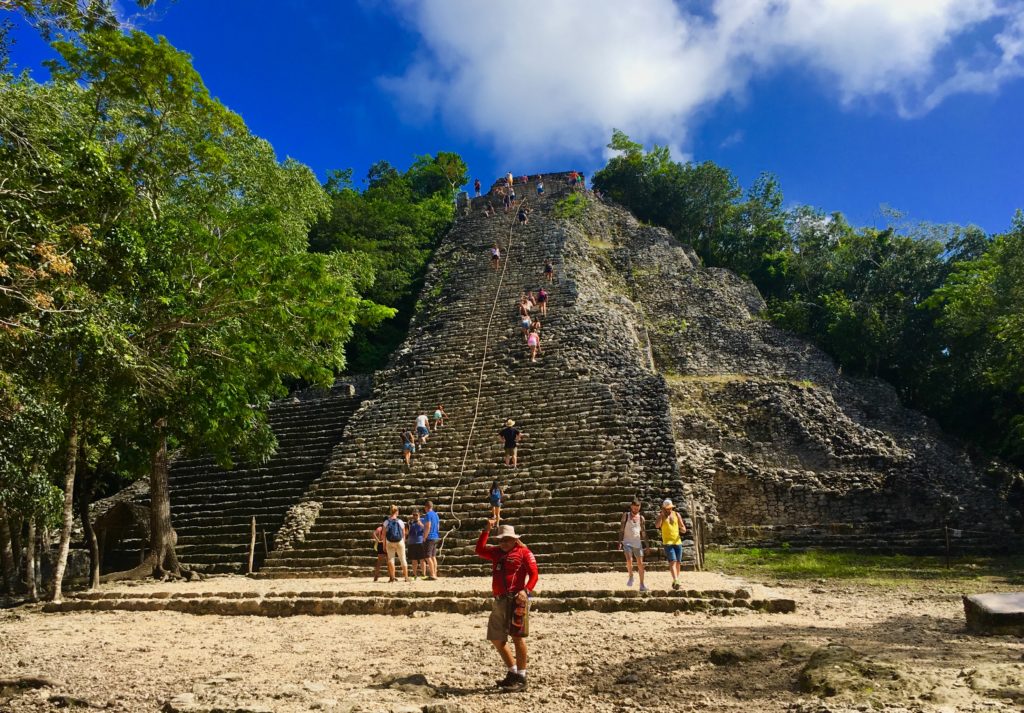 What to expect when at Xel Ha Park
You will arrive at Xel Ha for the afternoon. You might want to eat lunch or just start exploring. There is a lot to see at Xel Ha. There is the new waterslide tower, lazy river, snorkeling, walking the trails, zip lines, riding bikes, and more.
Xel Ha is all about exploring this beautiful inlet that is a natural gem in the Riviera Maya. With time for swimming and relaxing, this is a good pairing to the other half of the day of exploring.
Eating and relaxing at Xel Ha
All the restaurants are open for you at Xel Ha and include alcoholic drinks. We really like La Cocina del Pueblo Restaurant . This restaurant will give a good taste of the Yucatan and Mexican cuisine. La Cocina del Pueblo Restaurant is open until 5:30pm.
All around Xel Ha there are places to sit and relax or swing in a hammock under the palm trees. There are also many places to observe animals and take in the beauty of the place.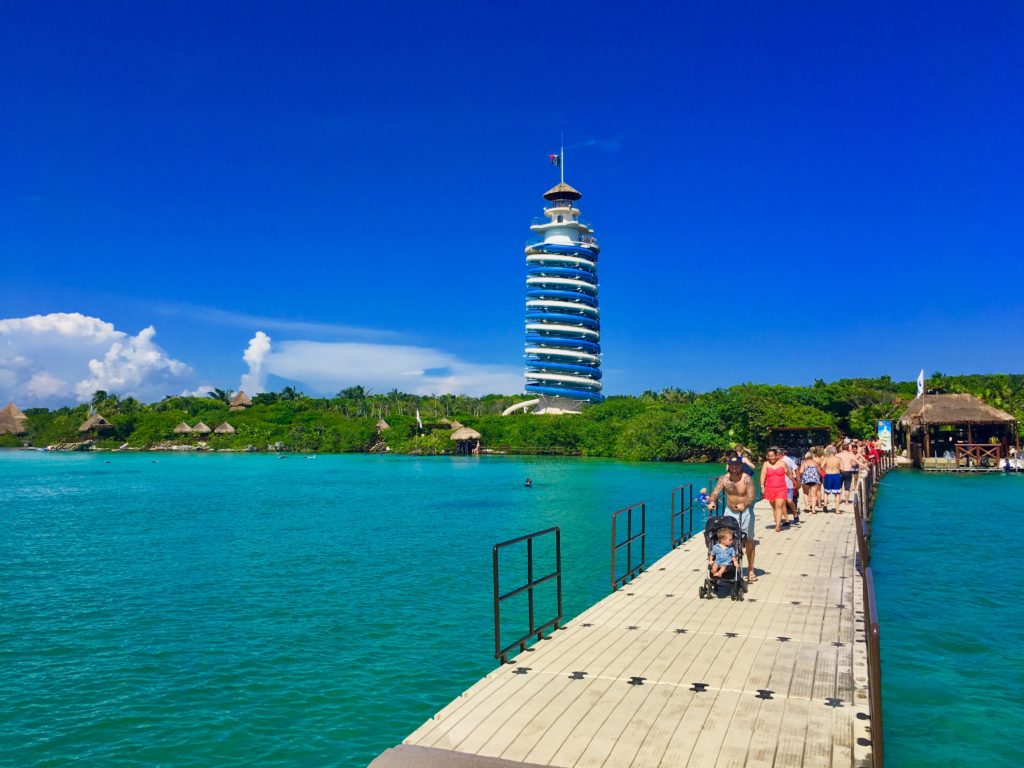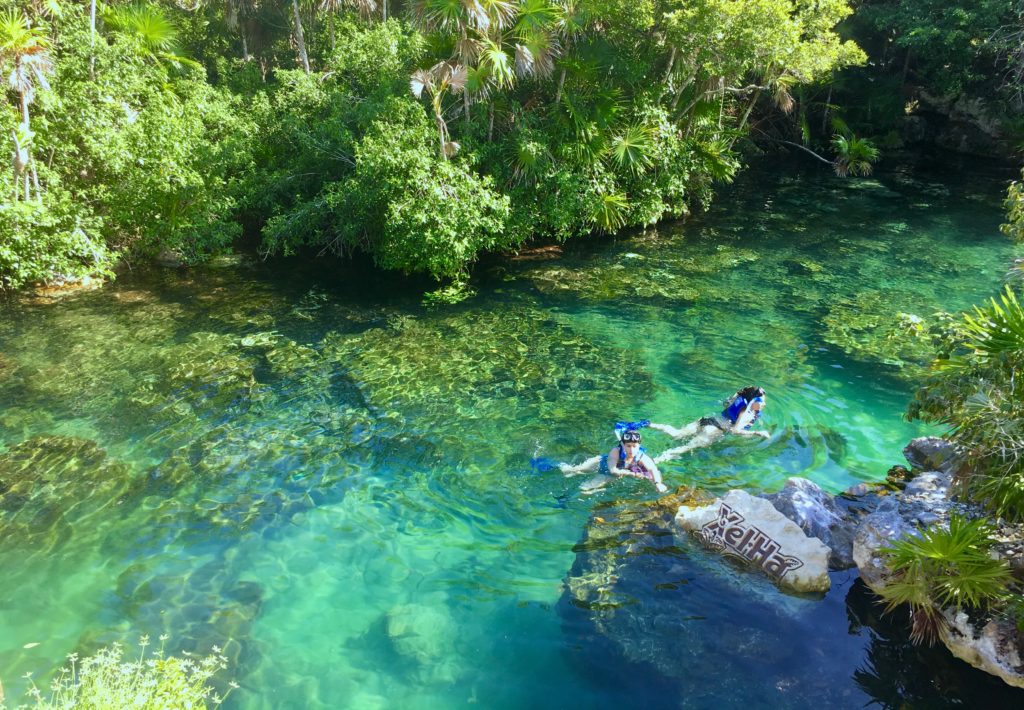 Recommendations for this tour
If you want to visit one of the Mayan ruins close by and also have some fun, this tour is a good combination. Coba normally is a half day tour and combined with something. Xel Ha is a big park and can occupy your time for a complete day but we know some people want to combine days or tours. This can be cost effective instead of doing two tour days to a Mayan ruin and eco park.
It is nice that the Coba ruins are first and you will get to explore before getting wet. You will also have the afternoon to relax.
This tour can be good for all ages and most physical levels. You do not need to climb the pyramid at Coba but it is fun if you do. If you do not want to bike in Coba ruins you can take a bike tricycle taxi.
What to pack and bring
Normal comfortable clothes for visiting Coba are good. Often it is sunny and when not in the shade, sunglasses, hat or umbrella is good.
Biodegradable sunscreen is the only kind allowed in Xel Ha park. This is for the protection of the environment. It is best to be prepared and buy some before coming, but you can also get it in the park.
Lockers and changing rooms are available at Xel Ha. Towels are also provided. Most people will want another change of clothes for going home.
A waterproof camera bag is great for taking lots of photos at Xel Ha. Also a plastic bag for wet clothes is good to have for returning to your hotel.
How to book this tour
It is important to know that this tour only goes twice a week. This tour goes on Tuesdays and Thursdays. So it is good to book this tour in advance if you want to go. It is also great to book in advance because it is the only way you can get a discount. Below the Book Now banner/photo will take you to the official website for purchasing this tour.
If you book 1-20 days in advance you get 10% off the price of this Xel Ha Coba tour. If you book 21 days or more you get 15% off the price. This can add up to a good savings for a group or family. You can click below to get more details and to book this excursion.
What is included in this Xel Ha Coba tour
Pick up and drop off from your hotel or central meeting point.
Breakfast snack and buffet lunch with open domestic bar.
Entrance to Coba ruins and Xel Ha plus bike rental at Coba.
Certified guide.
Snorkels, fins, lockers and towels at Xel Ha.
What not is included is the add on activities at Xel Ha like Zip Bikes or Adrenalina.
Have you been on this Xel Ha Coba tour before? Do you have other questions we did not cover? Let us know in the comments below. We would love to hear from you.
If you are looking for other tours to Mayan ruins, check out these two other tours to Chichen Itza from the Riviera Maya.