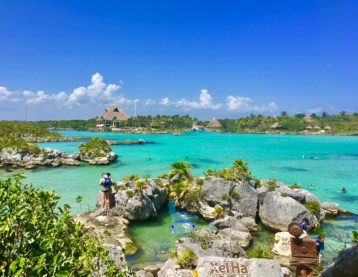 What is Xel Ha park like?
Xel Ha park is a large inlet that connects the ground water flowing out to the ocean. In Xel Ha you have the opportunity to spend the day snorkeling, floating, swimming, and having fun in this large open park. You will get to see tropical fish, have meals, and explore this beautiful area.
Xel Ha is part of the Xcaret family of parks. Each of their parks is different and offers a great experience to guest here in the Riviera Maya. If you are familiar with our website, we have written about their parks and what each one is like and what makes them different. We feel that each one of the parks is worth going to and each park is done very well. This is why these parks are so popular.
In this article we will try to tell you everything about visiting Xel Ha and what you should expect for your day there. We will also have lots of insider tips on things like getting the best price for tickets, options for getting to the park and what to see there. Lets start with a short video that will show you around the park and what Xel Ha is like.
Our video introduction to Xel Ha
We made this video for you so you could see the beautiful inlet that is home to tropical fish and how the park compliments this area.
What is included in the Xel Ha park admission?
When you buy an entry ticket to Xel Ha, here is what is included:
Full day at the park.
Snorkels, fins, mask, life jackets and tubes for swimming and snorkeling.
Breakfast buffet and lunch buffet as well as snack bar throughout the day.
Alcoholic drinks.
Access to the zip lines (3) in the water and cliff jumps.
Walking trail to see cenotes.
Bicycles.
Children's park.
There really is so much to do in one day at Xel Ha park that you don't need to add any optional activities. The only time we recommend it is if there is something you really want to do or if you have been to Xel Ha before and want to make your experience a little different.
There are some pretty unique things that you can do while at Xel Ha. In our next section we will talk about some of the optional activities you can do here.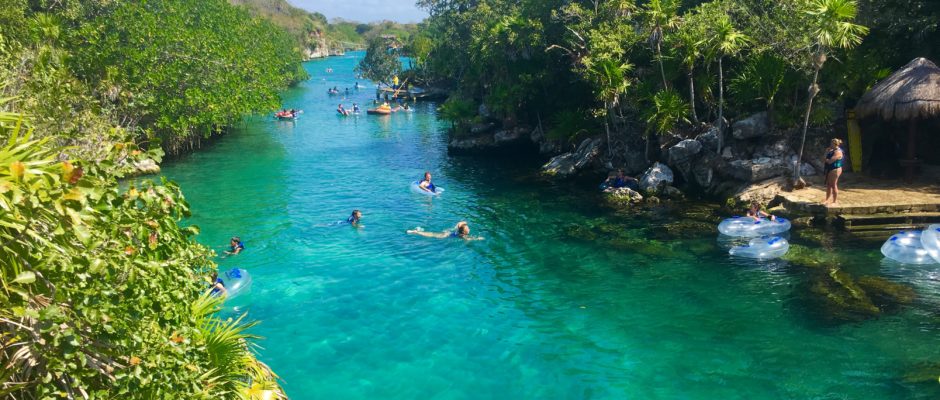 What optional activities are there to do at Xel Ha
Xel Ha park really wants to give people a special day of experiences for their vacation. The park itself is a great fun day but in addition to that, there some optional add-ons you can do. Prices generally run from about $30-140 USD per person for these optional activities. (Tip: booking in advance will get you the discount as well as admission).
Here is a brief list and description of optional activities:
Sea Trek. This is a walk on the bottom of the sea to visit marine animals. You will wear a special air helmet connected with a tube.
Stingray encounter. This is an up close and interactive experience for marine life lovers. This is done in open water in the inlet.
Snuba Caleta. This is like scuba diving but easier. You will have an oxygen tube to your mouth. The tank is on the surface on a raft so you have freedom of movement. A weighted belt will help you say under the water to explore. This activity comes with a certified guide. This swimming takes place in the main inlet.
Snuba Cenote. This is just like the above Snuba Caleta but will take you to some of the more remote parts of Xel Ha.
Adenalina Xel Ha. This is a super powerful boat that does 360 turns in the ocean and will give you the adrenaline rush you want. To read more about Adrenalina speedboat, see our personal experience here.

Adrenalina Speedboat at Xel Ha park.

Zip-Bikes. These are specially designed bikes that hang on cables. This self guided tour will take about 30 minutes. You will go through the treetops, across a cenote and in a cave. See our article and fun video about the Zip-bikes here.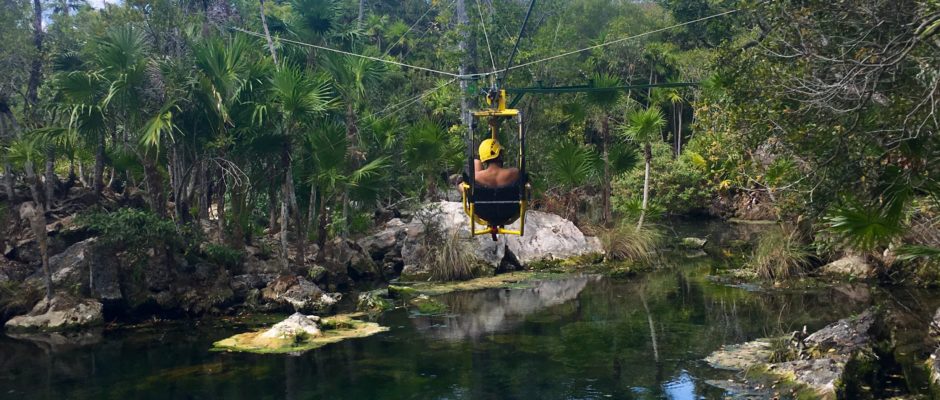 How to get the best prices for tickets to Xel Ha
We will say that this park is worth the entrance cost. Not only is it a full day, you get all your food and drinks included. Of course getting the best price is important. Many people wait until they are here to decide where they want to go and what day. This is fine but you can save some good money if you just plan. Here is how.
The "Reserve Now" button or any of the links here will take you directly to Xel Ha's website so you can book your tickets. Using this link helps support our website. You will be buying your tickets at the official price. We only get credit for referring you.

Save 15% off your tickets to Xel Ha park
If you buy your tickets here 21 days in advance you save 15%. You do not have to worry about the weather because if you want to change the date, you can do so up to 24 hours before going. This is Xel Ha's weather guarantee.
A little planning can mean that a family of four can save over $35 USD on your day at Xel Ha.
Save 10% off your tickets to Xel Ha park
If you buy your tickets here 7-20 days in advance you save 10%. You do not have to worry about the weather because if you want to change the date, you can do so up to 24 hours before going. This is Xel Ha's weather guarantee.
Children's discounts for Xel Ha park
Children ages 5-11 years old get 50% off entrance. Children ages 0-4 years old are free. These discounts do not apply to optional activities.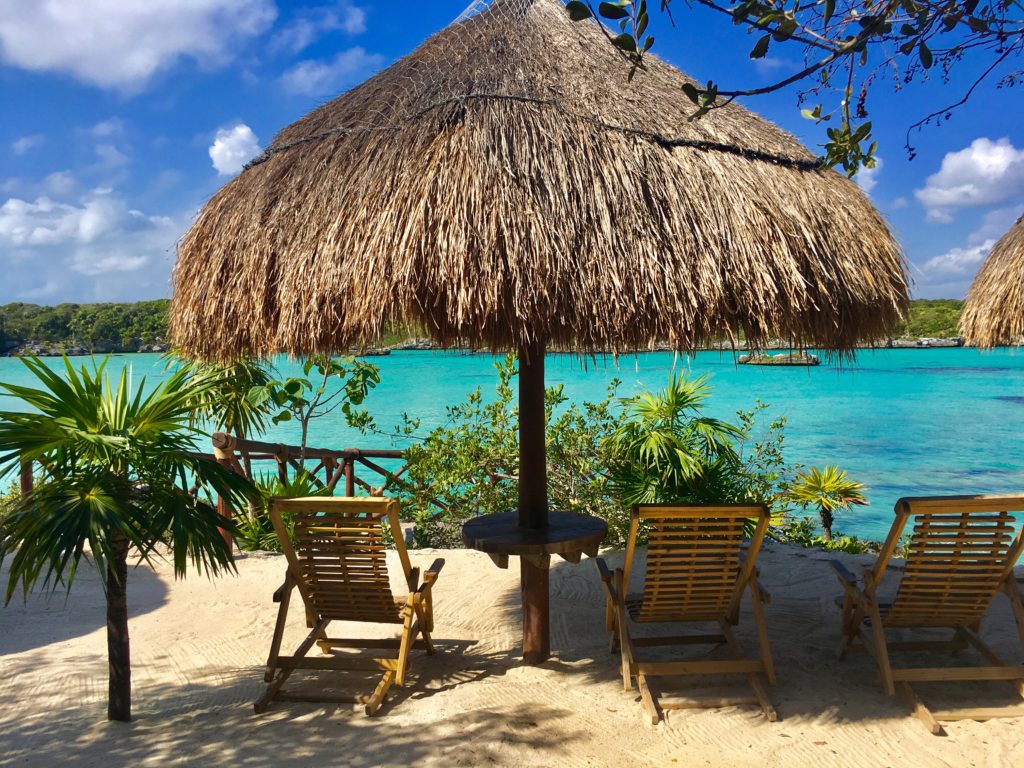 What are the hours Xel Ha park is open?
Xel Ha is open 365 days a year. Daily the park is open from 8:30am-6:00pm. Take this into consideration when planning your transportation. Some transportation options take longer and you will want to maximize your time here.
How do you get to Xel Ha park?
There are four ways get to Xel Ha park and you just have to see what best fits your needs.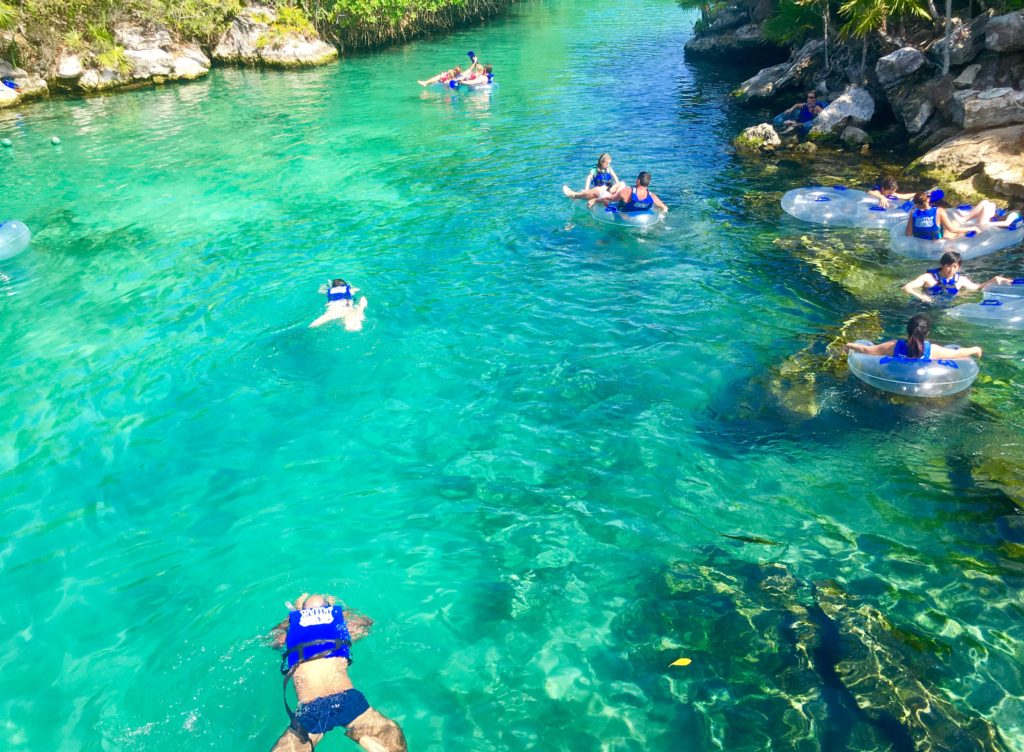 Where is Xel Ha?
Xel Ha is between Playa Del Carmen and Tulum in the Riviera Maya. It is closer to Tulum and on the 307 Highway. Xel Ha is well signed. You will see the fish kites also on the bridge over the highway where you turn.
Here are some estimated driving times to help you plan out your visit:
Cancun downtown to Xel Ha 1 hour 30 minutes
Cancun Hotel Zone to Xel Ha 1 hour 37 minutes
Puerto Morelos to Xel Ha 57 minutes
Playa Del Carmen to Xel Ha 37 minutes
Tulum downtown to Xel Ha 20 minutes
Other parks to visit by the same owners of Xel Ha are:
See the links of any of the above for more information.
If you are also trying to pick a park between Xel Ha and Xcaret park, you can read our article comparing them to each other.