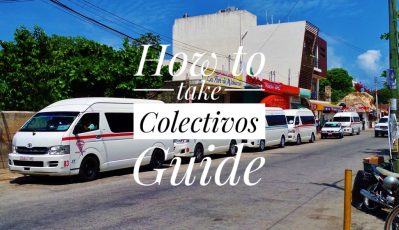 Colectivos from Playa Del Carmen to Tulum and Cancun
Getting cheaply and quickly between Cancun-Playa Del Carmen-and Tulum is fairly easy to do via colectivos. Colectivos are vans that are shared transportation and take off for their destinations, sometimes picking up people and dropping them off along the way. Colectivos are cheaper and faster then ADO bus company but are smaller and sometimes less cool in temperature. (see video at the end of this article). There are two separate colectivo companies:
Playa Del Carmen to Cancun
Playa Del Carmen to Tulum
It should be noted that you cannot take a collective from north of Playa Del Carmen all the way to Tulum, you will need to switch to the other colectivos to continue your journey.
Note: If you are looking to get to Tulum from the Cancun Airport, see our article here on how to do this. You can also find more information in our Cancun Airport article.
Playa Del Carmen Colectivos to Cancun
We recommend Playa Express that leaves from below the 307 highway just south of Juarez Avenue near the Chedraui grocery store. They leave on a regular basis during the day and will leave even if not full.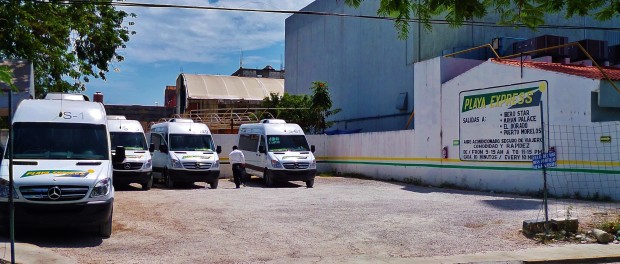 Tip: If it is easier for you to get on the Playa Express on the highway, there are several bus stops there. Playa Express will pick up people along the highway until the north end where the pedestrian overpass is. It is better to get on before CTM Avenue though because they can start to fill up.
Tip: Almost all Playa Express buses go to ADO bus station in Cancun. They do have some that go the back side of Cancun that is more for locals. Just make sure you know if they go to ADO Station if you are going to the center of Cancun. Otherwise wait because anything most tourist want to go to in Cancun is served by the ADO bus destination route.
Playa Express has nice Mercedes vans that are larger then the other Nissan/Toyota colectivo vans. The air conditioning seems to work pretty good as well. Playa Express does not make as many stops or pickups once it gets out of town since they mainly cater to people going all the way to Cancun.
There are the smaller and more local colectivos that go from Playa Del Carmen to Cancun. These are the Nissan/Toyota vans. Seating is more close together and the visibility is not as good as Playa Express. These vans leave from the corner of 2nd Street and 20th Avenue. There is a parking lot on the northeast corner of the intersection where they will be yelling out "Cancun".
Colectivo Prices for Playa Del Carmen to Cancun
The one way price is 42 pesos to Cancun and proportional payments for points in between. You pay as you get on the bus. Keep your ticket with you at all times as proof you paid, this is true with all bus/colectivo service in Mexico. Once you arrive in Cancun and you want to get off before the main terminal, you can get off at Plaza Las Americas, a popular place to go shopping in Cancun (you will need to ask the driver to drop you there).The end point is just across from the Cancun bus terminal. (see map in our Cancun Bus Station Guide)
Can you take the colectivo to the Cancun Airport?
The answer is no. They only go on the 307 highway and technically they could let you out and the intersection where the road leads to the airport, but there is no transportation from the highway into the airport and it is too long of a walk. Plus if you had luggage the colectivos do not have much space for it. Technically you could try to get a taxi from the highway into the airport but many taxis are already with people entering the airport property. If you are thinking this option because the ADO bus does not run early enough for your flight, it is better to book the private shuttle company to take you to the airport. See also out article with all the options for getting from the Cancun Airport to Playa Del Carmen.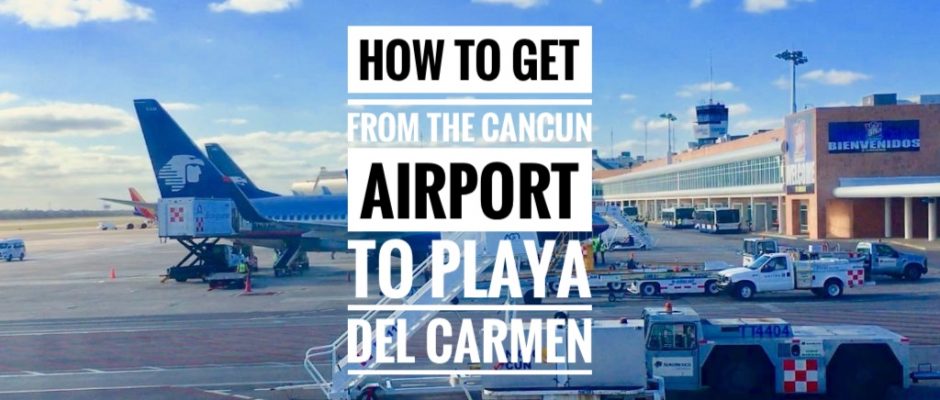 Cancun to Playa Del Carmen on Playa Express
Across from the entrance of the ADO bus station is where you pick it up to come back to Playa Del Carmen (except very late night busses, they are across the street, across Avenida Tulum). It is very hard to flag down a van one once it leaves the bus station in Cancun because they almost always leave full from Cancun for Playa Del Carmen. When you take Playa Express back into Playa the driver will let you off a few places in Playa before reaching Calle 2 again.
Playa Del Carmen to Tulum Colectivo vans
Again, under the 307 Highway just below Juarez Avenue is your place to pick up colectivos. You will see a line up of vans, walk to the front of the vans and there will be someone asking people where you are going or yelling out "Tulum, Tulum". These vans leave when full, but don't worry it will only take about 5-10 minutes. the helper on the sidewalk ask where you are going and then passes the info onto the driver.
Hopefully the driver remembers, but incase he does not, be somewhat prepared to yell out "your name of stop" "por favor". Being prepared where you are going and knowing what it looks like from the highway will help and it will also help if you are not asking the driver all the time if this is your stop (the drivers get annoyed with people like that). These colectivos make as many stops as there are destinations so basically wherever anyone wants to go, they will drop you there. Usually though in one van there are only a few stops between everyone before the colectivo arrives in Tulum. On these colectivos you pay when you get off.
Prices for colectivos from Playa Del Carmen to Tulum
Here is a price list for you. Destinations in-between or near are close to these prices. Xcaret=25 pesos, Xpu-Ha Beach=35 pesos, Akumal= 40 pesos, Xel-ha=45 pesos, Tulum=45 pesos. Drivers have been know to round up prices for tourist, somewhere in the 5 more pesos range. There is a list of prices on a sign as you get on the colectivos, you can always check here and just have the money ready when you go to get off . The drivers are usually very courteous and try to drop you off as close as possible for you. The colectivos terminate in the middle to Tulum near the ADO bus terminal. Remember there are two main stops in Tulum. The first one is the Ruins and they will only stop there if you request it. The second stop is in town near the ADO bus station.
Colectivos from Tulum to Playa Del Carmen
To come back to Playa Del Carmen on the colectivos it is best to catch them from near the middle of Tulum along the 307 main road because they can fill up and you might have to wait longer (however it is not really worth it if you are at the Tulum ruins to go into town to catch a ride, it is more hassle then waiting there for them). If you are somewhere in between Tulum and Playa, just stand next to the road and put your arm up when you see a van coming. Close to when people start getting off from work, there are more colectivos in service but they also fill up fast.
Below is a map of most of the destinations on the Rivera Maya where people want to go.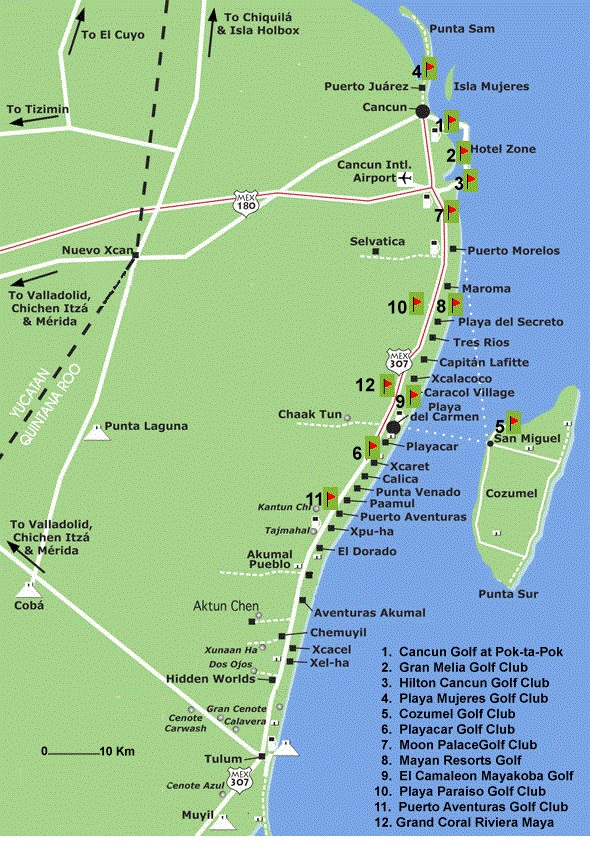 Tip: If you have a large group (five or more) it might be better to rent a car for a day trip. It will be more convenient and if you have a large group you might not fit in one van.
Tip: There are no colectivos that go from Cancun all the way to Tulum. You will need to take the Cancun-Playa Del Carmen colectivos to Playa and then switch to the Playa Del Carmen-Tulum colectivos. The same is true for the Tulum to Cancun route.
All in all these colectivos are very convenient and a cheap way to get around. By learning how to take them you can save big money on transportation to some of the popular destinations.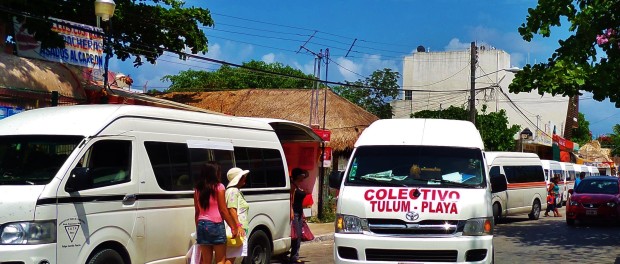 Taking Colectivos from Resorts
Many people ask us about taking a colectivo from a resort along the Rivera Maya. Here are a few tips for you.
How do you get on a colectivo? When you are on the highway you will go to the side of the road for the direction you want to go in. Then you will raise your hand when you see a van coming. If the van is full it will not stop. Sometimes the driver will wave his hand side to side to indicate he is full. But don't worry since the colectivos know how to anticipate where people want to get on and they run some colectivos empty leaving and fill up along the way.
Another thing to remember is that some resorts are a kilometer from the highway. You will need to walk, take a golf cart or taxi to the highway to get on. Some hotels have policies about people not permitted to walk on the drive into the hotel for safety reasons.
Luggage and large bags are not really taken on the colectivos. This service is meant to be a fast transport for people and not a hotel shuttle service. You will need to talk a taxi if you have luggage or book the private transfer service we recommended. Small bags are fine if you can hold them on your lap.
How will the driver know where to stop? When you get on you can tell him your hotel. Most of the drivers know all the hotels but, there are about 15 other people and the driver has to remember all the stops. So it is good to know what is near your hotel so you can remind the driver when you are very close that you want to get off. You can simply state your hotel name and say please (por Favor) and it is a nice way of reminding him.
Make sure you have small change in pesos. Some drivers will take dollars but you will not get a good rate plus it takes more time for the diver to sort it out. All passengers will appreciate you exiting the van quickly so they can get to their stops, so be prepared to pay when you exit.
For more on public transportation in Playa Del Carmen and the Yucatan Peninsula check out our bus station guide for Playa.
Here is a video we made to show you the bus stations and the street where you get the colectivos.

Thank you for reading out Guide to taking the Colectivos. We hope we answered your questions. If you have any comments or questions let us know below. Also be sure to check out our other Playa Del Carmen Guides here.