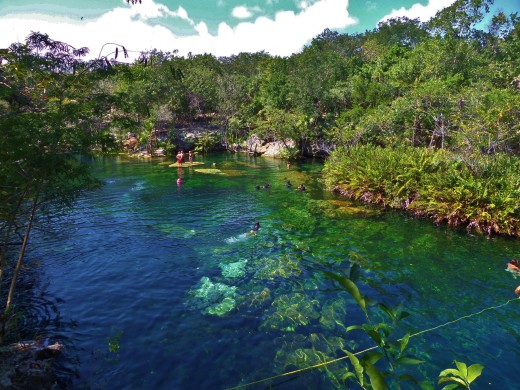 We are asked so many times "What is the best cenote to visit from Playa Del Carmen?" and we always tell everyone "Cenote El Jardin Del Eden" (Garden of Eden). Here is why.
Cenote Eden
Cenotes are an amazing part of our eco system in the Riviera Maya and something that will make your vacation here special. Since many people want to visit one when in the area, we recommend this cenote because it is only about 18 minutes south of Playa Del Carmen and you can arrive by colectivo or by private car. It is also beautiful, usually not too overrun with tourist and affordable to enter.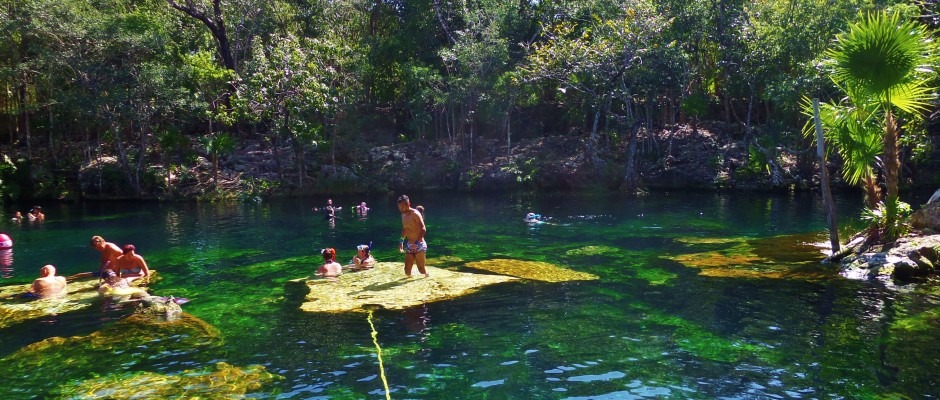 Our video introduction to Cenote Eden
See what the underwater views are like at Cenote Eden as well as what it is like to visit Cenote El Jardin del Eden.
What is it like to visit Cenote Eden?
Some cenotes are in caves and some cenotes have had the roofs have collapse and the water is exposed to the sun and open air. This cenote is open and makes for a lush surrounding area with plants growing in the water and all the rocks covered in green moss. This makes it extra special to snorkel and see the underwater world. The water quality is very clear, so we do recommend bringing your own snorkels.
On one end of the cenote there is a cliff for jumping. This is about a 12 foot jump, but there is a tree that people jump off of as well that will get you up even higher.
In the middle of the cenote are rocks that once were part of the roof and now are submerged about 1 foot underwater. This make for a nice place to rest. While you sit there you will notice little fish that come up to you, especially your feet and eat the dead skin. It does not hurt, only tickles. When you are moving around the fish do not bother you.
Divers use this cenote because there are caves that extend deep under the ground. You will see them here but they are off diving and not in the normal swimming area.
Services at Cenote El Jardin
There are bathrooms, snorkel and life vest rentals, and small palapas where you can sit and enjoy a picnic. Other then that, there is not much else.
Make sure you bring your own towels, biodegradable sun screen and if it is necessary, biodegradable bug spray. It is VERY important to bring only biodegradable sprays and not use to much hair and body products in order to keep the water clean. Some cenotes have showers to rinse off at before getting into the water, but this one does not. It really does make a difference so please help keep the cenotes clean.
Note: Alcohol is not permitted at this cenote. They do ask and really are just trying to preserve the atmosphere and make sure people are not going to fall and get hurt while under the influence. Animals are not allowed as well.
There are two other small cenotes next to this one, so if you wish you can visit more in one day or come back and see each one. They are all a little different, but Cenote El Jardin Del Eden is the favorite one to visit.
Directions to Cenote El Jardin
Public transportation (colectivo): Take Tulum bound colectivos from 2nd Street in Playa Del Carmen (see link). They will ask where you are going and just say Cenote Eden or in case they do not know where this is, just say the cenotes in front of Barceló Hotel. After you pass Puerto Aventuras you will soon see the large Barceló Hotel entrance on the left and the cenote is just a little farther on the right. It is 30 pesos for the one way. There is a large Cenote Jardin Del Eden sign and you follow the dirt road back to the cenote. It takes about 7 min to walk.
Car: Drive south on the 307 highway from Playa Del Carmen. You will pass Puerto Aventuras and about 5 minutes past there you will see the main entrance to Barceló Hotel on the left. On the right are four separate cenotes to visit. You will see the sign on the right and enter the dirt road. You will come to a small building where you pay and get wrist bands. Parking is ample.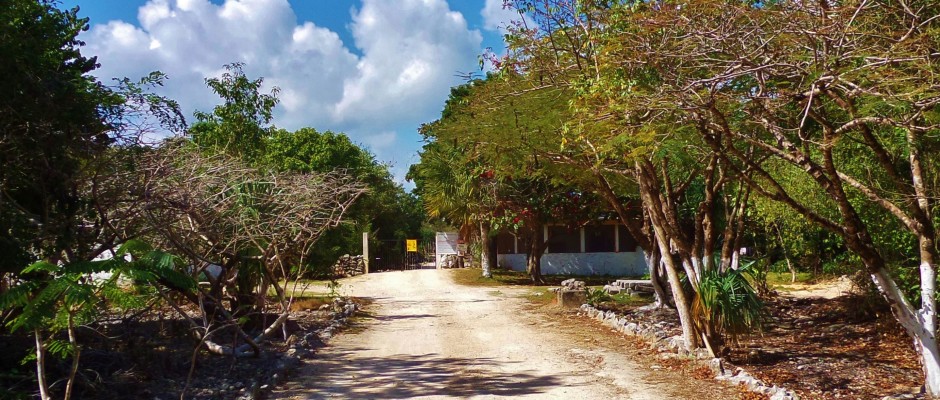 How much does it cost to get into Cenote Eden?
Entry is 200 pesos per adult. This now matches some of the other local cenotes that think this is a good price to charge guest for.
Hours
Open Sunday-Friday from 7:00am-5:00pm Closed Saturdays.
Note: Sundays will have more people since this is traditionally the day that most locals have off and many like to spend time with family and friends.
Be sure to check out our article on Cenote Azul which is right next to this cenote and Cenote Cristalino.
Have you been to Cenote Eden? Let us know in the comment box below what your favorite cenotes are to swim in.