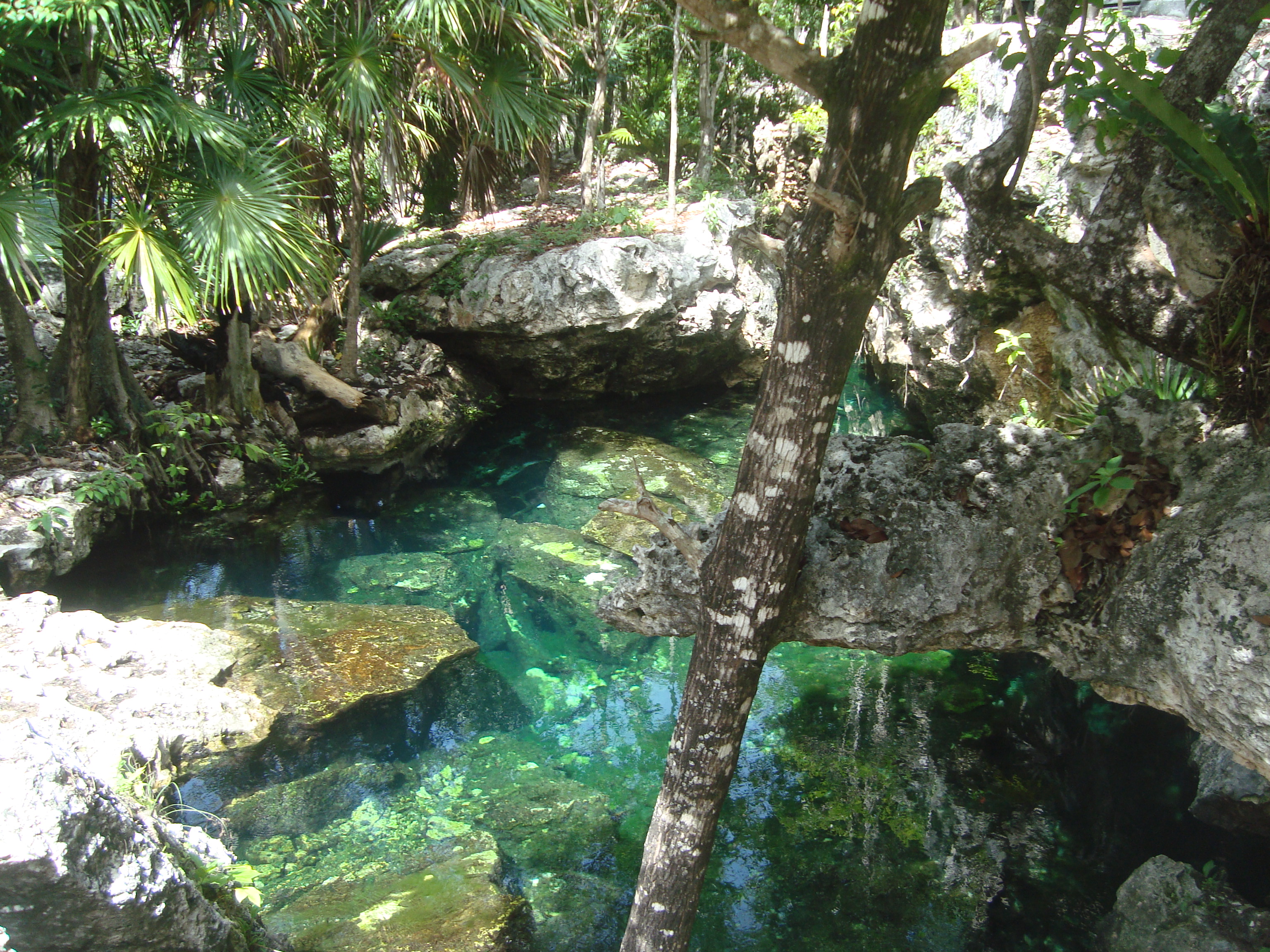 Cenotes are a very special natural feature that is uniquely found in the Yucatan Peninsula. Each cenote (pronounced see-no-tay) is different and will make you vacation a special one. There are some 2,400 registered cenotes in the Yucatan but there are estimated nearly double in unexplored cenotes.
Here is how these cenotes are formed. The entire Yucatan Peninsula is made from soft limestone. When it rains the water seeps through the ground and then flows out toward the ocean. Softer areas of the limestone get worn down and this creates caves. Some of these caves roofs collapse and this creates a cenote that is open to the air. Other cave formations  keep their roofs and access can be made by stairs down into them. Cenotes along the coast are closer to the surface and the cenotes in the center of the Yucatan are deeper down due to the height of the land and the ground water table being deeper. Since the water is filtered as it penetrates the limestone, the water is crystal clear and since it is underground, it stays 78 F or 25.5 C year round.
The Mayan used cenotes as sources of water and also as places of worship. Some cenotes like Chichen Itza were used for sacrafices. In many parts of the Yucatan item are found in cave cenotes that is evidence of the Mayans past use of the cenotes.
Here are some tips for visiting a cenote. Always clean you body of chemicals. Since the water is part of the sensitive ecosystem, keeping it clean will protect nature and everyone using the water. Always use biodegradable sunscreen if you need to use it at all. It is sad to see some cenotes get a greasy film on them from all the lotions on tourist let alone the unseen damage it does. Use biodegradable bug spray if you are going to use some. Never pull or hang on roots coming down into the cenote. These plants have worked hard to grow them down there.
Enjoy looking at the fish that live in the cenotes as well as some small fish that will eat the dead skin off your body. This sounds horrible but you will actually see fish spas on 5th Avenue in Playa Del Carmen. People put their feet in pools of water with these tiny fish and they nip at your feet. Even Kim Kardashian put her feet in a fish pool on an episode although not in Playa. It is ticklish but does not hurt. You can do it for free in some cenotes. (see photo below)
Snorkeling is amazing to do in cenotes since the water is crystal clear in most of them. Make sure to bring snorkel gear. Snorkeling will give you a whole other experience  in while visiting. Some of the open air cenotes have plants and are full of life making them really interesting to see what it looks like under the water.
Cenotes are easy to visit on your own or are often included on a tour. Entrance prices vary from about 15 pesos to 70 pesos. Unless it is part of something else or a special diving cenote, these are the basic prices.
Did you know that Xel-ha eco park is really a river that flows to the ocean feed by underground water from cenotes? If you go there you will see a haze in the water. The haze is actually the meeting of the fresh water and salt water. These waters also have different temperatures and when you dive down you will notice the variation.
Do you want to dive deep into cenotes? Dive shops offer tours. Some cenotes are over 200 feet deep! If you want to free dive in cenotes check out this article we wrote on Alfredo Romo who is a champion diver who does tours out of Playa Del Carmen.
We hope you get a chance to experience these natural marvels when you are here. We will be writing about different cenotes and the best ones to visit in future articles so stay tuned.
What is your favorite cenote to visit? Let us know in the comments below. We would love to hear from you.