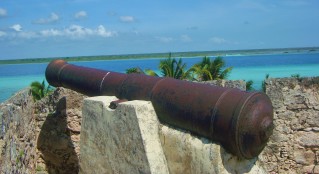 Visiting Laguna Bacalar in Mexico
Bacalar is an amazing lake in the southern tip of Quintana Roo State. It is called the lake of seven colors because of the white sandy bottom that gives the effect of having so many shades of blue, as you can see in the above photo. This is a fresh water lake feed by underground cenotes, but it does look like the ocean. The lake is about 55km or 34 miles from tip to tip and 2km or 1.2 miles at its widest point. This size makes it a huge place to visit and explore.
The town of Bacalar was declared a Pueblo Magico since it is such a unique place. It should be on your list of places to visit in the Yucatan Peninsula.
Interesting fact: Bacalar Lagoon is the second largest natural body of fresh water in Mexico.
Our video introduction to Bacalar
Since this area is so beautiful and we are limited as to how many photos we can include here, we made this video of Bacalar Lagoon for you. We think after you watch this, you will want to go to Bacalar!
History of Bacalar
The history of Bacalar is interesting to say the least. It was inhabited by Mayans for centuries. The name Bacalar means "surrounded by reeds" from the Mayan language. Trails around the lagoon were lined with white seashells because the inhabitants would walk at night when it was cooler and the shells would mark the trails.
In the more modern times a colonial settlement was built in 1545 by Spaniard Gaspar Pacheco and was called San Felipe de Bacalar (still the official name but reduced to Bacalar for practical reasons). The city was invaded and destroyed by pirates in 1642 and rebuilt in 1726. After the pirate attack the Fortress de San Felipe Bacalar was built and was completed in 1733.
Bacalar was reestablished in recent 1902. The town today is a stopover for tourist going to and from Belize and the Yucatan Peninsula. Bacalar is also a home to a small expat community of Americans, Canadians and some Europeans.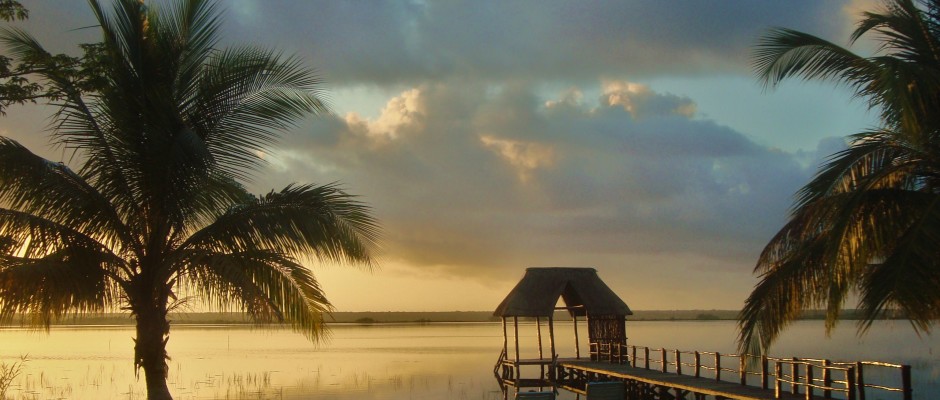 Planning a trip to Bacalar Lagoon
Bacalar is a little more then a day trip from Playa Del Carmen since it is about 3 hours and 15 minute south towards Chetumal or 274 km. So planning an over night or a couple of days is good.
How to get to Bacalar
By Car
We recommend driving because the town of Bacalar is spread out and to take advantage of being in the area a car is good to have. Just note, that if you are going to continue into Belize with a rental car from Mexico, not all car rental agencies will allow boarder crossings. Check with your car rental company first.
The 307 Highway is very easy to drive going down and passes through some small towns but most of it is rural land. Every once in a while you will pass a Mayan Ruin that reminds you that you are in a special place and makes you feel like an explorer.
Just make sure you have enough fuel on this trip. There are NO gas stations between Tulum and Felipe Carrillo and between Bacalar and Felipe Carrillo.
By ADO Bus
Ado is the main bus company that people us to either arrive from Chetumal or Tulum or Playa Del Carmen in the north.
From Playa Del Carmen there are about 12 busses a day that pass through Bacalar in either direction. The price for the bus is about 290 pesos each way depending on what bus you take. The bus takes 3:40-4:30 to get from Bacalar to Playa Del Carmen.
Hotels in Bacalar
When you arrive to Bacalar pueblo you will notice it is not a big town at all. The good news is there are a lot of new hotels in Bacalar. You basically have four category of options. Staying at a lakefront hotel, boutique hotel out of the center, trendy hotel back from the lakefront in town, or eco friendly hotel just out of the center.
For a review of hotels in Bacalar and recommended hotels, see our guide here.
We like the search engine below for looking because it searches all the hotel sites and give you the best deals.
Shopping and Restaurants in Bacalar
Shopping in Bacalar
When you arrive in the town of Bacalar shopping might not be on your mind. This town is very small and does not offer a lot for shops. The one really great store we do recommend you visit it El Manati. This is actually a restaurant/gallery/shop.
In the shop you can find things made in Bacalar and from around Mexico. There is locally make furniture pieces made from tropical hardwoods. Also you can find art pieces in sculpture or paintings.
Restaurants in Bacalar
There are not a lot of options for eating in town but more restaurants are opening up (see our restaurant guide for Bacalar here). If you stay at a larger boutique hotel along the lakefront you might have a restaurant in your hotel and that makes it easy to eat there and relax.
In the town of Bacalar most of the restaurants are around the Zocalo. Here you can find some Italian and Mexican style restaurants.
If you drive along the lakefront road going south you will find a few restaurants. The last being at the Cenote Azul. Here there is a large restaurant overlooking the deep cenote.
In town we recommend El Manati. Mentioned above for the shop, the restaurant in the back is just as good. Here you can have fresh food and local specialties at reasonable prices. See photo below.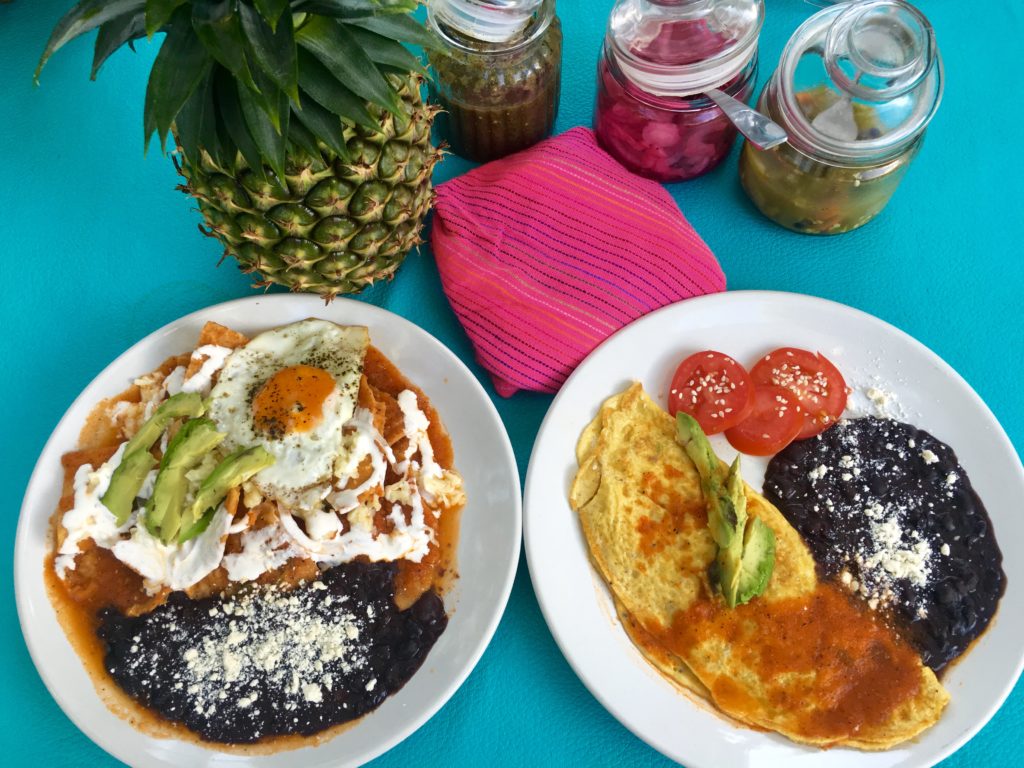 La Playita Restaurant. This trendy and beautiful restaurant is along the waterfront in Bacalar. This restaurant is just two blocks north of the fort near Calle 26. Here there is indoor and outdoor seating under a large tree. There is a lake view from the deck. The food is good and well priced.
What to see and do in Bacalar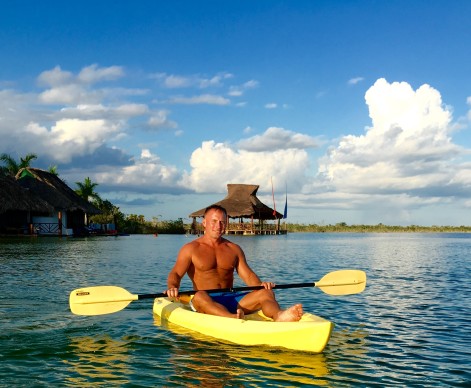 Take the time to get to Lake Bacalar and explore this unique place. You will not regret taking time to relax here and take in the seven colors of blue.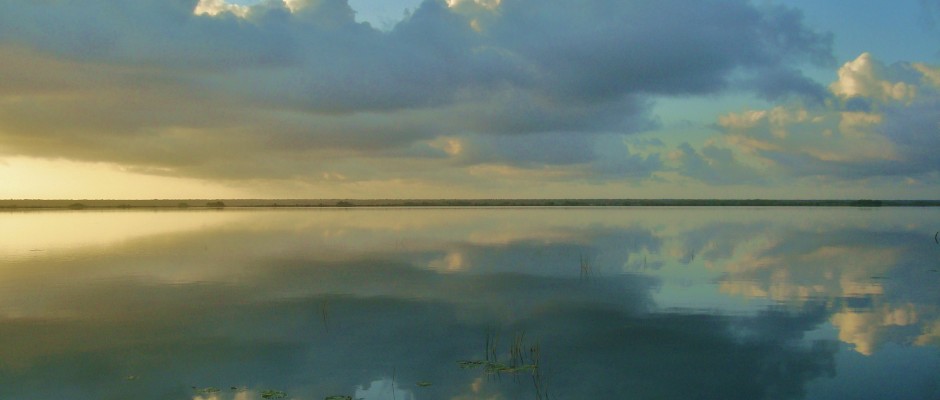 Do you want to spend more time in Bacalar?
Bacalar is a magical place and many dream of more time there. If you have thought about buying something or living in the area, see our real estate guide to Bacalar here.
Have you been to Laguna Bacalar? What did you think? We would love to hear from you in the comment box below.