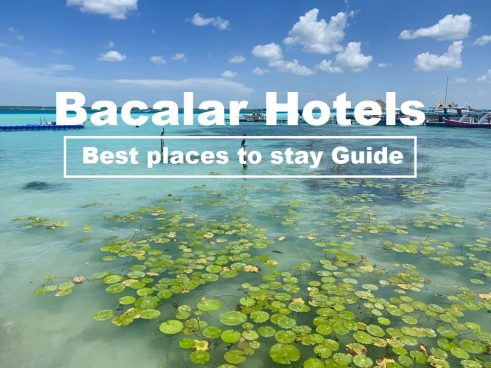 Where to stay in Bacalar
Bacalar hotels offer a wide range of budgets for your stay. There are about 150 hotel options for you. If you are heading to Bacalar, you can narrow where to stay into two categories: places to stay with a car and without a car. We say this because only the center of Bacalar is walkable and then there are areas spread north and south along the lakefront where you can stay. Some people arrive by ADO bus, some by private transfer and others drive here with a car. So we will make recommendations for both types of accommodation so you can be comfortable.
Our Pro tips for booking a hotel in Bacalar
Tip: There are some older hotels in this area. For the most part these are not the best options for staying. They are dated and don't offer that much value. We much prefer the newer hotels that offer some style and a more comfortable stay.
Tip: Most hotels under 1000 pesos a night is going to be budget. Expect basic room and bed.
Tip: Coming direct from the Cancun Airport? This private shuttle company is the best way to go.
Tip: Bacalar is a place to relax. Booking a good hotel will make your stay much more enjoyable. There are only a few public access point to the lake. So if you stay at a hotel with lakefront access, this is a plus for you.
Tip: Book in advance. The best hotels in Bacalar get booked early.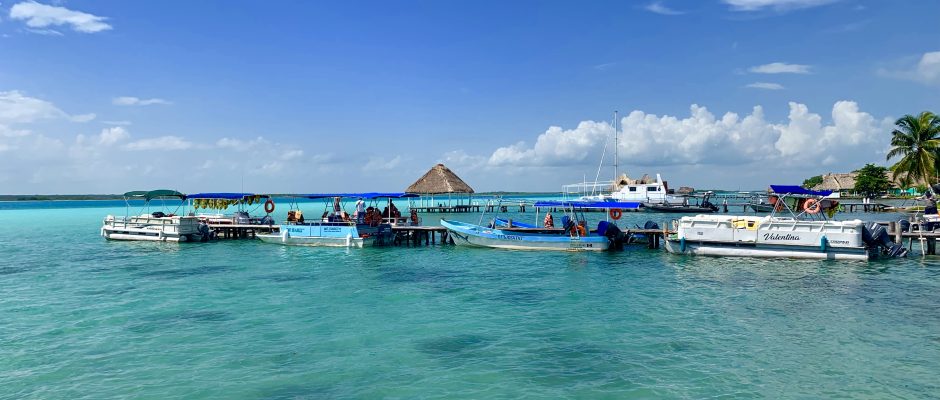 Map of hotel areas around Laguna Bacalar
When we go to a place we would want this kind of helpful map, to know what an area is like and what is the best area to stay in. We like to help our readers with the same type of helpful information. Below you will find a map of Bacalar. We divided it into 5 areas. One area, the orange, is more of a local area and does not offer anything to tourists.
The areas north and south of the center offer very similar offerings and views, it just will depend on what the hotel is like and if it fits what you are looking for.
Places to stay in the center of Bacalar town
This is the best area if you are not traveling with a car. You can walk to all the restaurants, bars and easily pick up a tour. Just a note, we recommend not staying more than a few blocks west of the main square. It starts to get a little far from things and is not as nice of an area.
Azul 36 Hotel
This is a modern and fairly new hotel. The area is good and the rooms comfortable. We liked the clean design of the rooms. This hotel goes for about $100 USD. This is a little high compared in value to some of the others, but if the price is lower, it can be a good option. See here for more about the Azul 36 Hotel.
Hotel Aires Bacalar
This hotel perched on a hill overlooking the laguna is a nice place to stay. The rooms and simple and chic. There is a daily breakfast served and rooftop for good views of the lake and surrounding area. This hotel goes for about $80 USD a night. For more about the Hotel Aires, see here.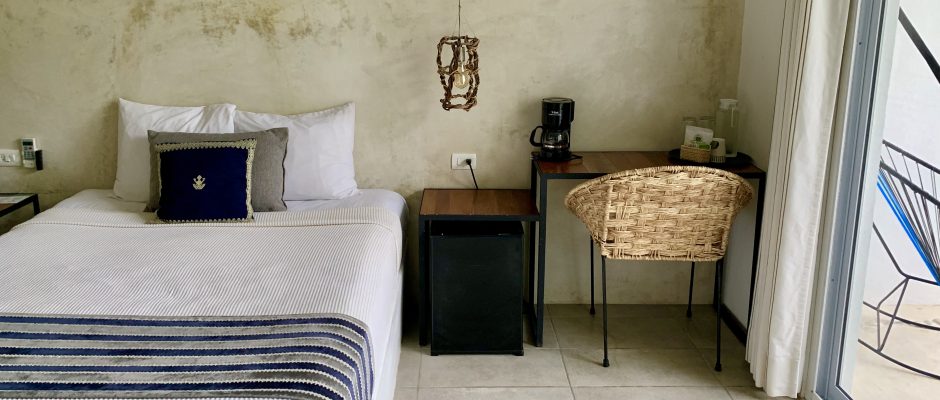 Toto Blue Hotel
This is a luxury boutique hotel in the center of Bacalar. This is a good place to stay if you are passing through and want a central place with a nice hotel. There are 11 rooms with different looks, a restaurant and bar on the premises. The average cost per night ranges around $190/$200 USD. For more about the Toto Blue Hotel click here.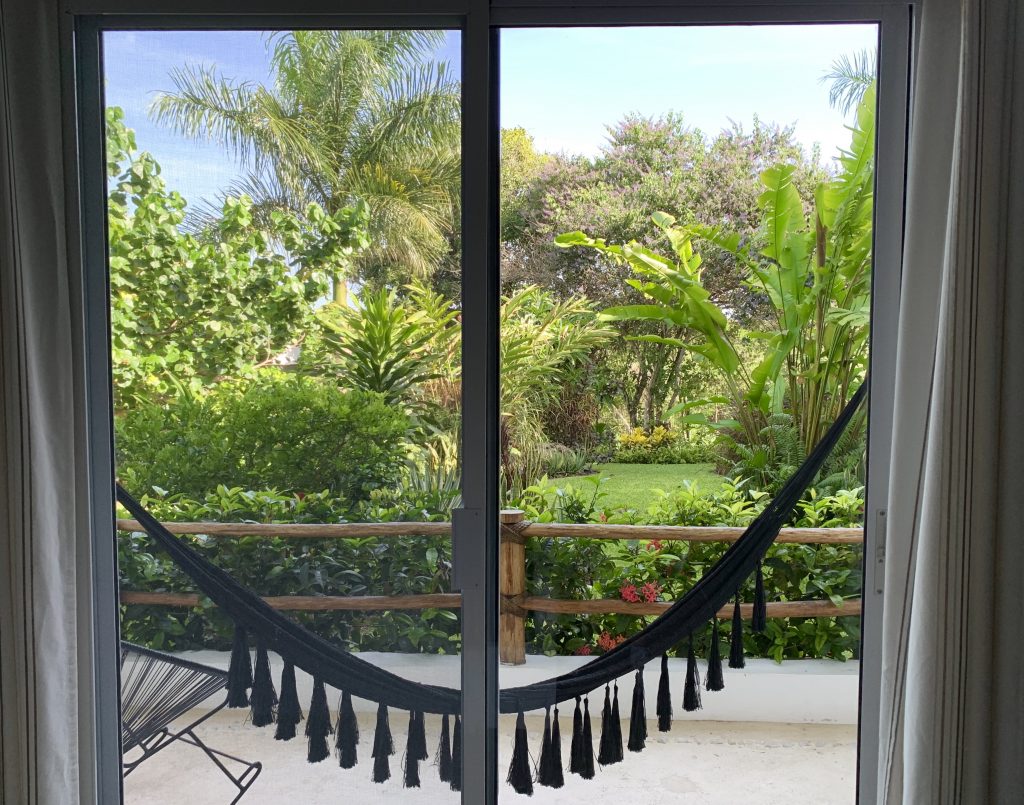 Green area just south of central Bacalar
Villa Marilu B & B
This small lakefront hotel offers guests clean, moderns and simple rooms. The focus is on the views and experience you can have here. The average price to stay here is about $140 USD a night. To see more about this hotel, click here.
Casa Bakal
Charming and more charming is how we describe this hotel. With just the right mix of modern luxury and local feel. Enjoy this lovely setting and well thought out planning of this hotel. It also offers a good value. For more about Casa Bakal, see here.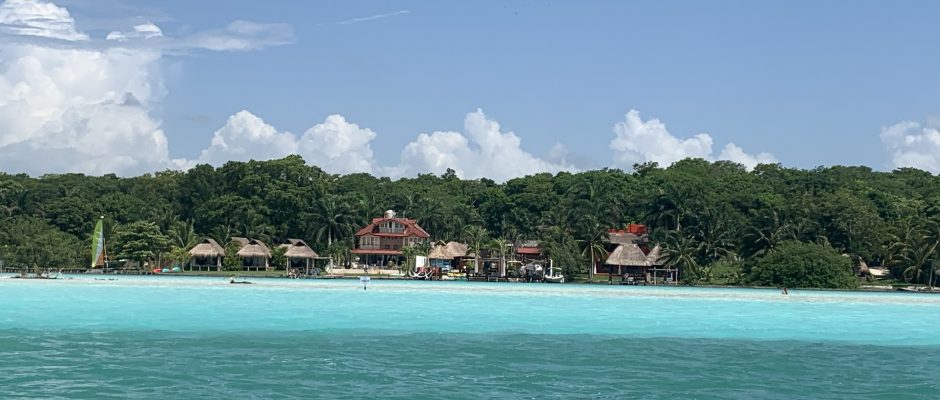 Cabanas Luxury
This hotel is not lakefront, but is up on a hill. This is a very nice looking property that has nice modern rooms. If you are not staying in Bacalar for days, this might be a good option to get a nice room without paying for the lakefront. This hotel's average a night is around $160 USD a night. For more on Cabanas Luxury, see here.
Far South end for hotels in Bacalar
This area of the lakefront does not have too many places to stay but we imagine in the future this will change. For now, here is one luxury hotel option.
Hotel Akalki
This is an upscale retreat type place where you are far removed from everything. Enjoy the private area of the lakefront where you can even have a room that opens onto the water. The docks and palapas offer a great place to do yoga or watch the morning sunrise. This is a good place for tranquility and a few days of downtime. This hotel in Bacalar averages about $300 USD a night. For more on Hotel Akalki, see their website here.
Hotels and places to stay North of the center of Bacalar
Casa Ichkabal Bacalar
Just a little out of the downtown is Casa Ichkabal. The setting is lakefront with some views from the rooms. There is a nice lawn and dock that creates a tranquil setting. The best part of this Bacalar Hotel is the setting. We have many friends that stay here when visiting Laguna Bacalar.
On average this hotel , depending on what room you choose, goes for about $100 USD a night. For more about this hotel see the link here.
El Roble Hotel Nature
This hotel is not new or the most fashionable, but it is relaxed and on the lakefront. On average you can stay here for about $78 USD a night. For more about this hotel, see here.
Bacalar 777 Hotel Boutique
If you like a more modern place to stay in a little luxury, this is a good option on the north end. These modern rooms offer stunning views. A pool sits in the center of the property that offers good views of the lake. This property goes for around $250 USD a night. For more about here, click here.
Villas Eco-Románticas Kúuch Ka´anil
This is the perfect spot to relax for a few days en enjoy the lakefront location. If you like a more rustic accommodations, but romantic, you will enjoy this hotel. There is a restaurant on site which makes staying here without leaving nice. This hotel is in the $135 USD a night range. For photos and booking, click here.
Going to Bacalar? Here are more guides for you
We are always out exploring and trying new things so we can recommend the best for you. Since we love Bacalar, we spend a lot of time there. Here are some more guides for you if you are visiting the area.
Thank you for reading our hotel guide to Bacalar. We hope it has been helpful. Do you have any tips you would like to share with other readers? Let us know in the comments below.