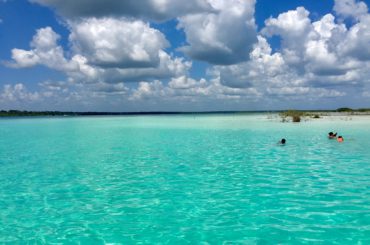 Visiting Laguna Bacalar in Mexico
Bacalar is an amazing lagoon on the southern tip of Quintana Roo State. It is called the lake of seven colors because of the white sandy bottom that gives the effect of having so many shades of blue, as you can see in the above photo. This is a fresh water lake feed by underground cenotes, but it does look like the ocean. The lagoon is about 55km or 34 miles from tip to tip and 2km or 1.2 miles at its widest point. This size makes it a huge place to visit and explore.
The town of Bacalar was declared a Pueblo Magico since it is such a unique place. It should be on your list of places to visit in the Yucatan Peninsula.
Interesting fact: Bacalar Lagoon is the second largest natural body of fresh water in Mexico.
Our video introduction to Bacalar
Since this area is so beautiful and we are limited as to how many photos we can include here, we made this video of Bacalar Lagoon for you. We think after you watch this, you will want to go to Bacalar!
History of Bacalar
The history of Bacalar is interesting to say the least. It was inhabited by Mayans for centuries. The name Bacalar means "surrounded by reeds" from the Mayan language. Trails around the lagoon were lined with white seashells because the inhabitants would walk at night when it was cooler and the shells would mark the trails.
In the more modern times a colonial settlement was built in 1545 by Spaniard Gaspar Pacheco and was called San Felipe de Bacalar (still the official name but reduced to Bacalar for practical reasons). The city was invaded and destroyed by pirates in 1642 and rebuilt in 1726. After the pirate attack the Fortress de San Felipe Bacalar was built and was completed in 1733.
Bacalar was reestablished in recent 1902. The town today is a stopover for tourist going to and from Belize and the Yucatan Peninsula. Bacalar is also a home to a small expat community of Americans, Canadians and some Europeans.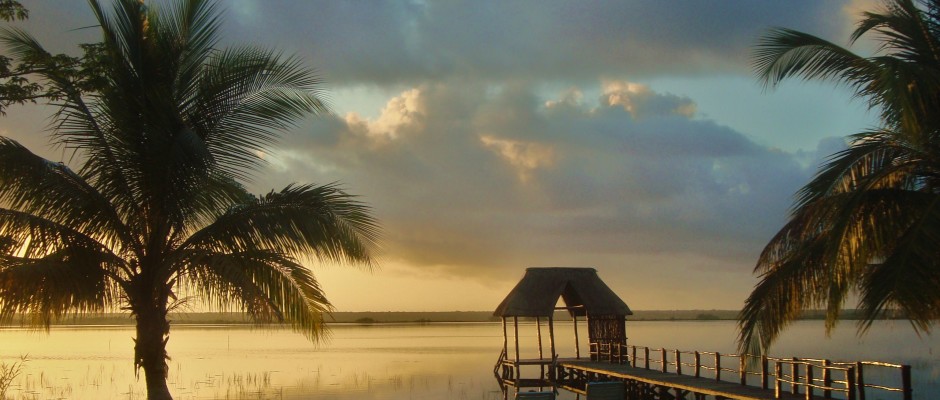 Planning a trip to Bacalar Lagoon
Bacalar is a little more then a day trip from Playa Del Carmen since it is about 3 hours and 15 minute south towards Chetumal or 274 km. So planning an over night or a couple of days is good.
How to get to Bacalar
By Car
We recommend driving because the town of Bacalar is spread out and to take advantage of being in the area a car is good to have. Just note, that if you are going to continue into Belize with a rental car from Mexico, not all car rental agencies will allow boarder crossings. Check with your car rental company first.
The 307 Highway is very easy to drive going down and passes through some small towns but most of it is rural land. Every once in a while you will pass a Mayan Ruin that reminds you that you are in a special place and makes you feel like an explorer.
Just make sure you have enough fuel on this trip. There are NO gas stations between Tulum and Felipe Carrillo and between Bacalar and Felipe Carrillo.
By ADO Bus
Ado is the main bus company that people use to either arrive from Chetumal or Tulum or Playa Del Carmen in the north.
From Playa Del Carmen there are about 12 busses a day that pass through Bacalar in either direction. The price for the bus is about 370 pesos each way depending on what bus you take. The bus takes 3:40-4:30 to get from Bacalar to Playa Del Carmen.
Transportation from the Cancun Airport to Bacalar
If you are flying into the Cancun Airport and want a private transfer to drive you there, here are some good options for you. A private transfer for 1-3 people one way is $355 USD and round trip is $655 USD. This same company has other options for large groups and luxury transfer services. It is a long drive but you will be comfortable with this personal driver and large van.

Hotels in Bacalar
When you arrive to Bacalar pueblo you will notice it is not a big town at all. It does have a few places to stay and even fewer restaurants. So knowing where to go it key. Most of the better hotels are newer as some of the older ones have become more rundown and not kept up as good. There is strong competition for newer and trendier hotels. There are some good deals to be found in Bacalar and even better if being on the lakefront is not super important.
Most of the luxury boutique style hotels are out of town and along the waters edge. This will mean having a car to get to them and also being more reliant on what they have to offer for food. Just a few things to keep in mind.
See our full guide to Bacalar hotels here! We have reviews and narrow down the choices to the best ones. We even have a special map for you so you can know what areas are best to stay in.
Below you can use the Hotels Combined search engine to see what is available. This site is recommended for finding the best deals.
Shopping and Restaurants in Bacalar
Shopping in Bacalar
When you arrive in the town of Bacalar shopping might not be on your mind. This town is very small and does not offer a lot for shops. The one really great store we do recommend you visit it El Manati. This is actually a restaurant/gallery/shop.
In the shop you can find things made in Bacalar and from around Mexico. There is locally make furniture pieces made from tropical hardwoods. Also you can find art pieces in sculpture or paintings.
Restaurants in Bacalar
There are not a lot of options for eating in town but more restaurants are opening up. If you stay at a larger boutique hotel along the lakefront you might have a restaurant in your hotel and that makes it easy to eat there and relax.
In the town of Bacalar most of the restaurants are around the Zocalo. Here you can find some Italian and Mexican style restaurants.
If you drive along the lakefront road going south you will find a few restaurants. The last being at the Cenote Azul. Here there is a large restaurant overlooking the deep cenote.
In town we recommend El Manati. Mentioned above for the shop, the restaurant in the back is just as good. Here you can have fresh food and local specialties at reasonable prices. See photo below.
For a full list of all the restaurants in Bacalar you should eat at, see our guide here.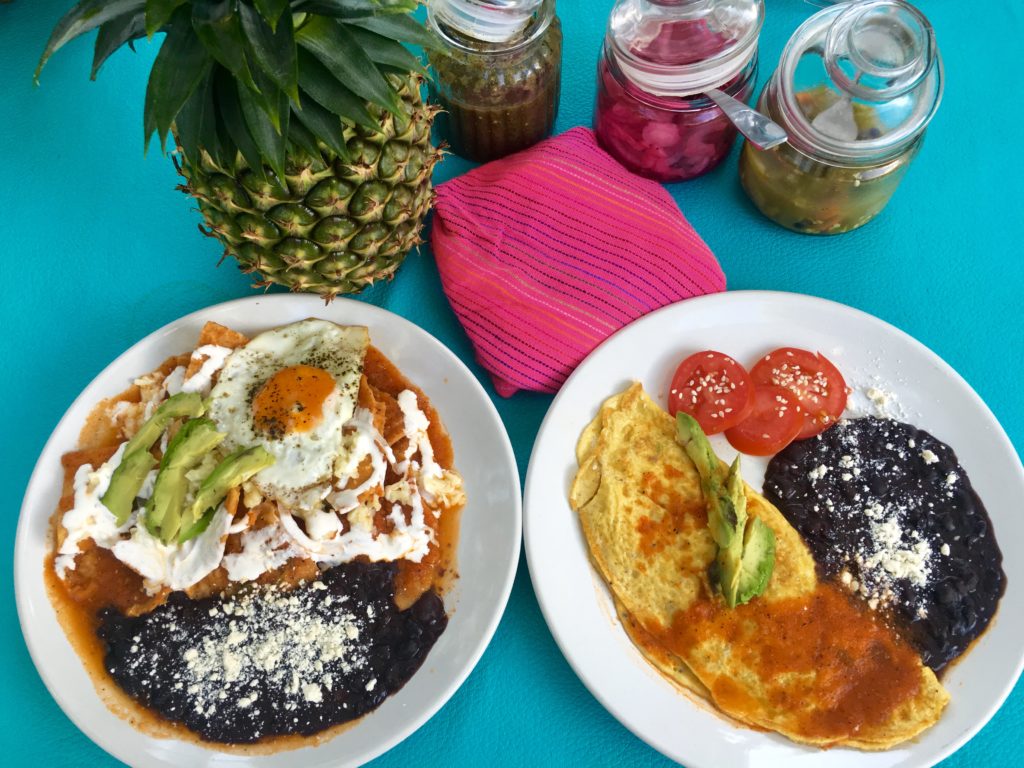 La Playita Restaurant. This trendy and beautiful restaurant is along the waterfront. This restaurant is just two blocks north of the fort near Calle 26. Here there is indoor and outdoor seating under a large tree. There is a lake view from the deck. The food is good and well priced. This restaurant makes for a great place to have a slow and relaxed lunch.
What to see and do in Bacalar
A must is seeing the lake.

This is best done by taking kayaks out on the lake or a boat tour. Kayaks can be rented from many of the lake front establishments. Some of the large hotels have them for their guest. This is an advantage to staying at a larger hotel in Bacalar.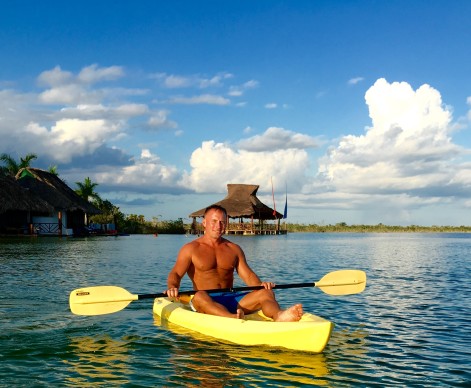 Pontoon boats take groups around to several spots on Laguna Bacalar.

These tours are usually 2 hours long and cost less than $15 USD per person. You will see may tour people along the road with signs selling these tours. In the middle of the town you can find a public beach area and this is one of the best area to take a boat from. Also some of the larger hotels will have a dock with boats that go out for tours of Lake Bacalar.

She does a three hour tour of the lake. There is a minimum of 4 people and maximum of 9 people. She is very knowledgeable about the lake and its features. She really believes in conservation of this beautiful location and the preservation of it. You can see a video of this tour with here below:
Go for a swim!

It should be noted that the bottom can be soft and can feel a little mushy in places. Other places are more sandy and of course the water is beautiful!

Fort San Felipe is interesting to walk through and has great views of the lake.

There is a small museum with artifacts in it as well. The Fort is open six days a week from 9:00 am to 7:00 pm, closed Mondays. Admission $60 pesos.

Cenote Azul is one of the deepest cenotes in the Yucatan at 90 meters or 295 ft.

That is like a 24 story building down in the water!!! Cenote Azul is 4km south of the center of town at the southern tip of Bacalar. It is open from 10am-6pm daily. A restaurant overlooks the cenote and is a nice place to take in a meal. If you are lucky there will be Mennonite children that come and play music for the enjoyment of all and then sell cd's.

Outside of Bacalar are some Mayan ruin sites that are worth exploring.

You can explore Kohunlich, Dzibanche, Becan , Chacchoben and Chicanna.
Take the time to get to Lake Bacalar and explore this unique place. You will not regret taking time to relax here and take in the seven colors of blue.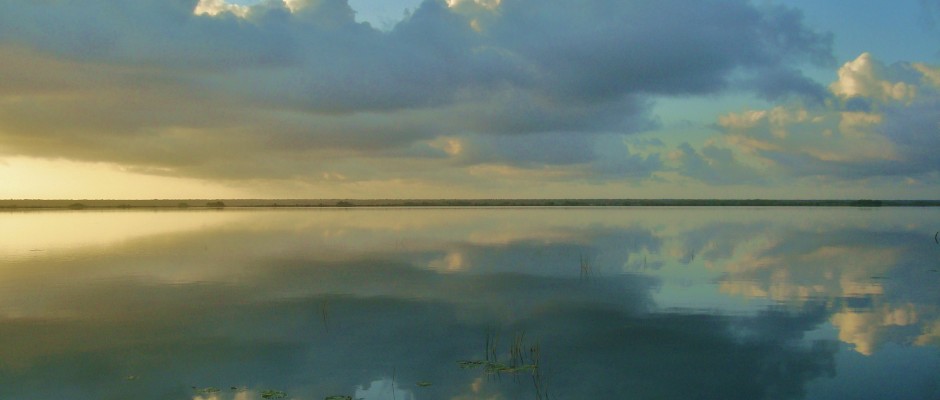 If you are looking to explore the Yucatan Peninsula and the Rivera Maya, you might want to see our interactive map and guide to many of the attractions in the area.
Do you like Bacalar enough to live there?
If you love the Bacalar area, you might want to see our detailed article and video about the real estate market in the area. Things are changing in Bacalar due to the new Train Maya and the new Tulum Airport. You can see our article here about real estate in Bacalar.
Have you been to Laguna Bacalar? What did you think? We would love to hear from you in the comment box below.