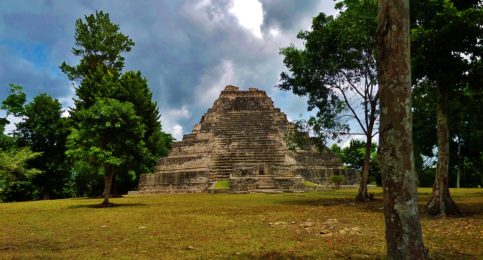 Chacchoben Mayan Ruins
Chacchoben ruins is situated in the south of the state near Bacalar. The southern end of Quintana Roo has several nice Mayan ruin sites but they are seldom visited. This makes it a real treat to get there and visit them. The settings for these ruins is quite nice. The verdant green gently rolling fields are dotted with palm trees and brahma cows.
Brief history of Chacchoben ruins
These ruins were once a mighty city used on and off from 1000Bc until 1000 AD. It lay dormant for nearly 1000 years and was found by a farmer wanting good land in 1942. It was not until 1972 when archeologist began exploring the ruins and had it listed with the Mexican Government. Starting in 1994 started to be restored and it was not officially open to the public until 2002. That is a pretty recent opening so you know many have not seen these ruins.
Our video introduction to Chacchoben Mayan ruins
Since video is always tells a little more of the story, here is one we made for you.

How do you loose a Mayan temple?
Can you see the Mayan temple below? See how nature hides things in the jungle in the continuation of this article.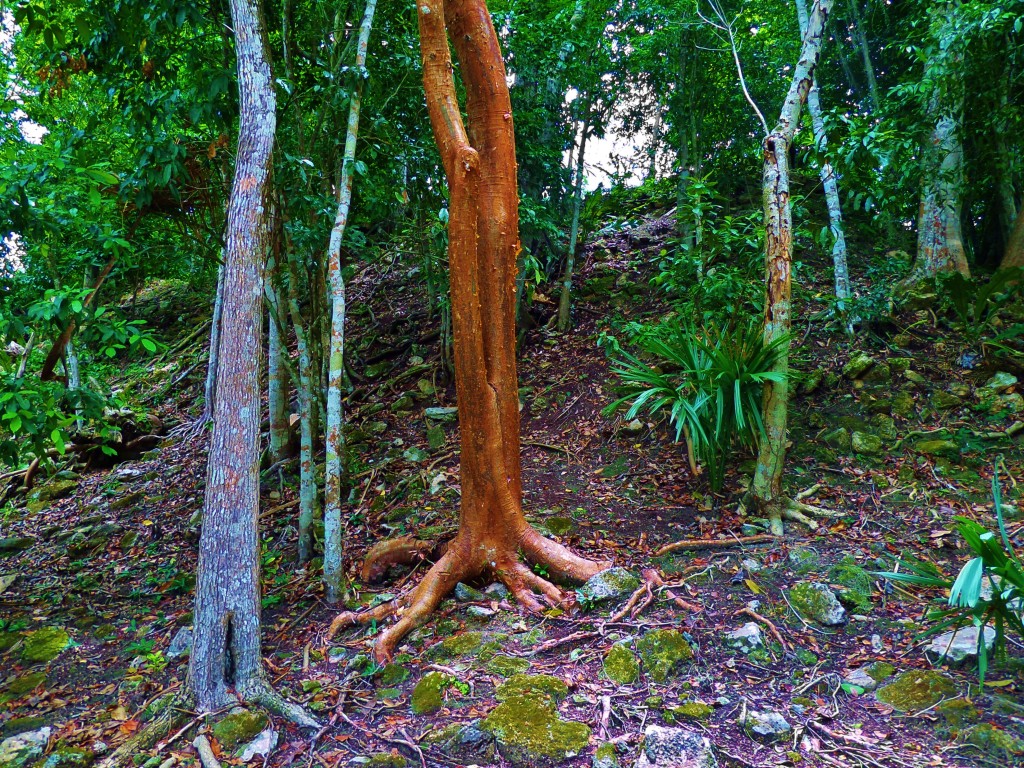 How does a huge temple complex and ancient city hide in the jungle? Well, the forest is a strong force and can cover buildings and crumble the soft limestone that the buildings are made of. After a short period of time the once magnificent temples look like mounds of plants and trees. Without a discerning eye you might think it is just a hill. Even today around Chacchoben and many other sites you will see mounds that are actually unexcavated ruins. (see photo to the above)
What you can see at Chacchoben ruins today
What can you see at these ruins? There are two large pyramids that have been restored. Palapa roofs cover parts of the buildings where the ancient red paint is still visible. Different steps and courtyards are restored and the nice circular path give you a good vantage of the ruins.The setting of the palms and tropical hardwoods makes this site more special. If you are lucky you will see spider monkeys in the trees. You cannot climb to the top of the pyramids but you can climb a few steps up wherever it is not roped off.
Chacchoben is the most visited of the southern sites because of the cruise ship dock in Mahahual. Chacchoben is offered as a shore excursion and is the most popular excursion they offer. This is perhaps the one benefit to cruises coming to the area, it does support these sites with tourism. Tourist spend about $80 USD for the trip with guide.
Plan your trip to the ruins on a day there are no cruise ships in port if you can. You will be pleasantly surprised to be one of the only ones there. If you are in the area when a cruise is in town, don't plan on being at the ruins from 1pm-3pm. This is when the tour busses arrive. They will have 35 to490 people so things can get crowded. It would be ashamed to visit this site and not enjoy the peacefulness of this place. You will also miss out on the possibility of seeing some of the wild animals like spider monkeys.
How do you get to Chacchoben ruins?
Getting to Chacchoben Ruins. Off of the 307 Highway take 293 (about 3km) toward Merida. Just  past the very small town of Lazaro Cardenas are the ruins on your left. There is a town of Chacchoben where the name for this ruins came from. Do not follow signs from 307 to the town of Chacchoben, look for the Ruins sign.

Guides are available like many Mayan ruin sites. Prices are usually around 500 pesos or $50USD and bargained from there. This makes sense for a large group but is very pricey for only a few people. On a slow day  and with a small group you should be able to get a much better deal. Remember 500 pesos is a good wage to make for one day in Mexico.
Hours
The ruins are open daily from 8am-5pm. The official price on the INAH website and printed on the ticket is 46 pesos. There is a sign at the entrance that says it is 55 pesos.  You will get cool tickets that make for nice souvenirs. Speaking of souvenirs, there are some vendors at the ruins that sell typical  tourist items. If it is not a cruise ship day do not expect these to be open or you might have to ask to see some things.
Need a snack after walking the ruins? On highway 307 look for roadside stands selling local fruit and baked goods. Cut up coconut, pineapple, or mango in a bag, plantain chips or pies are all seasonally sold at reasonable prices. (15 pesos a bag for most items)
Why not take the time to see these ruins.  The drive is monotonous coming from Tulum south but it can be rewarding if combined with a trip to Bacalar or Mahahual.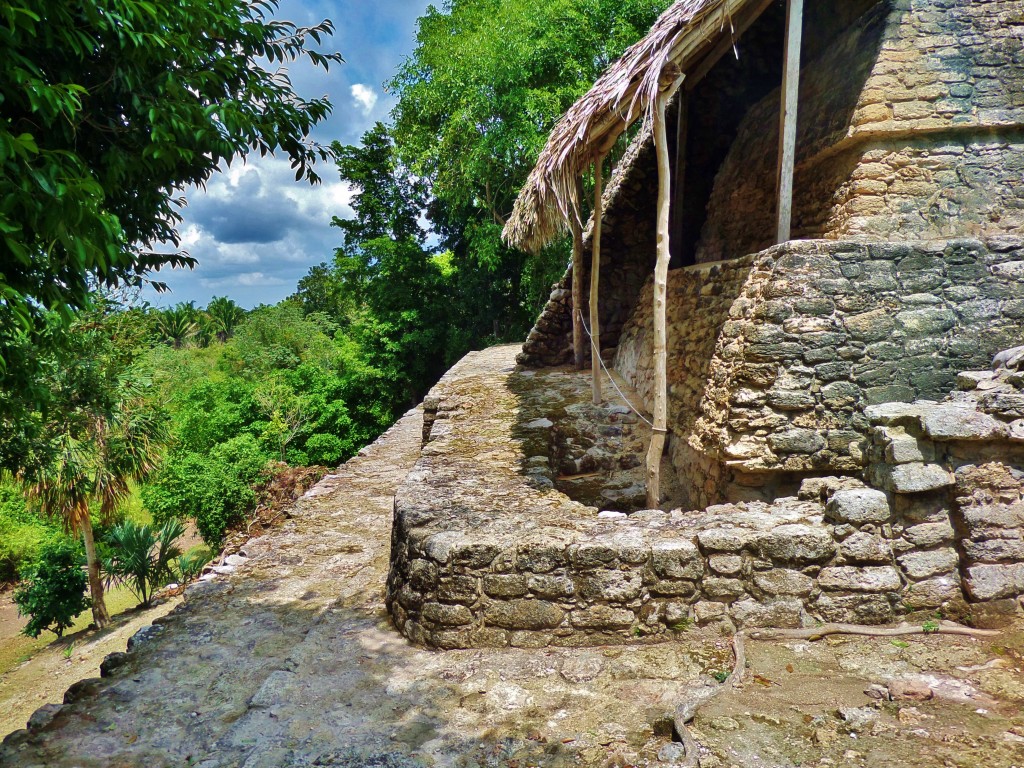 Have you been to Chacchoben ruins in Mexico before? do you have any tips or comments for other readers? We would love to hear from you below.