Renting a car on vacation is a great way to be free and see as much as you want to at your own pace. The Riviera Maya and Yucatan Peninsula offers some amazing destinations that are sure to reward you if you arrive at them.
There are some differences to renting a car and driving in Mexico. To help answer some of your questions we are providing some answers and tips for you here. In addition to this information, see our article on road rules in the Mexican Riviera, tips for driving.
Renting Cars in the Riviera Maya
Most people are arriving at the Cancun Airport for their vacation. If you want to have a car for your entire vacation, then you might choose to rent from here. Check before you rent if your agency is located in the airport or just outside the airport. Some of the cheaper rental companies are located off the airport property and will provide shuttle services to their locations.
Availability of rental cars in different destinations
If you are renting for just a few days while on vacation then you will most likely be renting from your destination. Cancun and Playa Del Carmen have many places to rent from. Cozumel has many small agencies to rent from to cruise around the island since most people take the ferry over although most people just rent for a day here. Tulum has just a few options for renting cars, Valladolid has only one place to rent cars and most small towns have none
Should you rent from a local car rental company or big company?
There are local name brands and franchises of recognizable international brands to choose from. Local car rental companies tend to be cheaper but often have older cars and more issues with both cars and paperwork. This is one of the occasions where you pay what you get for. If you have a smaller agencies car and something goes wrong you may have to wait longer to get a replacement especially if they have limited locations and supply of available cars.
Book a rental car online
It is best to rent online. We have walked into agencies and asked the prices only to be told higher prices. Even if it is slow the people behind the desk often do not have the authority to change the prices.
Tip: Confirm with the agency how much liability insurance is from their company as well as other insurance prices. This way there are no surprises when you arrive to pick up your car. So even if you book through a booking site, contact the actual car rental company because booking sites often will not tell you the prices. So that cheap price could jump $20-$30 USD when you walk in the door to your agency.
Remember when booking that Mexico has more manual cars and you have the option when booking. If you do not want a manual car or cannot drive one, make sure you book an automatic. Some rental agencies offer car seats and GPS at extra charges. If you need these make sure the agency has these to offer. Most car rentals in Mexico are unlimited mileage which is a good thing.
Picking up your rental car-important information!
This is where you are going to notice a difference from other places you have rented before. Even if you fill out your information online it tends to take 15-20 minutes to do the paperwork in the office in Mexico. There are multiple copies, credit card slips and a lot of paper shuffling all to get your car. This is typical of most places in Mexico and the automated systems or express service is unheard of here. So be prepared to spend a little time picking up your paperwork.
At this point you are going to have to choose your insurance options (or better yet, before you get to the counter know  how you are going to be covered). If you wait to buy at the counter you can be shocked and stuck with buying the car agencies insurance and at that point your options are not great, either walk out and try to rent somewhere else or pay the asking price. It is required in Mexico to have some form of coverage. Liability being the most important and required. If you know you have coverage that works with your credit card you should print it out as proof of coverage. If you are in an accident in Mexico when there is considerable damage and especially when someone is injured, the police can hold you until there is proof you can pay for damages. Some prefer to have local  (Mexican coverage) that would have a faster response time in a time of need. In either case make sure you have phone numbers that you can call and enough credit on your phone to call from remote locations you might be driving to. What kind, how much and where you get it are personal decisions, so we will leave that up to you.
Tip: If you rent a modified vehicle (like a car made into a dune buggy or made to look like something else) most insurance that normally covers your rental car will not cover these. Check with the rental agency that offers these cars about coverage. This especially comes into play in Cozumel where there are many modified vehicles to rent.
The next very important step is the car pick-up. In most places now you simply take your keys, get in and drive away, returning the car to a person who checks it in only checking to see if you had a major accident. Nowadays they do not check for minor scratches. Here everyone checks every scratch, dent, and imperfection in the car. SO YOU SHOULD TOO!!! You should bring a camera with you and take pictures of all sides of the car when checking out. Not only will this let them know you are serious about the care of the car but you are double checking their work and it lessens the risk of being charged for something you did not do. Check the gas tank for the cap. After walking around the car with the attendant, making sure all the marks are checked off, check the truck for the jack and spare. Make sure the spare is full of air. MAKE SURE THE CAR HAS TWO LICENSE PLATES!!! If it does not this means that the previous renter parked illegally and the police took one of the plates off the car. You do not want to be charged for a missing plate nor stopped by the police for driving without two plates. Check the inside of the car. You might not think about this in other countries but here if there is something damaged they can bring it up when you return the car. (cigarette burns, ripped seat, missing mats etc.) Take time to check the paperwork as well. Make sure the car they are giving you matches the license plates on your car. If the police check your papers it can look like you are not diving your rental car and may stop you to sort it out.
The other normal stuff applies like checking the gas level.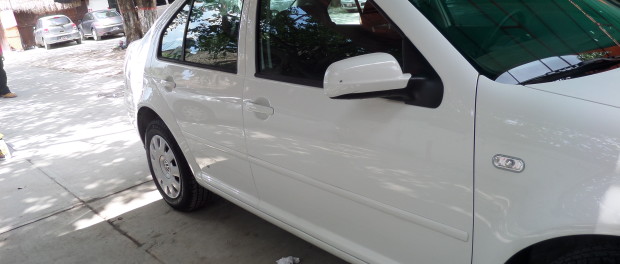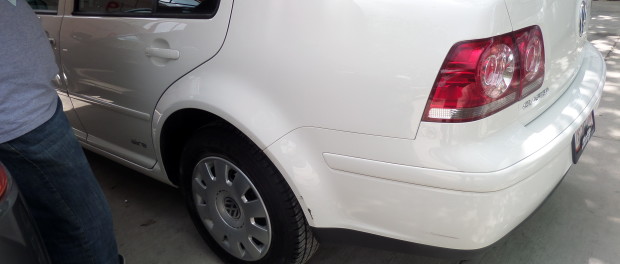 It is a lot to think about but this part is the most important step of renting in Mexico, so take your time to make sure it is all correct. The excitement may make you want to jump in the car and drive off, but take time for this important step.
Before leaving make sure you have a phone number (both during the day and 24hr number) where to call if you need assistance. Most car rental companies have someone that speaks English or limited English. If you get stopped by the police at least you can have one option to call them as see if there is someway they can assist you if there is a problem with your paperwork or car.
Returning the rental car
  Make sure you return cars on time in Mexico. Agencies tend to be strict about this and will charge you overtime for being late. Make sure you fill up the car with gas unless you like paying a lot extra to fill it up at the agencies prices. See our article on how not to get scammed at the pump.  After the paperwork is done you will check back into the office and get a final receipt. Make sure you get the copy of your credit card receipt that was used for your "hold" in case of accident.
There have been reports of unscrupulous people stealing credit card info and it showing up months later being used. There really is nothing you can do about this except check your credit card statement each month. This can happen at home or while on vacation.
It should be noted that your prices were quoted in USD but agencies will write the bill in pesos, often at a bad exchange rate (like 1-2 pesos per dollar above the official rate.) There really is nothing you can do about this except check to see what they exchange it.
We hope this article prepares you for renting in Mexico. It might seem like a lot but we just want to cover every scenario. The rewards of a good road trip are worth the effort it goes into getting a good car and making sure your rental goes smoothly.
If you are renting a car you might also like to read our parking guide to Playa Del Carmen so you know where you can park on the street or where garages or parking lots are.
You can also read our article about "Why Renting Cars in Playa Del Carmen Drives Us Crazy".