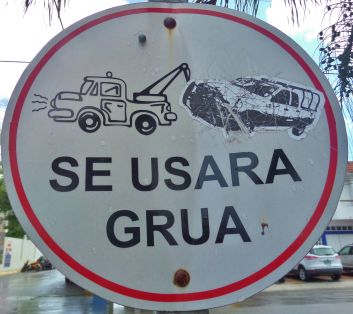 Parking in Playa Del Carmen
Parking in Playa Del Carmen is getting a little harder with more and more hotels, restaurants and businesses opening in the downtown and luring in so many tourist. If you are staying outside of Playa Del Carmen and want a night on the town or are using a car in Playa Del Carmen, then you will need to know where to park for convenience. Here is our guide to parking in Playa Del Carmen for on the street, garages, lots and scooters. All parking is reasonably priced. Prices are about 15-20 pesos an hour and about 200 pesos for 24-hour parking.
Special note about parking: A few of the parking lots that are smaller will park cars together and require you to leave a key. There have been isolated reports of workers taking things from the cars. If you don't feel comfortable leaving a key, some of the self parking garages are a better option.
Never leave anything of value in your car. This goes for places you leave your key or not. Many rental cars are easily identifiable to would be thieves. Some of the more targeted places are indoor parking at supermarkets like the Walmart in the downtown of Playa Del Carmen. An alternative is the park out in the open where there is more visibility. We always park in the sun in front of the store if we have things in the car, even if they are out of sight.
Parking Garages in Playa Del Carmen
There are three main garages you can park at for the downtown of Playa Del Carmen and they are spread out for whatever part you want to visit. All of the garages are covered and are self-parking.
On the South end there is an underground parking garage that is fairly hidden, and you might not notice it. This garage is on diagonal road on the south side of the airport between 15th Avenue and 10th Avenue. The garage is good for shopping at Paseo Del Carmen shopping plaza, immigration or going to Cozumel. This garage often has spaces when the other two parking lots on 10th Avenue are full. (See map for details)
Tendenza garage is on 10th Avenue between 14th Street and 14 Bis Street. This is almost in the center of Playa Del Carmen. This is a multi story garage with ample parking and is never full. This garage is good if you are going to clubs on 12th Street, Calle Corazon or nearby shops or restaurants on 5th Avenue. You might miss it because the exterior has many plants on it. This keeps it looking nice and green and cooler inside.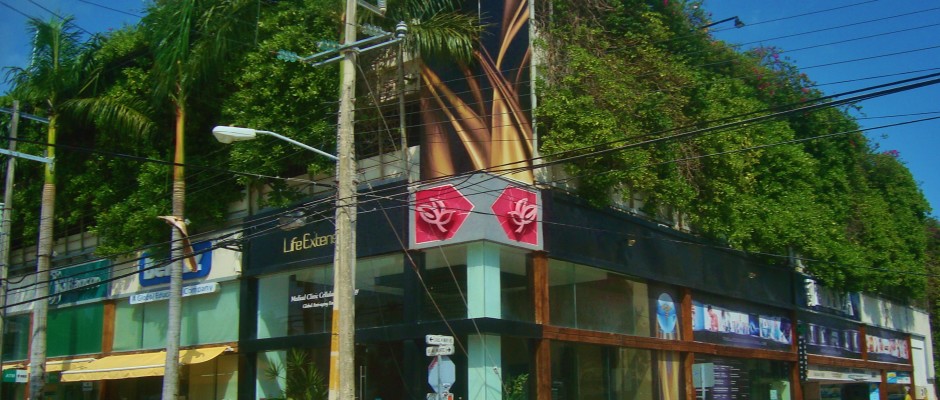 The last garage is under Quinta Alegria Mall. The entrance is on Constituyentes Avenue between 10th Avenue and 5th Avenue. This garage makes for easy in and out of the center of Playa. You are almost in the center of 5th Avenue and allows you to go for a walk and visit each end of 5th Avenue as well as Quinta Alegria Mall. Sometimes during the day on weekends, it can get pretty full, so you might have more of a problem parking if you have a larger vehicle.
Parking Lots in Playa Del Carmen
Parking lots are not expensive as well and make for easier in and out parking. The only disadvantage to them over garages is the fact they are usually not self parking and your car might get blocked in by other cars when full and can take a few minutes to move around. Some will require you to leave keys and some people prefer to park in a garage and keep the keys to yourself.
On the map below you can see they are spread around the downtown of Playa. There are parking lots for the Cozumel Ferry, Paseo Del Carmen, the south end of 5th Avenue, Middle of 5th Avenue and upper end of 5th Avenue.
Grocery store parking lots in Playa Del Carmen
All of the grocery stores in Playa Del Carmen have free parking. However, with the implementation of parking meters on the street, parking lots at grocery stores has become limited. For example, the Walmart in the center of Playa Del Carmen is used by employees of the area and often the inside and outside parking can be full. This has led some grocery stores to close the lots at night and put up a chain. Be mindful not to think you can park and leave late at night, you might be trapped until the morning.
As mentioned above, isolated parking spots at grocery stores can be a target for thieves. Here are some tips to avoid problems:
Never leave anything in sight.
Always lock your car.
When you arrive, don't place your items in the trunk, thinking you will hide them from sight, people can be watching, and it is too late. Before you park, have everything put away.
If you have anything of value in your car, you might want to park in the outside sections for better sight visibility.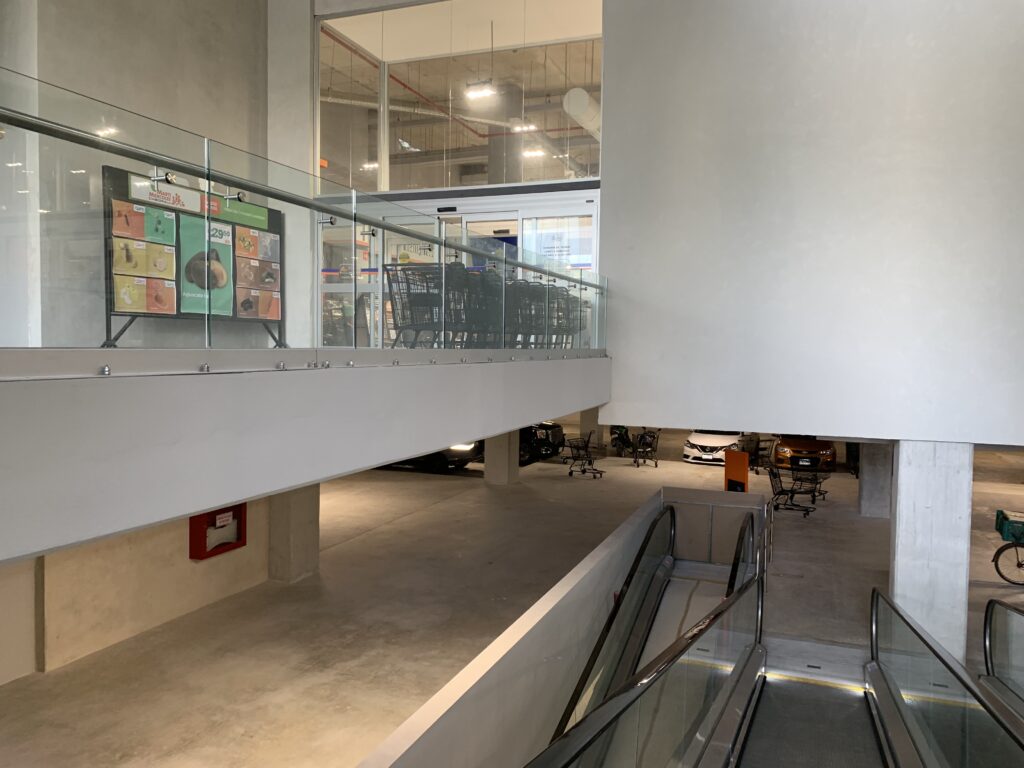 Parking Map for Playa Del Carmen
See all the above places on the map below.
New street parking meters in Playa Del Carmen
Since the downtown is getting more congested and on street parking is getting hard to find, Playa Del Carmen is adding meters. These are supplied by a company called PlayaParq. Machines will be placed in the central area of Playa Del Carmen for parking. Instructions are in English, Spanish and French.
Tickets are printed out and you set them on the inside windshield of your car. Below are the sample instructions for paying and using the tickets.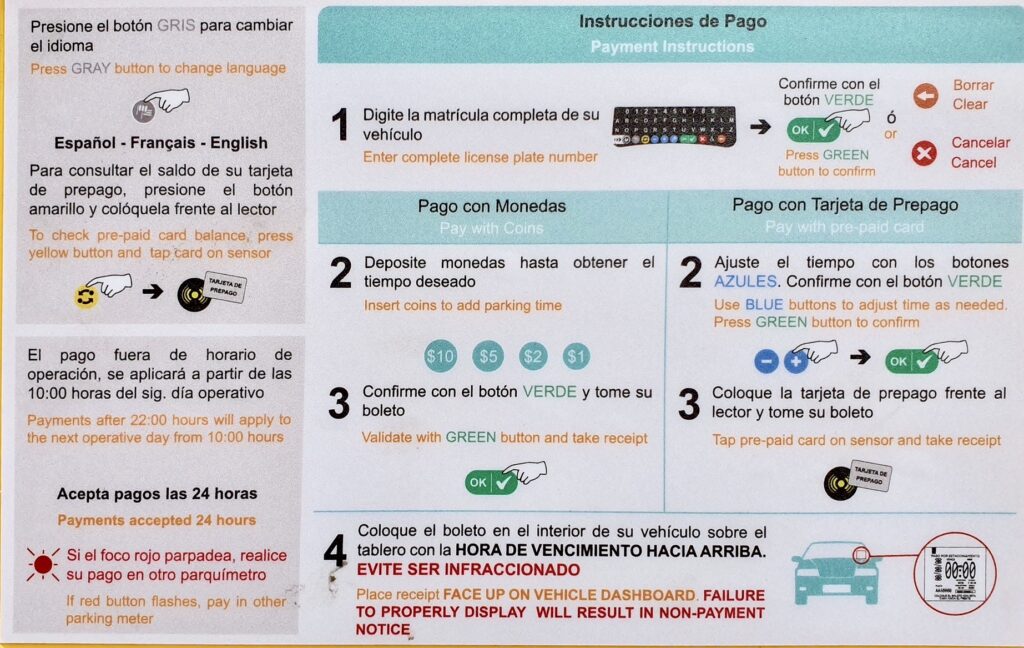 Parking Regulations and General Rules about Parking in Playa
It might be a bit daunting at first if you are driving around the city looking for parking. There are some general rules that will help you avoid getting a ticket.
The signs with the "E" slashed out means no parking in Spanish "No estacionar". This means no parking there.
Yellow curbs mean no parking but white curbs is ok. Red curbs are also no parking. You will however see some streets with yellow curbs and many cars parked there. This can be a local tradition and there are exceptions to every rule. It is still best not to park here even if other people are doing it.
Don't park near street corners. There is an official measurement but you would never know it from looking around Playa Del Carmen. Parking near a corner is dangerous because it limits visibility. Try to leave two car lengths before a corner and just be safe and don't park near one.
For scooters and motorcycles there is more sections in the downtown that are set aside for just scooter parking. This is because many people commute to work on a moped. It is good to park in these areas because cars will not be trying to park near you and bumping into your scooter. It is also important in the evenings to park in well lit areas since mirrors and batteries can be taken off scooters. (See map for scooter parking areas)
If you have parked illegally you will get a ticket but that is not all. Usually the police will take off one license plate. This way you have to go pay your ticket to get back your plate. Check your car to see if you have both plates and always check a rental car when you get it to see if it has two plates. Don't accept it if it does not.
If you get a ticket it is best to pay it in the first few days. You will get a substantial discount.
If you have found this guide to Playa Del Carmen helpful you might also want to check out our other great guides to everything in Playa here!