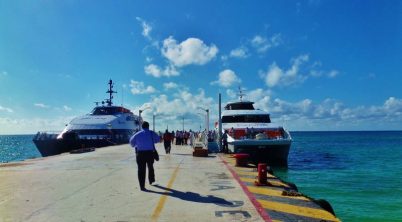 How to take the Ferry from Playa Del Carmen to Cozumel
Getting from the mainland to Cozumel is relatively pretty simple on the Cozumel ferry. Here is all the information you need to know to make your trip easy. (See also our video below!)
There are 2 Ferry Companies that Cross from Playa Del Carmen to Cozumel
There are now two companies that service the crossing. Click on the names to go to their websites. The two Cozumel ferry companies are :
All boats are similar. All of the ferry companies have kiosk near the ferry pier. Most people just show up and take whatever boat is leaving next. You can buy one way or round trip tickets. We recommend just getting a one way ticket and then buy a ticket when you are ready to come back. That way you are not waiting for a ferry that you already bought a return ticket for or trying to catch a certain time ferry.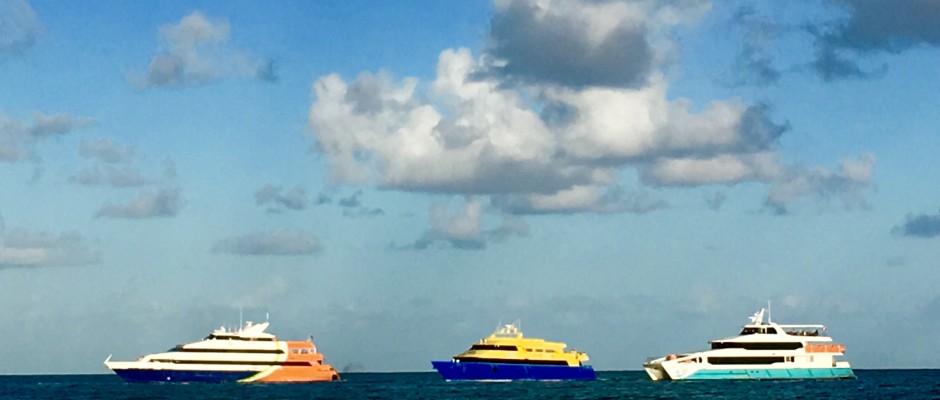 Pre booking tickets for the ferry
If you would like to purchase your tickets in advance, you can do so with the reserve now button below.
For a ticket on Ultramar ferry click this link.

For Winjet ferry service you can book below.

How much does the Cozumel ferry cost?
The Cozumel ferry cost about 250 pesos one way or 500 pesos round trip. Basically, both are all about the same price and convenience of what boat is leaving next is going to be the deciding factor.
What are the child prices for the Cozumel ferry?
Children 2 years old up until 12 years old are 200 pesos one way or 400 round trip.
One big money saving tip is for locals with proof of ID is get a local ticket price.
What time do the ferries go to Cozumel?
For our complete Cozumel ferry schedule see our article here.
Ultramar crosses 30 times a day between Playa Del Carmen and Cozumel.
Winjet has service leaving Playa Del Carmen 9:00am-9:00pm and from Cozumel 8:00am-8:00pm. Some of these can be seasonal so double check on their website.
How do I get from the ADO bus station to the Cozumel ferry?
You can easily walk from the ADO bus station on Juarez Avenue and 5th Avenue. It is only about 3 blocks. Just exit the bus station onto 5th Avenue and turn right. Go two blocks and then take a left down the ocean. Easy enough.
If you are carrying a lot of luggage then you can get a tricycle taxi to load up your stuff and bike it down to the ferry. Bicycle taxis are located right next to the bus station on Juarez Avenue.
If you are coming from the Cancun Airport on ADO bus, you will go to the ADO bust station on Juarez Avenue, close to the ferry. The airport bus only goes to this station.
How long does the Cozumel ferry take?
The ferry is just over 30 minutes to cross. Boats leave very close to schedule. If there are rougher seas then the crossing can take a little longer. Make sure you get there at least 10 minutes before they leave so you can walk out and get on.
Will I get seasick on the ferry to Cozumel?
Most likely not. The ride is pretty smooth and most people can handle it. If you are sensitive they do have bags available. If the wind is high, the seas in the middle between Cozumel and Playa Del Carmen can get a bit bumpy. Most of the time though there is clear sailing.
Do the Cozumel ferries have bathrooms or food?
Yes to both. There are drinks available at small bars on the ferries.
Do the ferries have air-conditioning?
Yes, all the ferries are air conditioned and actually quite comfortable. There is seating outside as well to get some fresh air and take photos. Most people prefer to relax inside though.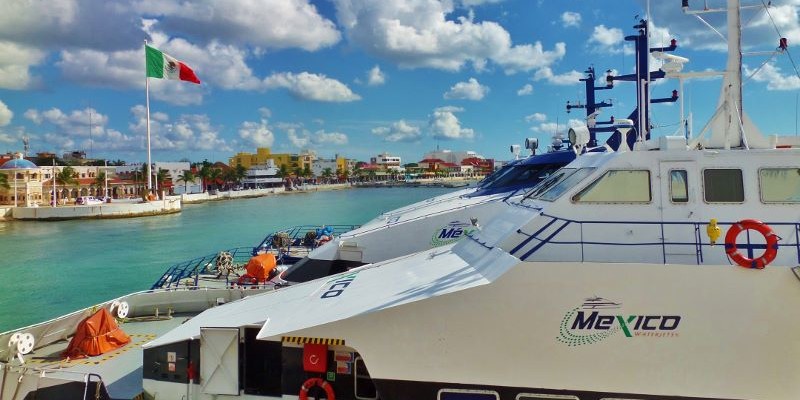 Are the ferries handicap accessible?
Yes. There are always crew available to assist with loading. The gangplank is usually too narrow for wheel chairs. So special care has to be given and passengers with handicaps will be assisted.
Is there a car ferry to and from Cozumel?
Yes. It is called Trans Caribe but this is totally different than the above mentioned ferry companies. It leaves from the Calica port which is about 10 minutes south of Playa Del Carmen.
There is however no need to take your car over for the day. It is much easier to rent a car while on Cozumel. The price of shipping a car over outweighs any benefit to renting a car.
How often do the car ferries cross between Cozumel and the mainland?
The ferry crosses 4 times a day except Sundays when it just crosses twice. For exact hours check the link above to Trans Caribe.
What services are there when you arrive to the Cozumel Ferry Pier?
The Cozumel Ferry Pier is very modern and makes it easy to access the town of San Miguel and points beyond. There are bathrooms and snacks at the pier and many tour operators selling everything from dive tours to rental cars. It is best however to research what is best for you before getting off the boat.
There are taxis right outside the terminal lined up to take you all over the island.
Near the ferry terminal there are many jewelry stores that cater to cruise ship arrivals. Most of the bars and restaurants are to your right as you exit. The town itself does not have much to offer day trippers or tourist except for the area close to the ferries. Most of the destinations people want are out of town.
For more on Cozumel check out our article on what is there to do.
If you have some time while waiting for the ferry in Playa Del Carmen make sure you walk around Parque Fundadores (Founders Park) because there is always something going on there for entertainment and it is a nice place to grab a snack.
Where do you park to take the Cozumel Ferry?
On the south end of Playa where you will take the ferry there are two street level parking lots and an underground parking garage. You can see a map with more details here in our Parking Guide to Playa.
Here is a map of where the Cozumel ferry pier is in Playa Del Carmen
Do you have any questions or comments about how to take the ferry to Cozumel? Let us know below in the comment section.