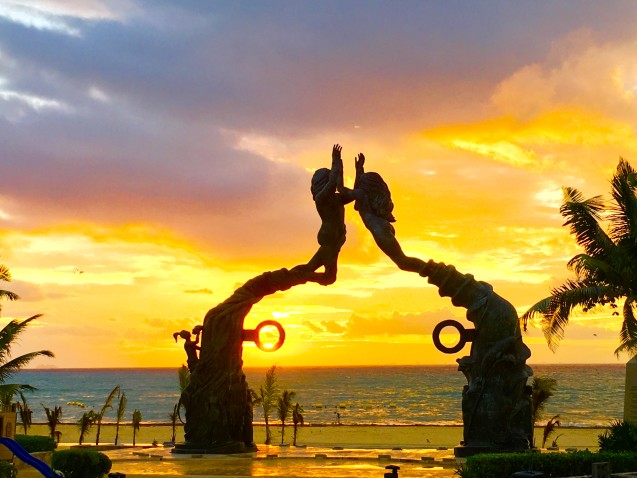 Fundadores Park Playa Del Carmen
This may be the first place you actually see in Playa Del Carmen if you have come by bus from the airport. It is the park in Playa Del Carmen just outside of the ADO Bus Station on 5th Avenue. Called Parque Los Fundadores or "Founding Fathers Park" it  is one of the original areas in Playa Del Carmen just at the tip of Avenue Juarez and next to the Cozumel Ferry Pier.
This public space has been reinventing itself over time to change with Playa and changing Playa for the better. Just taking time to come and sit in this park is entertaining and you will take in what makes Playa such an interesting place. You will see why this is a "fun" place to visit.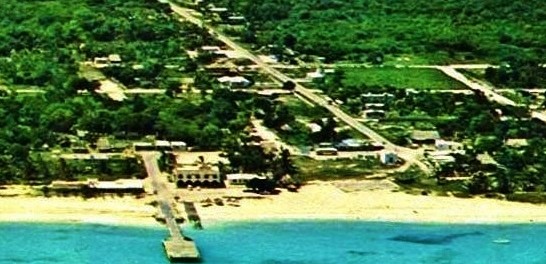 See our video here of Parque Fundadores
Nuestra Senora del Carmen Church
In one corner you have a white stucco church. This is used for many wedding and church services. On Sundays you will see a line of people out of the church. It is a pretty iconic building in Playa with the azul ocean in the back ground and white church in the foreground. Nice palms and tropical plants surround this small church.
Portal Maya Statue in Playa Del Carmen
At the beach front of the park is a new bronze  sculpture placed there in late 2011. It is entitled "Portal Maya 2012". It celebrates the Mayan calendar and the date of December 21st. 2012. The sculpture  was designed by artist  Arturo Taravez who  is from Guanajuato, Mexico. The sculpture is 16 meters high or about 52 feet high. It has since become an iconic image of Playa Del Carmen. It is a beautiful work of art that you need to see up close to appreciate it.
You can walk around this statue and see it up close. It is also a good place to watch the sunrise.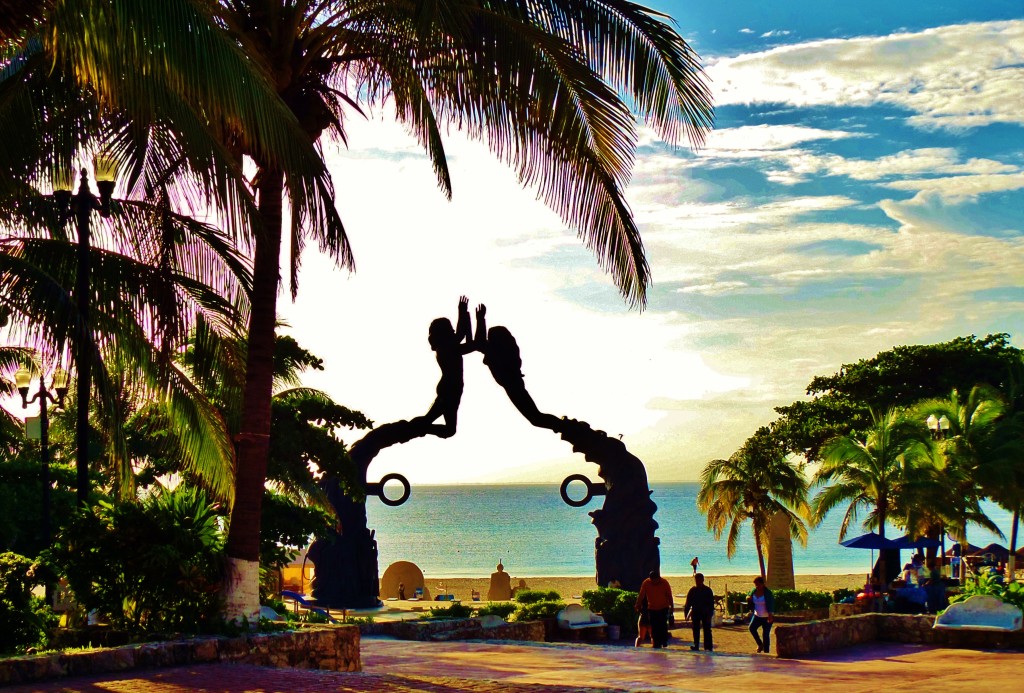 Other things in Fundadores Park
In the center of the park is a band stand that serves are a venue for music sometimes. You will also see local women with fruit carts serving up cut fruit in a cup. There make for a nice healthy snack. Most items are around 20 pesos.
A playground for children has also been added to this park. It is in the shape of a pirate ship and is in sand. This is a nice free thing for kids to do. For more activities for children in the Riviera Maya, see our article here.
See the Papantla Dancers
A new addition to the park is the flying Papantla performers. Called Voladores de Papantla, these performers literally fly around a 30 meter (98ft.) pole from which four of the five participants then launch themselves tied with ropes to descend to the ground. The fifth remains on top of the pole, dancing and playing a flute and drum.
According to one myth, the ritual was created to ask the gods to end a severe drought. This ritual is most commonly associated with the Papantla, Veracruz area of Mexico. This ritual is performed throughout the day and something that should not be missed if you have not seen it before. After the performance a donation is taken from those in attendance. This is how these performers are supported and giving something helps keep this art form alive.
This is just one of the free things to do in Playa Del Carmen.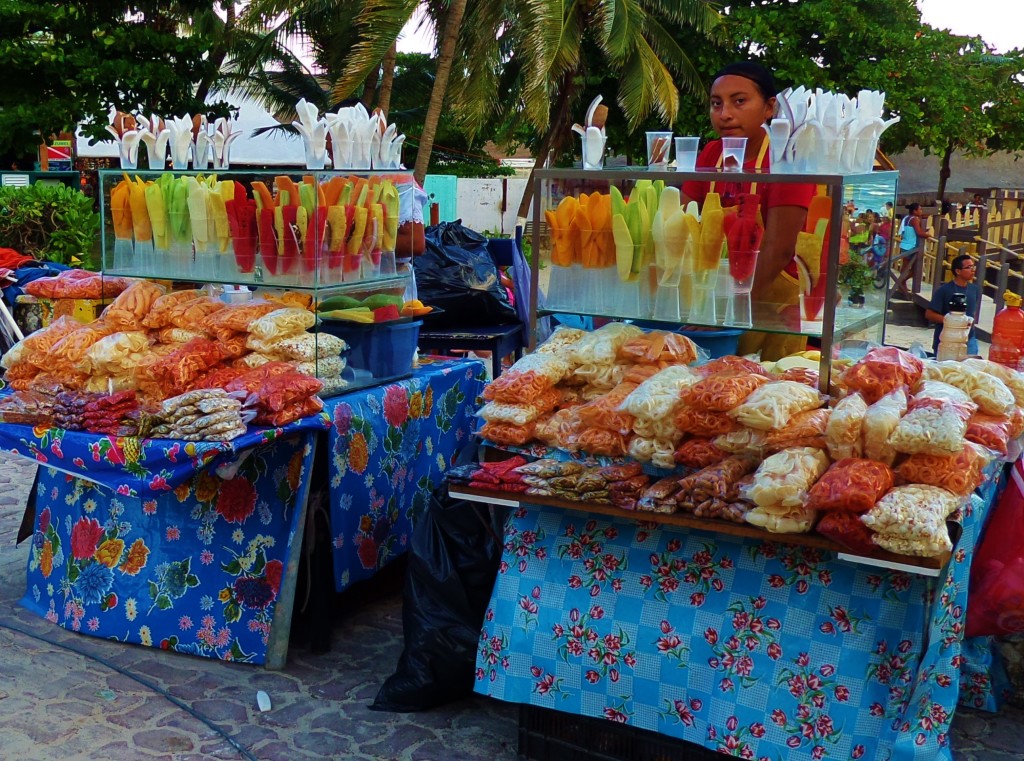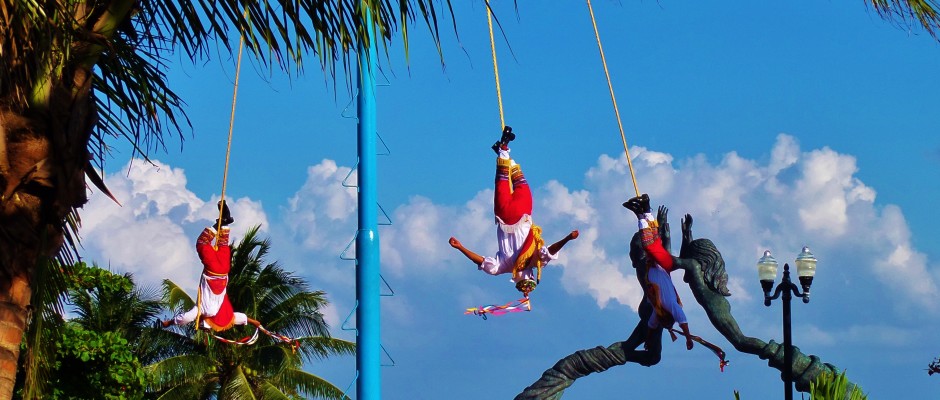 Around the park are restaurant and shops. The beach in front of the park is very popular because it is wide and  has easy access from transportation arriving on Juarez Avenue. You can see soccer games and volleyball games going on here. On Sundays, more local families come to this popular beach. The beach also has new handicap access.  There is often sand scultures on this beach as well. We have a gallery of the sand sculpture art here.
From watching the sunrise here to being in the park in the late evening, there is always something going on.You just never know what you might see in this park, it can be a Mayan dance performance or a bikini clad carnival promotion.  We hope you enjoy visiting this park. Visit again soon as this park continues to reinvent itself.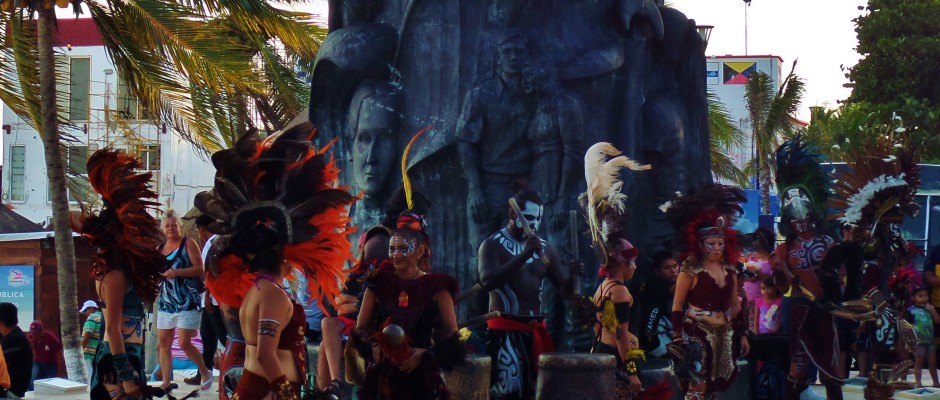 Have you been to Fundadores Park in Playa Del Carmen? What did you like or do here? Let us know in the comments below.