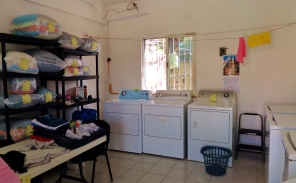 Laundry service is very convenient and easy in Playa Del Carmen. Most people drop off clothes and pick them up the same day. The clothes are washed, folded and bagged up. It is a great service if you are here for a week and need to have some clean clothes or if you live here and prefer to have someone else do it. It is so easy that it saves time and effort for just a small cost.
Laundromats in Playa Del Carmen
Here are the basics. Take your clothes to your local lavanderia (laundry service place) We would mention locations but there are so many and so easy to find that we are sure there is one close to you. Most are located from 15th Avenue to 40th Avenue.
It is better to use a plastic trash bag or a sheet to carry your clothes there, that way they do not have to keep track of what bag or container you brought there and left. After you drop off your clothes they will give you a ticket with your name on it. You can ask what time it will be ready.
Tip: Most will be able to do same day service. In high season this sometimes becomes two day service. Mondays are the worst day to drop off clothes because many lavanderias are closed on Sunday. This makes Monday the busiest day for them and maybe slower service for you.
How much does it cost to wash clothes?
Each lavanderia is a little different. Check the price per kilo. It is average between 10-14 pesos a kilo. (most lavanderias have a minimum of 3-5 kilos or a flat price even if it is under that, so you might want to bring enough to meet minimum or just expect to pay a little more). This means that for two people with a weeks worth of clothes, it might be around 150-200 pesos. That is roughly $11-15 USD for the weeks washing. Not bad considering the time you save, laundry detergent, and having a nice folded stack of clean clothes.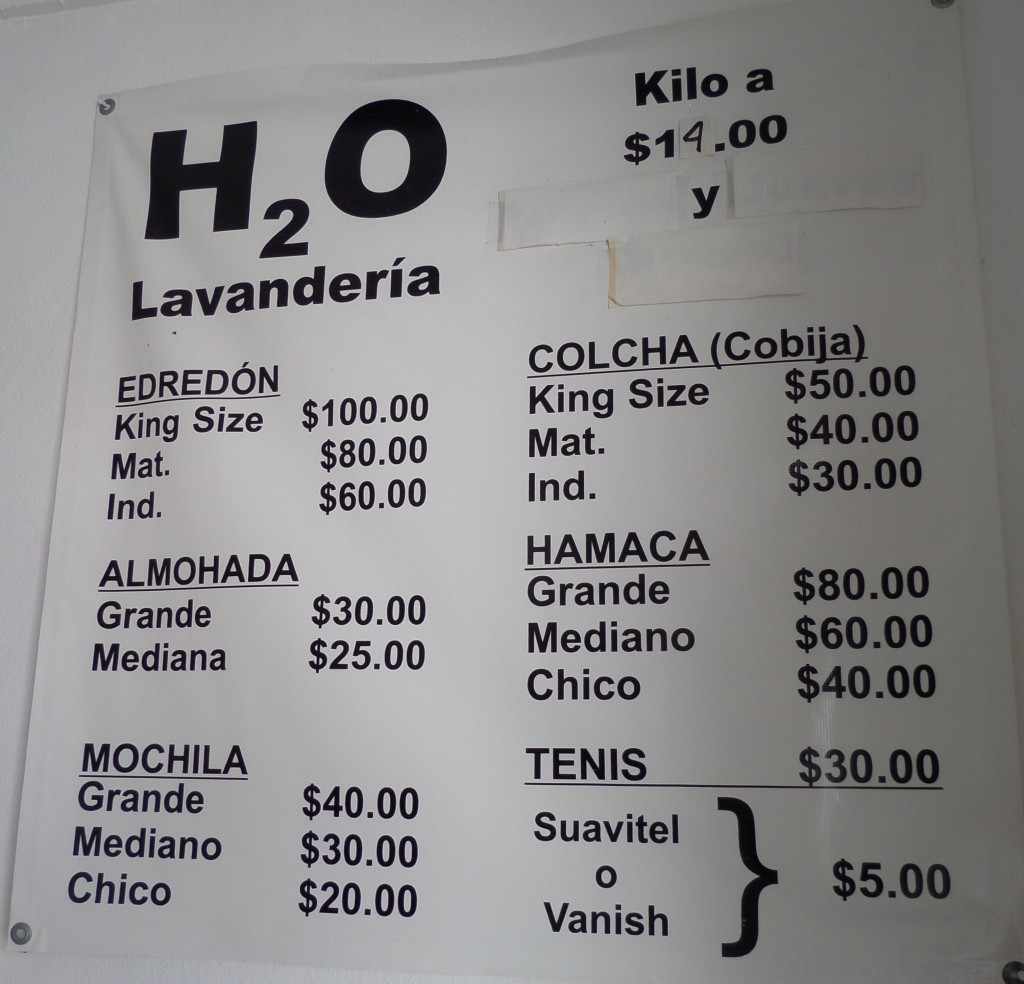 Each laundry place also is different in little ways. Some will match all your socks and some use different smelling detergents and softeners. Each place will also wash different things for you. For example tennis shoes, backpacks, and pillows will be extra charges, if they offer cleaning such items. You know your are in a local laundry place when they have prices to wash hammocks.
Most people that work at this businesses are very hard working individuals. Theft is not common. If something is missing you can ask about it or check back later. Sometimes if you have a small amount of clothes, they get mixed with other items when drying . I have had shorts missing and then a week later they had them for me. I have also had items not mine in my laundry and I returned it to them. They try hard to match everything up with each person. Usually each persons laundry is done separately.
Where can you wash your clothes yourself in Playa Del Carmen?
If you cannot find a service that will be available to wash it in one day and you need it or you might prefer doing your own laundry, then there are laundry mats in Playa Del Carmen for that. Mayalav on 18th St. between 30th Ave. and 35th Ave is one location you can do your own laundry. (This is just in front of Mega grocery store area) They are open Monday- Sunday 7am-10pm. This places is very clean and they sell supplies at the counter if you need soap or softeners.
Most laundry places will offer express service. This is laundry done in 1-4 hours. There is an extra charge for this. A very few dishonest people will say you need to tip extra if you want laundry the same day (a normal service) saying this is express and a special service for you.
Tipping is not normal but most places have a tip jar. People that work in laundry places work for very low wages and tips are helpful.
Also if you are a regular customer, a tip never hurt getting better service especially if you need something washed soon.
Dry Cleaners in Playa Del Carmen
Dry cleaners in Spanish is "tintoreria". Mayalav has one of the best on 35th Avenue between 16th Street and 18th Street.
Do you have questions or comments about washing clothes in Playa Del Carmen? Let us know below in the comments, we love hearing from our readers.