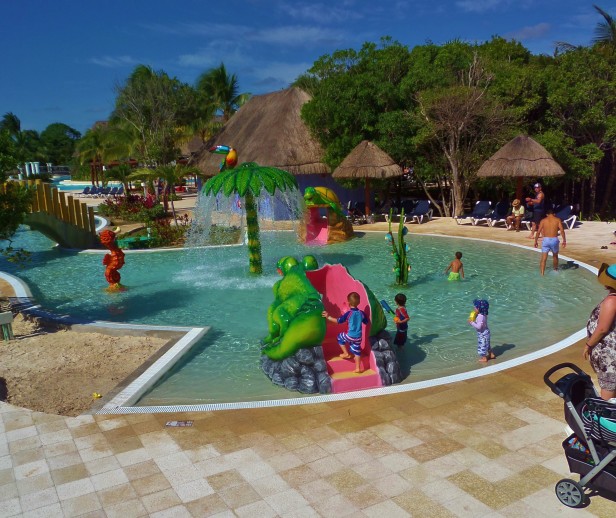 Are you looking to travel to Playa Del Carmen with kids? Do you want to explore the Riviera Maya? Know about kid friendly hotels in Playa Del Carmen and more? Well here is our big guide of activities, restaurants, all inclusive resorts and hotels that all will make for a great vacation with the kids.
Note: We suggest general age ranges for certain things. This is just a general guideline and the actual size, maturity of your children and age requirements of each establishment supersede our recommendations.
Kid friendly all inclusive resorts and hotels
All inclusive resorts
Grand Palladium Hotel is great for small children up to about age 15 because they have shows at night that are more geared toward children and the new kids pool is great for young children (see lead photo above). For mid age children they do a good job with fun pool side activities.
Grand Sirenis Resort is good for kids 4-17 because they have large pools and a lazy river for kids to play in. There is the kids club for young children and they have a game room with Xbox to keep the kids happy. The snorkeling is great just off the beach and the shows are good for kids more ages 13-18 years old. One show is the Lion King, a popular show at many resorts.
Hotel Xcaret Mexico. This is one of the best resorts in the Riviera Maya! It is right next to Xplor, Xenses and Xcaret. All of these parks are great for kids. With a stay at this hotel you get access to all of the Xcaret's parks! See our video below to see more about this amazing resort.
Kid Friendly Hotels in Playa Del Carmen
Aventura Mexicana Hotel is in the center of Playa Del Carmen and has one side for families and a separate side for adults only. You can expect to see other families here and enjoying the pool.
Hotel Riviera Maya Caribe is a nice kid friendly hotel in Playa Del Carmen. This hotel is on 10th Avenue near 30th Street in Playa. There are larger then normal rooms and a pool, plus the prices are more family friendly to people trying to raise children.
Grand Hyatt Playa Del Carmen. This large hotel is right in the middle of Playa Del Carmen but feels like an all inclusive resort. This hotel is especially good for young children and mid range children because there are play rooms (see photo below) and even places to places with Xboxes. For adults there is the spa and modern rooms. This hotel can be a nice balance between an all inclusive and a hotel.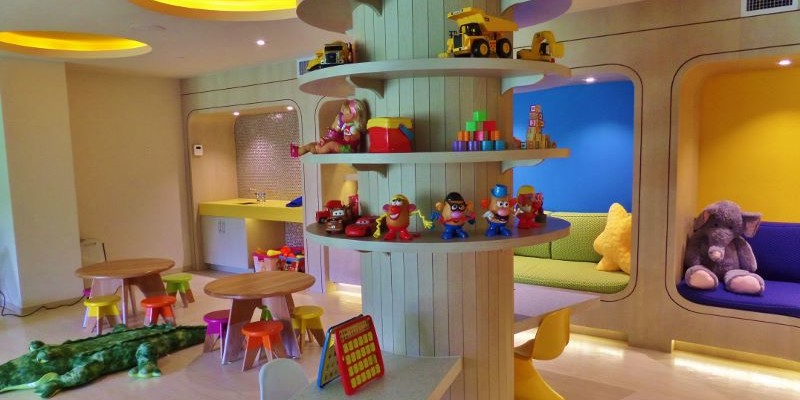 If you want to check prices at any of these hotels and others in the Rivera Maya, click the link below to get information.

These are just some good options for you and we will keep adding to this list. You can also check out our recommended hotel guide to the Riviera Maya for more options.
Activities and tours for children in the Riviera Maya
Activities for Kids in Cancun
In the Plaza Las Americas Mall in Cancun there is not only regular movie theaters, but they have the only 4D movie theater in the Riviera Maya. This theater is like a ride complete with moving seats. This would most likely be good for children about ages 8 and up.
Xcaret Park is always fun for kids and adults but now even more special for kids 0-12. Children's World is a new section of Xcaret Park. Here kids can have their own place to play and discover.
Crococun Zoo is an interactive guided tour to visit local animals. This is good for children about age 4 and up. Cococun is on the 307 Highway just north of Puerto Morelos.
Pirate boat dinner cruise. This is fun for families and especially children about age 5-15. These boats leave from the Hotel Zone and give you dinner and a show.
Activities for Kids in Playa Del Carmen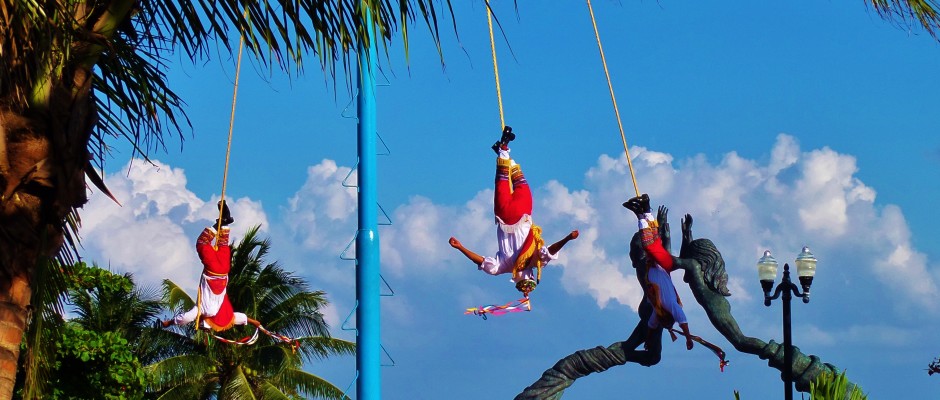 At both shopping malls in Playa Del Carmen there are game rooms. These have pool tables, video games and other things that kids about ages 5-16 would appreciate. At Centro Maya Mall there is a children's train that goes back and forth in the mall. This is good for children about 2-11 years old.
Going to the movie theater in Playa Del Carmen is actually a pretty nice experience. Both shopping malls have theaters and you can read more in the link.
Kiin Ha indoor swimming. This swimming center has lessons for kids and also they have other spaces for gymnastics. This is more for people with children living here but it can be an option if you are on vacation as well.
MTB Bike Tour in Playa Del Carmen is a great way to get your kids out for some exercise and explore the Mayan Jungle. This bike tour is on quality bikes and take you through trails near Playa Del Carmen. You will also get to swim in a beautiful cenote. This tour is very affordable and eco friendly. There is a minimum age of 9 for this tour.
Park La Ceiba is a local park where there is a small playground and they often have activities for teaching children about the environment and recycling. This is not really for tourist and more for locals that live in the area but if you had the time you could visit here. We recommend this park for ages 3-10 years old.
If your children have an interest tropical birds there is a small bird park right in Playa Del Carmen called Xaman Ha. Children under 12 are free.
A walk on 5th Avenue in Playa Del Carmen in the evening will be very entertaining because there are many street performers like a Michael Jackson impersonator, break dancers and live statue people.
If you want a special beach for the younger kids, there is a public beach at the north end of Playa that is actually a cenote that flows fresh water into the ocean. This creates a natural stream of crystal clear water and is only about 1-2 feet deep. For all the details on this beach, here is an article for you.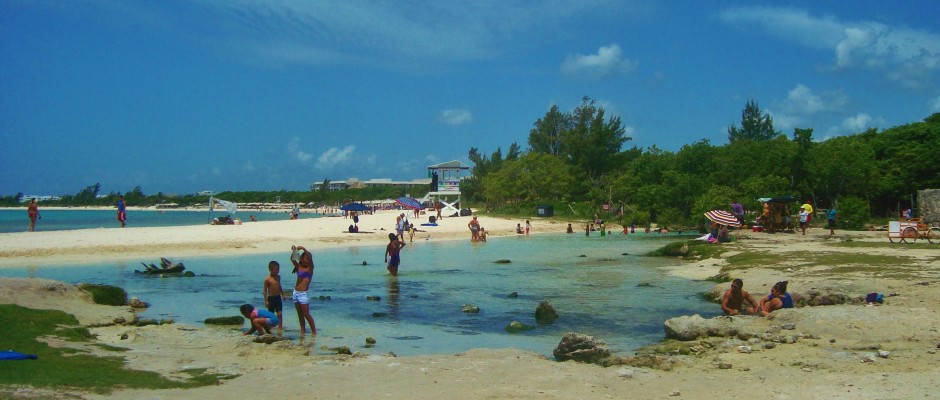 Feed the fish with your feet! Along 5th Avenue in Playa there are "fish spas" where you can put your feet in the water and the fish nibble at the dead skin. This may sound gross but kids might like doing this. It tickles most people. At the store Wayan you can find these. One location is across from Quinta Alegria Mall near 16th Street.
Halloween in Playa Del Carmen is a great time for kids to dress up and walk on 5th Avenue. If you are in town during this time make sure you make plans and get costumes.
Activities for children in the Riviera Maya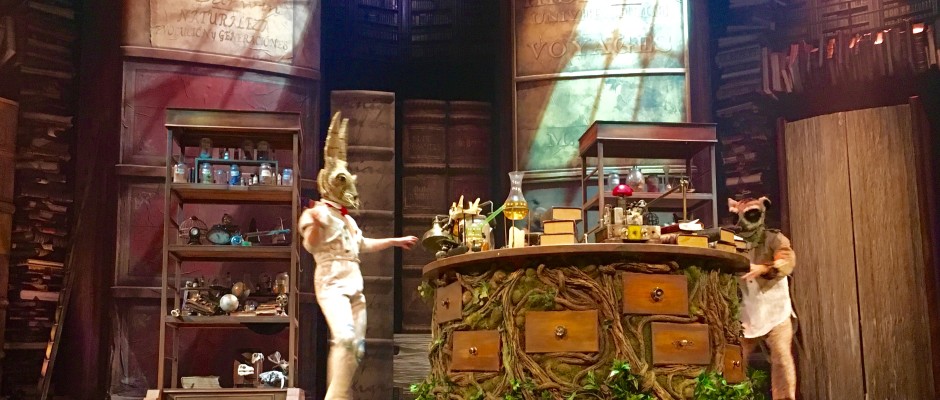 Cenote Azul is a good cenote to visit with small children because it is not as deep and the two that are right next to this. This is a natural area and you do need to keep an eye on your kids. For older kids there is a cliff that kids love jumping off.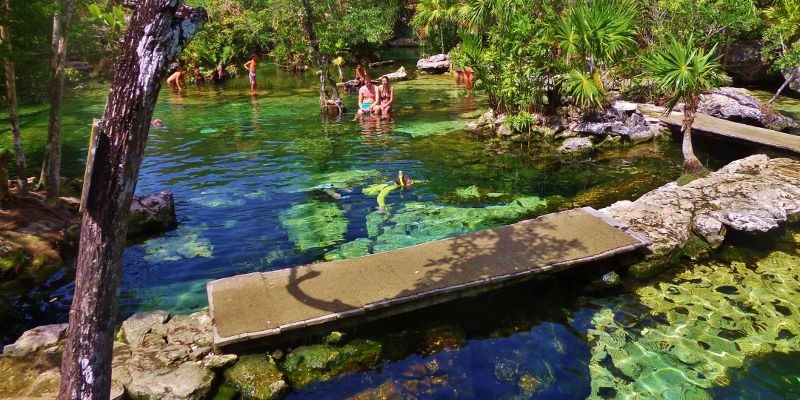 Of all the Mayan ruins we recommend Coba because it is fun to bike between the ruins and you can climb to the top of the tallest pyramid. It is also closer to Playa Del Carmen, so less time in a bus and more time for the kids to have fun. These ruins are also the most shaded and that means you will deal less with hot kids and more time looking around an amazing place. If you don't want to bike you can walk or have a tricycle taxi take you around.
If you are looking to do some tours, allTOURnative tours is a good company to check out. They offer tours to ruins and activities that are fun for kids 12-18 years old. They do some zip lines, rappelling and cenotes. These tours are good for families and a little less intensive than Xplor park.
Restaurants in Playa Del Carmen for Kids
Alux Restaurant is a fun place to take kids because the restaurant is in a cave. You can walk around a circle and see different parts. This may not be the best place to eat with kids since it is more of a fine dinning place but you can also come here for drinks.
If you kids have been really good you might want to treat them to some bake good you can check out our Bakery and Sweet Treats Guide here.
We hope this list has helped you plan out your vacation. Playa Del Carmen with kids can be fun because there is so much to do here. We will keep adding to this list when we come across more things that families will appreciate. Happy vacationing!
Do you have some tips for traveling to Playa Del Carmen with kids? Please share with us and other readers what activities or places you have enjoyed in our comment section below.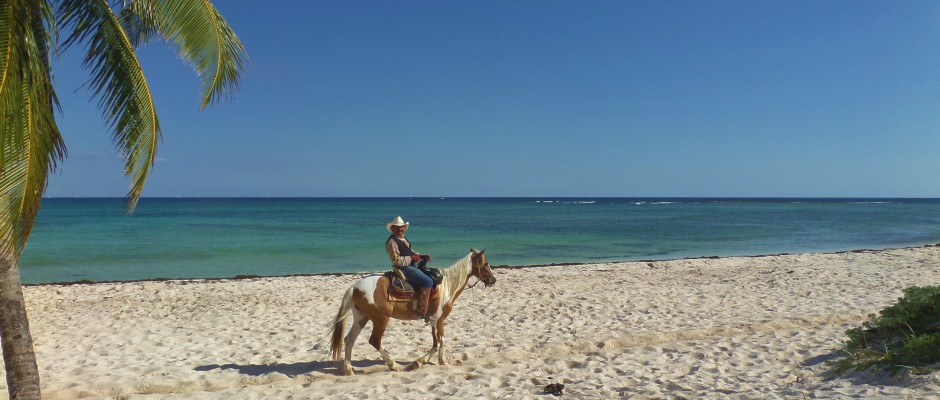 [print_link]