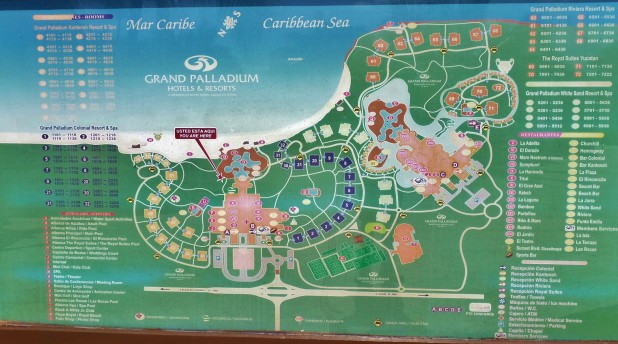 We have visited the Grand Palladium Riviera several times now and are happy to report that it is maintaining it's standards and commitment especially to families with young children.
Grand Palladium Rivera Hotel Review
Below are all the aspects of this all inclusive hotel that we reviewed so you can decide if this hotel is what you are looking for.
Beachfront
The Palladium has 800 meters of oceanfront. The beach is a harder packed sand which actually makes it easier to get around and the water is shallow and has a slow slope which makes a good beach for young children. The beach is a short walk from the pool area and most of the resort. They have about every imaginable water sport activity available for you in order to take advantage of the your time at the ocean. This beach is well maintained and naturally very beautiful. We rate this beach with and A+ which puts it at the top of the beaches at all inclusive hotels in the Riviera Maya. So if the quality of the beach is one of your priorities for choosing a hotel, this should be considered.
We had to add three photos here because it really is so stunning!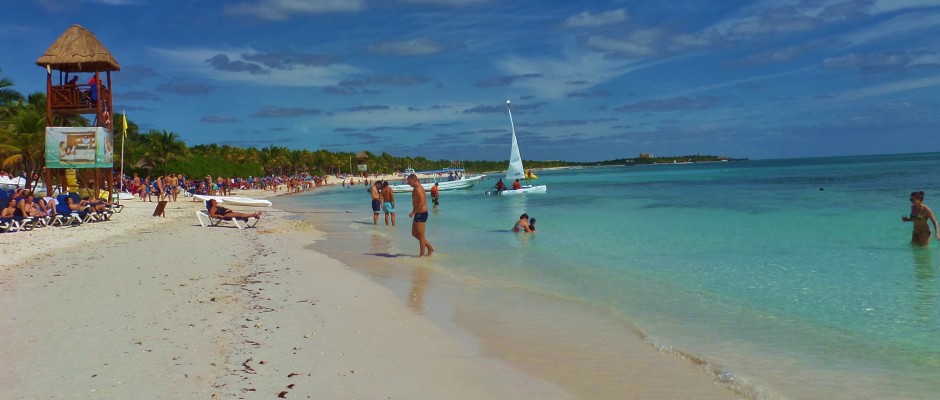 Pools at Grand Palladium Riviera Maya
On the property there are 8 pools and 1 salt water pool. The pools are well maintained an designed well. There is adequate room around the pool and a good amount of lounge chairs for guest.
The main pool is beautiful and gets full sun for those that like laying out. There is also a popular swim up bar.
The new children's pool is excellent for children! It is shallow with water features, slides and waterfalls. This new pool area shows the hotels commitment to providing a fun place for the whole family.
We like the fact that there is music in one part of the pool area but other areas are quiet for relaxing.
So with all the considerations of size, quality and age appropriate pools, we rate this resort at an A+.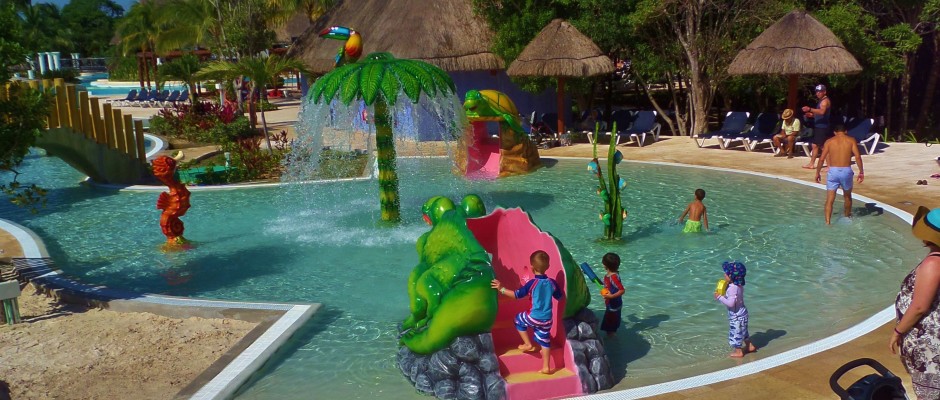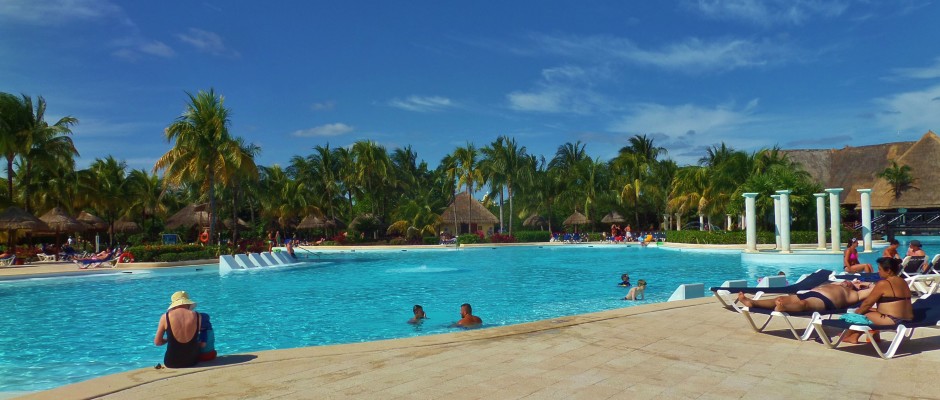 Entertainment at the Grand Palladium Riviera
During the day there are tons of activities that the staff presents. This is for all ages. Stretching classes for older people, pool games for the teenagers, exercise classes for women etc… The quality of staff and activities is good and should provide for an entertaining day all throughout your stay. We give the daytime entertainment a B+.
Like at all of the large all inclusive hotels, there are nightly entertainment shows. The theater is off the lobby area here. This theater is not as nice as other all inclusive hotels because it is not amphitheater seating and just rows of chairs. The shows are definitely geared to the younger visitors of the hotel (age3-13). So if you are staying here and not with young children, it might be a little disappointing. The over all budget and production is less then other all inclusive hotels as well, so we give the nightly entertainment a C.
The Plaza area behind the main lobby does have some other activities in the evening and it is a nice lace to take a stroll at night.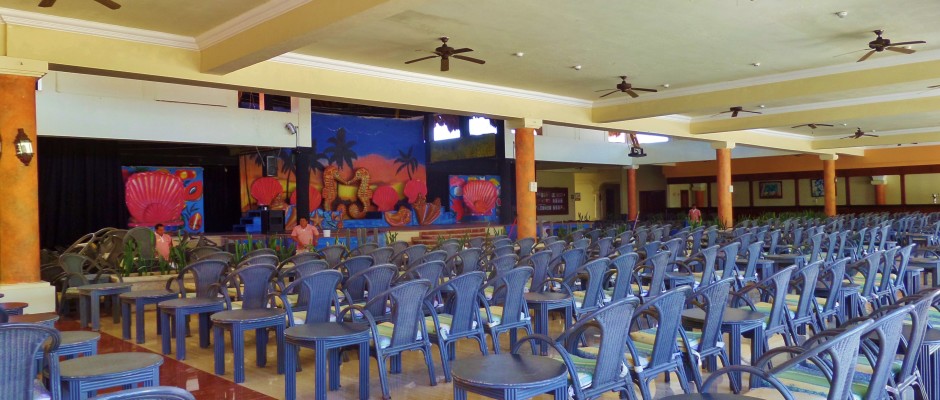 Rooms at Gran Palladium Riviera
This hotel features 324 rooms. They have two styles of rooms, the junior suites (279) and suites (54). Most people like the rooms and we have nothing bad to say about them. They come with all the standard amenities. We give this hotel an A for rooms. Tip: If you don't like walking too much, just look at the map to see where the shuttle stops are and ask for a room near one.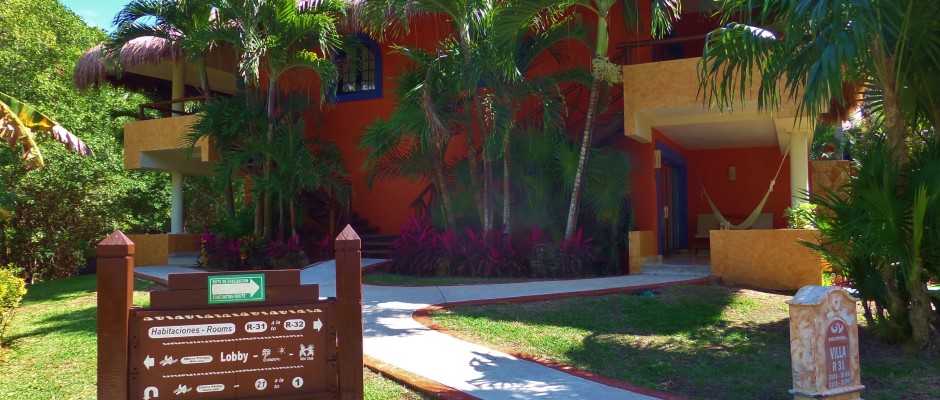 Food and Drink Review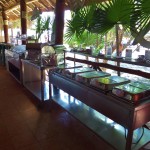 During the day there are snacks at the bar. This mainly consist of hamburgers, quesadillas, hot dogs or industrially produced chicken nuggets. It is a little sad compared to other hotels so we rate this a D.
Your all inclusive package incudes all the alcoholic drinks. Like most resort they are not full strength and sweet. We cannot blame them since you don't want people walking around all day drunk. So the Palladium gets an average rating here of  B. The swim up bar is a great feature and has a wide counter so it can accommodate many people, this is a nice feature.
The Grand Palladium has 5 buffet restaurants and 9 al la cart restaurants to choose from. The amount of selection and variety gets high marks with us and the quality of the buffet is better then average compared to other hotels. Make sure not to miss breakfast because this is one of the best meals they offer. There are fresh juices, French toast, Mexican specialties, and about every kind of breakfast food you would want. The breakfast buffet by itself gets an A.  The lunch buffet is not as good as breakfast or diner so expect a little less here. Overall eating at the Grand Palladium we give them a B+.
The style of the resort is nice with fish ponds surrounding most of the restaurants. You can see from the picture above the walkaways that connect the dinning areas.
Note: The Japanese seems to be the favorite here!. It does get an A rating from us. Just note that some of the restaurants will have a wait especially if you like eating at popular times
Handicap Access of Palladium Resort
Most all inclusive hotel are attentive to those with handicaps. We noticed at least 4 people in wheel chairs on our last visit to this hotel. They all were enjoying their stay there. By the beach they have special chairs for those with handicaps. Since the hotel is so aware of the needs, it also carries over into having a baby stroller and having ramps and access to public spaces. Although note that when booking you need to reserve a room with access. Upper floors do not have handicap access. Overall though, this hotel is very considerate to those with special needs. We give them a B+ for this.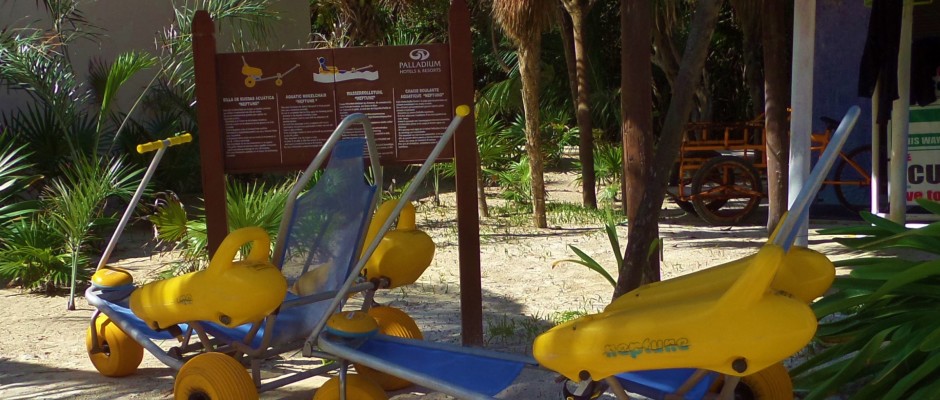 Overall Recommendations
Grand Palladium Riviera Resort has maintained it's standards and continues to add to the existing features. This is a family friendly resort and perfect for young families and children up to age 15. It is also nice for families with grandparents coming along as well. For those wanting a luxury spa retreat or kid free vacation, then we would recommend going to the next level up resort.
Since the beach, pool and rooms get very good ratings (the three most important factors to most people), this is why this hotel is on our recommended hotel list for the Riviera Maya and is one of top selections for recommendations for families.
We hope this review helps you make a selection for your next vacation. We will be adding many more independent reviews on here for other hotels so we hope you follow along and let us do the leg work so you can have a great vacation.
Check current prices
If this resort looks good to you, why not check the prices below and see what the rates are for the week or weeks you want to stay. The check price button will take you directly to the booking site with prices.

Have you been to the Grand Palladium Riviera Resort? What did you think? We would love to hear your comments below.