Riviera Maya Hotels
It may be a daunting task at first to sort through the hundreds of beautiful photos of hotels and then have to pick just one for your very important vacation. There are actually thousands of hotel rooms and hundreds of hotels available to you in every type of accommodation as well. Then there is where in the Riviera Maya you want to be, from Cancun to Tulum or somewhere in between. We are putting together this guide to make it easier for you.
How to narrow the search for a Riviera Maya Hotel
You can ask yourself these questions that will help you narrow your search for a hotel in the Rivera Maya.
1. What type of hotel do you want? All inclusive, boutique hotel, or basic hotel to sleep at?
2. Do you want to spend all the time at the hotel or do you want to be close to activities or attractions?
3. How far do you want to be from the airport?
How we came up with this list of Riviera Maya Hotels
We talked to hotel industry insiders, hotel booking companies, visited hotels and talked to guest to bring you this guide to help you select the perfect hotel for your vacation. Below we divided the Rivera Maya into Cancun hotels, Riviera Maya hotels, Playa Del Carmen hotels and Tulum hotel. Each section is also broken down to where you might want to stay.
We do recommend clicking the link to Booking.com here on the side of the page because not only do we like using them, we feel it offers our readers a good search tool for narrowing down where you would like your hotel and what price range among other options you can choose from. They also offer promotions and special rates, so we want to pass this on to you. Clicking on the link helps support this site and helps bring all the free information to you, so we thank you in advance.
Cancun Hotels
Cancun is basically divided into two parts, the Downtown and the Hotel Zone. The really only reason to stay downtown is if you are catching a bus in the morning or are really on a tight budget. If you stay there you will not have beach access unless you take a bus to the Hotel Zone. You can walk to restaurants and take public busses or taxis to shopping but other then that the downtown area is not tourist destination. It is more of a city built to support the Hotel Zone. It is where locals live and suppliers have stores. Our recommendations in the downtown are Mallorca Hotel and Suites and the Hotel Plaza Caribe Cancun. We recommend these because if you are staying downtown you will most likely want to walk places and also take the local busses or take the ADO bus to other parts of the Peninsula. If you are going to stay downtown and take the bus, check our Cancun Bus Station Guide.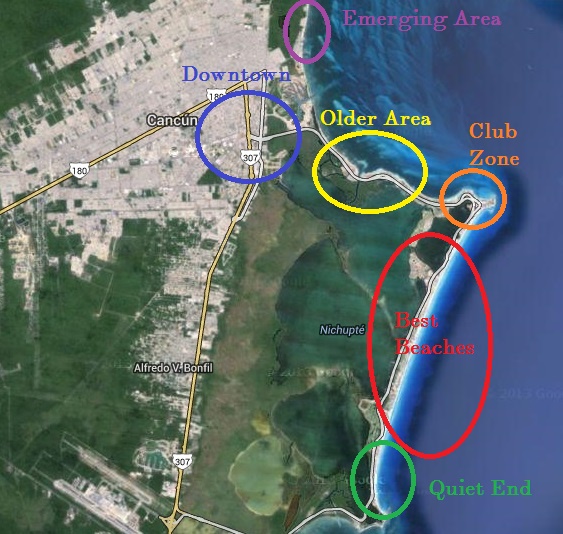 See the purple area at the top of the map? We labeled this an emerging zone because this coastline has been pretty much undeveloped. There are a few hotels starting to pop up there. If you like being close to Cancun but a little more remote and off in your own place, check out this area. In this area we highly recommend the Excellence Playa Mujeres all inclusive resort. It is for adults only. The Excellence resorts chain all get good reviews by us and they offer high end feel but with a comfortable atmosphere.
Where to stay in Cancun's Hotel Zone
The Hotel Zone can be divided into four areas so you can narrow down your search.
The yellow area is the where you find older hotels which tend to be cheaper and the beaches are not as large or nice. It an still offer a nice time and value. You do have access to the ferries that go to Isla Mujeres and the Pirate boat dinner cruise leaves from this area. So if you want to be in the hotel zone and are looking for a budget hotel, this area is good to look at. In this area we recommend Barceló Costa Cancun all inclusive hotel, Riu Palace Peninsula all inclusive hotel, and for a more budget options, the Hotel Casa Maya, especially when it is on sale at Hotels.com
The orange area is the club zone and main shopping area of the Hotel Zone. It is the main part of the of the zone where it feels a little like a city. There are clubs like Coco Bongo, Mandala and Palazzo where you can dance all night. This area is good if you are going to party or take spring break in Cancun because you can walk to your hotel and not have to take expensive taxis back and forth. In this area we recommend the Riu Palace Las Americas all inclusive hotel, Fiesta Americana Grand Coral Beach Cancun Resort and Spa, and for the more budget minded Aloft which offers a really modern clean hotel for a good value.
The red area is where you are going to find the best beaches. Wide white sandy beaches with turquoise waters. This is generally thought of as the best area to stay in. You are not to far from everything the Hotel Zone has to offer and you have the great beaches. There are a lot of hotels here but here is what we have narrowed down for you. Le Blanc Spa Resort all inclusive hotel which is perfect for the young and fashionable, Grand Park Royal Cancun all inclusive hotel, Hyatt Zilara Cancun all inclusive hotel, Beach Palace Resort all inclusive hotel, Club Melia at Grand Melia, The Ritz-Carlton Cancun, Secrets the Vine Cancun, Hard Rock Cancun all inclusive, and Iberostar Cancun all inclusive hotel.
The green area is a little more quiet. This area is near El Rey Archeological ruins and the Mayan Museum. Also there is a water park on this end of the Hotel Zone. You have good beaches here but if you are wanting to go out a lot or downtown for shopping then you are going to have to travel more. From here it can take about 25 minuets to get downtown. We recommend in this area GR Solaris Cancun and Spa all inclusive hotel, Sun Palace couples only all inclusive hotel, and Nizuc Resort and Spa.
For any of the above hotel that you are interested in you can chec prices by clicking below.

Hotels Along the Riviera Maya
This area is everything between Cancun and Playa Del Carmen and between Playa Del Carmen and Tulum. In these two areas of the Mayan Riviera there are larger all inclusive hotels. The hotels in these areas are meant to have everything you want in a vacation and resort. You can find some world class accommodation here. There are only sight differences between the orange area and the red area. The orange area is closer to the airport so you will get to your resort about 20-40 minutes faster and not have to leave as soon to go to the airport. The red area has been developed more recently and in general has newer hotels. The red zone is a little closer to most attractions. So if you are planning on going to Xel-Ha, Xplor, Xcaret, Coba ruins, Tulum, Sian Kaan or Chichen Itza then you are closer and might have the opportunity to do more things outside of the hotel.

Hotels between Cancun and Puerto Morelos
In the orange area we recommend you look into Moon Palace Golf and Spa all inclusive hotel because it gets great reviews, Now Sapphire Riviera Cancun all inclusive is good because it is more on the budget end but still with quality, and Desire Resort and Spa for couples all inclusive because it offers more privacy and real romance for couples on that special vacation, Iberostar Paraiso Maya all inclusive because they have a lot to offer in this large resort, Iberostar Grand Paraiso Hotel all inclusive because it is good for travelers that might like more luxury and golf without a younger crowd, Secrets Moroma Beach Riviera Cancun because it has once of the nicest beaches, El Dorado Moroma also because of the beautiful beach.
It is a shame there are so many good hotels to choose from in the orange area but it does cover a lot of coast. We hope we helped narrow it down for you. Perhaps when you look at the Booking.com link on the side they can help narrow it down by photos and other things you are looking for in your vacation hotel.
Hotels between Playa Del Carmen and Tulum
In the red area which runs from the south of Playa Del Carmen to Tulum we recommend Occidental Grand Xcaret all inclusive hotel especially if you are going to visit some of the eco parks, they are right next door, Hard Rock Riviera Maya because it is fun for youthful people and has a lot of activities within the resort to keep you busy, Barceló Colonial Maya all inclusive hotel, Barceló Maya Tropical all inclusive hotel, Barceló Maya Palace all inclusive hotel, Barceló Maya Beach all inclusive hotel because Barceló has a good reputation and keeps standards high. Even right across the highway there are local cenotes you can visit. We like the large resorts here because there is so much to do. Grand Palladium is great for young families and gets a high rating from us. Grand Sirenis has a grand feel in size and some of the best snorkeling right off the beach. The last hotel in this area for a recommendation is Dreams Tulum Resort and Spa all inclusive. This hotel has beautiful beaches, good value and is close to visit Tulum and Xel-Ha eco park.
If you are interested in any of these hotels you can check the prices below on the "Check Price Now" button.

Playa Del Carmen Hotels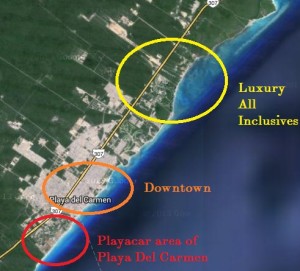 Playa Del Carmen has slowly become one of everyone's favorite places to visit while in the Mayan Riviera. To Americans it was always Cancun as the place to go to but this is slowly changing as word gets out. Europeans and South Americans have discovered Playa Del Carmen and have already passed the word around that this place is a mix of laid back, chic, entertainment and beaches. It truly has become an international destination for tourist and of residents.
Playacar Hotels
We can divide Playa Del Carmen into three areas. The red area is the private development neighborhood known as Playacar. This large area at the south end of Playa Del Carmen has some of the best beaches because they are wide and not too crowded. There are two parts to Playacar, Phase 1 and Phase 2. Phase 1 is smaller and has only a few small hotels and then there are private homes for rent. Phase 2 is a large loop with the large all inclusive hotels along the beach front. This area can be good for the best of both worlds. You are close to the downtown but can come back to your semi private area and all inclusive hotel. It is a 70 peso taxi one way into town or if you want to you can actually walk on paved sidewalks into town. In this area we recommend Riu Palace Mexico all inclusive hotel, Riu Yucatan all inclusive hotel, Riu Tequila all inclusive hotel, Royal Hideaway Playacar all inclusive hotel, Riu Palace Riviera Maya all inclusive hotel, all of these hotels offer good value for what you get.
Hotels in the downtown of Playa Del Carmen
The orange area is the downtown. This is where you can find lively bars, great restaurants and the famous 5th Avenue with about 20 blocks of shops and restaurants. This area offers more boutique/trendy hotels and budget hotels. It really runs the whole range of hotels except all inclusive. If you don't want to sit on a beach all day and want to be able to go for a walk or visit a roof top club for live music, then this area is good for you. There are a lot of hotels to choose from in the center of Playa Del Carmen, so we will try to narrow it down a little for you. For budget we recommend Club Yebo because of the nice garden, Hotel Riviera Caribe Maya because of trendy area and good value. Midrange we recommend Aventura Mexicana because it gets great reviews, interior garden with swimming pools and likeability, Be Playa Hotel because it is very trendy with a nice rooftop lounge, Artisan Hotel because it is new and has a great rooftop pool plus in the center of everything, The Palm Hotel because it has super large deluxe rooms and amazing rooftop, Koox La Mar Club Aparthotel because it is youthful, modern design, and close to the beach and clubs at night. For high end hotels we recommend Hotel Casa Ticul because of good value, nice décor and good reviews, Mehekal Beach Resort because it is in its own green world tucked near the beach in Playa Del Carmen and retain some of the small cabin-by-the-beach feel, and the Maya Village Condo Hotel and Beach Club because its 17 condos are on the beach near the center of Playa with lush plants hanging off the building. The Grand Hyatt is a new modern hotel that is not all inclusive but gives you a resort feeling but you still get to take advantage of Playa's great restaurants. For an all inclusive in Playa Del Carmen downtown we recommend Grand Porto Real Resort all inclusive hotel because it has a good location and can offer some of the things that people like in all inclusives and you have the option of walking out the door and stepping onto famous 5th avenue for shopping and restaurants.
Hotels just north of Playa Del Carmen
The yellow area is just north of Playa Del Carmen. the city is moving this direction and it does not seem that far away. There are some great all inclusive hotels here that offer the availability to take a taxi or hotel shuttle into Playa Del Carmen for a night on the town if you like. In this area we recommend all three of the Mayakoba hotels-Banyan Tree-Fairmount-Rosewood because they are exceptionally designed and you can find which one fits your budget, and our absolute most favorite if you can afford it, Grand Velas Riviera Maya all inclusive. from the moment you enter the property until you leave unwillingly to go home you will be pampered in ultimate luxury. Make sure you look at the photos on the hotels.com link on the side of the page because these hotels are truly amazing looking.
Le Reve Hotel is a smaller hotel with just 25 rooms. It is like a boutique hotel on the beach. You can get a much better value in the center of Playa at a boutique hotel for the price. The difference is beach front. If it is worth $80-100USD extra a night to be on the beach, then you might like to stay here. Otherwise being in Playa with easy access to so many restaurants is going to be a much better value.
If you are interested in any of the above hotels and want to check prices, click on the "Check Price" link below.

Hotels in Tulum
Tulum has become the new hotspot for tourist. You might not be ready for the more remote spot but others sure are. Tulum is two basic areas. The downtown and the "Hotel Zone" as it is lightly called now or you can just say along the beach.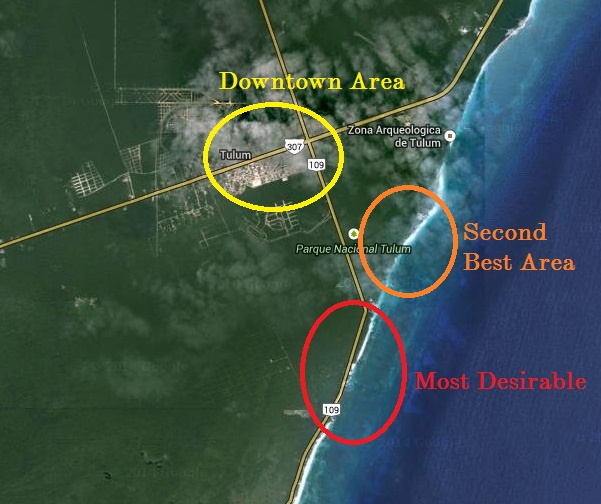 Downtown Tulum Hotels to look at
The downtown is a small area and just a few years ago it was a dusty side of the highway. It is developing into a formal town but still is not a destination more tourist was to spend all their time. It is dotted with interesting restaurants and creative people doing some start-ups among the concrete block houses of locals. Most people choose a hotel in the downtown if they are only stopping for a day or two and are looking for more of a budget accommodation.
Our hotel recommendations for downtown Tulum are(listed in order of price): Maison Tulum-Very Tulum in design and good value. Green Tulum-Tulum vibe and nice pool to relax by. Villas H2O– modern clean design with a few extras for you to enjoy your stay.
Tulum Beach Hotels
The beach area is gorgeous and more undeveloped then most areas of the Riviera Maya. The orange area has more public beach access points which means there are more people on the beach especially in Sundays when more people have off and go to the beach. It is also more narrow between the beach and the beach access road so places are smaller here. The hotels tend to be smaller and there are very few services in the area so having a car might be nice to go out to eat. One interesting thing about this area is the fact that you can walk down the beach and see the back side of the Tulum Ruins. In this area we recommend Zenserenity Wellness Resort Tulum all inclusive because it is small but with amenities.
The red area is the most trendy area where you just might spot some celebrities. This area is low key but bohemian chic at the same time. You can find some small hotels with big design and cutting edge fashion all in the middle of quaint palm tree lined roads. This area is the most popular area of Tulum to be in. There are small cafes and restaurants but can be spread out. You will see many people biking around this idyllic part of paradise but having a car might come in handy as well. The father south you go the more trendy it gets. At the south end of this stretch of beach is the entrance to Sian Ka'an nature reserve.
Hotels will be more eco chic in this area with little touches that make them special. It is really about the atmosphere in the area and beach that make this are so unique and popular.
We recommend in this area Azulik Hotel because the amazing design and setting of this hotel. Playa Azul Tulum because of the good reviews, Las Ranitas Eco Boutique Hotel because of the romantic setting and nice pool, The Beach Tulum because of the nice little touches that make it different.
If you are interested in any of the above hotels and want to know prices, just click the link below to see what the price is for when want to come.

We hope this guide has helped you get an overview of the entire area and will help narrow it down for you. If you read something that interest you why not check the current prices here so you can start making that vacation a reality. There are so many good hotels to choose from it can be hard to pick just one. We wish you the best vacation and hope you enjoy your stay in the Riviera Maya!
What is your favorite Riviera Maya Hotel? Got some tips for us? Let us know in the comments below.