The Grand Xcaret by Occidental Hotel has been on our recommended hotel list  for some time and we wanted to show you why and tell you who this hotel is a good fit for. Here is our review.
Grand Xcaret Occidental Review
The Grand  Xcaret by Occidental is just about 10 minutes south of Playa Del Carmen and located next to Xcaret Park. This was once an Mayan inhabited area in lush jungle. The grounds still maintain that feel and there are even Mayan ruins visible today. This is a quieter resort then some in the Riviera Maya and we hope our review helps you decide if this is a good fit for your stay or not.
Lobby and Main Buildings
If you are familiar with the Xcaret Park next door you might think that it will be about the same quality, however it is not designed as well or have the same energy. The main buildings is meant to be a village with a canal going through. It is a bit dead feeling and most of the storefronts that are supposed to be there are not used. So it is more like a ghost town rather then vibrant Mexican village. Some might like the fact it is so quiet since some rooms are right off this area.
This area could be a nice shopping area but we think you will have to go into Playa Del Carmen to do your souvenir shopping.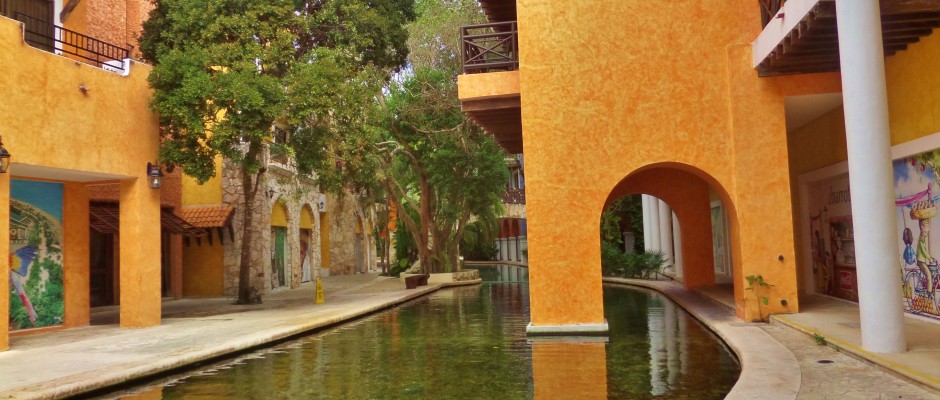 The main lobby of Grand Xcaret is impressive. It is a nice large open space. The lobby building lines up with the sunrise and  looks over the lush jungle surroundings.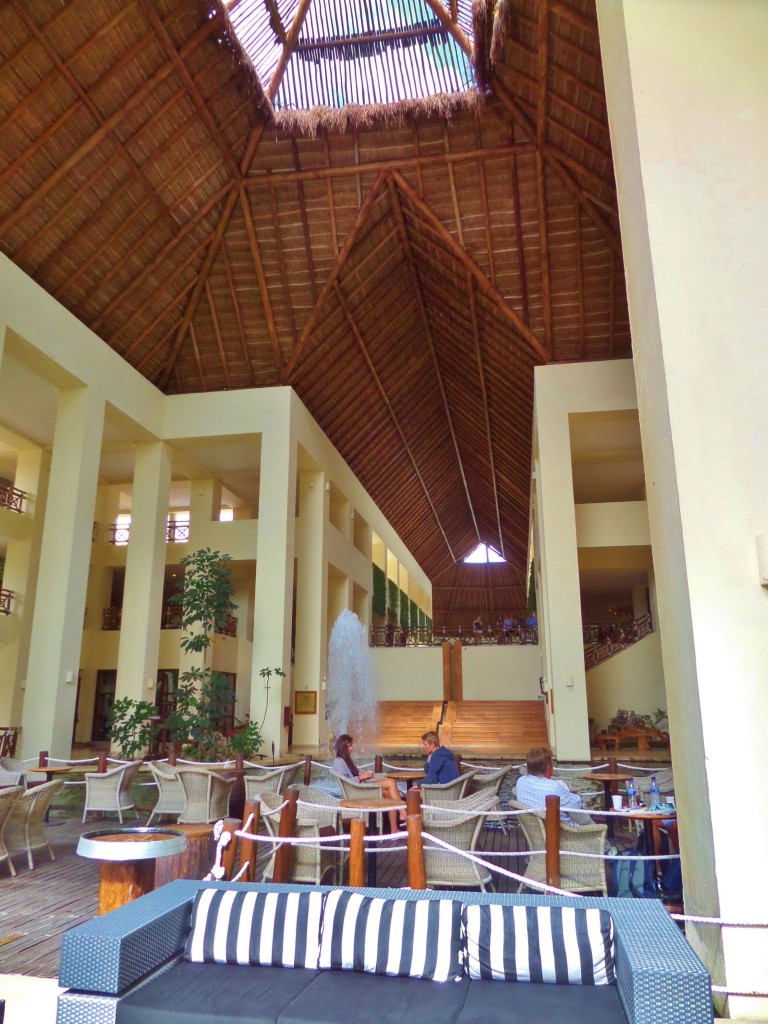 Rooms at Grand Xcaret by Occidental
The rooms are standards and decent with no big complaints but no big surprises of great value. We rate the rooms at B+. You can upgrade to the Royal Club for much better rooms and most of our readers prefer to do this.
Tip: Buildings are three story and with stairs. If you have mobility issues make sure you request a ground floor room.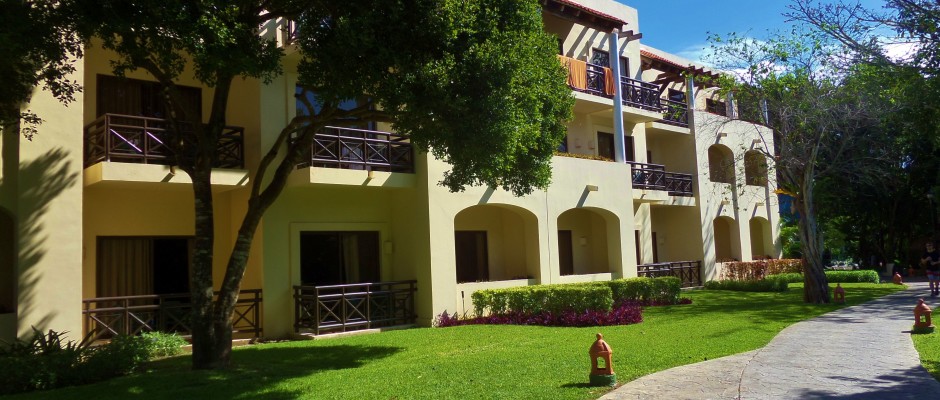 Food and Drink at Grand Xcaret
There are 11 restaurants on the property and 10 bars including a nice swim up bar at the pool. This resort has better then average food and drinks so we rate it an A-.
The Beach at Grand Xcaret Resort
The natural coast here is all rocky, so what this resort did was to build an inlet and create a beach with a beach club like atmosphere. So the idyllic white soft sandy beach with palm trees is not here. It is a quiet place to relax but not the best or nicest place to swim. It is however good for small children since there are no large waves. You do need to walk a little bit from your room to the beach.
We rate this beach a C- because it is not a natural sandy stretch of beach.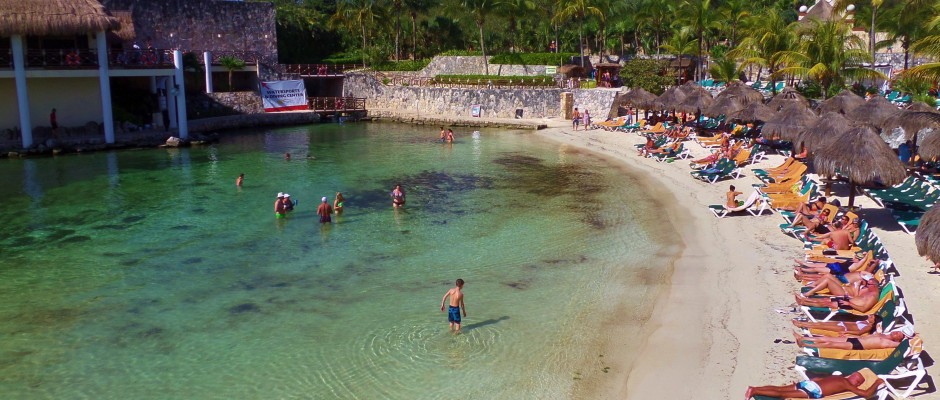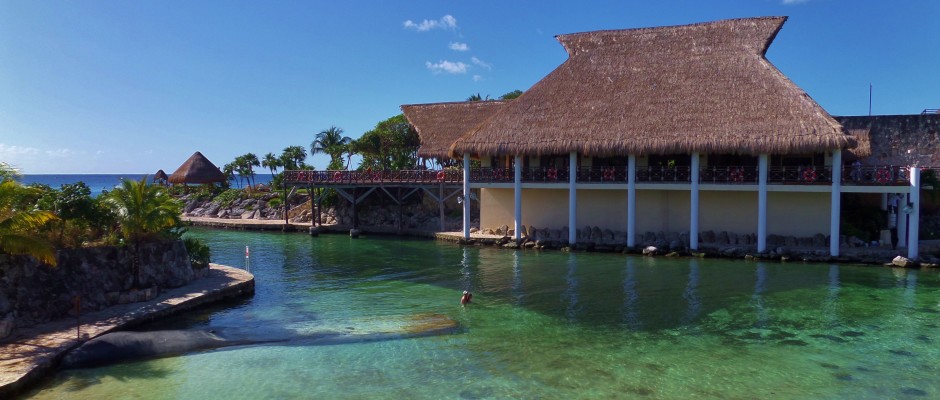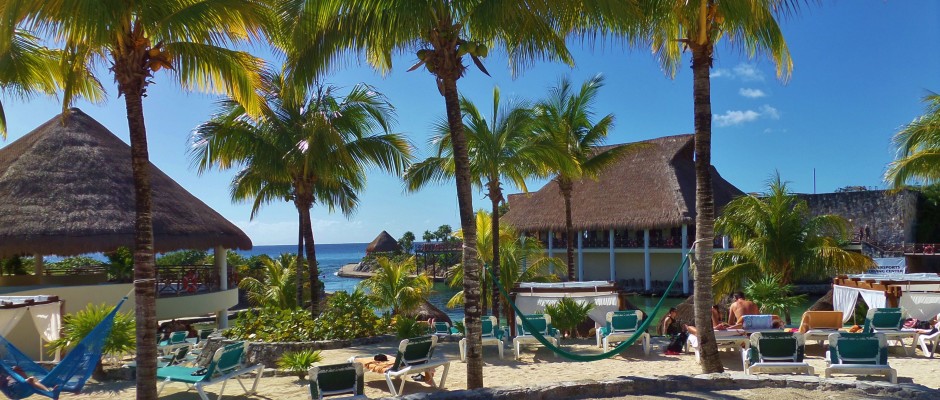 The Pools at Grand Xcaret Resort
There are five swimming pools at this resort. The main pool is very nice and surrounded by large trees. There are many areas that are tucked off by themselves and quieter. If you are a sun lover you might want to get there early for the best places since there is less sunny spots then at other resorts since they have pools more in the open.
One thing we did not like is the beach loungers that are lined up at the edge of the pool and you have to walk around the pool to get in. If you like a lot of activities at the pool, well there is one end where the entertainment staff works but it is much calmer and less active then other resorts. Some may call it boring or dull while other might call it relaxing and quiet, so we are not going to give an opinion either way.
We rate the pools (mainly the main pool) here a A- because of lack of sun, the water is a little cooler, and it is not as entertaining and can be dull but at the same time not super relaxing, so it is in-between.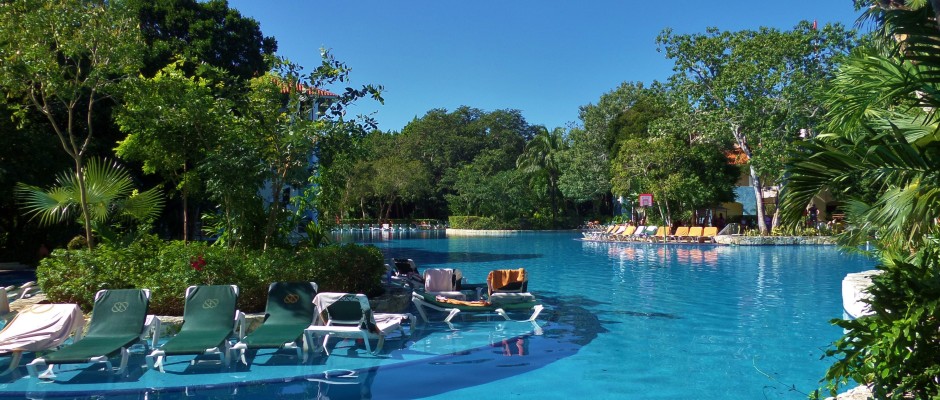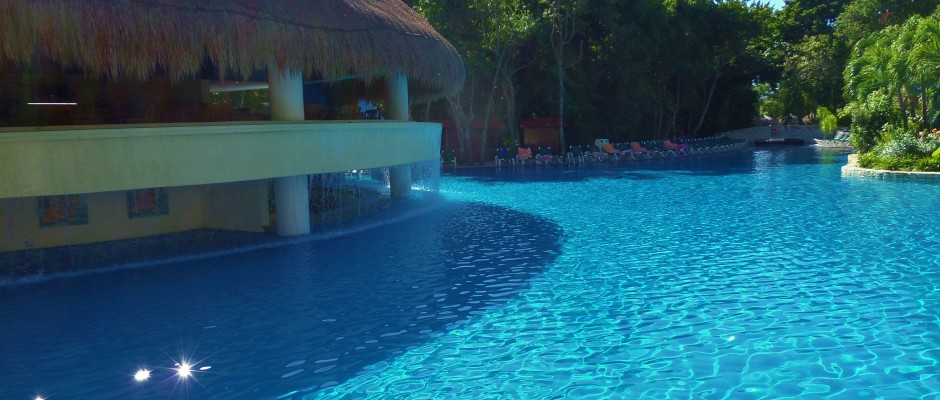 Other things we do not like:
There are a few things we want to comment on about this hotel. While many hotels try to sell services and even vacation packages, it seems a lot less intrusive. We noticed a little bit of a hard sell for products and services more so then other resorts. It is nice to have options but you are also there to relax and do not want to be bothered often by someone promoting  something.
Other things we like about this hotel:
The kids club is good here. There are many native animals around like flamingos, macaws and even wild spider monkeys in the trees. There are even Maya ruins on the property, so all these things are nice for children.
You should take advantage of any discounts or tours they have. Being situated next to Xcaret Park is a major plus of this hotel. It is also close to Xplor eco adventure park. It would be a shame not to visit one of these while staying at this hotel.
Who we recommend this hotel for:
This Grand Xcaret by Occidental is for people searching a quieter stay in the Riviera Maya. It is also good for families that want to visit Xcaret Park since it is next to it and you have direct transportation from the hotel to the park. It also works out great since the Grand show in the park ends late at night, you only have a short commute to your room.
If you are a family with children that will enjoy the park next door, then this is a good choice for you. Families with older teens might start thinking about a more active place for kids age 16-18. Older couples (50-70) will enjoy the quieter setting and even lounging by the pool while not being in full sun all day.
We do not recommend this hotel for people that just want beach at their resort or for younger couples that want super exciting pool side activities because the beach is not the best and this is a much quieter resort then others in the Rivera Maya. We do not recommend this hotel for longer then one week stays because there are not a lot of activities and it is not as exciting as some other resorts.
Do you need help finding a resort for you?
We have great news for you! We have teamed up with a specialist that knows all the resorts, hotels and all inclusives in the Riviera Maya. See our article about Lori and how she can help plan your next vacation to Mexico.
Have you been to the Grand Xcaret by Occidental resort before? What did you think? Let us know in the comments below. We love to hear from our readers and have your comments help others find a good hotel for their vacation.