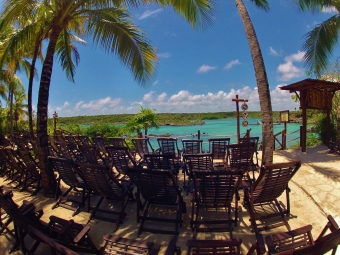 Xel Ha Review
Xel Ha is one huge aquatic park where you can swim and snorkel all day. Since it is so big we wanted to write a Xel Ha review of the things you should not miss and all the tips that can make your day the best possible so you can maximize your time there. Xel Ha is from the same group of eco parks as Xcaret, Xplor, Xenses, Xenotes, and Xoximilco. Make sure to check out our video of Xel-ha here for a presentation of highlights.
All age groups can enjoy the park. There is a special children's play area with water slides and jungle gym trail in the trees. If you are more advanced in years you may enjoy taking photos of everyone in the water or even feeding the fish with the provided food. At lunch time in the main building they have live music sometimes. The atmosphere is nice enough to soak up just relaxing for the day.
How to get to Xel Ha
There are three options for transportation to Xel Ha. You can choose from one of these that fits you the best.
Buying transportation with your ticket.
Taking the colectivo van.
Driving yourself there.
We will discuss each of these in more detail below. We do however did not include taking a taxi to Xel Ha. The reason for this is the location is far from most towns in the Rivera Maya and the cost is not really worth it. For example a taxi from Playa Del Carmen to Xel Ha would cost about 500-800 pesos each way. However if you wish to proceed with this option, make sure you ask the price before taking off. When you are ready to return back to your hotel, there usually are a few taxis outside the entrance.
Buy transportation with ticket
One option to use the pick up service from Xel Ha. When you book your tickets online you can choose a hotel for pickup. Your hotel may not be on the list but you can go to a nearby hotel. This option may get you there a little slower but it is an easy option to get to the park without thinking too much about it.
Xel-Ha is the perfect spot to dive and snorkel among hundreds of tropical fish in a natural environment. Buy on-line now and get up to 15% off.
Colectivos (shared minivans)
You can use the colectivos that run from Playa Del Carmen to Tulum and ask to get out at Xel Ha. You can get these on 2nd St. between 15th and 20th Avenues. It cost 40 pesos per person each way. You know you are there when you see the fish kites on the bridge above the highway.
From the highway there is a walkway into the park. The walkway will take about 10 minute to walk to the entrance. Below is a photo of the sidewalk. To leave the park with the colectivos you might actually be lucky and one is waiting in the parking lot and is ready to fill up from people spending the day there. If not, walk back to the highway and go to the side of the highway for the direction you want to go in.
Vans come along every 10 minutes or so. If you have a large group (4 people or more) you might have to take two vans since in the afternoon/evening the vans tend to fill up as many people are getting out of work.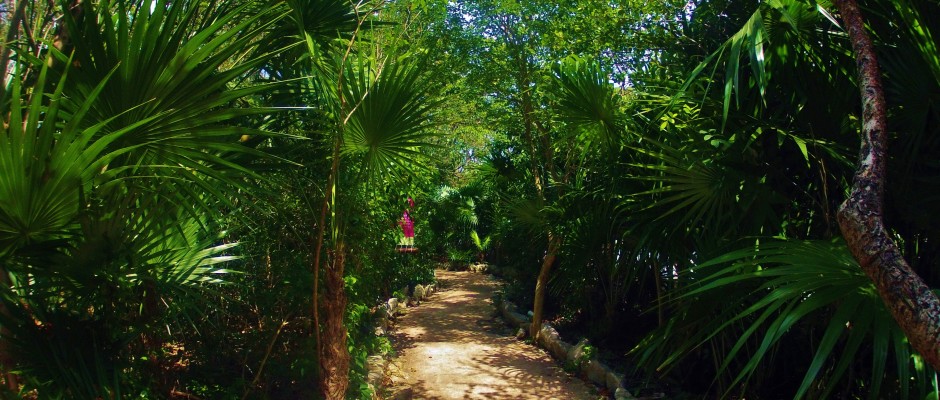 Drive yourself to Xel-Ha
You can drive yourself to Xel Ha water park. There is free parking and it will take about 30 minutes from Playa Del Carmen. It is very easy to find and signs are easy to see. Just drive south on the 307 Highway and when you see the overpass with the fish kites you will know you have arrived. Exit to your right and drive about 4 minutes toward the ocean to the main parking lot. Try getting here early so you can make the most of the day. The park opens at 8:30am each day.
Entrance and tickets prices for Xel Ha
You can buy tickets many places but you will get the best price online. Below is a link that takes you directly to the Xel Ha website for booking.  The best deal on tickets is booking ahead of time because you can save 15% off! That is a considerable amount especially if you are going with a family or group.

There are also optional activities at Xel ha like the zip-bikes. You can read more about the zip-bikes and see our video here.
If you are resident of Quintana Roo State you can get an additional discount (usually half off) but you will need local ID. After you check in and get your bracelet, you will scan it at the entrance of the park.
What to bring for a day at Xel-Ha
Make sure you bring biodegradable sun screen. It helps protect the environment and regular sunscreen is not allowed in the park.
Really cool  fact: At the entrance you can leave your regular bottle of sun screen and get samples of biodegradable cream. It will be enough for you to use during the day and you can pick up your bottle when you exit the park. They are very serious about keeping the environment clean.
Other things to bring for a day at Xel-Ha is your swim suit and dry clothes. An underwater camera will come in pretty handy here, so bring one if you have one.  Towels are provided as well as lockers. Bring a enough money deposit for the snorkels, you will receive it back at the end of the day.  There are photographers taking your photo throughout the day. At the end of the day you can buy these printed out or get them on a memory stick, so bring money for photos. If you plan on optional add on activities make sure you bring a way to pay for that as well. Although we recommend you spend the day exploring the parks included activities unless there is something you really want to do. There is enough to keep you occupied all day just with what is included.
How to maximize your day exploring Xel Ha Park
When you first enter the park you will want to head to the main dinning area.
(#1 on the map below) This way you can get a nice breakfast that is included in your price of entry (all food and drinks are included in admission price). It will come in handy to get some energy for the day.
Next, go and get a key for the lockers (#2 on the map) and store your stuff. The locker rooms have cameras and are very safe to leave items in. You can next walk the trail over to the bikes.
(#3 on the map). Keep your shoes with you if you like as well as sun glasses. There is  bag check before you get in the water. ( Note: you do not have to ride bikes, there is a trolley that takes you to the beginning of the swimming area). After your enjoyable bike ride, you can check whatever you don't want to swim with at the bag check. They will move your locked bag to near the lockers, so when you get out of the river you can get your stuff back (this is a great service and is well organized, plus very secure and safe).

Map of Xel Ha

Number 4 on the map indicates the start of the "river". It is sort of a river since the ground water flows out to the ocean from here. You will have the choice to swim with snorkels or in a raft. You really must try the snorkel though. The area by the mangroves are really beautiful. You can always start snorkeling and grab a loose raft later down the river.  Along your swim you can jump off a cliff, try your skills at a rope obstacle course and zip on three zip lines that go in to the water.
After you swim and play for a few hours it is going to be time to grab a drink and eat something. (#5 on the map). There is one snack bar and three buffet restaurants to choose from. While you digest your food you can enjoy the hammock area or chairs.

Relax in the hammocks at Xel Ha.

If sitting is too slow for you can check out the observation boat that is glass bottomed. (#6 on the map). It does not sail but does give you a good view of the fish (the fish love hanging out under this boat). You could also check out the garden where they grow a lot of the plants for the park.
When you know your food is settled enough you can go across the floating bridge. Cross the bridge and get some nice photos on the super big chair (#7 on the map).
 After that you can jump back in the water (#8 on the map) and swim into the cave there. Make sure to look up for your photo (there will be Xel-Ha photographers there). See the underwater views at this end of the park and then get out.
Ready to dry out? Number 9 on the map is the trail that goes through the far side of the park. This area is more natural and you will see some cenotes. One is nice to swim in. On this side is the new zip bikes. They are an add on activity and are bikes on wires that you peddle through the forest top. The trail wraps around the park and you will come back to the beginning. This is an easy activity that people of all levels fitness can do.
Now it is going to be getting late in the day and you might want to eat something before leaving. We recommend #10 the Mexican restaurant. It has a good selection of local specialties and a little different food then the main restaurant. Enjoy a nice meal here and have a drink, you deserve it after spending the day swimming and paddling around.
Xel Ha Review Conclusion
So there you have it, a complete guide how to maximize your time in Xel-Ha. We are sure you are going to enjoy it there. Even if it rains you can have fun. Make sure to watch our video of Xel-Ha. If you are trying to decide between Xel Ha vs Xcaret to visit, see our article here where we talk in depth about each one and what makes them different.


Cool eco facts about Xel-Ha:
Xel Ha does not use printed maps to save on paper usage.
No drinking straws are used because they cannot be recycled.
Xel Ha does not use paper napkins, only cloth. It helps the environment.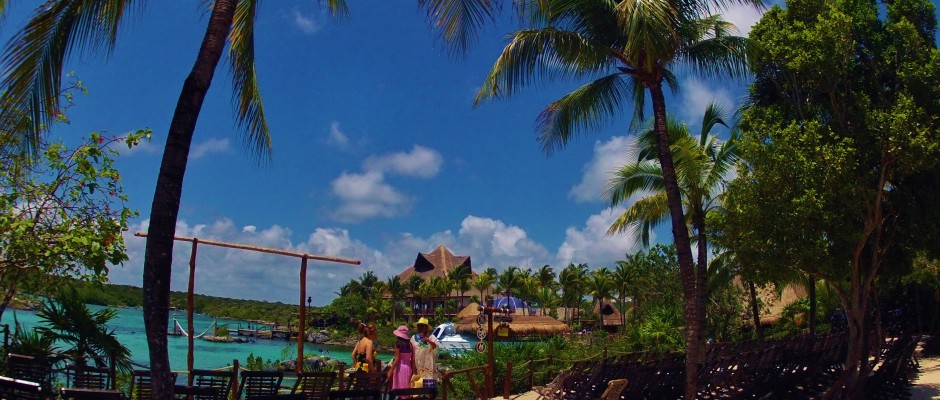 Have you been to Xel Ha park? What did you think about it? Do you have questions after reading our Xel Ha review? We would love to hear your comments below.