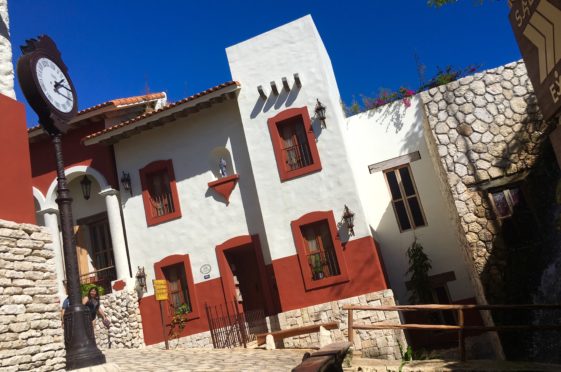 What is Xenses Park like? Our video and review
Every since Xenses Park opened people have been asking us "What is Xenses like?". We spent the day there going around so we could bring you this Xenses review and video.
Our best description of what Xenses Park is like is, it is like a science museum with all the interactive exhibits, just without all the boring stuff. Everywhere you look and go in Xenses, there are things that fool or challenge your senses. There are curved walls where the tile appears to crisscross and rooms where you appear big on one side and small on another. There are rivers of mud to float in and you can fly like a bird on a zip line. This park was very creatively designed and it is a great place to spend time with your family.
Your arrival at Xenses and the layout of the park
When you first arrive at Xenses you will enter this building (pictured below). This is the central hub of the park. There are rooms, tunnels and activities around this pinwheel. Here you can get changed in the locker rooms and then you are off to explore!
There are two main parts of Xenses Park. One side is El Pueblo and the other is the gardens and Xensatorium.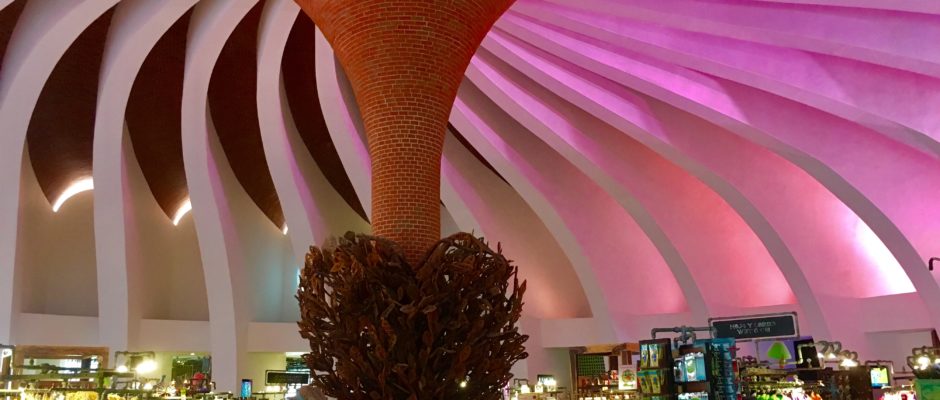 Our video introduction to Xenses Park
Since this park is so unique, it can be hard to get a grasp on what it exactly is like. So we made this video to show you a little more about Xenses.
What activities are there at Xenses Park?
There are many interactive displays and optical illusions throughout the park. Xenses numbers them to be about 15 activities you can do while visiting.
There are two main sides to the park. On one side is the El Pueblo which leads to the toboggan waterslide, bird flight, sludge river, relaxing river and a few more activities.
Visiting 'El Pueblo" at Xenses
The most popular attraction at Xenses Park is "El Pueblo" or the village. This is a street that appears to be steep with buildings lining the sides. It is actually not a steep street, but rather an optical illusion. It REALLY messes with your senses! When you are walking you feel like falling forward because the illusion is so good. You can spend a lot of time taking photos and laughing about how interesting it is.
On this side of the park of there are any activities you do not wish you do, there is a path to bypass any or all of them. If you bring someone older that just wishes to view, this is possible. This can make it nice to bring the grandparents or just people that might not want to participate in all the activities.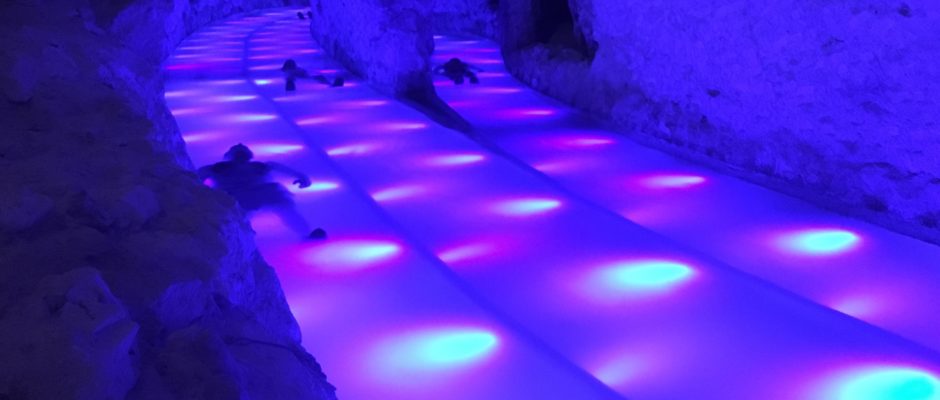 The other side of Xenses Park
On the other side is the Xensatorium and areas of natural beauty. The Xensatorium is a very interesting experiment in using your senses. You enter a tunnel that is completely dark. You use your hand to feel your way through. During your sensory journey you hear and feel different environments. You can go with someone or on this journey by yourself. This can be a fun experiment but it is not for everyone. As with some aspects of this park, if you are claustrophobic or afraid of the dark, you might not like this activity.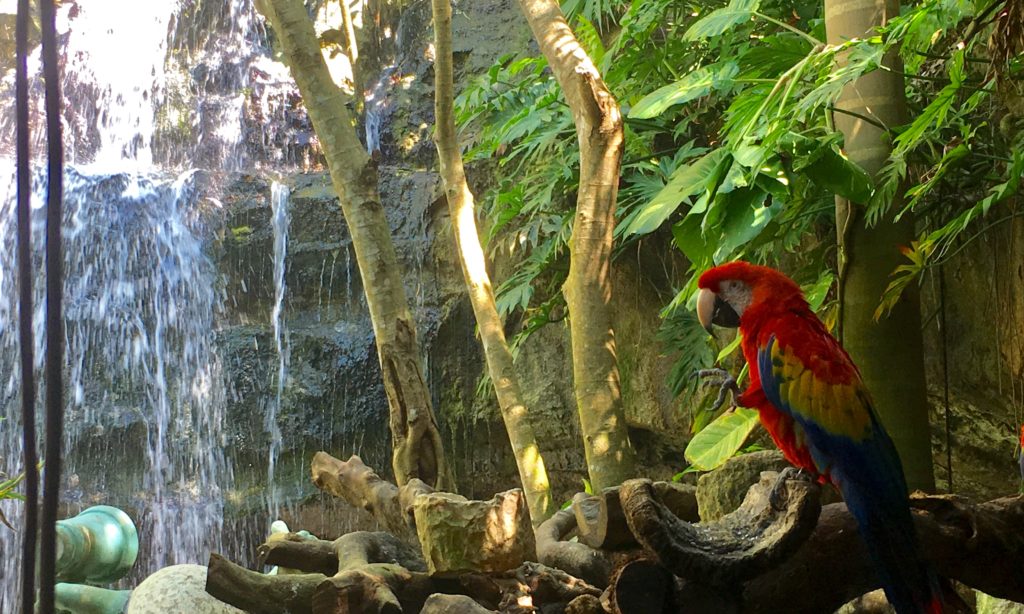 What are the hours of Xenses and how long do people spend there?
Xenses is open Monday-Saturday 8:30am-7:00pm. Closed Sundays. Most people come for about 5 hours or less depending on how fast you go through the activities.
Xenses park is open Monday to Saturday with two schedules for tours for those that book transportation:
Morning arrival between 8:30 and 10:00 a.m. / Departure between 2:00 and 3:00 p.m.
Afternoon arrival between 1:00 p.m. and 2:00 p.m. / Departure between 6:00 p.m. and 7:00 p.m.
What should I wear to Xenses Park?
Xenses is all about exploring and participating. Many of the things include water, so if you are going to be going on some of the activities it is best to wear a swimsuit (for women if you want to wear a cover-up to be more comfortable, you can do that as well). For shoes, you can wear aqua socks or sandals. For some of the activities where your shoes can come off, you can store your sandals and pick them up after the activity.
It is possible to go barefoot while in the park. Paths are either concrete or flat rock surfaces.
Lockers and changing clothes at Xenses
When you arrive there are free lockers with locks for you. The changing area are nice and there are showers.
Tip: Bring your items in a small bag since the lockers are small size.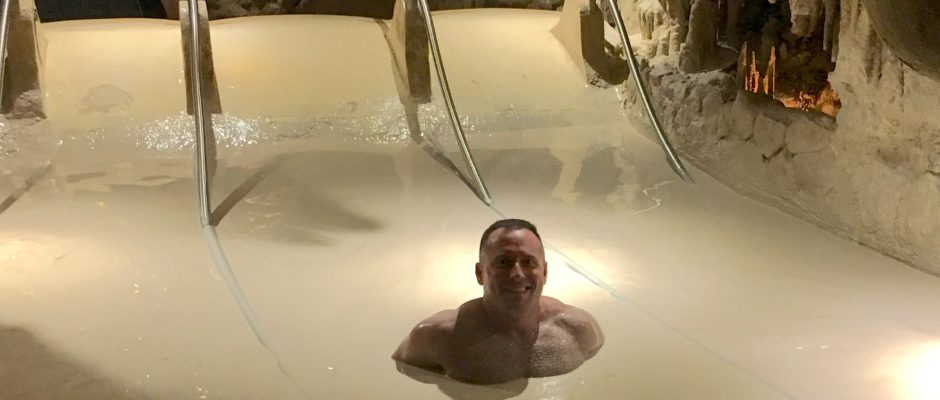 What should I bring to Xenses for my day?
Here are some things to bring with you that will make your time at Xenses fun:
If you want sunscreen, make sure you bring bio-degradable creams. These do not pollute the fragile eco system here. It should be noted that about half the time at the park you are inside. So you might not even need to wear sunscreen.
Waterproof camera. Most of the activities include water at Xenses. Your cell phone or regular camera will not survive or fair well. You can leave your cameras at home if you like because all through the park there are cameras you can pose in front of and wave your bracelet to take the photos. Photos can be purchased at the end of your day in a package. You can also see your photos during your time there at multiple viewing screens.
Money for souvenirs and snacks. The gift shop is pretty good at Xenses. There is not the typical tacky items. We were impressed by the selection. Something just might strike your fancy.
Bring a towel and a change of clothes. Like we mentioned, you will get wet here. No towels are available at the park. You can shower before you leave and change back into your dry clothes.
Tip: Leave most of your things in the lockers and just have fun in the park. Sunglasses, wallets, cell phones, keys, etc. are all things you can leave in the secured lockers.
What restaurants or food options are at Xenses Park?
Since this is more of a half day park, there are no restaurants at Xenses. There is however a snack bar. This resembles a nice grocery store with a selection of dried fruit, chips, snack food and drinks.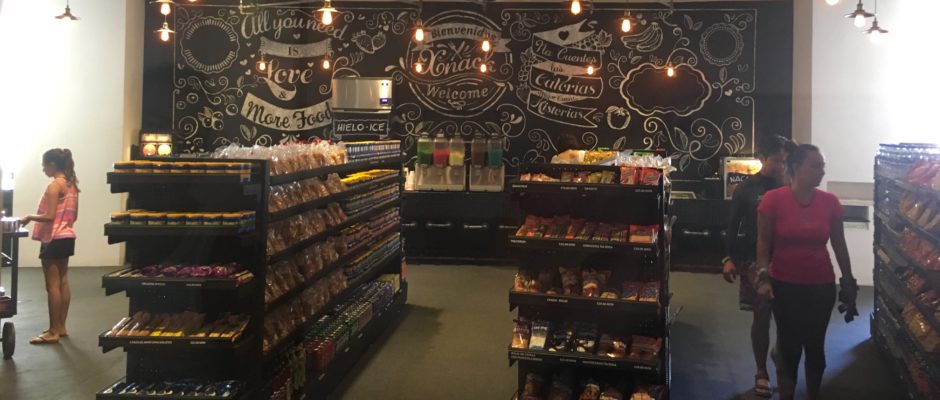 Where is Xenses Park?
Xenses Park is located just south of Playa Del Carmen off the 307 Highway. This park is 45 miles from Cancun and 3.7 miles from Playa Del Carmen. Xenses is right next to Xplor Park and Xcaret Park.
How do you get to Xenses Park?
Driving to Xenses Park
From Cancun, Playa Del Carmen and points north, you will go south from Playa Del Carmen and exit on the right where it says Xcaret and Xenses. You will loop under the highway and follow signs to Xenses. It is about 4 minutes from the highway to the parking lot of Xenses. Parking is free at Xenses.
From the area south of Playa Del Carmen, you will head north on the 307 Highway. When you pass the police checkpoint right before Playa Del Carmen, you will see an exit to your right for Xenses.
How to buy transportation with your tickets
If you prefer not to drive or take public transportation and want to be picked up at your hotel, you can include transportation in your entrance. It is $27 USD per person. You should purchase this at the same time you purchase your ticket.
Public transportation directions to Xenses
If you do not have a car or buy the transportation to Xenses, you can take the colectivos that run along the highway. This option is more for people that are not a large group or family. These colectivos leave from Playa Del Carmen going south or from Tulum and go north. For more about taking the colectivos, see our article here.
How much is the entrance to Xenses Park?
Adult tickets are currently $59 USD. Children ages 5-11 years old get half price entrance. Children 0-4 years old are free. See below for discount information.
How much are children's tickets to Xenses?
Children 0 – 4 years old get free admission. Children 5 to 11 years old get 1/2 off the adult ticket price. An official ID must be presented at the park's ticket booths. In case this isn't possible, the child's rate will apply to those who measure between 3 and 4.5 ft. Note: Some activities have height and weight restrictions that can effect small children's participation.
Can I get discount tickets to Xenses?
You can get 15% off the ticket price buy buying it 21 days or more in advance. You can get 10% off the entrance price if you buy your tickets 7-20 days in advance. These are the best ways to get discount tickets to Xenses. Now you might wonder, I don't want to buy in advance because the weather might not be good that day. You do not have to worry! Xenses has weather policy where you can change the date of your ticket up to 24 hours before your ticket day. Plus your tickets are valid for one year if you decide to change the date.
Extra savings with your wristbands from Xenses Park
As with any of Xcaret's Parks, if you keep your wristband on from Xenses and go to Cancun, you can go up in the scenic tower for FREE! The tower is 80 meters tall (262 ft.) and looks out over the blue Caribbean waters and the Hotel Zone in Cancun. This is a $19.00 USD savings.
Where can I buy tickets to Xenses Park?
You can purchase the tickets below. This link takes you to the official website where you are guaranteed the best prices.

How is Xenses different from the other Xcaret Parks?
The main parks of Xcaret are Xplor, Xcaret, and Xel Ha. These are the biggest three that tourist go to. The main difference is the size and time to cover Xenses Park. Xenses is more of a full half day activity. They estimate it to be five hours that people will spend at Xenses. Xcaret is a very full day from morning to the end of the night with the grand show. Xel Ha is a full day of snorkeling and outside activities. Xplor is a 9-5ish park that is good for the active person and families with slightly older kids that can fit the size requirements for all the activities.
Xenses is great for younger children from about ages 7-15. There are requirements for some of the actives at Xenses. For example the minimum age is suggested 5 years old although all ages are allowed into the park. For the zip line there is a height restriction of 4.5 Ft. and 88 pound minimum.
Our recommendations for Xenses Park
As with most of Xcaret's parks, this one is done well. There are creative touches throughout the park. If you have children, especially ages 8-16, this is a great activity for your family here in the Riviera Maya. If you also have family members that are older, they still can watch others participate in some of the experiences.
In case there is rainy weather, this park is still not a bad option. A lot of the park is inside and you are going to get wet if you go on many of the activities.
If you are also looking for a half day activity for the family, then this is a great park to visit.
We hope you have a great time if you go to Xenses and we hope our guide has helped you.
Have you been to Xenses Park? What did you think? We would love to hear your comments below. It just might help other readers decide if this park is for them.