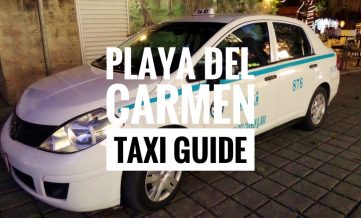 Grabbing a taxi in Playa Del Carmen is relatively easy to navigate and inexpensive. Compared to other places and even other parts of Mexico taxis are pretty cheap. Here is a simple guide so you know how much to pay for a taxi in Playa Del Carmen and some of the other details you should know.
See our latest video of our interview with the public relations of the taxis in Playa Del Carmen here. We asked about Uber and pubic sentiment of taxi service.
Taking Taxis in Playa Del Carmen
Playa Del Carmen taxis are clean and there seems to be a good amount available except when it rains (like everywhere in the world). Most taxis are smaller cars so that means 3-4 people maximum in a car. Many taxis in Playa Del Carmen are Nissan Tida models which have a good amount of room in the back seat and make for a more comfortable taxi ride.
To tip or not to tip a taxi driver?
Tipping is not usually done but if you care to round up 5 pesos to the next whole amount, that is fine. If a driver helps you with a bag or goes out of his way to give you an extra service, it is polite to tip about 10-20 pesos. It will depend if they charge you upfront.
How to hail a taxi in Playa Del Carmen
There are two places you can get a taxi. You can get them on the street or at a stand. Here are the details for both and the cost.
Hailing a taxi on the street in Playa Del Carmen
Taxis can be hailed on the street simply by raising your arm. Try to be considerate to everyone else and choose a location where the taxi can pull over and out of traffic. Prices are set by the rate chart as you will see below but often it is good to ask the price if you do not know.
Street taxis are the same as the taxis at the taxi stands. In some countries there are radio taxis and regular taxis on the street. Sometimes radio taxis are considered safer the getting a taxi on the street. In Playa Del Carmen both taxis at stands and on the street are the same. You just pay more for a taxi at a stand in Playa Del Carmen.
Taking a taxi from a taxi stand or hotel.
The taxi stands are places where there are more needing to catch a taxi. Taxis charge a little more (usually 5 pesos more, but your mileage may vary) when using the taxi stands. There is no official extra charge so taxis at stands can charge more.
Tip: The worst place to get a taxi from is the ADO bus station on Juarez Avenue. The taxi drivers are fine but they are notorious for over charging people because they just arrive to Playa Del Carmen off the bus.
Where are taxi stands?
Here are some popular places taxi stands can be found in Playa Del Carmen. These are most convenient for tourist in the downtown.
Next to the ADO bus station on 5th Avenue and Avenue Juarez.
5th Avenue and 10th Street next to the Starbucks.
10th Avenue and 12th Street where many people end after going out clubbing.
5th Avenue and Constituyentes Avenue.
5th Avenue and 38th Street.
How much are taxis in Playa Del Carmen?
Taxis are not metered in Playa Del Carmen but there is a chart of zones and how much it should be. Having a knowledge of prices or even a chart with you will save you from being over charged. There are two apps that help people figure out taxi prices within Playa Del Carmen. One app is called TARITAXI and this is good for Android phone users. The other app is good for iPhone users. It is called Radio Taxi PDC.
Note: some taxi drivers still try to over charge even if you show them the official price on the app. It is important to note that prices on the apps are for taxis hailed on the street and not taxi stands.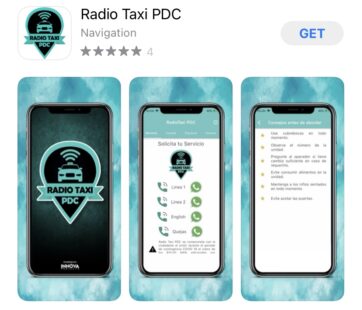 Some taxi drivers speak English, those that work from taxi stands tend to speak more English since more tourist catch them from taxi stands. If you are not sure the actual cost, you can ask before you get in. If it sounds fair, hop in. It is not the end of the world if you pay a little more then the actual rate but… don't get taken for a ride by a taxi driver trying to overcharge you after you have taken the ride.
Taxi prices outside of Playa Del Carmen
If you are staying outside of Playa Del Carmen and want to take a taxi here are the prices. Below is a photo we took of the official taxi prices from a taxi stand. Notice the prices of the taxi are by how many people you have. You should still ask the price to better yet, look at the chart and say "the price is xxx pesos correct to this hotel?".
Playa Del Carmen taxis will drive you out to hotels along the Riviera Maya but it is not cheap. The price can range from about 120-700 pesos for a one way. It is also up to the driver if he wants to go that far. It might be in the opposite direction for home and he might be ending his shift soon.
Tip: Paying pesos will get you the official prices. If you want to pay in dollars, ask first if the driver will take them. It is up to the driver at what exchange rate he accepts them at. Usually you will end up paying 30-50% if you pay in dollars.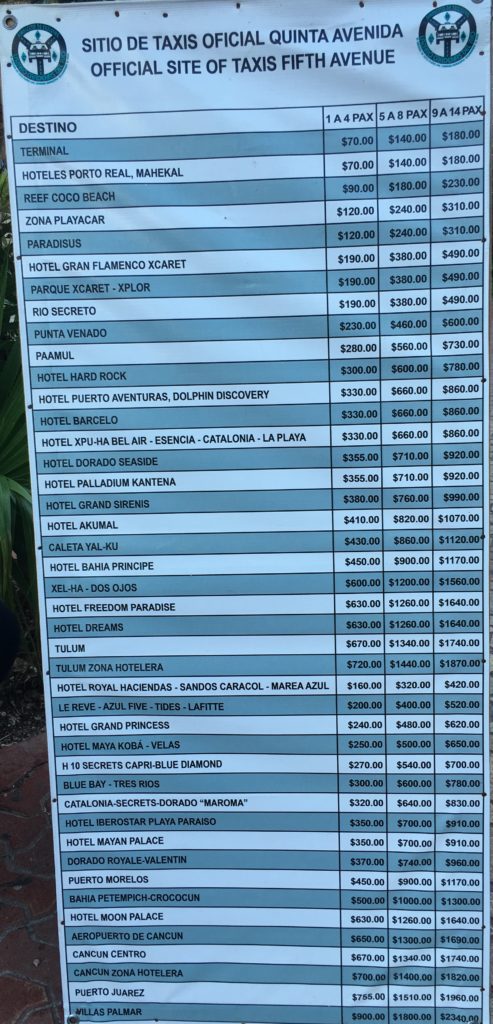 Tip: If your Spanish is not up to par, when you check in at your hotel, grab a card with the address so when you hop in a taxi you can show him the address you want to go to.
Alternative transportation for a group other than a taxi service
Sometimes you have a group and you just want to go to someone around Playa Del Carmen. This is a great service for point to point transportation in the area or even going to Cancun.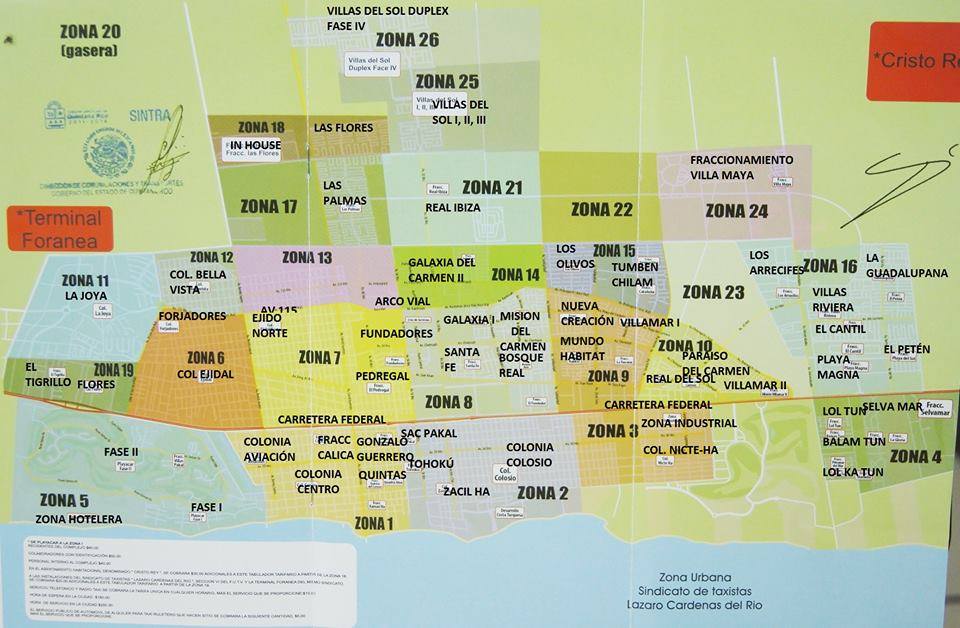 Can you take a taxi to the Cancun Airport?
It is possible and may be convenient but there are other options that might fit your circumstances. It should be noted that there is a high rate from the airport to Playa Del Carmen for taxis. There is not official price because there are not tickets, meters or booth for tickets like some airport. See our article on Cancun Airport taxis here for more. Going to the Cancun Airport is more negotiable but up to the individual driver. Here are three options for you.
Taking a taxi to the airport. From 5th Avenue at a taxi stand this about 850 pesos. Not all taxis will want to make the trip. This can be the case if they are near the end of their shift.
The ADO bus.
Or a private transfer.
For more on taking the ADO bus or a private transfer to the airport, see our article here with full prices and information.
Can I take a taxi to Cancun from Playa Del Carmen?
We get this question a lot since people in Cancun want to come to Playa Del Carmen or vice versa. The answer is yes but it is going to cost you. You have to realize it is 45 minutes to one hour between your hotel and where you are going. Anywhere in the world a taxi ride is going to cost you. There is an official price of 670 pesos from Playa Del Carmen to Cancun or 700 to the Cancun Hotel Zone. These areas are large and up to the interpretation of the driver. You should always ask before getting in.
If that price is too much you can consider these options for getting between Cancun and Playa Del Carmen.
Take the colectivos. These are shared vans that run between 2nd Street in Playa Del Carmen and just next to the ADO bus station in Cancun. It cost about 34 pesos per person each way. This ride will take you about 45 minutes. You will just need to take a taxi to and from your destinations. You can read more about colectivos here.
Another option is to take the ADO bus from Cancun ADO bus station to Playa Del Carmen's ADO bus station on Juarez and 5th Avenue. To read more about the buses see our article here.
Photos of Taxi Stands in Playa Del Carmen
Here are two popular places where tourist can get a taxi near 5th Avenue. Just remember that taxi stands change more. There is no official set charge for the taxi stand on top of the regular fare so just check before getting in.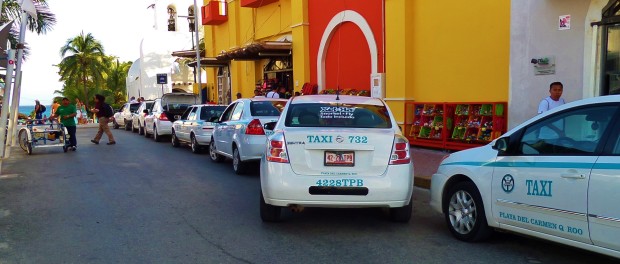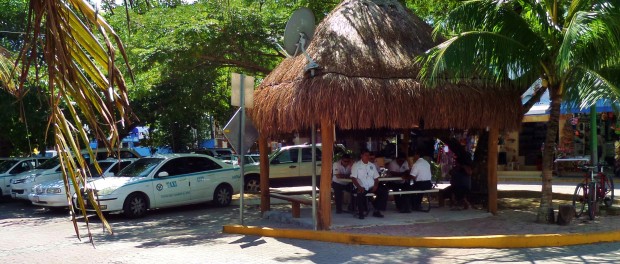 What about UBER in Playa Del Carmen?
Uber has just started operation in Cancun, Mexico just 45 minutes away. We will keep you up to date if this service starts in Playa Del Carmen. For more about Uber in Cancun see our article here.
Have a question or comment about taking taxis in Playa Del Carmen? Let us know in the comments below.