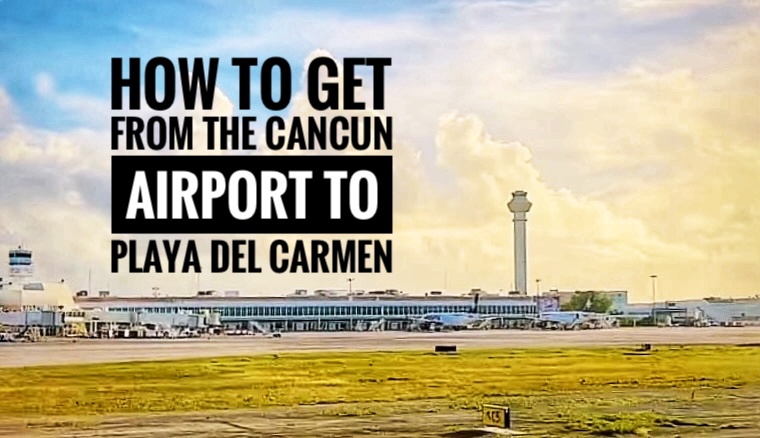 Cancun Airport to Playa Del Carmen
How do you get from the Cancun Airport and Playa Del Carmen? This is a very frequent question among tourist and the answer is easy. The Cancun Airport is actually between Cancun and Playa Del Carmen but is still about 55 minutes from the center of Playa Del Carmen. It is well connected by a modern 4 lane highway that is fast to drive. You can take a bus, rent a car or private transfer to where you need to go. Here is our guide with all the options on how best to get from the Cancun Airport to Playa Del Carmen based on your budget and what you need.
Options for getting from the Cancun Airport to Playa Del Carmen
1. Private Transfer Van from the Cancun Airport
This is the best option for most people and the one we recommend. If you want to get to your hotel in the fastest way and not have to worry about driving, renting or haggling with a taxi driver, this is the best option. The prices can be comparable with the bus if you are traveling with your family. Plus, the private transfers are faster than the ADO bus. One of the most recommended transfer companies from the Cancun Airport is listed below.
Tip: Booking round trip saves you between $10 and $35 USD off the transportation.
You can book this service for one person and up.
You ride is fully insured, and you will have a bilingual driver.
These transfers are just for your group and not shared. They can take you to any rental or hotel in all of the Riviera Maya and Cancun area.
Click below to see prices and book your destination.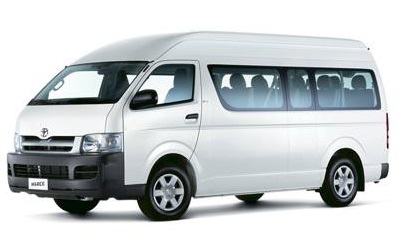 2. Take a shared shuttle to your hotel
If you want a more budget friendly option for an airport shuttle, here is another option for you. These shared shuttles for between Cancun Airport and Playa Del Carmen or wherever you are staying. We recommend this option if you are staying outside of Playa Del Carmen and want to a cheaper option to get to your hotel. This option can be better than the ADO bus since you will not be going to just the bus station.
These are small vans with air-conditioning. This company has 10 years of experience and professional drivers. You do need to reserve in advance, so you have a seat. You can reserve by following the reserve now button. This will take you to the official shuttle website for booking.


3. Rent a car
If you are staying at a non-all-inclusive hotel and are going to travel around a bit, this option might work best for you. There are many rental car companies at the airport. The cheaper ones are just outside the airport and will pick you up when your flight arrives and take you to the office. We like this car rental company because they offer good rates on long term rentals and include all mandatory insurance you need in Mexico. If you are renting for a week or longer, they will do free airport pick up service. We recommend taking a look here if you are going to be renting a car for your stay in the Riviera Maya. If you only want to rent a car for a day or short time period, this website is good for comparing prices and reserving a rental car.
4. The only bus service from the Cancun Airport
This works best if you are traveling single and or have a hotel in Playa Del Carmen that you can walk to from the bus station. ADO (pronounced in Spanish AHH-DAY-OH) bus company services the airport on a regular basis and takes people to Cancun or Playa Del Carmen. Here are some photos and detailed information so you can find the service easily. (Just to note: taxis into Cancun or the Hotel Zone and other destinations are very expensive from the airport. So don't plan on just hopping in a taxi unless you want to pay a lot)
For schedules, here is the ADO bus company's website. It should be noted that they try to stick to the schedule, but don't be shocked if they are not on time. This timing is more affected by the departing busses from the airport. Traffic and other considerations affect the timing. You will not have to wait long though for the next bus if you have just missed one. Going to the airport, they are pretty tight to the schedule.
5. Most all inclusive will have transport included
If this is an add on feature, calculate the cost between booking your own private transfer (see below). Sometimes the transportation for the resorts is a big bus and you have to wait for all the people to come out of the airport. Plus, it still cost you, so having a private driver waiting for you at the airport is a great way to start your vacation. It will make your trip much easier unless you are going to do some outings and feel comfortable renting a car for your stay which will allow you the freedom to come and go as you please and drive to day trips.
Our video on how to get to Playa Del Carmen from the Cancun Airport
Here is our video we have made for you with instructions, so you feel comfortable arriving and making the connection to your hotel.
How to take the ADO Bus from the Cancun Airport to Playa Del Carmen
Most international flights arrive at Terminal 3 or the Terminal 4. After you go through immigration and customs you will walk out to a hall. There will be rental car companies and tour booths. There is an ADO booth, and you can buy your ticket BUT…we prefer to go outside and get it. If there is a bus, you can jump on and you are buying the same ticket, just at the curb. Both Terminal 3 & 4 have stands for bus tickets inside and outside during the day.
For a list of the ADO bus schedule between the Cancun Airport and Playa Del Carmen, see our article here.
Exiting Terminal 3 directions for the bus to Playa Del Carmen
Go outside and you will see a lot of people with signs for people and people offering you taxi service. Just ignore them and walk toward the right.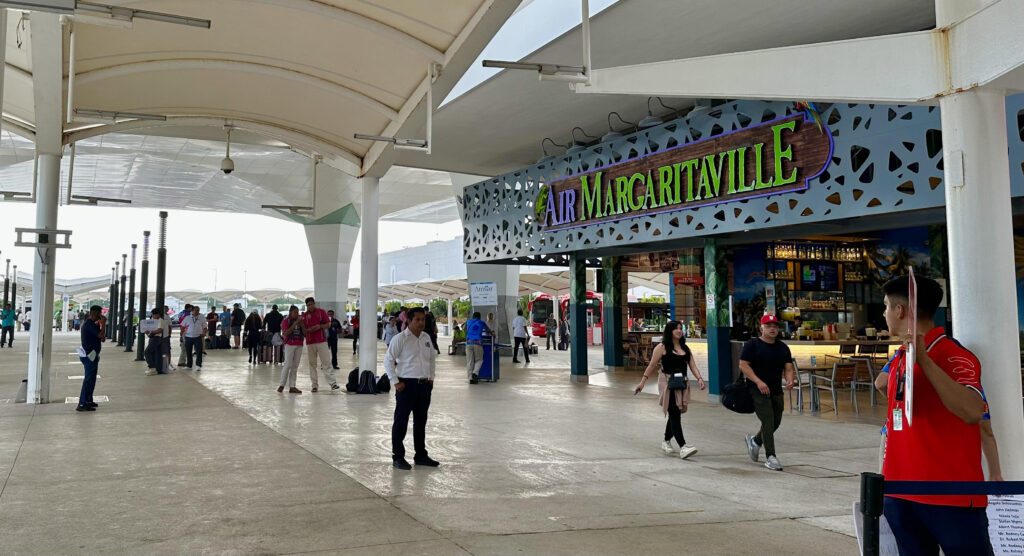 The people working here usually speak some English. It is platform 1 & 2. See photos. The current price is 225 Pesos for one way. You should only book one way since you might not know when you want to return. They do accept USD but do not have anything over a $20 bill to give them. Change will be in Pesos. They will give you a ticket and you should retain it for your entire journey in case they need to see it. The seating is open even if the ticket has a seat number.
Platform 1 is for Cancun buses and Platform 2 is for Playa Del Carmen. Usually, the bus will have it in the digital sign on the front of the bus. When it arrives, you will be asked to put suitcases under the bus. There are no luggage tags given and security is not really an issue, so don't worry.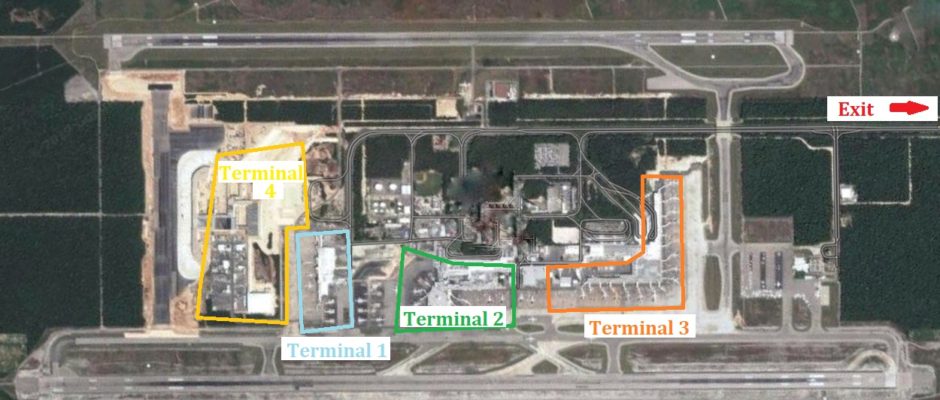 Directions to the bus when you arrive at Terminal 4 in the Cancun Airport
After you clear immigration and customs you will be exiting the terminal. There are two different exits. One exit it to friends and family and the other is to transportation pickups. For the bus, exit to your left for the transportation. After exiting the building, walk down the sidewalk until you reach the platforms for the buses. You will see a red ADO bus stand and they can tell you what the correct bus to Playa Del Carmen is.
Directions to the bus if you arrive at Terminal 1 or 2 of the Cancun Airport
If your plane happens to arrive at Terminal 2, (see map below) which can happen when the airport is full, here are directions. Exit the terminal and walk to your right. You will have to walk the length of the building and then come to a security gate where the busses are parked. Just ask to go to the ADO and then board there. Same procedure as above. If you arrive via a domestic airline in Terminal 2 you will exit in the middle of the building and just walk to the right, just with a little less walking as arriving internationally.
Terminal 1 is rarely used but if by chance you have taken a domestic flight into the airport and arrive at this terminal, there is an ADO stop just out front of the building.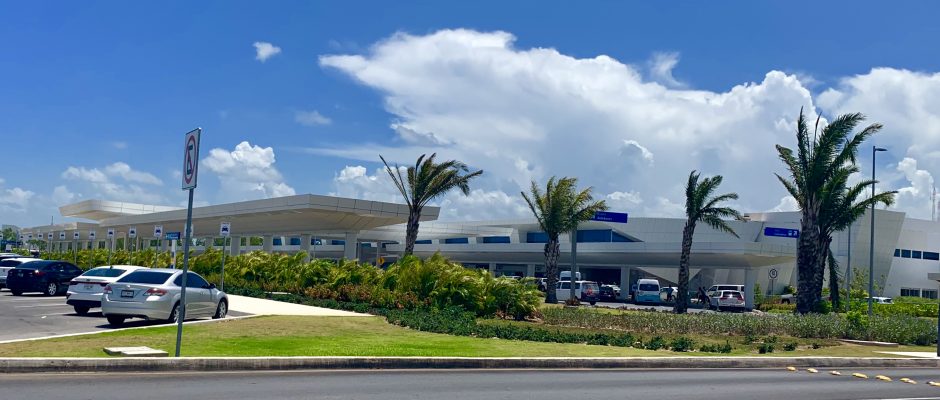 The bus from Cancun Airport to Playa Del Carmen
The trip takes about 1 hour and 15 minutes in a comfortable air-conditioned bus. It will take you to the ADO bus station on 5th Avenue and Juarez Avenue. This is the ONLY stop in Playa Del Carmen it makes. It does not go to the other bus station in the center of Playa Del Carmen when it arrives. It does however pick up from the two bus stations when going to the Cancun Airport.
Going back to the airport for departure? You can buy a ticket in both ADO stations in Playa Del Carmen. The busses leave from 5th Ave and Juarez station first and then stop by the 20th Street bus station. Busses stop at all terminals at the airport. If you are going to Terminal 4, this adds about 10 minutes to the trip.
If you get off at the wrong terminal there is a free airport shuttle between the terminals that passes every 20 minutes. The terminals look close together, but it takes about 8 minutes between each terminal. It is almost impossible to walk between the terminals. Directions are not clearly marked well, and you have to walk through the outside in the parking lots. It is much better to pay for a short ride in a taxi.
Make sure you allow at least one hour before your flight because Cancun Airport is very strict about check in. If you do not you may have to find and book another flight.
Tip: Check in online for your flight if you can. That way, if you run late you can run through security and hop on your flight. Security usually never takes more than 10 minutes to get through.
We hope you have enjoyed reading this article. If you would like to read more about private transfers to and from the Cancun Airport to Playa Del Carmen you can see our article here.
Frequently asked questions about getting from the Cancun Airport to Playa Del Carmen
Can you take UBER from the Cancun Airport to Playa Del Carmen?
The short answer is no. UBER service has been in the area but due to lack of drivers and pushback from taxi companies, the service has not taken off. Do not count on being able to get a ride from the airport. It is best to book a private transfer.
How far is Playa Del Carmen from the Cancun Airport?
Playa Del Carmen is about 50 minutes away from the Cancun Airport. It does depend on what part of Playa you are staying in. If you are staying at an all inclusive hotel, some of these are north or south of Playa. This means that the ADO bus will not service those and you will need to book direct transportation. If you do book a private transfer, they will advise you of the pick-up time according to how traffic is and construction.
Can you take the colectivos and get off at the highway for the airport?
Colectivos are the vans that go between Cancun and Playa Del Carmen on the highway. These vans are mainly for workers going to various hotels. The colectivos do not have much space for luggage and even if you stopped by the airport on the highway, it is too far to walk. Even if you wanted to leave the airport and get a colectivo in the highway, most are full going toward Playa Del Carmen. It is much better to take the ADO bus from the airport to Playa Del Carmen.
See our article here on how to get from the Cancun Airport to Tulum.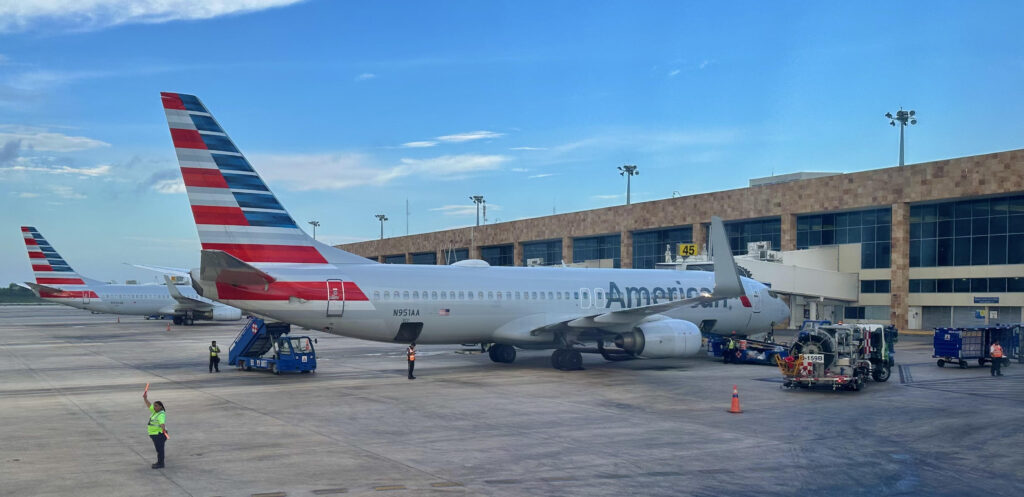 Have you transferred from the Cancun airport to Playa Del Carmen? Do you have some travel tips for our readers? Let us know below, we would love to hear from you!