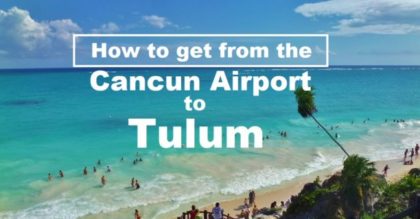 How to get from the Cancun Airport to Tulum
This is our guide to how to get from the Cancun Airport to Tulum. The Cancun Airport is the only airport that serves the Tulum area and is about 1 1/2 hours away. It is a pretty straight drive down the 307 Highway to Tulum. Here are several of the best options for making the connection between Tulum and the Cancun Airport.
You have three main ways to get from the Cancun Airport to Tulum. Here they are.
Taking the ADO public bus.
Renting a car.
There are also two other options for you that we will talk about in our video below.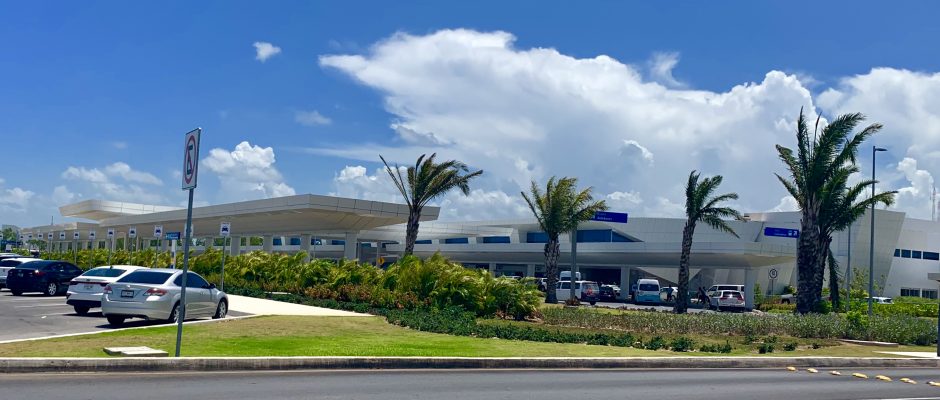 How to take the ADO bus from the Cancun Airport to Tulum
Update for travel season 2020: ADO buses have a limited schedule servicing the Cancun Airport due to lower amounts of people traveling. There are currently just 5 direct buses a day between the Cancun Airport and Tulum. Be sure to check the ADO website for current times. If your flight does not line up with a bus departure, we recommend this private transportation company for getting to Tulum or wherever you need to go.
ADO is the main bus company in the Riviera Maya. They connect all the towns and use a large air conditioned bus like the one below in the photo. ADO is the only pubic bus company that services the airport. So this is the only public transportation option.
There are only a few direct busses a day from the Cancun Airport to Tulum. The ride takes 2 hours and 5 minutes. The cost of the ADO bus from the Cancun Airport to Tulum is currently 262 pesos. For a very detailed instruction on how to get the bus from the airport complete with photos, see our article here.
What times does the ADO bus go from Cancun Airport to Tulum?
Busses leave from Cancun Airports four terminals. The times are 10:55 am, 12:25 pm, 2:25 pm, 4:55 pm, 8:00pm, and 9:45pm. The exact time at each terminal will vary by a few minutes. If these times do not line up with your arrival and you want to take the bus, the only other alternative is taking the bus to Playa Del Carmen and switch to a Tulum bound bus. Buses between Playa Del Carmen ad Tulum leave about ever 30 minutes. If you don't want as much transportation time, we recommend the private transfers below.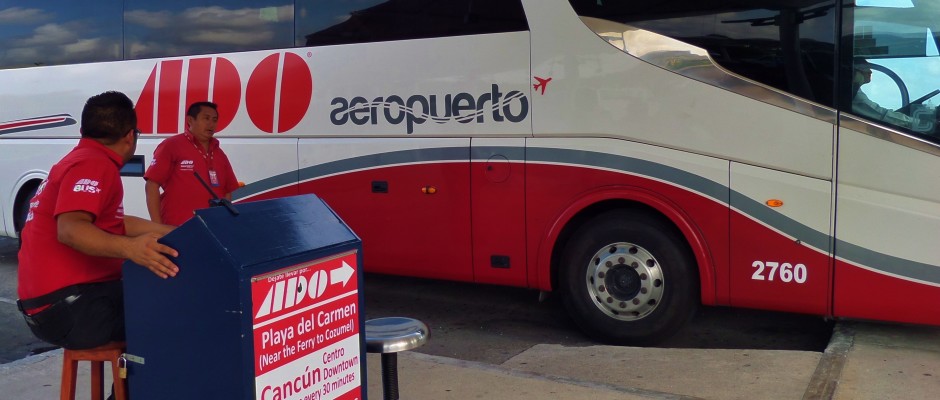 Connecting busses in Playa Del Carmen to Tulum from the airport
Once you arrive in Playa Del Carmen you will be at the ADO bus station on 5th Avenue and Juarez Avenue. This is the ONLY bus station, the airport bus goes to in Playa Del Carmen (there are two bus stations in Playa Del Carmen). At this station you will need to get on another ADO bus to Tulum. You might be able to purchase a ticket at the airport for this separate trip (Playa Del Carmen-Tulum) if not you can purchase it at the station. Busses are frequent to Tulum and the ride takes about 50 minutes.
Since this bus station is right on 5th Avenue you might want to eat something and then take a bus to Tulum in an hour. ThebBuses are very frequent between Playa Del Carmen and Tulum (there are about 30 buses going each way daily). There are basic restaurant near here. If you want something that is going to be good you have to walk at least three blocks.
Note: You can buy tickets to Tulum center or Tulum Ruins. Both stops are close to town and you can take a taxi to your hotel from either stop. It is slightly preferable to take the bus to the center and get a taxi there because it is less about the ruins and tourist and more about transportation for people around town.
Arriving in Tulum by bus from the Cancun Airport
Once you arrive in Tulum you most likely will want a taxi to get to your hotel. Tulum is spread out and the beach area is very separate from the downtown. Taxis do not have meters in Tulum so be sure to ask the price before getting in or ask your hotel how much a taxi should be so you know. See our complete Tulum transportation guide here.
If this option of getting to Tulum sounds like too much you might want to consider a private transfer which will take you directly to your hotel.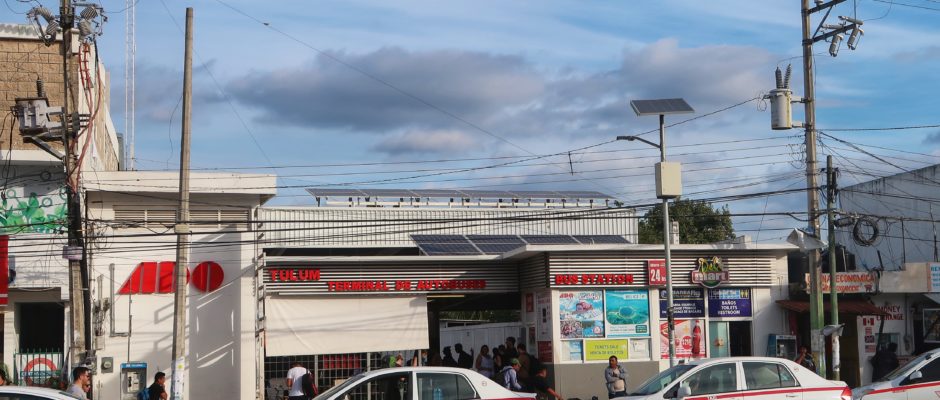 Private transfers to Tulum from the Cancun Airport
Since Tulum is a little further away from the airport, then other destination's tourist go to in the Rivera Maya, you might be more likely to want a direct connection to get to your hotel or rental house. Booking an airport transfer is the best way to get to your hotel in Tulum in our opinion.
We have asked around about what transfer services everyone liked and what was recommended. We teamed up with them so you can get the best prices and service. You can check the price to where you are staying below on the reserve now button. Remember the price is for the whole vehicle and not per person. Tip: Booking round trip can save $25 USD.

Why a private transfer is a good option from the Cancun Airport
Here are some reasons why we recommend this option for getting to Tulum.
It is the fastest way to get to your hotel or rental.
It can cost less than the public bus especially for larger groups.
Less stress and hassle. Your private driver is waiting at the airport for you.
You can book a stop for groceries or lunch stop for an extra fee. This is a nice option if you had a long flight and want to have something to eat, and maybe drinks!
No waiting in line to get a car and no need to think about driving in Mexico. It also gives you the option to just rent a car for the days you need it.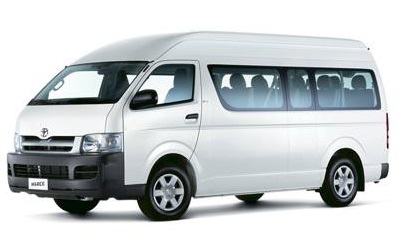 Luxury transfer options from the Cancun Airport to Tulum
If you are coming on holiday for a special occasion or just want to VIP treatment there are two options for you. You can have a limo pick you up or a luxury SUV van transfer.
The luxury transfer option is in a Suburban vehicle or similar. This option is for up to 6 people. The cost from the Cancun Airport to Tulum is $185 USD one way and $315 USD round-trip. You can book this option by the book now button below.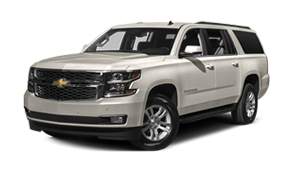 You can also select from one of two styles of limos. One is up to 11 passengers and the other is up to 14 passengers. The limo transfers from the airport to Tulum start at $310 USD one way and $605 USD roundtrip.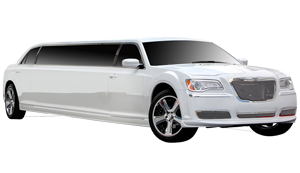 For both luxury transfers and limos, you can use the book now button below to reserve these.

Driving yourself in a rental car to Tulum from the Cancun Airport
If you are going to be doing some day trips and sightseeing from Tulum you might want to have your own car. There are many car rental companies at the Cancun Airport where you can get a car and return it after your vacation. One alternative is renting a car in Tulum for just the time you need it and using a transfer service to drive you from the airport to your hotel. It just depends on if you think you will need the car each day of your vacation and ease the cost of this option.
If you rent from the airport it is very easy to see signs leading you to the highway. The 307 "Highway" is the only road that runs through the state, so it is not a true highway, however it is easy to drive. When you get to the highway you only need to go right to Tulum and then it is a straight shot. You will drive through Puerto Morelos, Playa Del Carmen, and Puerto Aventuras. All of these towns have highway bridges that go over local traffic so it speeds your way to Tulum.
If you will be renting a car at the Cancun Airport be sure to read our guide on gas station scams. This will help you avoid some of the common things that some attendants try to pull.
Police checkpoints on the way to Tulum
There are three police check points on this highway. Usually traffic funnels into one lane and police check to make sure nothing is out of the ordinary. Occasionally police ask people to pull over and they might want to see your rental papers and drivers license. This is all standard procedure and they are just doing their job to make sure people are not driving drunk, carrying illegal items or driving without a license.
Once you arrive in Tulum, it is easy to see the turn for the beach hotels or if your hotel is in the town, it is not too big and with a little map you should be able to find it easily.
For more on driving in the Riviera Maya, see our article here on things to be aware of.

Further reading about Tulum
We hope you have a great vacation in the Riviera Maya and Tulum area if that is where you are staying. Be sure to use the search box on this site to get more information on tours, cenotes and much more to do on vacation in our area. One article that you should read if you are going to Tulum, Mexico is our article on the best things to do in Tulum. We also have an article about what to do for Spring Break in Tulum.
Thank you for reading our guide on how to get to Tulum from the Cancun Airport. Do you have any questions or comments? Let us know in the comments below. We would love to hear from you.