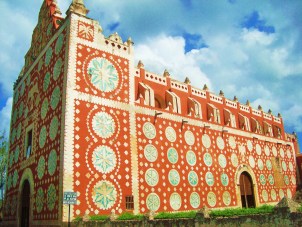 Attractions near Valladolid Yucatan
In our Part 1 article on Valladolid we focused on the center of the town and what it has to offer to tourist. In this article we are going to talk about the many things surrounding Valladolid that will no doubt impress tourist with the variety of cenotes, churches, Haciendas, tequila and Mayan heritage. (See map below with all the destinations).
It should be noted that most activities or sites can be reached by public transport but in this part of the Yucatan Peninsula there are certainly not as many tourist and rides are often shared with locals in colectivo taxis or vans. It will be slower getting around and you will need to plan accordingly with your time. Sometimes it is common to wait 15 minutes for a van or colectivo taxi to fill. If you have your own rental car you will no doubt have the flexibility to go at your own pace and stop at some pretty amazing sights. (See our article on driving in the Yucatan)
See also our video here on Valladolid:

8 Great Tourist Attractions Around Valladolid Yucatan
So in no particular order, here are some of the main sights around Valladolid.
The Municipal Market in Valladolid
The first attraction is in fact in Valladolid but not in the immediate center of town. If you like food markets and local culture you will love this market. Located on Calle 32 with 37 this block large market will be sure to transport you back in time when everyone shopped fresh. What is amazing is the colorful food and locals selling it. You can see Mayan woman taking pride in washing each vegetable and piece of fruit and stacking it neatly. One side is mainly fruits and vegetables with some flowers and fresh honey. The other side is fresh meat. If you are a but squeamish to see hanging meat or blood you can skip this side, but it is very interesting to see. You will also see a small amount of hand crafts like handmade sandal and carved gourds here at the market. Prices will be some of the best because it is not a major tourist spot. Go early to see it in full swing. It is best to visit between 8am-11am.
Tip: There is a great fresh juice store on the 37th street side. Try chaya usually mixed with orange juice. Chaya is a green plant that is grown nearby most Mayan homes. It is very nutritious for you. Also keep an eye out for yucca balls with honey in plastic bags, they make a good snack. Small marzipan candies in the shape of small animals (like chickens) also are a nice treat.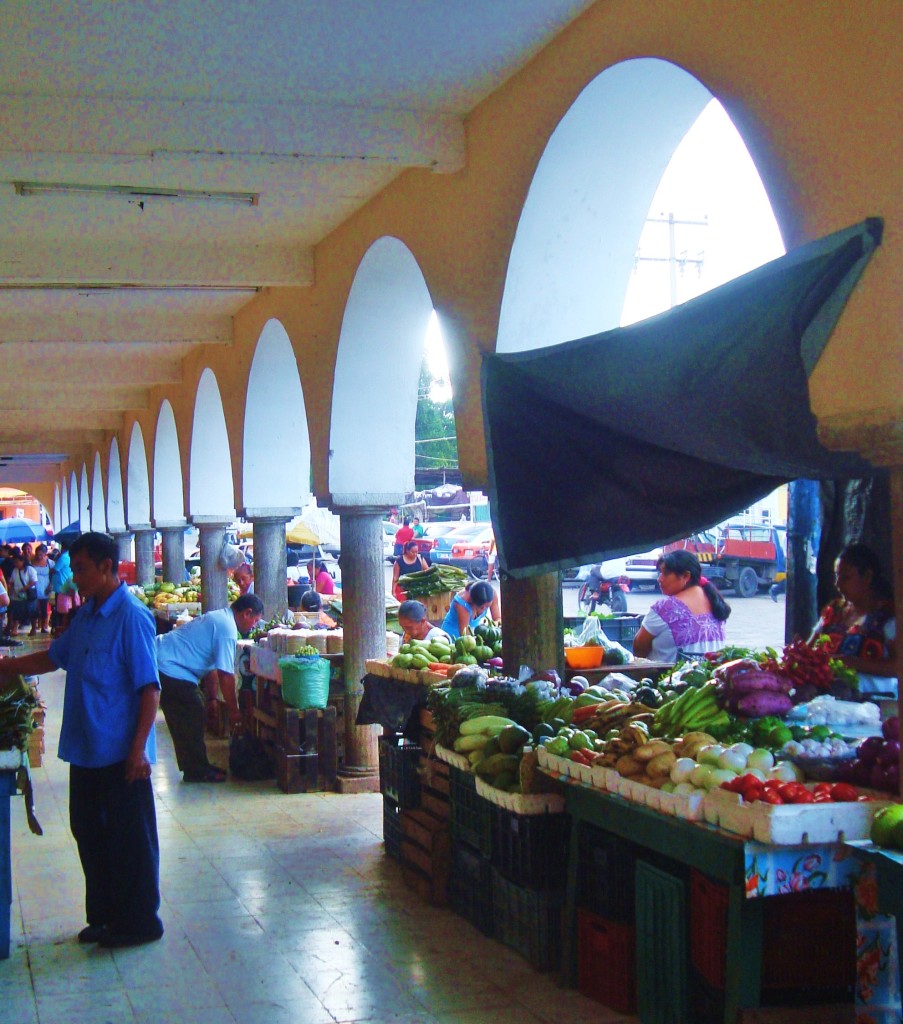 Tequila tasting and production
Our second attraction is a tequila producing farm with tour. Tours cost about 40 pesos and take about 15 minutes. It is located just north of Valladolid near the ring road. Now I know what you are thinking, tequila in the Yucatan? The blue agave it comes from grows very well here but you can actually only call tequila, "tequila", if it comes from the Tequila region of Mexico. (Just like Champagne can only be called Champagne from the Champagne region of France). So to get around this it is called Mayapan (named after a small town just like how Tequila is named after the small town of Tequila) instead of Tequila, but we all know what it is. They provide a small tour and you can do a taste test of several of their tequilas beverages they make. Small tips are appreciated for the tour and tasting. You can buy bottles here and they have an assortment of local crafts as well. Here is a link to their website. We like their business practices as well. They use wind energy and more eco friendly methods of running the farm.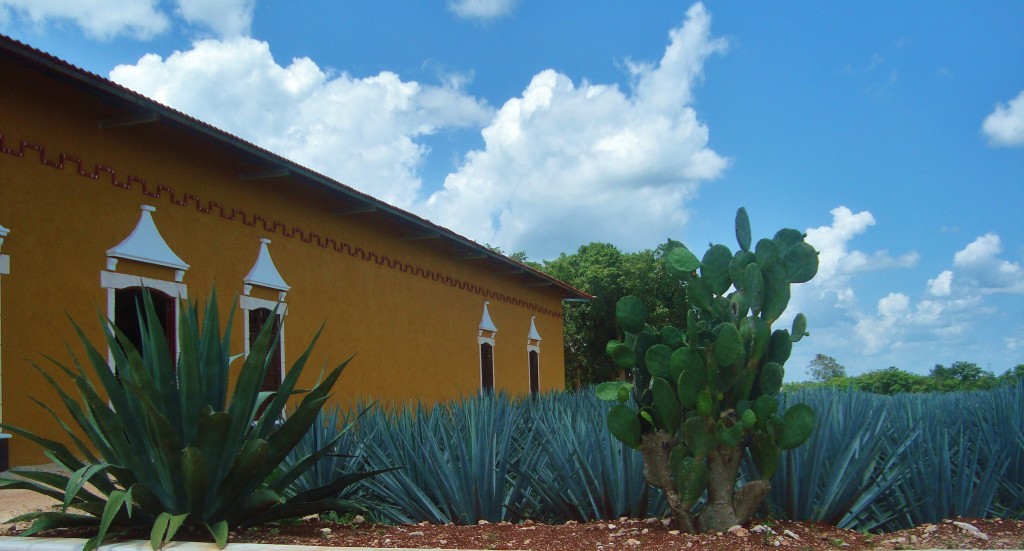 Cenote Maya
Cenote Maya is the largest cenote in the Yucatan. This cenote has a nicely landscaped park around it. There are activities you can do here like a zip line in the cenote and diving into the crystal clear waters. You can book a day here that includes a Mayan meal. Click the link below for details.
Take a bike tour with Bikers Zaci
On our list is biking with this local tour company. . It is a great way to see the countryside and some small Mayan villages. If you like exploring the Yucatan and parts near Valladolid, you might want to read our article and see our video on Bikers Zaci. This is a very well recommended bike tour that will take you around the back country of the Mayan countryside. See our article here on Bikers Zaci for more.
Cenote at Hacienda San Lorenzo Oxman
Next our list is Hacienda San Lorenzo Oxman. This Hacienda is just southwest of town and can be reached via bike if you want to include it on your bike tour. The hacienda building is not much in itself. You might have an idea that haciendas were lovely old homes but mostly the term refers to the farm itself that has many working facets and the main buildings can be quite small. What makes this spot nice is the cenote and pool to relax in. It is quiet and you might find yourself the only ones there. The cenote is very deep and has a rather large stairwell going deep down to the water level. For dare devils there is a super high dive into the cenote that should only be attempted if you know what you are doing. The pool is very refreshing especially after a bike ride. They have some drinks for sale but not real food. If you bike here the maps from the rental place will have directions. It is a little hard to find this place but is on Calle 54 out past the Convent in Valladolid.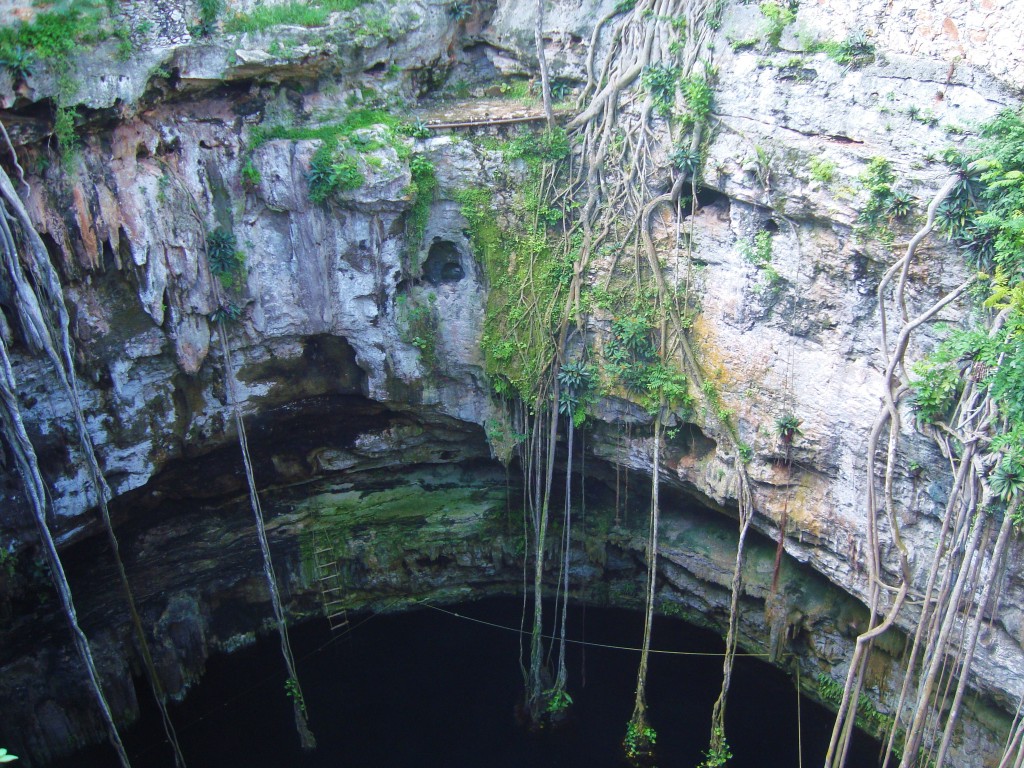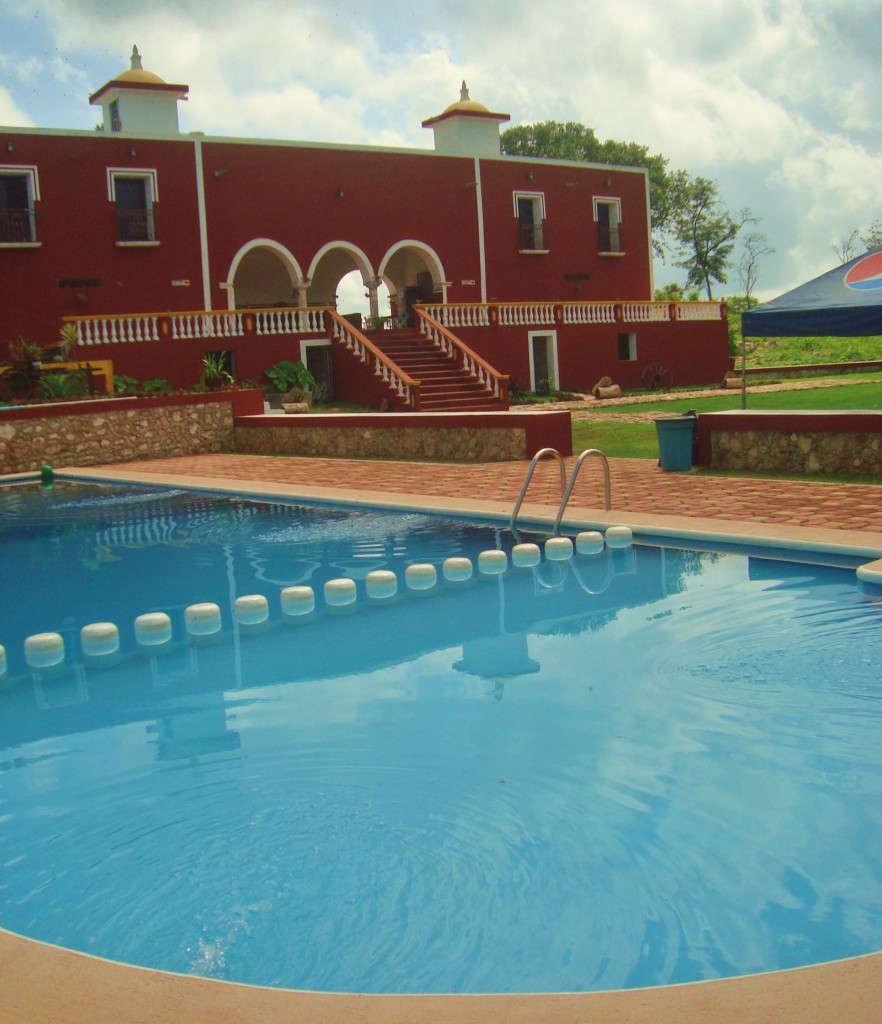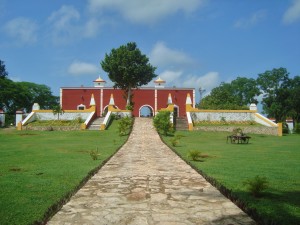 Cenote Suytun
Suytun Cenote (or center stone in Mayan). This cenote is on the 180 free road that goes east out of Valladolid toward Cancun. It is well advertised on signs and easy to find. It is about 6 minutes out of town. Supposedly there is a daily show around 10am which is included in your admission price. This is also when the tour busses arrive going to Chichen Itza. The price of entrance is nominal and well worth the view. It is not the best cenote to jump in for a swim, it is more of a cenote to just see.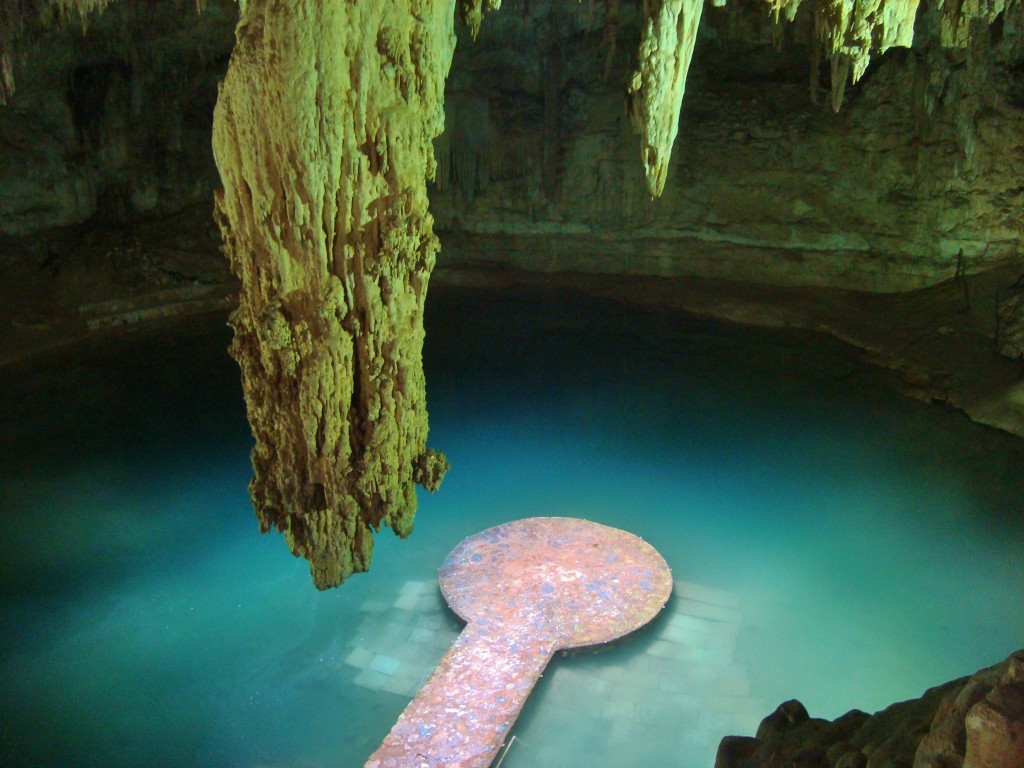 The Church in Uayma
This is the church in Uayma (pronounced why-ma) This is one of the most unique churches in the entire Yucatan Peninsula. Inside and out this church is heavily decorated with designs. Built by the Franciscan order in 1642, the Santo Domingo Church (it's official name) has endured the rigors of history. It was nearly destroyed by the Mayans during the Caste War (1847-1901). Up until 2003 the church laid in a state of disrepair and the roof had collapsed. It is now repaired and open for a look. No one is usually around and you can just walk around and in the church. To get to Uayma from Valladolid take Road 79 east out of town. You will see signs for Uayma. It is about an 18 minute drive.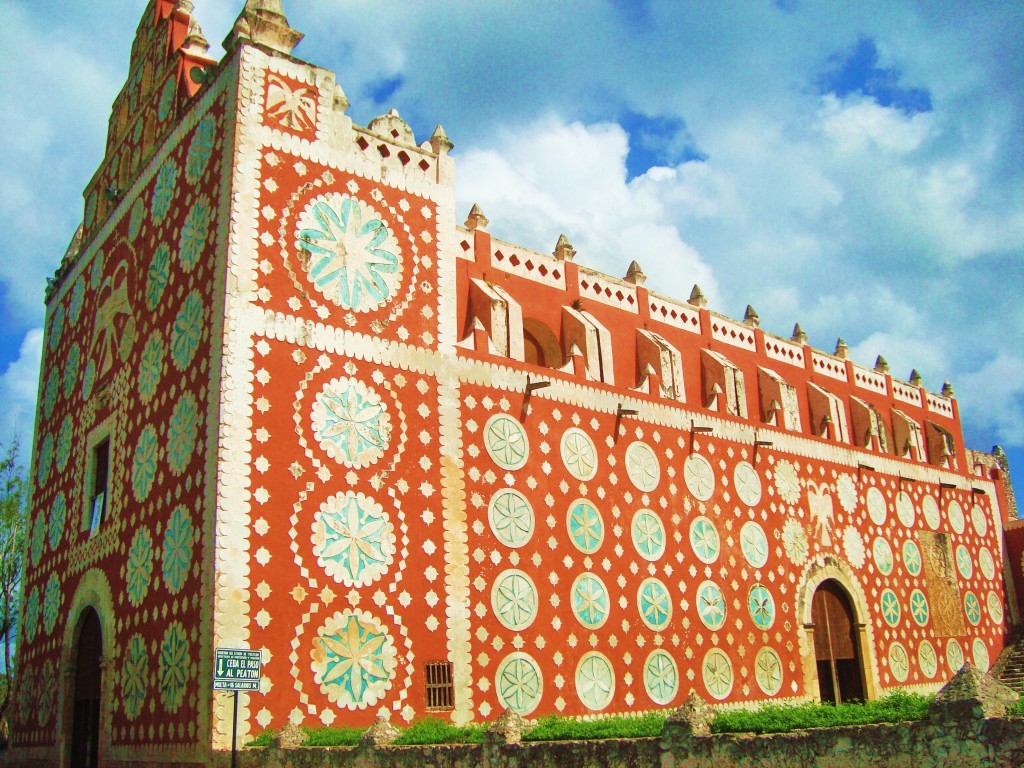 Cenote Samula and Cenote Xkeken
Cenotes of Samula and Cenote Xkeken. Dzitnup is the Mayan community of the area and the cenotes are a collective collaboration to bring income to the community. These cenotes are very well organized. There is a nice parking lot and ticket booth for both cenotes. Entrance is about 80 for each one plus 25 pesos rental of the lifejackets. They are directly across the road from each other. On both sides there are local vendors selling crafts. If you want a fresh coconut with the water, this is a great place to get one. Cenote Samula is the larger of the two and has a massive ceiling height with a shaft of light coming down into the cenote. Cenote Xkeken is smaller with stalagmites and has a more cave like feel. These cenotes are great for cooling off. You can swim in each one. There are also ATV rides and horseback riding here.
Tip: Make sure you bring a towel to dry off or be prepared to drip dry. A plastic bag is good to have for your clothes. When you jump in and want to leave stuff, the rocks are humid and wet. Make sure you rinse off or do not wear chemical sunscreen while swimming in the cenote. Use biodegradable sunscreen because the other creams pollute the waters and these ultra crystal clear pools will get ruined for everyone.
To get to them take a colectivo or taxi from Valladolid. They are only about 5k out of town. If you rent bikes it is a nice ride and there are places to lock up your bikes when you arrive. The bike rental place will give you maps.
Sometimes you will have the place to yourself and other times a group will arrive in a mini van. These cenotes are becoming more popular with tours.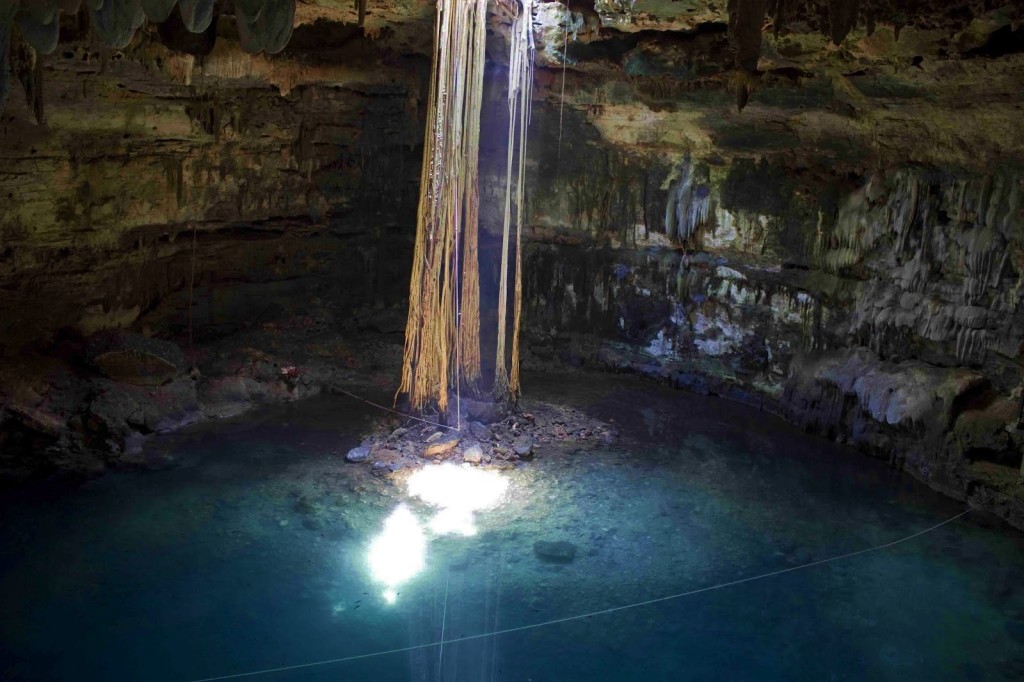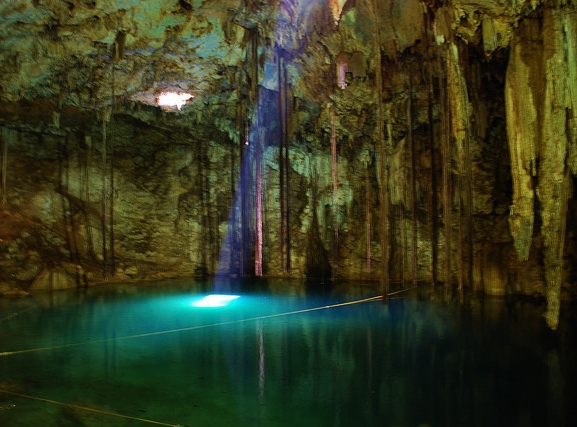 So this is our large list of the attractions around Valladolid. Now you know why Valladolid is a town that has everything we like! There is so much more to discover as well so take the time get off the beaten path and see the marvels of the Yucatan Peninsula.