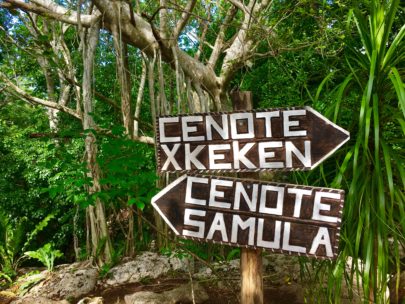 Cenote Xkeken and Cenote Samula
Cenote Xkeken and Cenote Samula are two of the most well known cenotes around Valladolid. These are well know because of Cenote Samula's iconic  ray of light that comes into the cenote and highlight the blue water and tree roots growing down to the water.
These cenotes are run by the local community and in recent years they have tried to add infrastructure to this area. A large palapa will great you as you park and enter the area to buy tickets. On each side of the road there are circular building that had been set up for stalls for souvenir sales. If you ask us, it was a little too much over building and now much of it is empty. It never was full either. Needless to say it is still nice to visit here and swim in the cenote.
Our video introduction to visiting these cenotes
What is Cenote Xkeken like?
Cenote Xkeken is the small of the two of these cenotes. It is in a cavern and does have an opening where natural light comes in. A winding stone staircase will take you down into this cavern. The steps can be slippery.
Once you are down in the cenote there is a lifeguard on duty. There are a few places to enter the water. Caution should be used since it is rocky and uneven. There are no places to jump into this cenote.
There are a few places to place your things while swimming. Lockers are also available next to the stairs coming down to Cenote Xkeken.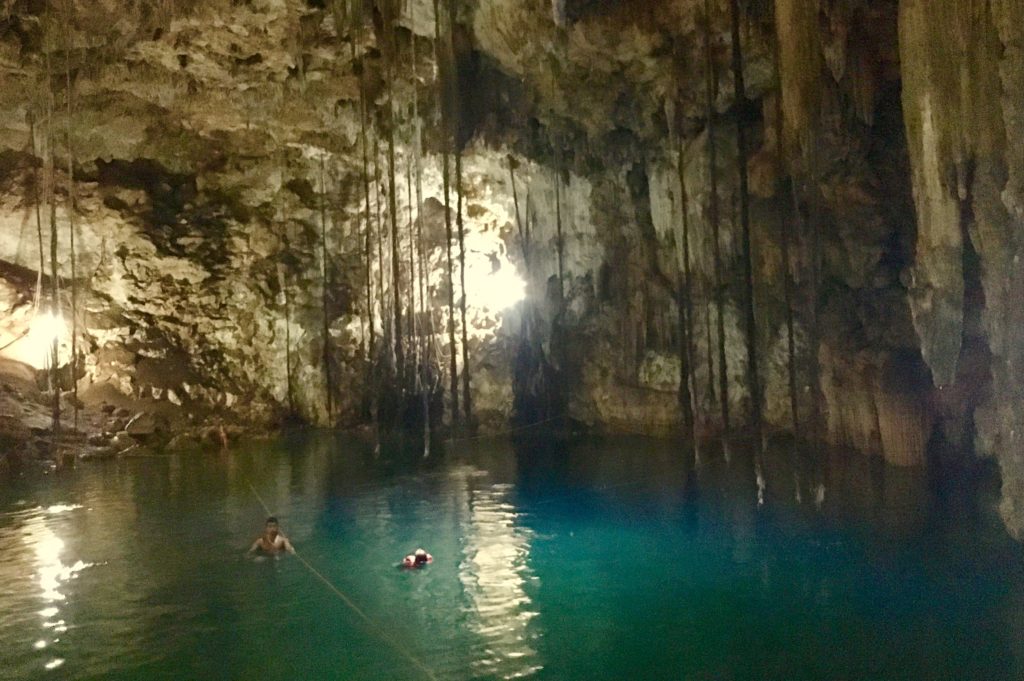 At the entrance to Cenote Xkeken is another dry cenote that has a small cave. You can walk into this area and take photos. The structure served no purpose and has just been there for years. One thing to note in this area is the sound of birds. There are a lot of them and the sound is melodic.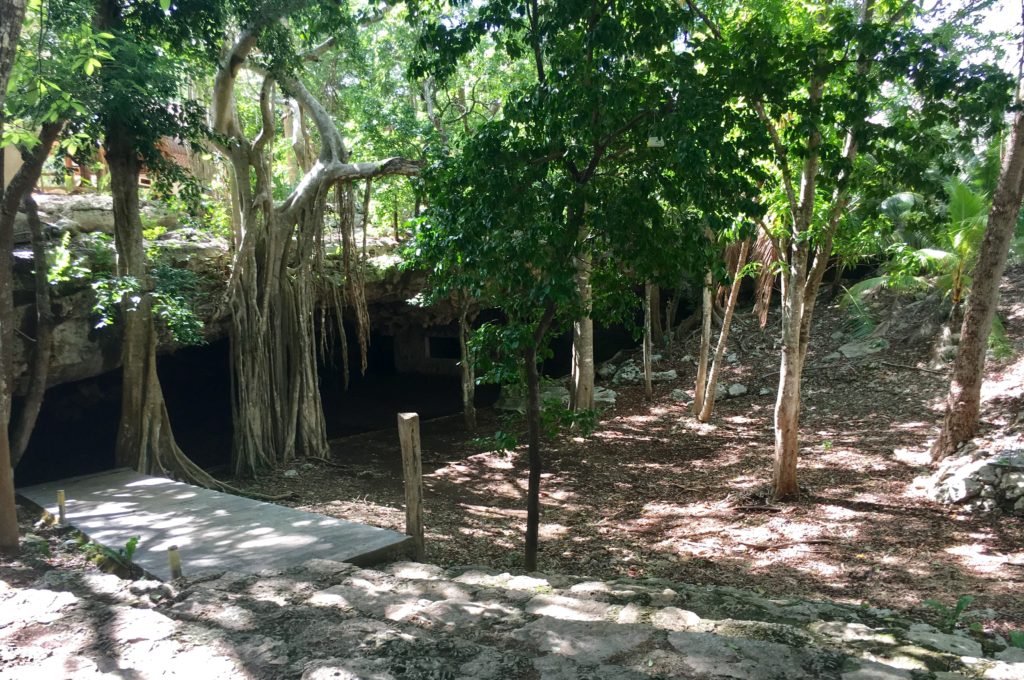 What Cenote Samula is like
Cenote Samula is an enclosed cenote with a small hole that lets in a shaft of light. For about a couple hours a day if shines directly down into the water making for a spectacular sight and photo. In our photo below it was already shining on the wall of the cenote.
Going into this cenote you will walk down stone steps that will lead you to a nice overlook of  Cenote Samula. The second level is where you can place your things and then take the steps down to the water. If it is busy you might want to place your things in a locker because you will not be able to see your things that well.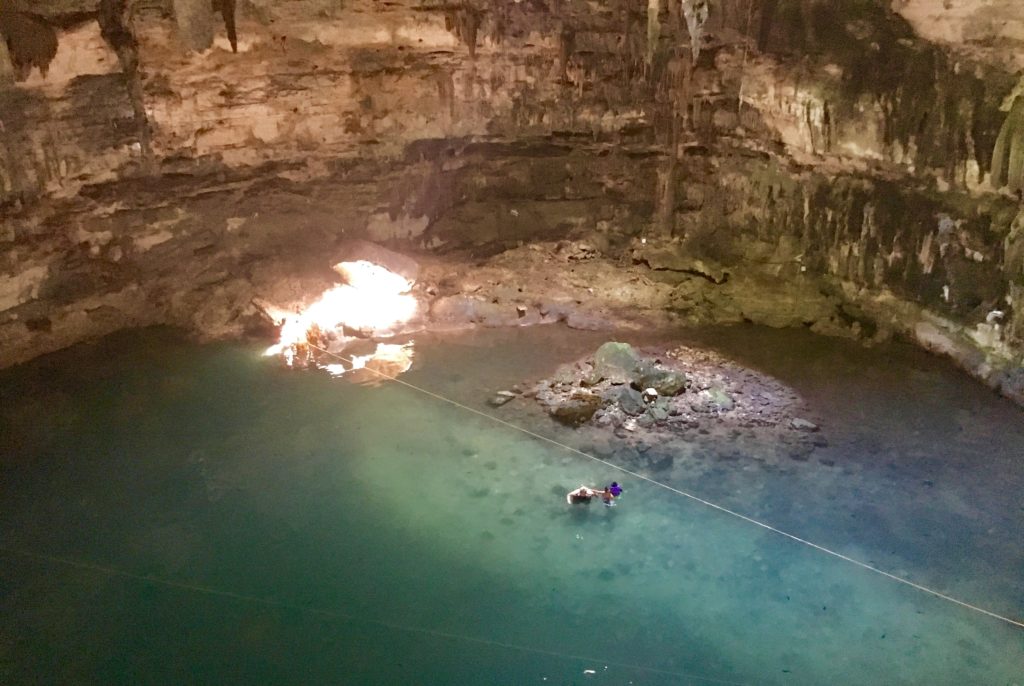 Services at Cenote Xkeken and Cenote Samula
At these cenotes you can find:
life jackets for rent, but it should be noted that you are not allowed to use one to visit both cenotes.
lockers for rent.
there are drinks for sale.
souvenir stands.
bathrooms and showers.
there are some basic food stalls for food.
How much is the entrance to these cenotes?
Since this area is now more of a park there are a lot of options for ticket and prices.
Entrance to one cenote is 80 pesos for adults and 50 pesos for children.
Entrance to both Cenote Xkeken and Cenote Samula 125 pesos for adults and 80 pesos for children.
Visit the two cenotes and a horse ride is 225 pesos.
Ride a 4 wheeler and visit 2 cenotes is 275 pesos.
How do you get to Cenote Xkeken and Cenote Samula?
These cenotes are just outside of Valladolid Yucatan. Note: On the map it is spelled Cenotes X'quequen and it called Cenote Keken. In the past this cenote was called Cenote Dzitnup. So needless to say it has a few names to go by. But most people will know what you are talking about if you ask directions.
If you head west on the old 180 toward Chichen Itza. Once you pass the periferico (the circular road that goes around Valladolid) you will see Hacienda Selva Maya. The turn is right after it on the left. Follow this narrow road for about two minutes and you will come to the parking lot.
If you want to bike here from the center of Valladolid, there is a bike trail along parts of the route. It is fairly easy to bike to and fairly safe on the roads.
There is also a tourist bus that leaves from the main plaza in Valladolid on the opposite side of the church. This is used for those that want a full package of eco adventure.
Environmental issues with cenotes
You might already know that cenotes are mostly connected and this is the ground water that has filtered down through the limestone. This water is still used directly by many rural communities. It is important to keep this water as clean as possible. This means that when entering a cenote you should not have sun creams or chemicals on your body. Some cenotes require you to take a shower before getting in. At these cenotes there are showers but it is not regulated.
We have been visiting these cenotes for years and notice a change in the cleanliness of them. Once factor can be that more people are visiting. This can be because it is now run like a small eco park. It can also be because of lack standards. The water was once clearer and now there is carved graffiti in one of the cenotes. This is sad to see.
While these cenotes are nice to visit and see, we hope that everyone visiting will take care to do their part to keep these natural wonders beautiful.
Other things to check out in this area
If you are visiting these cenotes, here are some great things to check out in the area:
For much more places and a full interactive map, see our article here on tours and places to go.
Have you been to Cenote Xkeken or Cenote Samula? What did you think? Let us know in the comments below, we would love to hear from you.