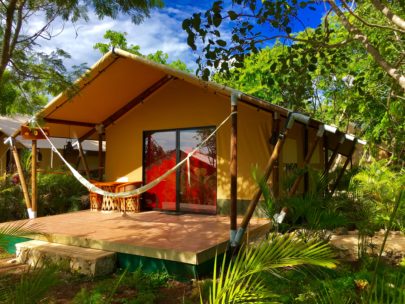 Serenity Tented Camp
Serenity Tented Camp  by Xperience Hotels opened it's doors in January 2017 and now offers guest a unique experience . This hotel offers something different then most hotels and resorts. Serenity has a tranquil atmosphere in the a natural setting all while staying in a luxury tented room. Here in 30 rooms/tents you can have a quiet retreat with access to the beautiful Xpu Ha Beach.
Serenity Eco Luxury Tented Camp is 18 km. south of Playa Del Carmen and 27 km. north of Tulum. See what this unique hotel is like in our video and description below.
Our video introduction to Serenity Eco Luxury Tented Camp
What is it like to stay at Serenity Tented Camp? We wondered so we went and stayed there so we could bring you this video. We hope you enjoy it.
What the luxury tents are like at Serenity
So what is it like to stay in a tent? Do the word "tent" scare you and make you think of trips with your parents when you were young? Well you don't have to worry because times have changes and this is not your parents type of tent.
These tents are very well made and just as comfortable as a room at a resort. They come fully equipped with air conditioning, mini fridge, writing desk, comfortable beds and large bathroom. The tents have decks and some of them have a small soaking tub and hammock.
The tents have windows and for privacy they have zip down covers. All the windows and doors have screens if you want to open them up for a breeze.
The 30 tents they have are spaced out with natural vegetation and trees. The property is dotted with fountains and surrounded by a privacy fence.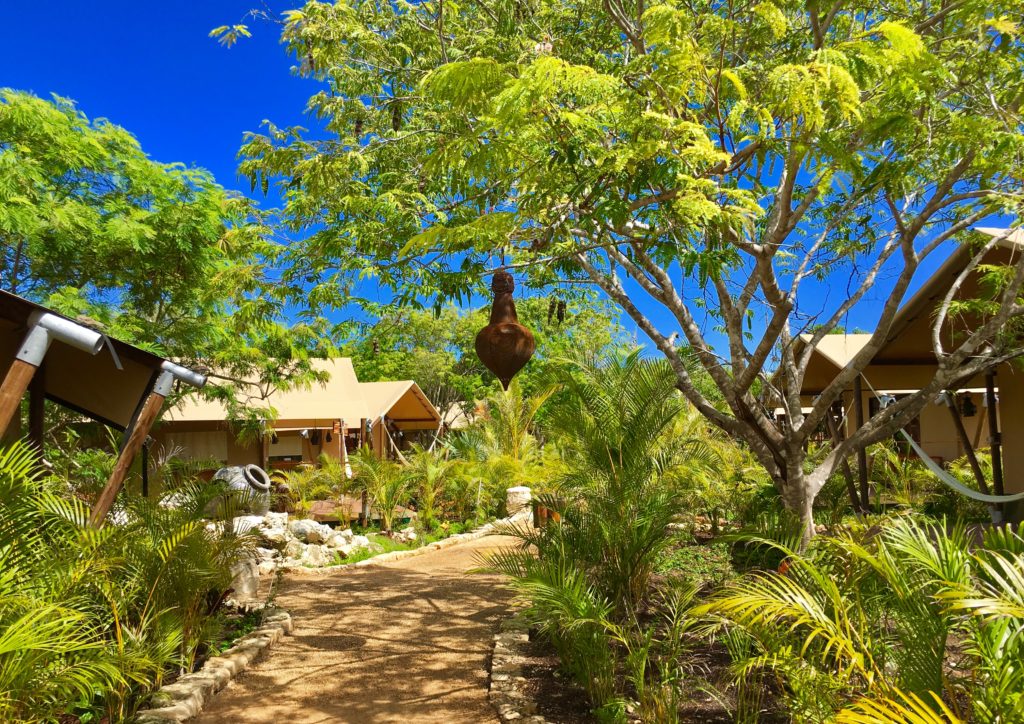 Pool and dinning area
The kidney shaped pool has depths of around 3 to 4 feet (1 meter-1.3 meters). It is a nice place to relax after the beach. There is even some shade during the day under the palm trees.
Around the pool there are seating areas where you can sit under an umbrella and read a book. You can also use the WIFI to catch up on the lasted news or send stunning photos to your friends of your vacation.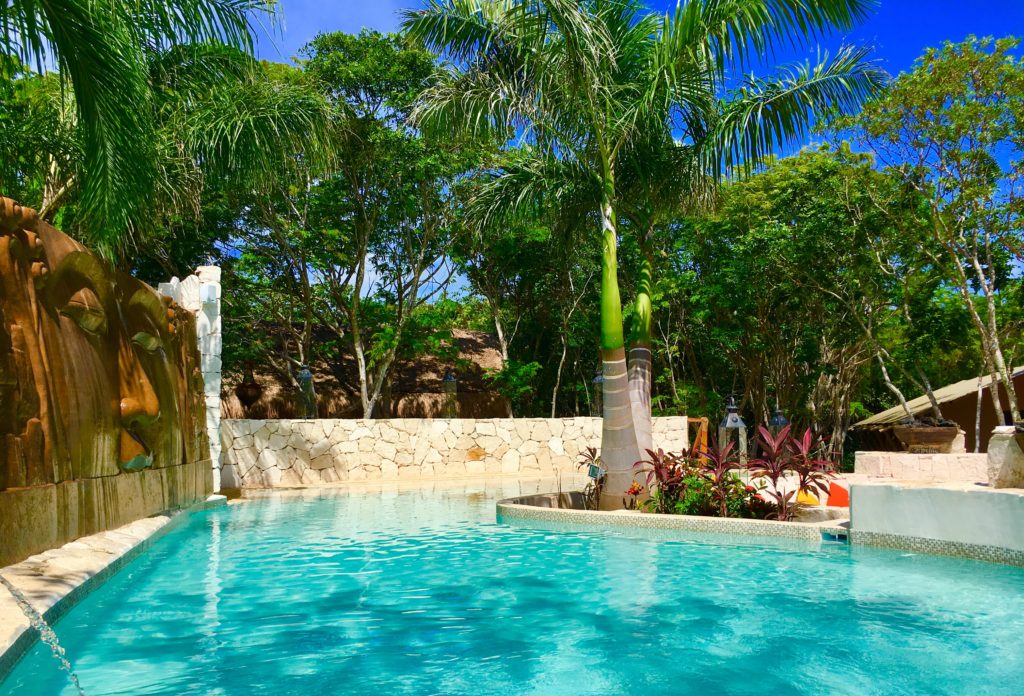 Dinning at Serenity
Breakfast, lunch and dinner are all served at this hotel. This is not an all inclusive so you can choose what meals you want to take at the hotel. Usually with these types of arrangements the food is of better quality and this is true of this hotel.
With this type of plan you can have breakfast at the hotel and perhaps lunch at the beach club. If you take tours, often you have a lunch included in them. The only close restaurants are the other beach clubs on the beach and the Rauxa Show which is a dinner show just up at the highway (see below). If you have a car, this will give you more options to go out for. Otherwise plan on eating at the hotel or nearby.
For more about dinning at Serenity, see our article on the Mystic Restaurant which is open for guests of the hotel and to the public.
Access to Xpu Ha beach and beach club
From Serenity Tented Camp there is a private walk to the beach which connects to the road going to Xpu Ha beach. The walk takes about 5 minutes.
On the beach Serenity has their own section of the beach. Here they have a beach club for the guest of the hotel. there are beach beds and lounges. Drinks and a small food menu are available here.
For more about the Serenity Beach Club you can see our video and article here.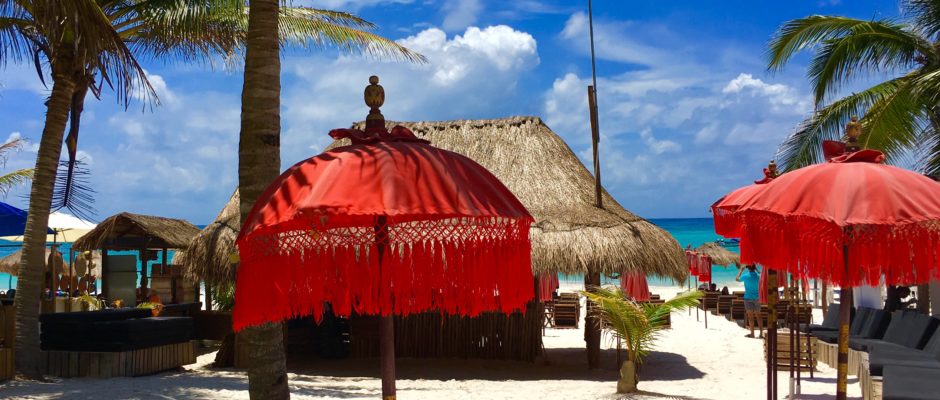 What most everyone comes for is the beach. So this is what Xpu Ha beach is like. Xpu Ha is in a bay. On the south end is a more remote area where you can take a stroll. To the north there are some smaller hotels and one resort. The beach has a good reputation for being one of the best beaches between Playa Del Carmen and Tulum.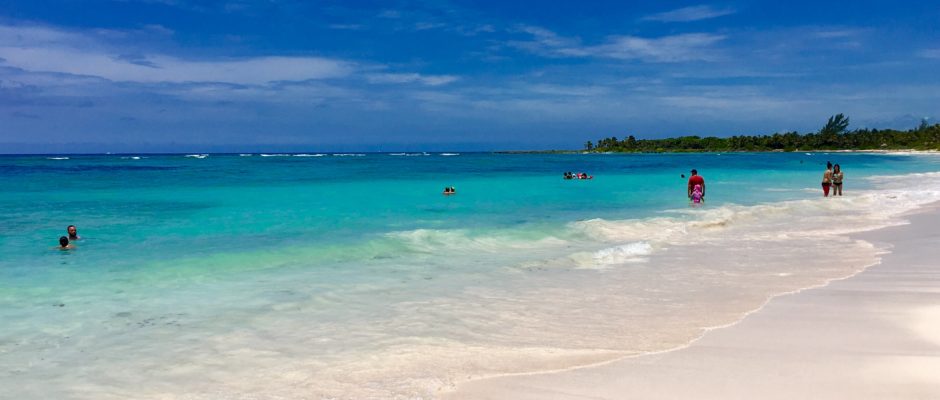 How does it cost and where to book for this hotel
Prices range depending on the season but for the most part is will cost about the same as a hotel room in Playa Del Carmen or Tulum. This means that some of the larger resorts that are all inclusive are about double the cost as Serenity. That is even figuring in two people eating at Serenity Tented Camp. So this hotel can give you a good place to stay for those seeking a quieter vacation and affordable price.
To check prices and availability for when you are thinking of staying here, click here.
What is near Serenity Tented Camp?
Most people coming to the Riviera Maya have a hard time visualizing what is close to a resort and how to get around. For the most part this hotel is off a rural stretch of the 307 Highway. Here are some things that are walkable or a short taxi ride away.
At the beach there are some small beach clubs. These can be good for getting a bite to eat.
Rauxa dinner show. This is a really fun adult dinner show in the nearby hotel. You can walk here if you want since it is close (about 13 minutes). See our article and video of the show to see exactly what it is.
Xotik Ha Eco Park. This is a obstacle course in the tree tops and a cenote you can swim in. This is close across the highway but it is still a distance back into the woods, so a taxi is good here.
Cenotes. The cenotes of El Jardin, Cristalino and Cenote Azul are all about a 5 minute taxi ride just north of Serenity Tented Camp.
Xel Ha is a short way south of here. This is an eco park where you swim and snorkel all day and have buffets included. To go here we recommend the colectivos.
If you like to get out on the water, Catamaya catamaran tours leaves out of Puerto Aventuras which is just north of where this hotel is. They will arrange a pick up for you.
Jungle Maya is an eco park between Serenity and Tulum. At this park you will take zip lines, swim in cenotes, and rappel into a cenote. This tour will pick you up from the hotel.
Who we recommend to stay at Serenity Tented Camp
This hotel is good for couples that want a nice quiet stay in the Riviera Maya. This can be a romantic stay and something unique to keep the two of you talking about the experience.
For a single person looking to get away and have some quiet time, the tents will afford a space to relax and perhaps read a book.
For people looking to stay in the area but also save money over the big resorts. You can pay about half, and that is with ordering food at Serenity. This can also be a good hotel to break up your vacation and stay for part of it here and then another part of the Riviera Maya or Yucatan.
For groups this hotel can be a fun retreat. Both yoga groups or wedding groups can find themselves in a unique place and yet small enough so people can interact without getting lost on a big resort. There are only 30 rooms/tents here.
Have you stayed at Serenity Tented Camp? What did you think? or do you have questions? Let us know in the comment section below.