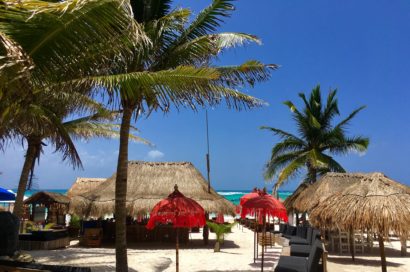 Serenity Beach Club
For those of you who love the beach, this is another beach option here in the Riviera Maya. Serenity Beach Club is at Xpu Ha Beach. Xpu Ha is known for one of the most beautiful beaches in the Riviera Maya. This can be a great place to visit for the day if you are here in the Riviera Maya or if you are a resident, you just might want to make this a place to escape the more urban areas and enjoy the beach.
Xpu Ha has long been known as a good beach option and there have been local beach clubs with services. Serenity plans to offer a little bit more luxury for your time at the beach. There are dedicated lounge chairs, beach beds, umbrellas, towel service and waiter service for food and drinks.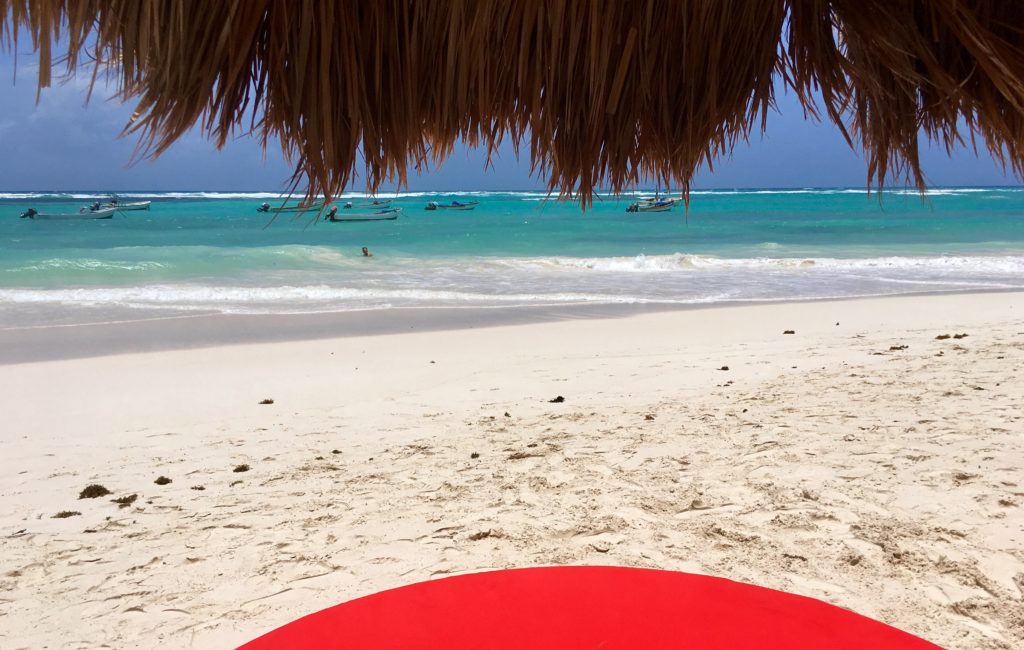 Our video intro to Serenity Beach Club
We took on the hard assignment of going to research this beach club for you. We spent tireless hours resting looking out over the ocean and taking sun for this video.
Services and cost at Serenity Beach Club
The beach club is open daily from 10:30am-6:00pm.
Cost is 500 pesos per person for consumption.
Kids are allowed. Children over 12 pay as adults.
Children under 12 pay 100 pesos.
Towels are included in your visit.
Public bathrooms are available.
What is on the menu?
For food at Serenity you can order seafood in the form of ceviches, cocktails or aguachile verde. Other items include nachos, guacamole,  burritos, club sandwich, and hamburgers. Food items are between 105-295 pesos.
For drinks there are juices and non alcoholic cocktails. A mostly full bar is also available and beers are served here. Most cocktails are between 105-120 pesos.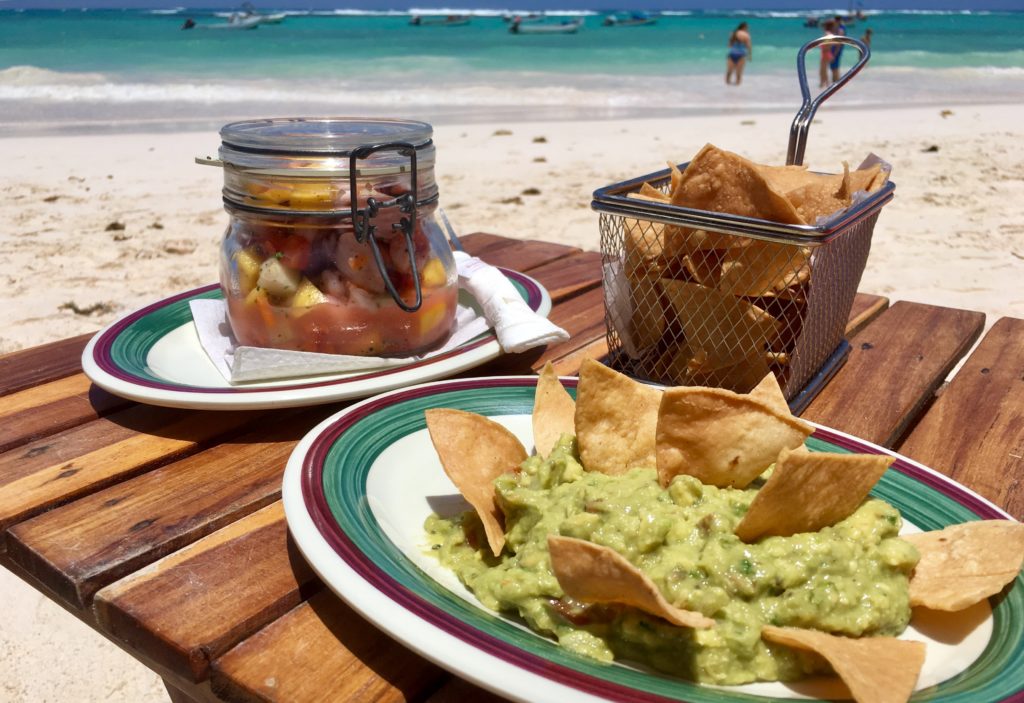 How to get to this beach club
Serenity Beach Club is located at Xpu Ha Beach. This is between Playa Del Carmen and Tulum. This is about a 25 minute drive from Playa Del Camren and a 31 minute drive from Tulum.
If you are coming by car look for the main entrance to Xpu Ha where La Playita Beach club is posted. Here there is a rope across the road. This road is a toll for people going to the other beach club. If you are going to Serenity you do not need to pay here. Just say you are going to Serenity. Once you pass through the entrance proceed to the Serenity Tented Camp Hotel on your right. Go in to the lobby and say you want to purchase the beach pass. Here they will give you your bracelet and you can continue to the beach.
Note: If you are coming from Playa Del Carmen or points north you will need to pass the entrance and take the next return. It is only a short ways past the entrance.
Public transportation to Serenity Beach Club
If you are not driving here you can take the colectivos from Tulum or Playa Del Carmen. These are very inexpensive transport vans that pick people up and drop people off along the highway. The colectivos will drop you off on the highway and you can walk down the beach road to Serenity (stopping first at the hotel lobby to pay for your bracelet before going to the beach). When you leave you just need to walk back to the highway. For more on where to catch the colectivos, see our article here.
Have you been to the Serenity Beach Club? What did you think? We would love to hear from you in the comments below.
If you are interested in visiting beach in the Riviera Maya you might also want to read our article on all the best beaches in the Riviera Maya here. If you also want to extend your time in Xpu Ha, you can check out the Mystic Restaurant at Serenity Tented Camp. It is open to the public.