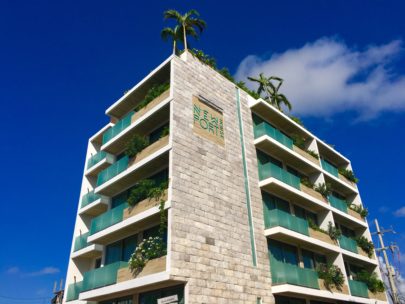 What the Newport House Playa is like
The Newport House Playa is a new option for staying in Playa Del Carmen. This 15 room condo hotel is on the north end of town and offers guest a modern and comfortable accommodation option.  We had seen this handsome building being built and were happy to get to see what the inside was like. After visiting we wanted to go back and write about this because we think some of our readers will like this as an option. See what this condo style hotel has to offer you in our video below.
Our video introduction of Newport House Playa
We visited the Newport House Playa and stayed there to bring you this video review. Like all places we write about, we like to experience them so we can fully tell you what it is like.
What are the rooms like at the Newport House?
There are four types of rooms offered here. Each of the room types are modern, clean and well set up for a good stay in Playa Del Carmen. In each room you will find a kitchen setup, air conditioning, eating area, Wi-Fi, and smart TV's. The rooms are bright and airy with woodgrain tile floors.
The beds are very comfortable here. Large king size with nice pillows and quality sheets will make you want to stay in bed.
We stayed in the deluxe room choice. As pictured below, you can see the kitchen with refrigerator , microwave, stove and dinning room table. This makes it nice for those times when you just want takeaway or to fix something in your room.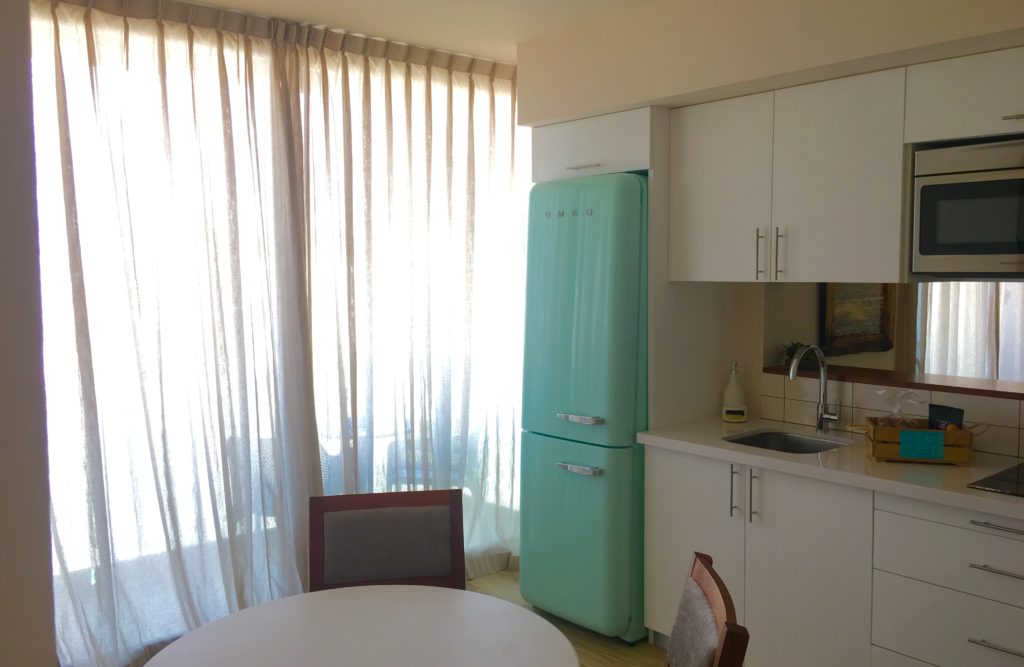 We had a separate bathroom  off of the shower and sink area. This gives you more space and room for those that like to take longer in the mirror.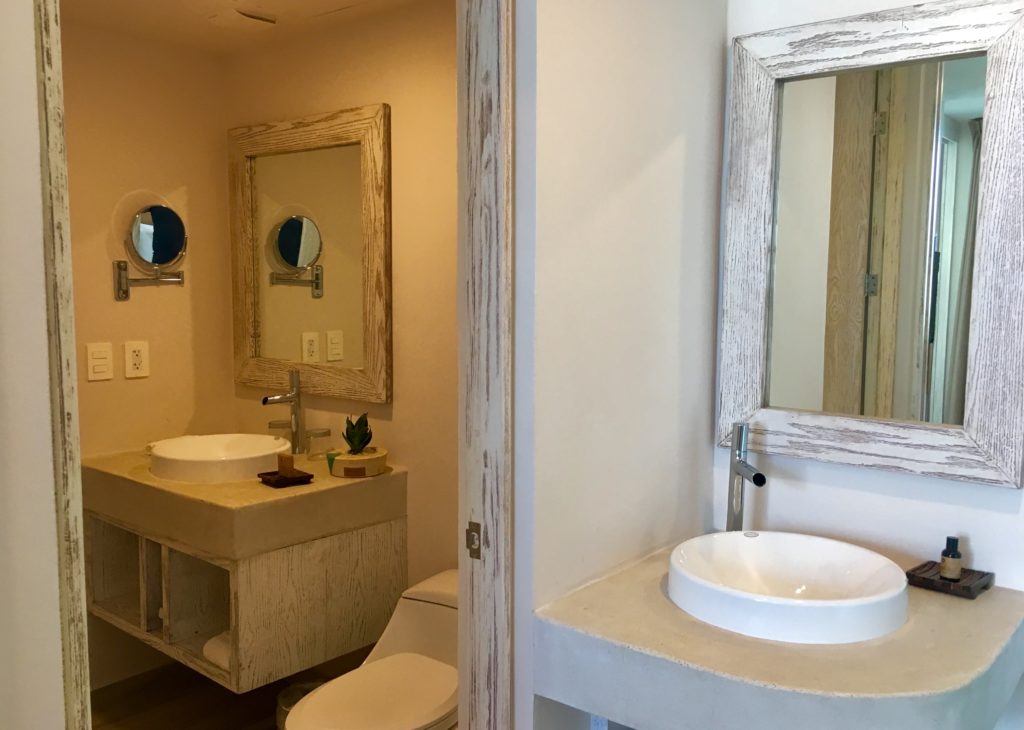 Other amenities at Newport House Playa
Available free of charge are beach cruiser bikes, long skateboards and yoga mats. For rental at the hotel you can get paddle boards, paddle ball sets, and snorkel masks.
Enjoy the relaxing rooftop
On the roof you will find a small pool, four cabana like beds, chairs and sofa seating. Here you can enjoy the tropical plants and views toward the Caribbean.
Next to the beds you can find plugs for charging your computer or phone. This comes in handy because there is Wi-Fi on the roof.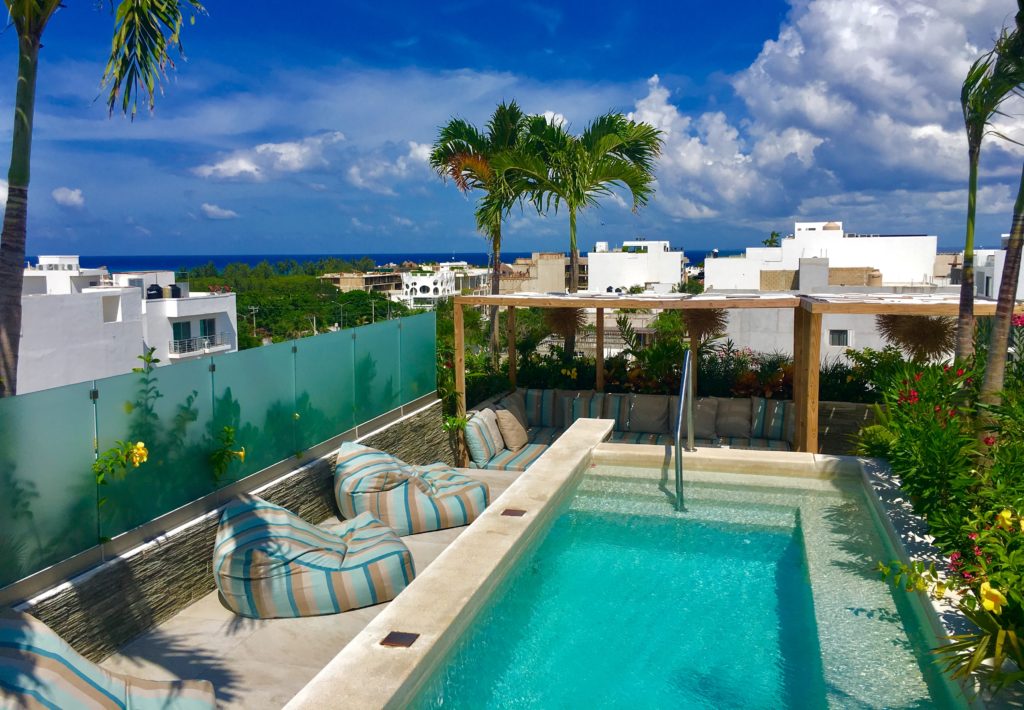 Where the Newport House Playa Hotel?
This hotel is on 10th Avenue and the corner of 44th Street in Playa Del Carmen. You see on the map below , to get to the beach you can walk down CTM Avenue. This is Coco Beach area. Martina Beach Club is in this area but if you want to walk south on the beach you come to Mamitas Beach Club. This is the popular beach with younger people.
What is nearby this hotel in Playa Del Carmen?
This hotel is on the north end of Playa Del Carmen and the city is growing in this direction. Since this is out of the center of Playa Del Carmen it is in a more residential and local area. This means you can find more restaurants that are less touristy but still visited and loved by locals. Here are some places that are just a few blocks away:
Transportation to and from this hotel
If you are coming to Playa Del Carmen from the Cancun Airport and want to take a shuttle or private transfer, see our article on recommended company that has great rates.
If you are looking to rent a car and drive around while here you might want to see our article about a great local car rental company. It can be different to rent cars here and this company gives you good rates and piece of mind.
Room prices and booking for this hotel
If the Newport House Playa looks like a good place for you to stay vacation, you can book here. We will say that you might like the prices here. It does offer a good value for our readers.
Do you have questions or comments about the Newport House Playa Hotel? Let us know in the comment section below.