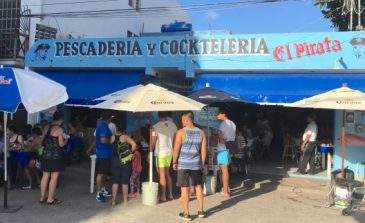 El Pirata seafood restaurant has been around for a while and is a favorite local spot for people to get a meal. It is always busy and has a hubbub of people, music and plates of fish and ceviche moving around. Here is our review.
El Pirata Restaurant
When you walk up to El Pirata the first things you notice are the bright blue exterior, umbrellaed tables with a casual and busy atmosphere. It seems to be always full, so that means it is a good place right?
If you sit inside or outside you will notice it is a very casual place with plastic tables and chairs and beer is the drink of choice for seafood lovers here. Sometimes there is live music from roving musicians and the other times the TV's take the stage with music videos.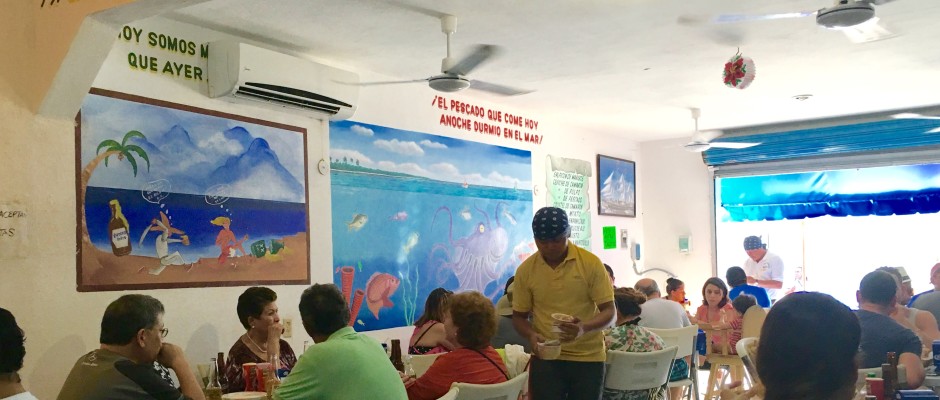 Mostly it is locals that eat here with about 20% being tourists. El Pirata is not in the exact center of Playa Del Carmen but just off 5th Avenue on the north end.
Tip: It usually is busy and you might have to wait for a few minutes for a table. They will usualy give you a number, so ask for one so you get in line.
The seafood certainly is fresh here. It is fresh caught fish and fresh made ceviches. This is what has sustained this restaurant over the years along with consistency and fair value prices.
Menu at El Pirata
The menu at El Pirata is all about seafood. If you don't like fish or ceviche you are going to have a hard time here finding something to eat.
Some of the most popular things here are the whole fried fish, fish fillets, shrimp cocktails or ceviches.
Below is a fish filet in a butter and garlic sauce (always a good option for fish). As you can see it is very local with a little rice, refried beans, lime and slices of tomato and avocado. For the price you do get a good value, for example the fish serving here is almost double what you get in some other restaurants.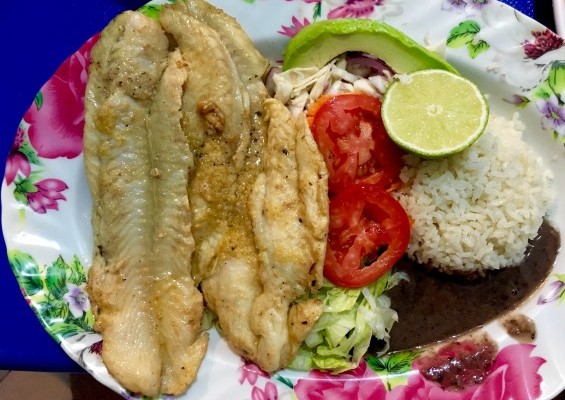 The ceviches are always popular and come in different sizes. Below is the shrimp ceviche. The shrimp were larger than most other places that serve shrimp ceviche and it is a good basic recipe with lime, cilantro, onions and tomatoes.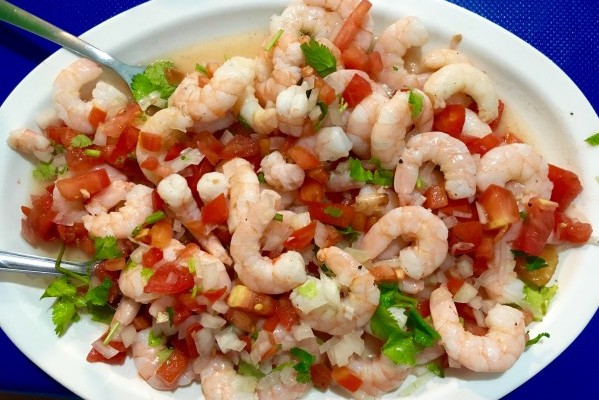 Overall there is a decent value here. Expect to pay about 120-180 per person for a meal and drink.
Should you go where the locals go?
This restaurant is a popular place for locals because it is comfortable and they serve up seafood in the manor that locals like. This means it is not going to be gourmet or any new twist on seafood.
This restaurant is similar to several other local favorites for seafood. So if you like seafood done in a simple and fresh manor you might want to check this restaurant out.
Below are several local restaurants that are comparable to this one if you want to see some other local favorites.
Hours of El Pirata
Open daily for lunch and dinner but they do close at about 7:00pm so don't go to late.
Where is El Pirata Restaurant?
El Pirata is on 40th Street between 5th Avenue and 10th Avenue. There is some street parking on this street but it is limited. If you drive you should find space within two blocks. It is also fairly easy to walk to and is at the end of pedestrian 5th Avenue.
Have you been to El Pirata Restaurant? What did you think? Let us know in the comments below. We would love to hear from you!